Scarpa Manta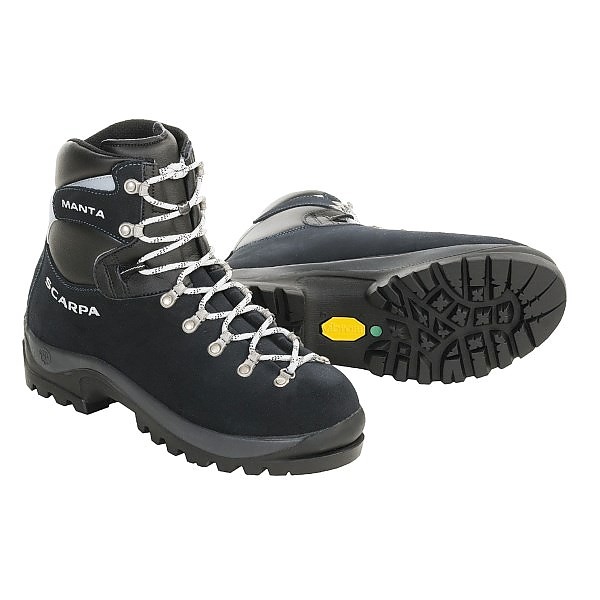 The most bomb proof and weather proof boots that I have ever had. Period!

Pros
Wather proof
Quality
Reliability
2009 Original Review:
I jut got a pair of these boots a few weeks ago.
Up to this point I have take them out in a few short hikes. Not enough for a full review, but here are my impressions so far:
The boots feel a little smaller than the actual size. I ordered 1/2 size bigger and still feels tight in the front. I would recommend to try them half size up at least.
Water tightness: This boots are great. I walk under pouring rain for 2 hours and me feet were dry after I took the boots off. For sure this boots will make a good job in the snow. 5 starts there.
I felt a little over-boot in some of the trails but after this weekend under the rain and going up the hill, makes me question that assumption. They really keep your ankles steady and protected which makes you feel secure. Better that than walking around with flimsy boots and end up with twisted ankles
Here is why I took a half star off:

I felt the sole a little slippery when there is mud and rocks are wet. Must of the time I will get a good grip but some times I felt kind of sliding.
I am not sure at this point if the boots were a good selection hiking wise. They are very stiff. This make you feel odd sometimes when walking, specially on manmade hard surfaces. But the feeling is gone once you are walking on the trail.
Until now no blisters or damage to my feet, just sore due to the stiffness of the boot. I hope they will break in on time. I will update on this later.
Overall I think they are a great entry level boot although I can not really compare with anything. My previous boots were Nike ATM which is comparing your regular Chevy vs. an Audi.
The boots are good for bush waking, heavy backpacking. Not 100% sure about pure hiking yet, but definitely I would recommend them to a friend.
On top of that you do not break the bank and the price difference vs. regular hiking boots is not that much so the extra money is well expended.
2017 update
So it had been 8 years since I bought my Mantas and I have not manage yet to feel like I have broken them in, although my feet don't feel as sore anymore, but noticed some pain on my knees once in a while after hiking with the boots, so I don't use them as often anymore.
Still blame this on the super ridiculous stiff soles. I agree that these are mountaineering boots designed to use with crampons, hence the stiffness, but after 8 years they are as stiff as new. On the other hand this speaks volumes of the quality of construction.
They are still fantastic weather wise, even after walking purposely into a creek ankle deep in freezing water over last weekend they stay dry! Actually I am like a child when wearing this boots. I take any chance to step or jump into a puddle. The leather in this boots is top notch.
After so much time there is some wear on the soles, and replaced the original laces once. The lacing system just chews them off. Not resoling yet or change in the inner soles. The interior is almost as good as new. The sole rubber is still as slippery as when new so once in a while I get a scare when stepping into wet stones or ice patches.
Have used them for backpacking and hiking in all seasons. Also use them for snowshoeing.
Definitely would buy Scarpa products again, next time a lighter model perhaps. Something more like light to medium hiking to avoid the stiffness of crampon-compatible boots.
Materials: leather
Use: Hikes, backpacking, mountaneering
Source: bought it new
Price Paid: 275$ CAN

These boots are simply terrific! The upper is perhaps the best Italian leather and construction available. The full-grain leather is impregnated with silicone (Scarpa's HS12 treatment) which is reported to be superior to traditional tanning techniques. The sole is Vibram (M4 lug pattern) with a nylon Performance Flex midsole. Longitudinal flexion is well balanced aganist lateral support, but take note, they will feel stiff when initially worn.
Break-in is easy if done slowly and in small increments. The only problem I had was at the ankles which were rubbed medially by the edge of the boots' tongues. A quick e-mail to the Scarpa website (http://www.scarpa.co.uk) solved the problem -- some "trick lacings" and strategic conditioning. And, "yes they do respond to e-mail inquiries from the U.S" despite what it says on the main menu. The boots are crampon compatible (B1 types) and come in one color: offically chestnut but visually your basic dark brown. The boots are near-waterproof and dry quickly when wet. The liner is a gray synthetic and rough so a pair of good trail socks is a must. After some radical terrain and severe abuse (i.e., 50 lb. pack, mud-to-sand transitions & sharp rocks), the boots cleaned up well and suffered only a few minor scuffs.
I'd strongly recommend these boots to anyone with a "European foot" or one shaped to fit the Scarpa BX last which to me seems more tapered in the toe box and of greater volume than traditonal American lasts such as those used by Merrell, Limmer, or L.L. Bean. It's also a serious (and pricey) boot for serious use - ain't no fashion boot dude!
Materials: HS12 Sherpa 3 mm Full Grain Leather
Use: Off Trail w/ Heavy Pack
Break-in Period: One week @ 3km/day on flat surfaces
Weight: 1.6Kg (size 42 Euro)
Price Paid: $225 (US 1999)

Quite simply the best heavy duty backpacking boots I have ever tried. What sets them apart in my mind is the wonderful rocker of the sole. The boots roll so easily from heel strike to toe push. I've tried some boots that have so much rocker as to make them feel unstable and others with not quite enough so there is a flat spot mid-stride that interrupts the roll of the foot. These, for me anyway, have the perfect natural rolling motion, which is a good thing because the soles flex very little, even after 2 years of use. Initially I had heel blister problems, those ended when I stopped using liner socks and just used a good pair of smartwool or mid-weight Wigwam merino wool socks.
The other thing that I love about these boots is the soft, flexible boot top. Other boot of this weight, and even some much lighter, have a tendency to dig into my ankle and shin which causes much pain, especially during break-in, but the tops of these feel like converse all-stars. No digging, no pinching. But somehow they still manage to give excellent support. I don't know how they do it.
Most comfortable boot I've ever used, and I've used a lot (Raichle, Vasque, Montrail and One Sport, Solomon, Asolo, Merrell, to name a few).
Materials: heavy leather
Use: off trail/mountaineering
Break-in Period: a long time
Weight: 4 lbs 6 oz
Price Paid: $235

Excellent full shank all leather hiking/mountaineering boot, takes C2 crampon, beautifully made, break-in period is bit tough (3-4 months) no blisters though. Now after 10 months they are superb, so comfortable, great support, agility, and feel great.
Excellent for hopping around on the rocks at high altitude or for fast descents, useful for climbing too as sole is very stiff. Not great on approaches when breaking in, but ok now. They look great still, the reversed leather means no scuffing as with traditional leather. This is not a boot for approaches or general walking but is superb for heavy backpacking rough trails or entry level mountaineering.
I think the RSN last suits slightly slimmer foot that I have and I do find Scarpa's a little on the small size. As for toe box curling and shortening I haven't experienced that yet and have done well over 100 miles over very rough terrain. I'm using superfeet hiker green insoles which work great, but I do concur with previous review, don't go for anything thicker than superfeet as the ankle will roll. I use Bridgedale socks I find they are excellent. I'm looking forward to many years pleasure from my Scarpa Mantas.
Materials: leather
Use: rough trail heavy pack
Break-in Period: 3-4 months
Weight: 1.950kg
Price Paid: £143

ok, i love my Mantas! however, i did experience "break-in hell" (about 75 mils worth). here's why: my weight (155 lbs soaking wet), and more importantly the shape of my foot (high arch, narrow foot, narrower heel). i've experienced all of the blister and hot-spot problems that are listed in the other reviews. if you have similar problems, then here's the fix: ditch the Scarpa insoles and invest in Superfeet insoles (or the like), use moderate to thick socks, and (very important!!!) use an alternate lacing method to pull the heel cup of the boot snugly onto your heel. after performing the above listed "fixes" i'm not only blister-free, but i'm also able to use liners in conjunction with anything except a thin sock...no problems!
i've pretty much abused these boots on/off trail with up to 60+ lbs on my back, and they've ALWAYS performed exceptionally well (er, now that they actually fit).
one word of caution: be careful of the insole that you choose. Superfeet are AWESOME, but thin. i've tried other insoles that were thicker, but they had a tendency to make the boot prone to roll-over....ankles beware!
Materials: leather upper/M4 vibram sole
Use: heavy pack/off-trail
Break-in Period: varies
Price Paid: $230

I checked out this site to see what other people thought of this boot, and decided to write this review in response to Nick's (no offense mate). I work as an alpine/bushwalking guide on 6 day walks through a wide range of weather and track conditions. After a full six months of this (in addition to recreational hiking), my boots are still far from broken in, and have caused me all sorts of problems. They seem fairly well made, but the rigid performance-flex vibram sole is impractical on extended and/or frequent hikes where comfort and foot preservation become major concerns. I'm hoping that any day (week, month) now they will finally conform to my feet and live up to the hype...
To be honest, I've been less than impressed. Unless you have a good reason for doing otherwise (e.g money, or the weight -saving and versatility of an "all rounder" boot) I'd suggest buying a good hiking boot (such as the cheaper and better Scarpa SL) and a more specialised boot for any mountaineering you intend to do.
Materials: Leather
Use: Heavy Backpacking
Break-in Period: Long!!!...see below
Weight: 5lbs per pair
Price Paid: $240 (US)

Yet another bargain, purchased on E Bay when no one else bid for the boots which were brand new. The size 48 is such a large size, very few folk are in the market for monsters like these.
These are my third set of Mantas. The model has become more heavy duty over the years and now works well in winter, even with semi step in crampons, as there is a ledge at the back of the heel. They were comfortable straight out of the box and have given me fantastic service in Slovenia, Spain, France, Norway, New Zealand and Scotland.
Great support, very warm, VERY water resistant. The soles had worn out so I had them resoled. Now they are like new again. The reason they are up to major repair is the very heavy high quality reversed leather used in the construction, which means their performance has not been compromised over time.
They're not the lightest of boots, but totally bomb proof and like wearing carpet slippers. An absolute classic boot that has got better over the years.
Materials: reversed leather
Use: Big treks, winter mountaineering, easy grade gullies etc
Break-in Period: Hardly any
Weight: Not sure?
Price Paid: £74

I was wandering around TK Max (Weston-S-Mare) for a bit of shopping in the Christmas sales and was astonished to stubble across two pairs of Scarpa Mantas amongst a load of clearance clutter (same style as pictured here and both Size 40; so quite small) at only £39!!! So i snapped up one pair and left the other pair there to make some other small footed mountaineer's day (they could still be there!).

I have been wearing them in and they already feel incredibly warm, comfortable and relatively light in respect of how durably built they are. They are very supportive but still allow adequate movement at the ankle and have a very small amount of flex in the rigid sole. This makes them more versatile and comfy on a mountain walk in (which is where some mountain boots can be poor).

I haven't been on the hills in them yet but can't wait to get up to Fort William in two weeks.
Materials: Waterproof treated leather
Use: Winter hiking and Mountaineering.
Break-in Period: Not sure yet.
Price Paid: £39

Having read some of the other reviews, I cannot believe that writers have anything negative to say about the Scarpa Manta. I have tried all makes over the years and can honestly say that these boots are probably the most well made I have ever owned.
I have battered them all over the Scottish Highlands, the English lake district and many parts of the Massif Central (France)and they have never, ever faltered. I have very little information as to how Scarpa process the crosta leather for this boot but it is absolutely bombproof, this leather will not rip, split or leak, period! Save your money, don't fall for false economy, buy once, buy the Manta.
I am 6ft 2" about 13st and normally wear a size 43 (Euro) shoe. My feet are very slim with high arches.
Materials: Crosta Leather
Use: Fell walking to mountaineering
Break-in Period: 0 days
Weight: 5lbs (size 45 Euro)
Price Paid: £145

Not sure where I stand with this boot. They are however, undoubtedly the ultimate in a bombproof leather boot, almost too much so. I've been on three dozen dayhikes, eight ascents of Mt. Washington and it does not feel as though I've made a dent in the break-in. My feet literally get trashed wearing these, last hike left me barely walking. My guess is the fit, as I have wide, flat feet and they just never seemed to conform to my big dogs.
If you're considering these, make certain the fit is perfect. Quality is top notch and cannot get much better. I ended up putting mine on consignment after last week's Mt. Jefferson assault which left my feet in severe pain.
Materials: thick stiff leather
Use: not good for backpacking,better for steep slopes&ice kicking
Break-in Period: gave up on this
Weight: don't know
Price Paid: $225

These are without doubt the best boots I have ever owned. The competition has been stiff over the years: Vasque, Merrell, Raichle and other high end (and heavier) products. The Mantas combine superlative fit, function,durability, material and build quality in an integrated design which is remarkable.
They seem to have been fabricated by artisans who are still dedicated to the quality of the hand made. On the trail they perform with extraordinary competence. I had no difficulty with break-in times or with weight.
In a boot of this sort, the Mantas are likely the best in the world. I also appreciate their traditional and minimalist look.
Materials: leather
Break-in Period: rough trail hiking and mountain scrambling
Weight: 5 lb.
Price Paid: $125

Great boot, bomber leather. I did not have any problems with break-in -- I brought them home, waxed them (Sno-seal), and wore them to work for a week and on walks around the neighborhood.
The next weekend I took them on an 8-mile hike (roundtrip) with 4000 ft gain, no problems. Boot felt great. Developed a few hotspots in my heel due to heal-lift, but a quick change in lacing technique locked that down and I had no blisters.
The boot already feels great -- great combo of stiff and supple where I need them. They accepted my orthotics perfectly.
Materials: reversed leather
Use: general mountaineering
Break-in Period: < 20 miles
Price Paid: $160

I've had my Mantas for 8 years now and absolutely love them.
As highlighted in other reviews, I wouldn't use these for general hiking (tend to use some Hi Tec or Brashers for that lark), because the sole is stiff. But it's stiff for a reason, and I'm glad of that stiffness when I'm doing a bit of scrambling, or covering terrain like Broad Crag; you just don't feel those sharp rocks, what you do feel is support and stability.
The grip is excellent in my experience. But don't go road racing in them because they're for the mountains.
Materials: crosta leather
Use: day hikes in rough terrain - Lake District, Snowdonia, Scotland
Break-in Period: can't recall that I had to
Price Paid: $120

Just read Dave's review of this boot -- no offense taken. I guess my earlier review could be misleading. I bought this boot strictly for light mountaineering - milder weather conditions where I nonetheless need a step-in crampon. I agree that the boot is too heavy and stiff for casual hiking; I usually wear sneakers or light hikers for anything short of conditions when I wear the Mantas. I can't explain the unusually short break-in period I experienced. The boot shape must be very well suited to my foot shape.
Materials: leather
Use: Mountaineering/heavy backpacking
Break-in Period: for me - very short
Weight: 4 lbs.
Price Paid: $240

Just got these and after a 10 mile heavy-pack trip and about 10 pounds of trashed moleskin later I'm hurtin. I wore them for quite awhile before the trip. When will I learn? Big 'ol blisters on my heels. They seem to be as stiff as new. Hmmmm. I'm betting that I can get to the bone on my heels in no more than a week's time! They fit Charlet Moser 12pt Rapidfix step-in crampons really well.
-Hopefully the pain will end soon!
-RMB
Materials: Leather
Use: Heavy packs / light-medium warm crampon work
Break-in Period: Soon I hope
Weight: pretty heavy
Price Paid: $240 usd

Bought Mantas about ten days before heading to Lochaber/Glencoe for a week's winter climbing. Wore them around town for the week before we left.
Boots were great. Some pressing into the top of my foot where the bottom end of the tongue meets the boot proper, but nothing too bad, and possibly due to the short break-in period I'd allotted myself. Dry, warm, comfortable, light, strong, fantastic grip/edging, good in the crampons.
Fabulous boot. I found the warnings about a long break-in period to be overdone. I wore the boots for two little walks around my neighborhood (maybe 3 miles in total) and then hiked the avalanche gulch route of Mt. Shasta. No blisters, no hot shots, perfect performance. Perfect for moderate mountaineering. They are crampon compatible and fairly light-weight for a heavy-duty boot, and the leather never (at least on my Shasta hike) gets wet.
Materials: Leather
Use: Heavy backpacking/Mountaineering
Break-in Period: 5-10 miles
Weight: 4lbs. 5ozs.
Price Paid: $250?

As someone else posted the curve of the boots does shorten them so be very careful sizing them. I have some bad blistering on the heel.
One of my workmates has the same boots and the soles have parted company with the rest of the boot and it looks like mine will do the same, after only 3 months. Not what I expected with such a good boot.
Materials: leather
Use: Rough trail heavy backpack
Break-in Period: Long, lots of heel blisters
Price Paid: $300 cdn

The Scarpa Manta in my humble opinion is one of the greatest boots in the world. They have fine Italian leather with a relativly stiff nylon shank and a Vibram sole that easily accepts most if not all crampons. This boot however during its break in period will not be your favorite chill shoes but, after they start to break in its true comfort all day long.
Materials: Leather
Use: Heavy Backpacking
Break-in Period: 150 miles
Weight: 5 lbs per pair
Price Paid: $240

The test of time proves a boot. I still use my 10 plus year old heavier style green pair and they have been flawless. To this day, no matter how may days or months on my feet backpacking, my feet always feel great at the end. The Manta is the perfect three season boot that provides support and protection, comfortable when wet, and perfect for every terrain.
Materials: Leather
Use: dayhikes plus rough and long trail - light pack heavy guy
Break-in Period: 100 miles or more
Weight: 2 lbs per 1/2 pair
Price Paid: don't remember

Excellent Boots. Plenty of support, good waterproof leather, light - if anyone thinks they're heavy, they must have been wearing trainers all their life. Broke in very quickly, and I've never had a blister. Used in Himalaya for non tecnical glacier walking and non techical peak ascent,
Best £120-00 I've ever spent!!
Materials: Leather
Use: Backpacking, Rough Trail, Limited Winter Use
Break-in Period: 1 Week
Weight: 1.6kg/pair 42's
Price Paid: £120-00

Very rugged boot! But a little on the heavy side. I can't seem to wear them out. Thinking about switching to a lightweight boot but hate to give up the durability. The sole is a little bit too stiff unless you plan to use crampons.
Materials: leather
Use: heavy backpacking to normal wear
Break-in Period: 2-3 weeks
Weight: 4-5 lbs
Price Paid: ???

These boots are not as hard to break in as some seem to think. The stiffness of the leather has helped me in walking downhill on rocky terrain. The soles have a good grip and are comfortable with the vibram soles.
Materials: Leather
Use: Backpacking for long periods with heavy pack
Break-in Period: 1 month
Weight: 4 lbs
Price Paid: $215

Your Review
Where to Buy
Help support this site by making your next gear purchase through one of the links above. Click a link, buy what you need, and the seller will contribute a portion of the purchase price to support Trailspace's independent gear reviews.
You May Like
Specs
(no Gender)
Price
Reviewers Paid: $215.00-$250.00

Men's
Price
MSRP: $289.00
Historic Range: $148.95-$189.99
Reviewers Paid: $120.00-$125.00

Women's
Price
Historic Range: $135.96-$179.99