Scarpa Zen Pro Mid GTX

The Zen Pro Mid GTX has been discontinued. If you're looking for something new, check out the best approach shoes for 2023.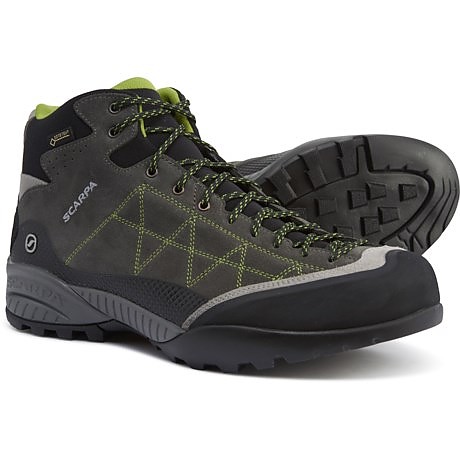 One Shoe To Rule Them All. No, seriously... these were that good!
Pros
Versatility
Comfort
Light weight
Durability
No hooks that can tangle and cause a fall
Looks
Cons
They are discontinued
Looks
Since my hiking shoes were nowhere to be found the day before leaving on a four-week hike, sleeping in tent, I had to run out on the town and pull the trigger on the first pair I thought might be up for the task.
The Zen Pro GTX felt great on the foot from the start. Great heel grip, snug around the foot, wide enough where you want it, and a little wiggle room for the toes up front. A little stiff at first, like most new shoes are, but this gave way after a day or two.
The lacing system works flawless and you have full control of where you want to place the tightness or lack thereof. After you have found your preferred lacing setup and tightness the shoes will mold around our feet like a sock. I rarely feel a need to adjust the laces. I just loosen the top two or three holes to slide in and out with ease.
I was a little hesitant at first because I didn't like how they looked and at this price point I want the looks too. I later got so many remarks on how cool my shoes looked that I reconsidered my aesthetic judgement and decided that they do look good. Good enough anyway.
These shoes works for every season and every task except for very cold winter days of course. They will not take crampons but they work very well with trail chains.
Paved road or heavy backpack in the mountains, these will do it all and do it well. After about one year of much use they still kept their authority and torsion stiffness needed in steep rocky terrain and remember, these are not big burly shoes. They are nimble. The sole only showed a little wear after a year, surprisingly little considering the miles I had put them through. 
The cuff on these are considered as mid or possibly a "low mid" and thus you would expect them to offer mid level support. My take on this is that support comes from how the whole shoe fits and interfaces with the human anatomy. This is where the Zen Pro Mid shine the brightest. They offer great support and feel secure even when carrying a pack weighing as much as 45 lbs. Yet they are low, snug and light enough to feel nimble.
A huge plus for the Zen Mid is the absence of lace hooks. The design doesn't call for them. I have experienced firsthand what happens when the shoelace on one foot gets hooked on the lace-hook on the other. A swift and merciless forward fall is guaranteed. Luckily this has not happened to me in steep terrain. It has happened to me on flat terrain though and that is bad enough.
The height of the cuff is enough to protect the sensitive areas around the protruding lower part of the fibula and tibia. Those are those ouch bones sticking out on the sides of the ankle where a loose tumbling rock or tree stump usually hits.
Like all shoes with Gore-Tex membrane they are totally waterproof for a while, sometimes a little longer while. After that they start to leak a bit and simply put, that is how all Gore-tex shoes and boots are. Without going into too much detail I will mentioned that these do have the Gore-Tex square-symbol on them which means that they come with the Gore Tex "Guaranteed To Keep You Dry" warranty. 
My beloved first pair of Zen Pro Mid burned up after I had nonchalantly placed them on a cool wood stove that someone later lit a fire inside without removing the shoes. Stupid of me and stupid of them. I ordered a new pair immediately. The second pair was also great but had noticeably less traction in certain circumstances, especially when it got cold. They looked identical in every way though. Maybe the rubber was from a bad batch in that second pair.
A thing to note on traction with these is that they have an area under the big toe that is flat with no threads. This is great for gripping on flat rock slabs going up, but on snow this little flat area can sometimes slip a little just as you are pushing away on uphill hikes.
The second pair i got lasted for four years before they were utterly spent. For a period in my life, I went without Zen Pro Mids. I tried a lot of other shoes and boots but to this day I haven't found anything that can replace them. The right combination of two pair of shoes can replace them, if they are the right two pair!
I was lucky enough to find an unused pair of Zen Pro Mid in my size so now I'm a happy camper again. This third pair seems to have the same great traction rubber as the first ones.
On a hot summers day these will get warm like any other shoe. Tie them loosely to try and vent out some heat and you will be fine. If it's still too hot then switch to sandals. Or go barefoot for a while, it's good for you. In winter time these will hold down to surprisingly low temperatures, providing good socks of course. Two thin good quality wool socks and I can stay out in the snow a whole day in 10f. I do wear a pair of good fitting gaiters to keep the snow out and they also provide a little bit of extra insulation. 
Experience
I think I've covered much of what makes this the best shoe I ever owned and that's the reason I'm on my third pair now. If you are an outdoorsy individual you might want to keep an eye out for a pair of these on the secondhand market. Just like me, you might get lucky and find a new pair with tags still on and make a bargain.

And for you, Scarpa, because I'm sure you will read this review out loud at your next board meeting: If you can't surpass the Zen Pro Mid then for gods sake bring it back!
Source: bought it new
Price Paid: $250

Your Review
You May Like
Specs
Men's
Price
Historic Range: $75.00-$225.00
Reviewers Paid: $250.00

Women's
Price
Historic Range: $146.25

Recently on Trailspace