Scarpa Zodiac Tech GTX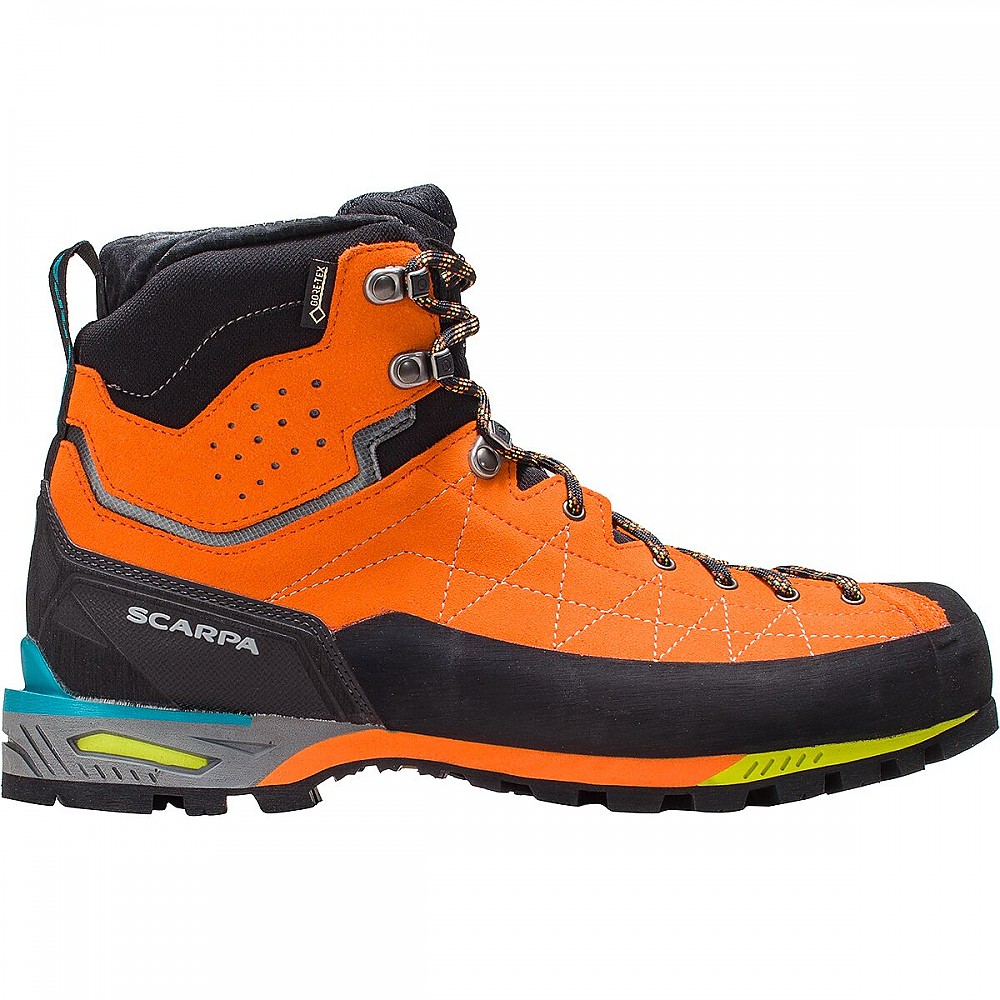 The Scarpa Zodiac Tech is a near perfect light mountain boot. Great sticky Vibram sole and a perfect fit makes for all day comfort. I'd love to see a toe welt added and the colour possibly tweaked a little. This boot would be best for glacial travel, light scrambling, non-technical peaks as well as winter hiking (both with traction devices or snowshoes).
Pros
Fit
Weight
Waterproof
Vibram outsole
Rubber rand
Cons
I'd love to see a toe welt added
Colour
Opening Rant
I'm not sure what category these boots fit in. And I don't say that as a negative, as you can see from the star rating and (if reading further) an otherwise glowing review. I just don't know what they do best, probably because they do at lot of things really, really well. They are clearly taking aim at the La Sportiva Trango's strangle hold of the "somewhere in between the approach and the mountaineering boot" market, but that is a very small niche. 
You could easily get away with using them exclusively for three-season mountaineering, and even some mild winter peaks, but anything around -15°C or colder you are going to want more insulation, as well as the ability to dry out a double boot.
With that said, they are just so comfortable and so well designed that I have found I've been reaching for them all winter.
Fit/Comfort
Normally I find marketing lingo to be mostly hype and pay it no mind. Scarpa promotes these as made with "sock fit construction," but they literally fit my foot as comfortably as a sock. I don't really know how to describe my feet, but let's start with ugly.
I have a narrow heel and a forefoot, low arches and wider forefeet. I've never had any problems with heel slippage and the toe boxes roomy enough to not cause any restriction (especially important in winter boots as people often complain of cold feet due to a lack of circulation).
I usually wear a 10.5 U.S. shoe and received a size 10.5 for testing, which fits perfectly with a pair of light merino socks. It weighs 1lb 8 oz per boots, which is extremely lightweight and compares favourably with the 1 lb 10 oz Trango which is wildly popular, as does the price $290 for the Scarpa and $320 for the La Sportiva.
I did what I would do with any new pair of boots to give these a fair shot—wear them around the house exclusively for a week or two. A couple hours a night will quickly alert you to any potential problem areas/hot spots/etc. Once they passed that test (with flying colours) I generally move to a couple shorter day hikes (~5 kms). I was so confident in these however that they were thrown into a couple 12-km approaches with mixed terrain right away.
I'm not sure really where to start with the number of features they've added to make this such a comfortable fit.
The sole of the boot is a Vibram Pentax Precision II XT that has a great combination of support and rigidity while still allowing good ground feel and the flex required for all day comfort.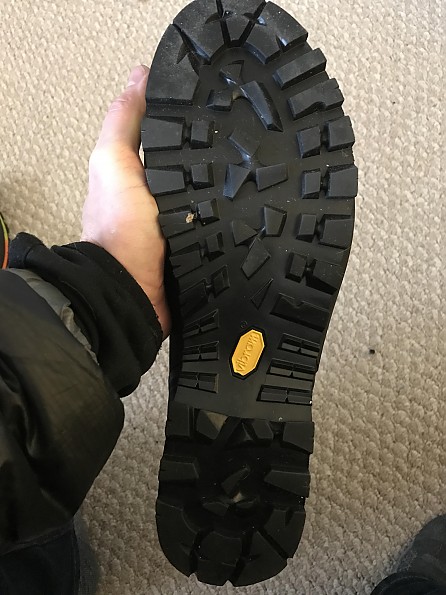 On Scarpa's website they are given a B1 rating, not sure why as in my opinion they are firmly in the B2 category [able to be used for light winter, good ankle support and able to use with either a new-matic, or strap-on (C1 or C2), crampon]. I don't own either (again this is another niche I find too small as I either use a full rigid for mountaineering and ice climbing, or a fully flexible "crampon" like the Hillsound Trail Crampon, (which I consider more of a light traction device rather than a full on crampon, for trail use) but that's a rant for another day.
I did rent a pair from my local MEC to test the fit, and found the Petzl Vasak that I borrowed to fit securely. These boots will not work with a step-in style crampon as there is no toe welt. This is probably my only major disappointment with this boot. It would be so easy to add, and provides the securest binding for a crampon. The sole has a slight rocker shape to it which aids you in hiking on flatter trails.

The "Autofit Collar"—again these are all marketing terms used by Scarpa but they work so well that I just have to mention them—basically the collar they are using on this boot is extremely soft and flexible. I've found this does two things. One, it doesn't add any pressure to the back of the achilles, and two, it does a wonderful job of keeping any snow, scree, dirt, rocks, etc, out of the boot even when wearing them without any gaiters.
There is also memory foam along the back of the heel that literally hugs your ankle. I'm also gonna add the one-piece tongue into this section as I feel it works in conjunction with the collar to provide solid support without any hot sports or bunching. 
The lacing runs right to the toe and has a set of locking hooks at the flexing point of the ankle. It's a pretty standard feature these days, but works well in allowing you to individualize the tightness above, and below, the ankle.
The weight of these boots is 24.8 oz which undoubtedly makes them more comfortable to wear all day. I'm not someone who usually notices the weight of boots, (*I am usually wearing a pair of Limmer lightweights even when I'm not hiking, don't let the name fool you) but putting these on is like wearing trail runners with more support.
Weather Resistance/Temperature Control
This winter has been an odd one here in the Northeast—many unseasonably warm days often alternating with well below freezing days. It has caused an awkward build up of ice on many of the trails, which are often thin and covering some large puddle or pothole.
These boots are unquestionably waterproof—like "stand in a stream, repeated freezing/thawing" waterproof. I put these boots through a ringer of wet environments, many that they weren't even designed for, only to come away impressed, and dry. With 1.8mm of Perwanger Suede and a Gore-tex lining between you and the water you are pretty much assured of staying dry.
My feet generally run cold to begin with so I don't often overheat in boots, and obviously almost never overheat in winter. I'd say on this front the testing is inconclusive. The warmest days I wore these was at about 7 degrees Celsius and I didn't feel sweaty or clammy feet.
Another thing I love about these boots is the large rubber rand that runs the entirety of the boot. It's another layer of protection, for times like kicking in steps into hard icy slopes, and another layer against water getting in.
Potential drawback? The top of the footbox is relatively flat which allows snow to sit on top. It hasn't leaked, and shows no signs of it, but even if you knock it off routinely it piles back up quickly.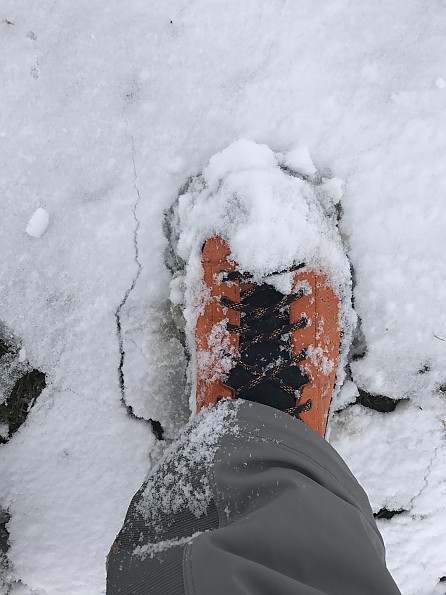 Construction and Durability
So far, so good. I haven't managed to damage these boots at all and given the quality of materials used (1.8mm Perwanger Suede, Gore-Tex, Vibram) and the thoughtful construction (rubber rand), I wouldn't expect to. The metal eyelets embedded into the suede should outlast the lifetime of the boot and asymmetrical cut of the laces on the toe shows the attention to the little details. Even the rubber rand comes farthest along the big toe, the area where conceivably would take the brunt of damage kicking in steps, etc..
The Vibram soles show no sign of wear, not that winter is particularly hard on boot soles. They've most often been covered with some form of traction device.
There is some zigzag stitching along the outstep of the boot. Not sure how much of that is out of necessity and how much of it is for show, but they are exposed and at a prime area for abrasion. They haven't frayed at all but they are an area I'd be interested in monitoring long term. Should they show signs they would be very easy to cover with some seam grip and they'd probably be better than new, although uglier.
Warning: petty gripe to come….I find the colour of these a little off putting. I know, I know, I'm grasping at straws here trying to find some constructive criticism. It's starting to grow on me, but the orange is quite bright and with the addition of a little dirt has turned into an unappealing orange. Comfort beats colour though, so they're still a winner.
Conclusion
These Scarpa Zodiac Tech boots can do a little bit of everything. Whether you're looking for a winter hiking boot, an approach boot, a three-season mountaineering boot, or a boot for light glacial travel and non technical peaks, these should be in consideration. The fit is spot on, it's very lightweight, and it's made with high quality materials. As with all boots, it is best to try them on in person, ideally by an experienced boot fitter.
Conditions
These Scarpa Zodiac Tech boots have been tested for over four months in Ontario, Canada. Temperatures ranged from -23°C to +12°C (-9.4° f to 53.6° f) and across varying terrain—rocky ridges to pine forest floors, sandstone to scree. At this point they have roughly 150 kms on them and show no signs of wear. They have also been worn with Petzl crampons, Hillsound Trail crampons, and snowshoes.
 My thanks to Trailspace and Scarpa for the opportunity to test these boots.
Source: received for testing via the Trailspace Review Corps (Sample provided by Scarpa for testing and review)

Your Review
Where to Buy
Help support this site by making your next gear purchase through one of the links above. Click a link, buy what you need, and the seller will contribute a portion of the purchase price to support Trailspace's independent gear reviews.
You May Like
Specs
Men's
Price
MSRP: $349.00
Current Retail: $300.00-$379.00
Historic Range: $221.21-$379.00

Women's
Price
MSRP: $349.00
Current Retail: $378.95-$379.00
Historic Range: $299.95-$379.00