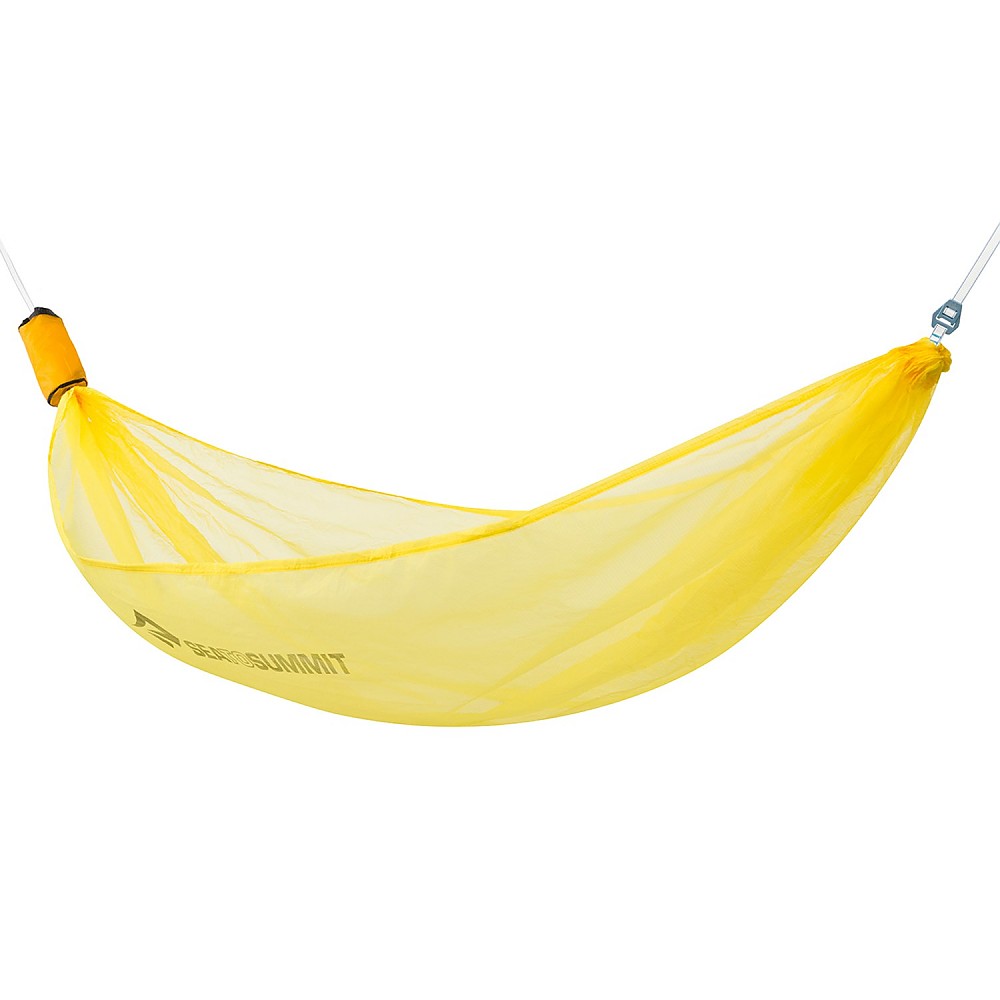 Specs
| | |
| --- | --- |
| Price | Historic Range: $40.48-$134.95 |
| Weight | 5.4 oz / 155 g |
| Length | 8.5 ft / 2.6 m |
| Width | 4 ft / 1.2 m |
Reviews
1

review

5-star:

0

4-star:

0

3-star:

1

2-star:

0

1-star:

0
All you need to get started and delve into the world of hammock camping. Whether you are a beginner or a more seasoned user looking to shave a few ounces from your gear list, the Sea to Summit Ultralight Hammock system will help you get there and have you enjoying the outdoors in no time!

Components of the Sea to Summit hammock system can work with most any gathered end hammock on the market.

All in all, the Sea to Summit hammock system is a complete, functional, and solid performing hammock setup. It does have a few flaws, but none that are overwhelming. Please read on to hear about my experiences with this system.
Pros
Hammock fabric is very breathable
Entire system is very lightweight
Setup instructions are printed on stuff sacks
Hammock Bug Net allows for amazing view
Components of system can be used with any hammock
Hammock Tarp is perfect for a lightweight, minimalist setup
Ultralight Hammock is ultralight at 5.4oz
Cons
Stuff sacks are made difficult to use by the attached cinch style openings
Hammock stuff sack is double ended, but one end is only a narrow slit large enough for suspension strap to pass through
Hammock buckles must be aligned correctly or major slippage will occur
Tree protectors are rather short and will not go around large trees effectively
Tarp ridgeline cordage as supplied is too short to be useable for its purpose
Tarp is minimalist style coverage
Relatively easy to flip/fall out of the hammock due to its narrow body style
Hammock gathered ends are too thin to allow accessories to stay in place properly without passing them through the suspension loop
Price is rather steep for the hammock and suspension components for what you are getting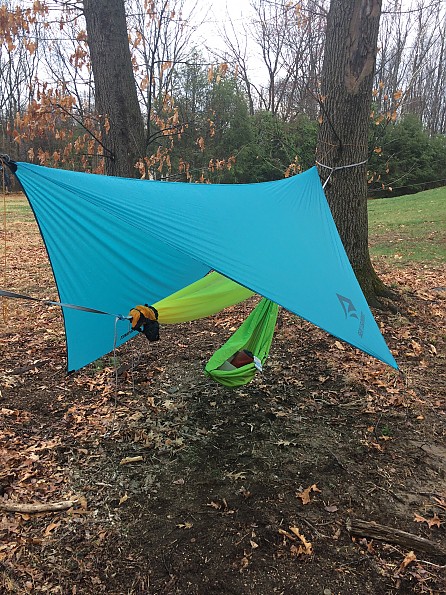 Ratings:
Specs:
*All weights include respective stuff sack
Entire system weight: 49.4 oz
Hammock with suspension: 12.6 oz (bare hammock is 5.4 oz); 8.5 ft x 3.9 ft
Tree protectors: 5 oz
Tarp (with guy lines): 13 oz; 11 ft 10 in x 9 ft 2 in
Bug net: 13.4 oz
Gear sling: 5.4 oz
Prices:
Construction and Component Overview:
All components of the Sea to Summit system are well made and of high quality materials. All stitching and seams appear to be top notch, and there are no visible defects with any of the items.
I only have a few complaints with the construction of the entire system, and those are the stuff sacks for everything, the tarp's cut, and the hammock's ends. I will address each of these in more detail below.
Warning: Webbing keeper must be close to buckle at all times!
Warning: Avoid exposing hammock to direct sunlight
Warning: Do not use when hammock is saturated
The three above warnings are included with the hammock and hammock suspension. Failure to keep the keeper close to the buckles will cause slippage to occur. Prolonged exposure to UV light can degrade the hammock fabric causing it to fail, but this is the case with all ultralight nylon fabrics. 
As a modular system the Sea to Summit system works well, though it is not the lightest system on the market as it is sold. However, many of the components are very lightweight and others could be modified to achieve a lighter overall weight, or items left behind to lower the overall weight of the system.
For comparison, my Warbonnet Blackbird hammock with built-in bug net, and a one-inch webbing suspension weighs in at 34 ounces for the double layer model. Compared to the Sea to Summit hammock, suspension, and bug net at 30.6 oz. By switching out the Sea to Summit suspension with something else you could easily save another 6+ ounces.
All of the Sea to Summit hammock system components are readily available from many mainstream outfitters, and give people an off-the-shelf opportunity to get into backpacking or camping with a hammock, and it gives it to them in a system that is very versatile, so that only the pieces that are needed can be used.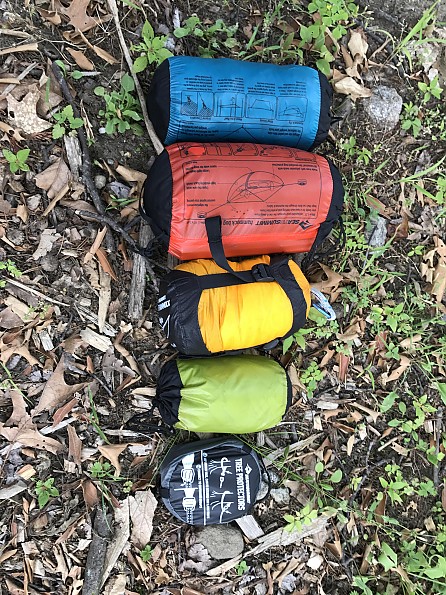 Ultralight Hammock:
Made of a custom-finished monofilament Nylon 6 material, this makes for a pretty lightweight and breathable hammock. You can literally see through the hammock material with ease.
I had some fears about being able to easily wear a hole into the hammock fabric, but so far those have been unfounded. Sea to Summit does supply a small patch kit with the hammock however, so if you do happen to get a hole it should be easily fixed.
The hammock has a high strength aluminum buckle on each end, which is used to attach the suspension straps.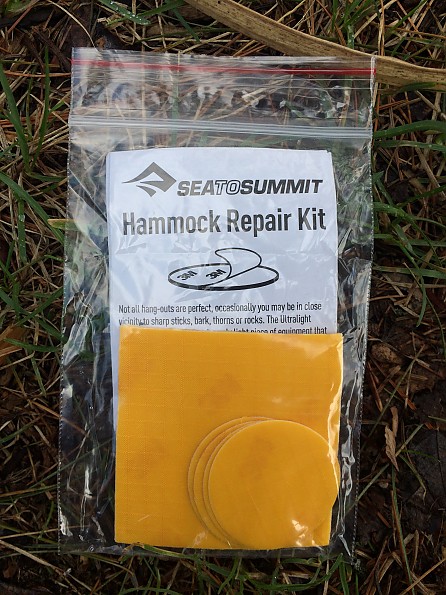 This is without a doubt a single sized hammock, and is rather narrow. It measures approximately 8.5 feet by 3.9 feet. Due to its narrowness one can easily flip or fall out of the hammock if not careful when attempting to enter, exit, or shift themselves. Through the course of testing I managed to fall out four times…and those are the first four times I have ever fallen out of a backpacking hammock since I gave up my tent for a hammock system some eight or nine years ago now.
I am not sure what the average hammock width is, but this is far narrower than my Warbonnet hammocks, and a little narrower than ENO and Grand Trunk. I also feel that this tippyness might somehow be related to the suspension system, but that is just a hunch. Once I learned where that tipping point was I did not have any further issues; it was just surprising those first few times.
I found sleeping in the hammock to be comfortable, though not perfect. I find a larger, roomier hammock perfect. This was adequate, and worked perfectly fine after I was exhausted from a day on the trail. I was able to get a partial flat, asymmetric lay. You can get just enough angle to make it very comfortable...but a little shy of spot on. A shorter individual would have no issues.
I did find myself liking the feel of this fabric, especially on hot and muggy days. It was very comfortable, and extremely breathable. The hammock compression sack is water resistant, and will compress the hammock only down to about 3.5 by 3.5 inches, or with suspension straps to about 5.5 by 3.5 inches.
The Sea to Summit Ultralight Hammock is definitely light, compact, and comfortable. Just be careful at first so you don't fall out of it!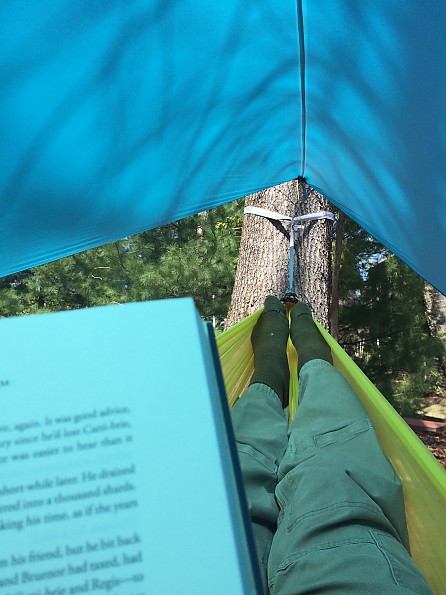 I really only have two complaints about this hammock, and no, falling out of it is not really one of them. That is just a tradeoff of getting a narrower, lighter hammock and can be remedied by training and attention to detail. My only complains are:
1)      The hammock's gathered ends are too thin, therefore accessories tend to not stay in place well and will eventually slide down the hammock body causing need for readjustment. I found the Hammock Bug Net accessory, as well as my under quilts, to slide down the hammock body during the night at times.
2)      The hammock stuff sack, while double ended, is not what most picture with a double ended hammock stuff sack or bishop bag. One end is only wide enough to pass the suspension through thereby rendering it nice for setup only. Tear down has you wondering why anyone would design something in such a manner. Why not just make both ends full size openings? That would make both setup and take down easy. This style of double ended stuff sack is often called a bishop sack and is in wide use with many hammock manufacturers...except for Sea to Summit.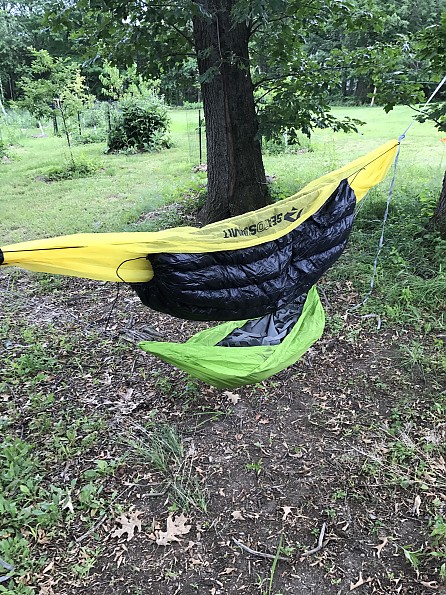 This system utilizes 1.5-inch Tree Protectors, and .59-inch (15mm) Suspension Straps with high strength steel quick connect buckles that are vaguely reminiscent of the cinch buckles. This style of suspension is tried and true and does work well if installed correctly, but care must be taken to align the buckles correctly or major slippage will occur when the hammock is loaded.
There is a little tree symbol with an arrow on the buckles showing which way to align them in relation to the trees you're hanging from. Sea to Summit rates the suspension at 400 pounds, and despite their claims, both the tree protectors and the suspension straps will not both fit in the hammock stuff sack. I was only able to fit one or the other, and so I chose to leave the suspension straps in the hammock stuff sack for ease of use.
While this suspension system does work, here are my thoughts on it.
1)      The tree protectors are not quite long enough to go completely around a moderate to large size tree. This isn't a big deal, but just requires a few extra steps to get the suspension attached if you will be hanging from a larger diameter tree. If they were a little longer (and the hammock suspension straps a little shorter) it would accomplish the best of both. I like being able to set up my entire hammock without having any of it touch the ground. So if your straps don't fit around a tree you either need a second set of hands or have to lay it down etc while you secure the straps. Not a big deal  really, it's just nice when they are long enough to accommodate a broader range.
2)      The suspension straps are webbing. Why are they made from webbing again? Aren't we using tree protectors? A high quality, high tensile strength cord/rope would have been my preferred application here since we are not worried about damaging a tree. Amsteel for example would have been perfect and saved a good deal of weight.
If it were my design, I would either go with 1-inch webbing and completely eliminate the tree protectors and all of the fancy buckles and go with a simple webbing cinch buckle, or go with tree protectors and rope/cord.
This isn't so much a con as it is constructive feedback for the manufacturer. It works as is, but just leaves you scratching your head as to why it was built that way. And for the record, I weighed the 1-inch webbing and cinch buckles from another hammock and compared them to the weight of this suspension system. The straight 1-inch webbing with cinch buckle is 6.4 ounces compared to this system which is 12.1 ounces (tree protectors and suspension straps).
In my opinion, this Sea to Summit system gives us double the weight for the suspension system with more complications and hassle in regards to use with no real advantage.
The Hammock Tarp is made of Ultra-Sil Nano 15D Nylon fabric which provides a high strength-to-weight performance, and measures 11 feet 10 inches by 9 feet 2 inches. Two tie out points are provided on one side of the tarp for enhanced performance in wind or wind driven weather, and for weight savings the opposite side is a narrower cut that tapers to a point with only one tie out. All seams are properly sealed, and I had zero leakage throughout my testing period.
This tarp is solid. It kept me dry and comfortable in some pretty severe thunderstorms with wind driven rain. I would like to see both sides have the same cut though, as some thought does need to be put into site selection with a more minimalist tarp such as this.
In a light or moderate rain the tarp is more than adequate, it is only in regards to wind driven weather where setup is critical for adequate protection. The side that tapers to a point does leave some area exposed, and with even a light blowing rain you can get a little spray inside the covered area.
The tarp does come with guy line included on all tie outs. However, in my opinion the ridge line cords should be significantly longer. They were several feet too short to hang between two moderate to large diameter trees approximately 13 feet apart. The length for all other ground level tie outs was more than adequate. Tensioners on guy lines are easy to use and hold strong. I left the tarp rigged for the a stretch of 17 days in which I only had to adjust the tarp tension after the first day, and I suspect that was from the new UltraSil nylon fabric stretching a bit.
The Hammock Bug Net is made from a soft polyester mesh with 80 holes per cm/2 (550 holes per square inch). It measures approximately 9.7 feet by 2.6 feet. The Sea to Summit Hammock Bug Net works superbly. Setup was very easy and it has excellent ventilation, easy access thanks to the large zippered entry, and a 31-inch collapsible pole spreads the mesh at the top keeping it away from your body for a more spacious feel. The bug net encompasses the entire hammock body and provides protection from bugs that could otherwise bite through the hammock fabric.
There is no ridgeline on the bug net thanks to the collapsible pole, and this allows for an awesome view. I thoroughly enjoyed the view from the Sea to Summit Ultralight Hammock with this system. Hands down a better view than my other hammocks that have built-in bug nets. I was very thankful to have this bug net on a few of my trips, as the bugs were absolutely relentless. I would really have loved to see the hammock stuff sack be large enough to accommodate leaving the bug net on the hammock as well as the suspension straps.
If I were to purchase this hammock system I would definitely plan on using a different stuff sack with it. Ease of setup is what helps make hammocks shine, but when you have a ton of pieces that have to be put on, adjusted, and fiddled with it takes away from that in my opinion. It's one thing to have to put everything on that first night, but on a long trip it's quite nice to just be able to throw your suspension straps around some trees and be done with setup. You probably won't appreciate this until you're setting up or tearing down in the pouring rain.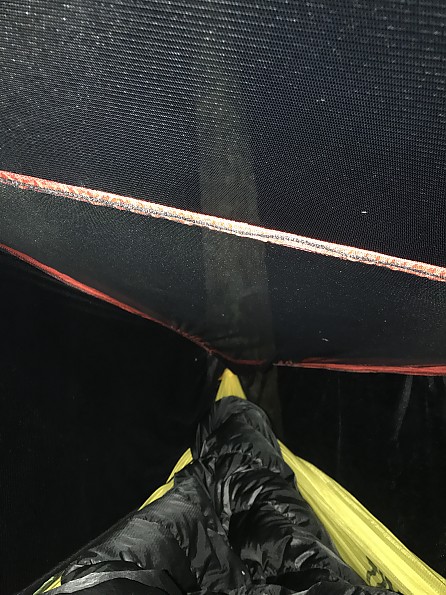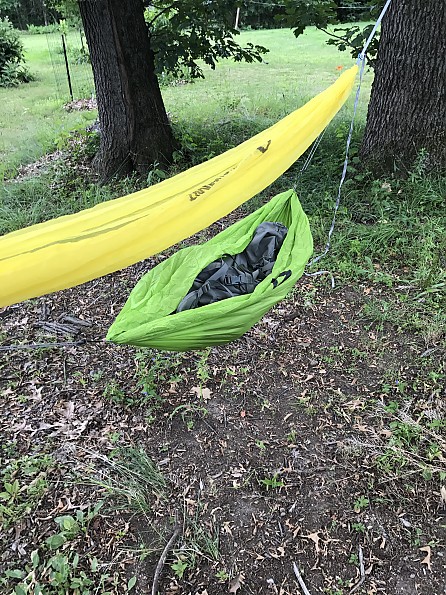 Shown with a Kifaru Highcamp 7000 for reference
The Hammock Gear Sling is made of high quality ripstop nylon, and felt substantially more robust than the hammock fabric. It reminds me of many other hammock fabrics on the market actually. The gear sling is a simple concept really. It's just a miniature hammock to keep all of your gear that is suspended from the main hammock.
Gear inside of it is easily accessible while you are in the hammock, and it gives you a storage area for small things instead of having to dig around in your pack for everything. Another benefit is it allows you to store your entire pack if needed so that your gear is out of the rain, mud, etc.
The cord locks/cam locks are of a style I am not very familiar with, and it could be that I am just not using them correctly. But I had a heck of a time getting them to work consistently. They would work for a while and then after a few minutes to a few hours would often work loose and slide all the way down when under load. I ended up just tying a loop on the ends and taking out a fair amount of slack, and putting them over the hammock ends with much better results.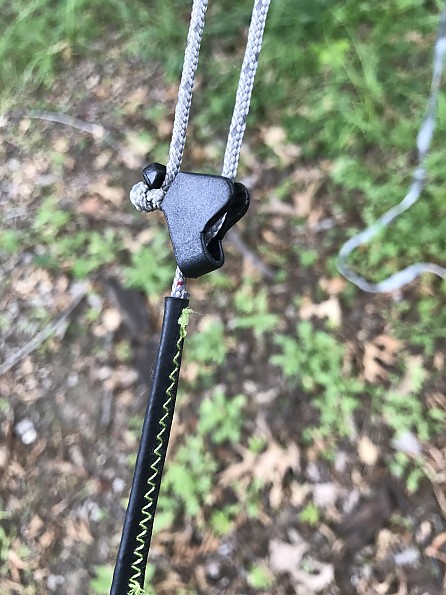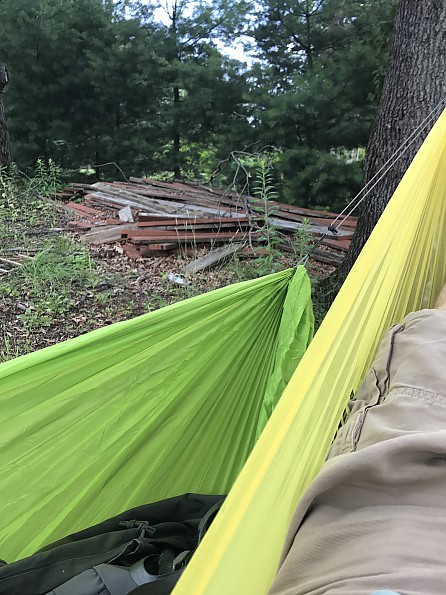 If you hang the gear sling a little loose you can easily pull it to the side for access while in the hammock.
Stuff Sacks:
I just wanted to mention the stuff sacks are of the design that I can not stand. It very well could just be me, but I really do have a strong dislike for stuff sacks such as these. They are small, which means packing items back into them is slightly more tedious than I would like for it to be. And in addition to being small they also restrict the opening of them by having the cords attached at both ends to the stuff sack opening. This style of stuff sack opening restricts access and, in my opinion, is just a poor design.
Of course it is easily enough fixed with a knife and a simple knot, but I didn't want to go cutting away on things that aren't mine. Stuff sacks with the old tried and true cord looped through the opening and passed through a cordlock and tied to itself works so well, why go and ruin a good thing?
Anyways, on with the review! The stuff sacks really are a minor thing….but they do drive me crazy.
Field Use and Experience:
I had the opportunity to test this hammock system from March of 2017 through June 2017. I slept nearly sixty nights in this hammock! My wife may have forgotten my name, but I thoroughly enjoyed it. I live in New England, so this is spring time. I was assaulted with cold weather, warm weather, thunderstorms, hail, snow, and even sun. Most of those nights were right in my backyard, but I did sneak away for a few trips too.
The coldest temperature I tested this setup in was 29°F, and the warmest temperatures were in the 90s with high humidity. This hammock is definitely on the chilly side so anything below 70°F or so and you will definitely want some insulation under you whenever the sun starts to go down.
On the contrary, it's very nice when the mercury is pegged high and the humidity is a bit oppressive. The hammock body really breathes well and I was quite cool and comfortable lounging, and sleeping on those warm days and nights.
That brings me to my first point about this hammock. The ends of this hammock are not nearly as thick, and well…, gathered as most other gathered end hammocks. Partly due to this being an ultralight hammock so the minimal amount of fabric is used. But the issue here is that since it isn't as thick, that things such as the bug net, and under quilts will tend to slip over time, and pass over the ends and start riding down the hammock body. I have never experienced this with other hammocks, so I definitely consider this a con.
It is mitigable to an extent by clipping or attaching accessories in a slightly different manner though, so while it's a con, it's not a show stopper in my opinion. I had to significantly tighten the attachment point for accessories or put a twist in the shockcord of my underquilts to ensure they stayed in position.
While I found this hammock quite comfortable, it is not very roomy. There is not much room to shift around easily, and care should be taken when doing so, so that you do not take a spill like I did on four different occasions. This is the first hammock I have ever fallen out of. I am not sure if it is simply because it is narrow, or if it is come kind of combination of that and the suspension being rather thin or if it is entirely user error. All I know is that it happened, it happened several times, and I am not a novice hammock user. So user beware and hold onto those sides while getting in, out, or shifting around or you might do the same.
I also found that using a pad with this hammock is challenging. Using a pad in most any hammock that isn't a double layer design is challenging in its own right, but with the Sea to Summit Ultralight Hammock that challenge is real. The narrower body and slippery nature of this hammock really makes it difficult to keep a pad in position. If you're going to use a pad, definitely do not inflate it all the way so that it conforms a little better to the hammock to aid in staying in position.
Using an underquilt is basically a must with this hammock, and I used a 3/4 length hammock gear underquilt and a full length underquilt for this testing. The only issue I had using an underquilt was getting it to stay in place on the hammocks ends. Over time it would shift and slip over the gathered ends and ride down the hammock body. The fix for this is to pass the shockcord and s-biner through the suspension loop.
If you did not watch the video in this review, I show this in the video.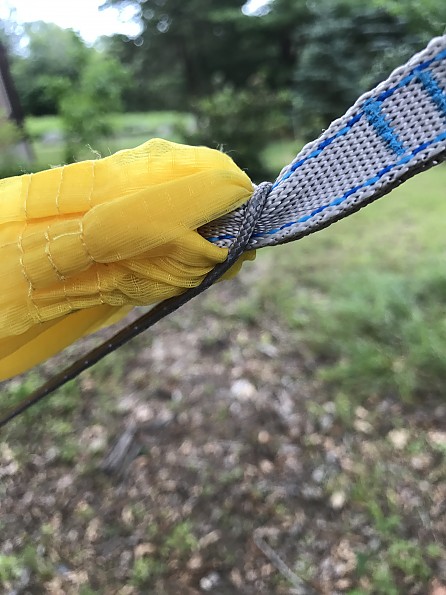 Hanging accessories in a traditional manner over the gathered end. Due to the thinness of the gathered end they can easily slip the end and begin riding down the hammock body.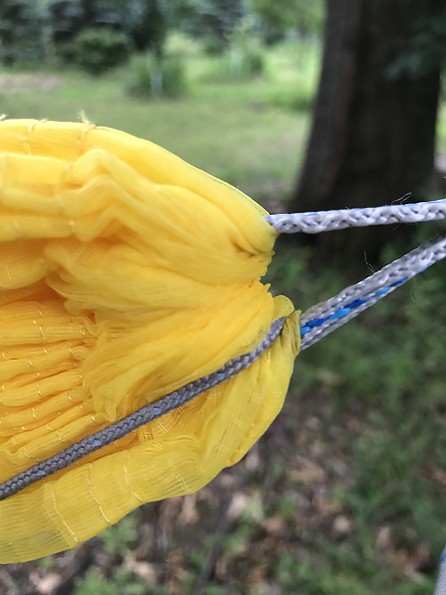 Hanging accessories from the suspension loop at the gathered end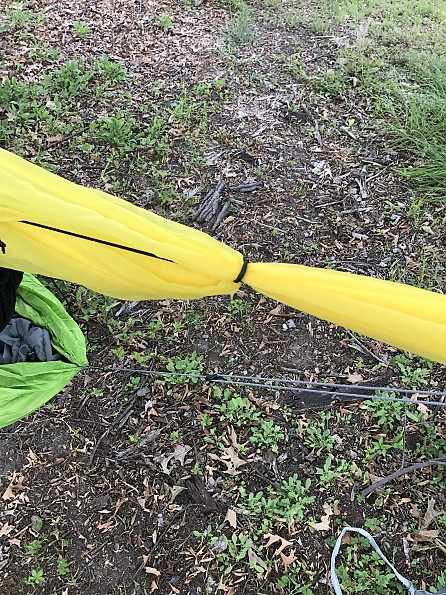 Underquilt slipping over the end and riding down the hammock body
I really like the Hammock Bug Net. It is a well thought out design, is fully functional, and is easy to install on the hammock by just passing the suspension straps through it. I very much enjoyed the view when using the bug net on those nights when the tarp wasn't needed. Lack of a ridgeline/center seam on the bug net provides a refreshing unobstructed view of the sky. There is a large side entry zipper which makes it a breeze to get in and out of. I found the zipper was easy to operate while in the hammock.
My two complaints and they definitely aren't about the bug net itself, is that I wish the hammock stuff sack was big enough to allow you to store the bug net on the hammock, and that the bug net can begin to slip over the hammock ends and slide down the body some due to the hammock ends not being large enough(the same issue with other items that attach to the hammock as previously mentioned). This bug net was definitely handy for those multiple day trips in bug country.
One con with the bug net is that it completely encompasses the hammock, so it becomes a little more tedious to set up the gear sling and more so to access its contents with the bug net in place. But it's really no more cumbersome than having to unzip a tent to access whatever you have stored inside. Access while inside the hammock is not restricted.
The Hammock Tarp is definitely functional, however it does require some forethought to ensure adequate protection. In light to moderate rain it works perfectly well, with no issues whatsoever. The only potential problems arise when you will be encountering a wind driven rain. I found myself on one occasion getting a little wet because the winds shifted during the night and the tarp was no longer providing adequate coverage.
The tarp is not cut the same on both sides. One side is more squared off and has two tie out points, whereas the opposite side tapers more to a point and has only one tie out. This design does reduce the weight and bulk of the tarp, but it also means that thought must be put into its setup to ensure you orient the broad side towards the wind. The vast majority of the time the coverage was more than adequate I found, and that tapered side does allow for some great views from the hammock.
The side that tapers to a point provides adequate coverage as long as there is no wind blowing towards the hammock from that side. The narrow taper really does leave a large area right on the coverage edge. I could feel some light spray on several occasions from wind driven rain, especially at the head and foot end of the hammock.
Even in heavy downpours the tarp kept me dry. All I am trying to stress is that since it's a pretty narrow coverage area on that side you can most definitely feel spray and moisture on occasion, but I was far from getting wet. We are literally talking a matter of a few more inches of coverage that would eliminate this entirely.
I would definitely call this a one-season tarp, or a 1.5 season tarp maybe...a big maybe on three seasons. Perfectly fine for a minimalist summer setup, but can very easily get marginal if you're going to be in the storm seasons, and for me the stormy weather typically reserves itself for spring, fall, and winter.
If I were to take this tarp on a lengthy trip in anything other than the summer season I would probably bring along a lightweight hammock sock also.
If the tarp was cut the same on both sides it would be much better and be a very solid full three-season tarp, and quite possibly be the best commercially mainstream tarp available.
Otherwise, I do like this tarp, it is well made and fully functional for how it was designed provided you understand it's limitations.. It does come with guy line which I was surprised by, but also thankful for.  In darkness, despite its blue and grey coloring, is also a high visibility line and reflects light well much like Triptease etc. However, the supplied cordage length for the ridgeline was a bit too short to be useful.
Lastly we get to the gear sling. Essentially the gear sling is a miniature hammock that hangs from the main hammock. It is made of a fairly robust nylon material, definitely sturdier than the hammock body material. It provides a place to store your pack and gear so it is easy to access and is out of the mud and off the ground. I used the gear sling to store my mostly unloaded pack and various odd and ends that I wanted easy access to. I had some technical difficulty with the gear sling cord locks/cam locks.
I just couldn't get them to work well consistently. I don't know if it's the cord locks, the cord, or me. I had never used that style of cord locks before so it could very well be me. I had issues with it slipping and causing the gear sling to eventually end up on the ground. I found it much easier to tie a double surgeon's knot loop on the end and just hang it over the hammocks gathered end. I found the gear sling to be especially useful when hammock camping in marshy or wet areas. Really helps keep things neat and clean instead of having things down in the mud and muck.
The Gear Sling is one of those "nice to have" accessories, but one could also make do just fine without it. In all of my time hammock camping I have always just laid out a small piece of Tyvek under my hammock and placed all of my gear on it to keep it clean and orderly. I do find myself preferring the gear sling though, and with an adjustment to the suspension method I could definitely see myself using a gear sling from here on out.
Conclusion:
I like this Sea to Summit Ultralight Hammock setup. It does have some quirks and some real negatives, but none of them are really, truly adverse. I think the biggest issue is the hammock's gathered end not being large enough, but even this could be corrected/eliminated by doing something as simple as tying a bandana etc around the end.
This is by no means by favorite hammock system, but it does work, and it gives you all of the components one would need to have an enjoyable time camping in pretty much any situation. None of the components are overly expensive by themselves, however the price isn't far off from some other very exceptional hammock products on the market.
My bottom line: I like it, and I would use it… IF, I didn't have my other hammock setups. The Sea to Summit setup is a good and solid system, but not great. It's functional, but not perfect. It works. Now, that being said. I would use the Hammock Tarp, Hammock Bug Net, and the Hammock Gear Sling individually with other hammock setups.
The hammock itself is the real downside to this setup, but if you're looking for an ultralight hammock then this very well may be the ticket for you. I personally find a slightly larger, roomier hammock to be far more comfortable, and for that I am willing to sacrifice a few ounces. There are gives and takes with anything that is truly ultralight, and like I said, this setup is functional and does what it is supposed to.
Source: received for testing via the Trailspace Review Corps (Samples provided by Sea to Summit for testing and review)

You May Like
Recently on Trailspace