SealSkinz Sea Leopard Glove

#9 in men's Waterproof Gloves and Mittens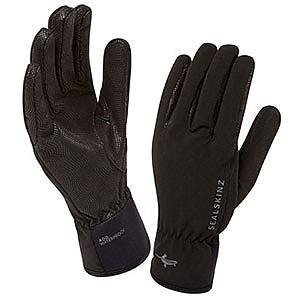 Reviews
1

review

5-star:

0

4-star:

0

3-star:

0

2-star:

0

1-star:

1
Good glove for running, dog walking or cycle commuting in light drizzle?
Pros
Durable
Dextrous
Windproof
Cons
Liner pulls out
Not waterproof
Not really sure what the intended use for these is...
One of my particular issues with rain is that, given I now hike with trekking poles, my hands get wet and quite cold often out away from my body holding on to the ends of the sticks. I purchased these gloves for a series of outdoor activities in Iceland this past summer, knowing that I was likely to encounter colder, wet conditions while backpacking and hiking.
On our first 4-day backpack, we ended up hiking quite high into the highlands, and the higher we got, the wetter and colder it got, until finally we ended up hiking the last 4km or so to our campsite for the night, across persistent late season névé in a driving rain. I had put these gloves on early and made sure the cuff was under my shell, knowing I was going to need them.
Well my hands never really got warm as the gloves got wetter and wetter. Metabolism changes between people and extremities are hard to gauge, so the cold hands wasn't really what turned me hard-set against these gloves — it was the wetness. They are advertised as waterproof, but not only did they not keep my hands dry, but once I got to camp I could literally wring out a good 10mL of water out of each glove.
In addition, at our snack break, once I took off the glove to open a granola bar package, I was unable to get them back on without assistance — literally. The inner glove pulls away from each of the fingers of the outer and twists up inside when you take your hand out — and that combined with the fact that they weren't keeping my hands dry at all, made it impossible to get my cold, wet hands back into them alone.
I had to get my hiking partner to hold the glove, while I forced my hand back into them. They also never even came even close to drying out for the duration of the four-day trip (the rest of my gear did easily, hung out in the wind when it wasn't raining).
I've been hiking and backpacking for a long time, and I know that cold and wet is a really tricky combination to deal with for handwear. I think my expectations of these gloves were that they at least help me combat one of the variables (either cold or wet). They did neither. They were very windproof, but why I'd pay the price for these when I could just get a Windstopper fleece glove that would do as well or better job (even in the rain) is beyond me.
And I'm still not really sure what application these would be good for — maybe urban cycling, running in drizzle, or dog walks? It would have to be some place where you're assured to be able to dry them with heat later if they got wet. Needless to say I returned them as soon as I got back.
TL;DR: They get wet, they let your hands get wet, they are impossible to get back on once your hands do get wet, and they don't dry out without full sun or a dryer. Backcountry demands seemed too much for them — don't use them for this application.
__________
Sealskinz response:
"Thank you for taking the time to write such a detailed review about our Sea Leopard Gloves. We were sorry to hear that you were disappointed with them during your trek in Iceland. We agree that this product is not not really suitable for the type of activity that you were doing and it is a shame that we could not have advised you otherwise. The Sea Leopard Gloves only have a thermal rating of 2, making them a good everyday lightweight waterproof glove with a multitude of uses. In your case we would have recommended a glove with a higher thermal rating, and Anti-Slip technology, which eliminates liner pull-out. The Norge Glove is a very popular product with walkers who use trekking poles as these gloves are reinforced in the area where the poles are held. They can be combined with a merino glove liner to give added warmth and comfort.

We are always happy to advise customers on product selection to help them to enjoy the outdoors in all weather conditions."
Source: bought it new
Price Paid: $55 CDN

You May Like
Recently on Trailspace