SealSkinz Waterproof All Weather Glove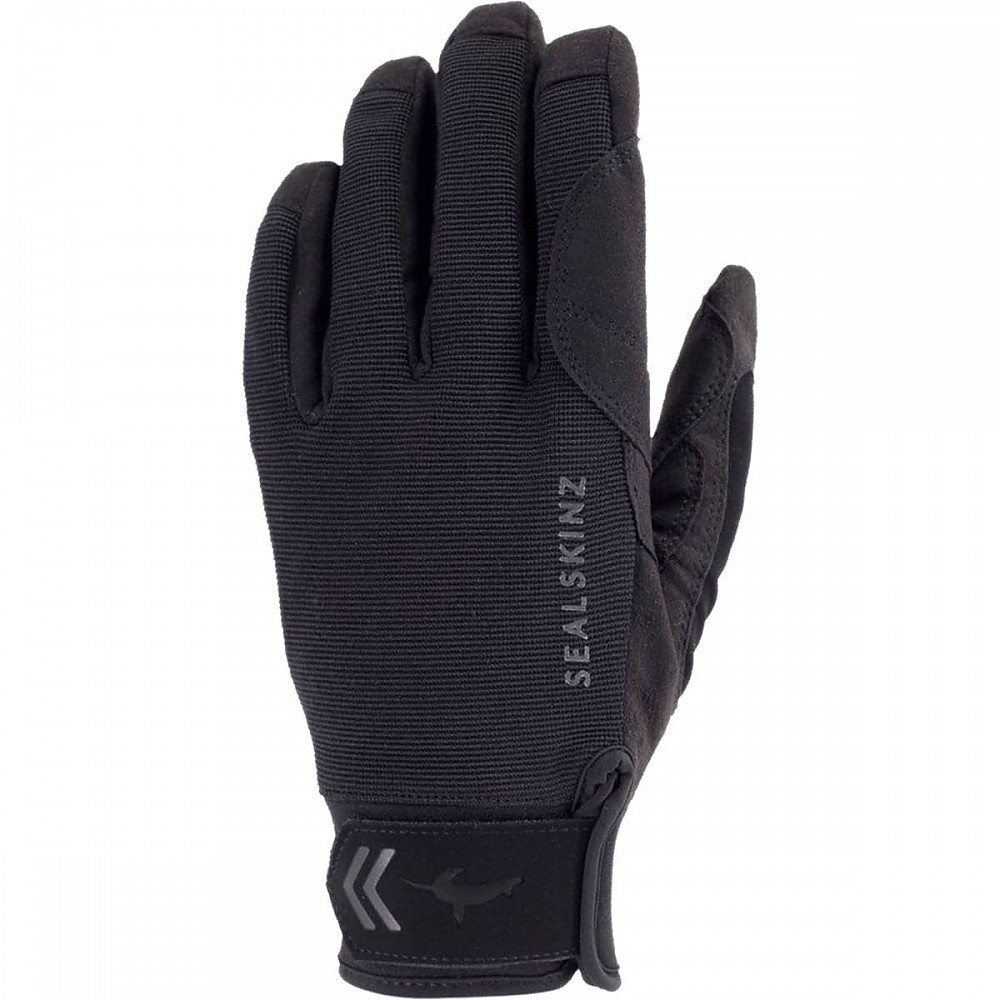 The SealSkinz Waterproof All Weather Glove is a tough, waterproof-breathable glove, but the suede palms and fingers wet easily, so the gloves feel cold and wet even when they are dry inside. Best reserved for moist but not wet shoulder season activity.
Pros
Waterproof to the wrist
Breathable enough for moderate activity
Precurved fingers and fleece liner for comfortable fit
Durable
Fleece wiper on thumb
Cons
Suede palms get wet easily
Best to try on for size before buying
Preliminary Review
Sealskinz has provided me with two pairs of gloves to put to the test, these and the Extreme Cold Weather Gauntlet.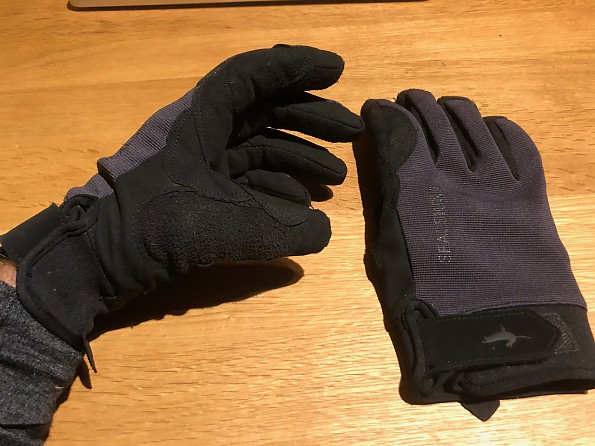 Sealskinz specializes in waterproof/breathable socks, gloves, mittens, and hats, with nearly 50 options just in the gloves and mitten department. In most garments, waterproofness and breathability are a tradeoff, but Sealskinz claims its products offer "100% waterproof protection whilst being incredibly breathable and dexterous". Depending on conditions and activity, these two characteristics may be more or less desirable—to have both in abundance could be a dream come true.
The All Weather is one model in a wide range of gloves under the All Weather heading, with camouflage, cycling, hunting/shooting, and more insulated versions also available.
Materials and Construction
The All Weather glove is well-designed and -made, with a suede leather palm and fingers that wraps up over the fingertips and over the side of the index finger, with reinforcement in the crotch of the thumb, all common wear zones.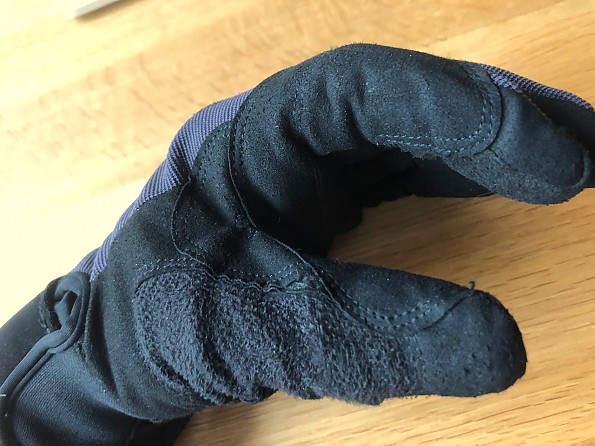 The back of the glove is a tough polyester/nylon blend that should easily outlast the leather. The fingers are precurved for comfort and dexterity. The cuff opens wide via a lycra gusset and closes down firmly with a Velcro strap.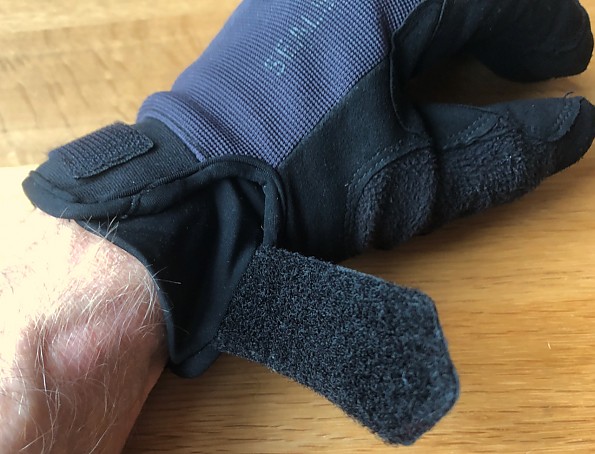 A fleece strip along the outside of the thumb is great for a quick wipe after shooting a snot rocket. The soft, brushed polyester liner inside the glove slides on easily. The proprietary polyurethane waterproof/breathable membrane is hidden away inside but shaped around the fingers and anchored so that the liner will not slide around or invert when taking the gloves off. The gloves do not have any insulation other than that provided by the polyester liner.
Waterproof/Breathability
Since Sealskinz are billed as waterproof, I tested them by immersing my gloved hand in a big bowl of slush for 15 minutes, long enough for the cold to start to get painful. They kept water out until I immersed my hand past the seam at the base of the wrist cuff, where the waterproof layer ends, so that I started taking on water. Based on this test, I can say that the PU liner really is waterproof.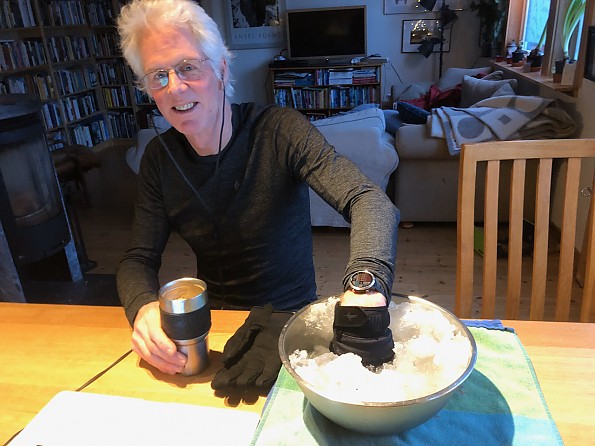 I have used the gloves over a range of temperatures on either side of freezing and at various levels of activity. The breathability is good enough to keep up with the moisture generated by moderate levels of activity, but moisture can begin to accumulate with intense activity, especially xc skiing, which involves a lot of arm swing. Given their success on the waterproof side, they are impressively good at venting moisture.
I do have issues, however, with how the gloves feel when using them in conditions or activities that are wet enough so that the suede palms and fingers soak up water, for example when throwing multiple snowballs for Harley (the dog). They feel wet inside even though they aren't, and the cold, wet leather wicks heat away so that my hands feel cold. The excellent waterproof liner doesn't make so much sense when paired with an outer material that is easily soaked. In practice, this means that these gloves are best reserved for activities where they won't get too wet—so what's the use of the waterproof liner?
Fit, Comfort, and Warmth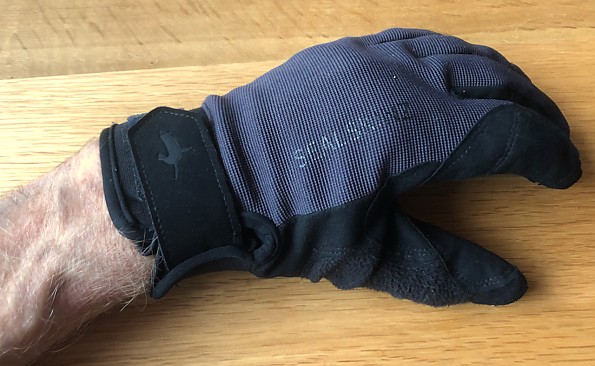 I took a quick look at the web description of the gloves before I sent my size info to Trailspace, but did not notice that they come in XXL, since in my experience most gloves don't come any bigger than XL. Consequently, the XL gloves I received for testing are too short on the fingers and wrist. I suppose I should have sent them back to England for a trade-in, but I decided to forego the expense and hassle of international shipping and so put the XLs into service.
For the record, Sealskinz' sizing chart, which depends on measuring around the knuckles, puts me in between M and L. I don't think of my hands as being unusually narrow (my wife describes them as "meat cleavers"), but it might be better to specify size by hand length rather than by circumference.
These gloves are not designed to be worn over a liner.
Putting the fit problem aside, the gloves slide on easily and feel quite comfortable, at least when dry. The precurved fingers add to the comfort, both on a relaxed hand or when gripping a ski pole or equivalent.
Sealskinz rates these gloves at 3 on their 0 to 5+ "Climate Guide" scale. Although they don't specify temperature ranges in the scale, if mid-range is around 0˚C / 32˚F I'd say that's about right.
Durability
With repeated rubbing of a cork grip, cross-country skiing  provides a stringent test of gloves' durability—I usually wear holes in the fingertips or thumb-crotch of a pair of gloves with suede palms and fingers at a rate of about one pair per season. Because these gloves have proved to be a bit too warm for xc skiing, I have used them only for a few 10s of kilometers with no signs of undue wear. I wouldn't really expect the suede to hold up much better than in other gloves, but the wrap over the fingertips and other reinforcements should help extend life. These gloves should last a good long time with less abrasive activities such as cycling or hiking, even when using trekking poles.
Preferred use
I have used the Sealskinz a few times on my 4 km bicycle commute to work (downhill) and back (uphill). They aren't quite warm enough for the downhill leg in near-freezing temperatures, but just right for heading back up. I have an older pair of insulated Sealskinz gloves that I have been using almost daily on my winter commute for several years that I prefer to use now in the midwinter period.
I have also used the All Weathers for xc skiing, mainly at temperatures just a little below freezing. They are a little too warm for that level of intensity, but breathe surprisingly well, although not enough to prevent some moisture accumulation inside. On one trip at around -8°C (18°F), it took a while to get my fingers warmed up, but then they were about right.
Although they wouldn't be my first choice, I think these gloves would do well for hiking and biking in moderately wet conditions in the 0-10°C (32-50°F), when they and the wearer are unlikely to get completely soaked. Within my range of activities, those opportunities are more likely to arise next autumn than in the remaining winter and spring here in Norway. Instead, they have become my glove of choice for walking the dog, where tossing a wet frisbee or some snowballs for a few minutes is often part of the program.
Conclusion
Despite solid design and construction and an impressive combination of waterproofness and durability, the suede palm and fingers of these gloves absorb water and therefore limit the usefulness of these gloves. They are certainly good enough for cool weather cycling and hiking, but I suspect there are other gloves in the Sealskinz lineup that will work in a broader range of uses.
Experience
So far I have used these gloves over the first couple of months of a relatively warm, wet winter in Tondheim, Norway, for cycling, xc skiing, and dog-walking, including some snowball and frisbee throwing. They have taken up residence in the drawerful of gloves and mittens that any winter lover needs to keep hands happy according to temperature and use, and in due course will join the long parade of gloves that have passed through the many winters of my life.
Source: received for testing via the Trailspace Review Corps (Sample for review and testing provided by SealSkinz)

Your Review
Where to Buy
Help support this site by making your next gear purchase through one of the links above. Click a link, buy what you need, and the seller will contribute a portion of the purchase price to support Trailspace's independent gear reviews.
You May Like
Specs
Price
MSRP: $65.00
Current Retail: $48.93-$70.00

Outer
Outer: 52% Polyester, 27% Nylon, 18% Polyurethane, 3% Elastane

Membrane
100% Polyurethane

Lining
100% Polyester

Recently on Trailspace