Sierra Designs Avalanche Jacket

The Avalanche Jacket has been discontinued. If you're looking for something new, check out the best waterproof jackets for 2022.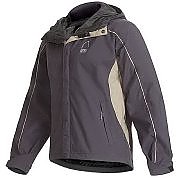 Specs
Price
Historic Range: $69.95
Reviewers Paid: $470.00

Reviews
3

reviews

5-star:

0

4-star:

2

3-star:

0

2-star:

1

1-star:

0
Used my Avalanche Parka extensively from day 1. Used it for skiing, ice climbing, mountaineering, backpacking, and I even wore it almost daily during the late fall, winter and spring. I'd estimate that I must have worn it about 700 times ! A good test eh ?
Well, during this time, I've no problems at all with any sort of leakage. The orangy yellow colors would turn dark and almost black-like when completely soaked but I can't recall one instance where it's left me wet.
The only problems I've had were with the seam taping across the back. The tape simply detached itself from seam ... which is a bad thing when it comes it water seepage. The zipper from my right outer pocket also came loose after some threads from the stitches unravelled themselves.
I took the jacket to Sierra Designs for repair and they simply wrote off the jacket as a manufacturing defect. And in turn, they replaced it with a 3ply XCR Elevation jacket ! Now that's what I call service !
Fabric: 3 Ply Goretex (Classic)
Price Paid: $500 Cdn

pros:
great hood - snug to the face, kept periferal vision clear, turned when head turned.
interior pockets - great for keeping water bottle thawed
cons:
had a lot of trouble with this jacket. sierra designs warrantied it each time, after the third or fourth incident they gave me a full store credit (for the full suggested retail price) rather than give me ANOTHER replacement jacket.
leaked - i had to send it back a number of times because it was leaking at the neck. the problem had nothing to do with cleanliness or wear or exertion. SD claims that i have a chemical in my sweat that breaks down the gore-tex. gore refutes this by saying that gore-tex is chemically inert and doesn't react with sweat at all.
stitching - had a minor problem with one of the pocket zippers, it kept getting jammed on loose threads.
summary:
i would have been satisfied with the jacket if it hadn't leaked. the cut was good, the hood was well designed... nothing mind blowing, but it would have been a solid jacket, if it had been stormproof.
another thing to note is that SD was very good about honouring their warranty. they replaced it a number of times and then finally just suggested i accept a credit and use it on another brand.
the customer service rep claimed that my situation had occured only once before, and that we were anomalies. however, i know at least one other person personally who has had what seem to be similar problems along the sleeves.
the long and the short:
i would not recommend this jacket to anyone who is planning on using it for multi-day trips in the rain. cold weather sports where rain is unlikely are probably fine.
Fabric: 3-ply gore-tex
Price Paid: $470 srp

I've had this jacket for about 2-3 years now. Excellent jacket! Great for all-around use. Although I wouldn't recommend it to anyone who sweats alot when they are active as it isn't the best when it comes to breathability, even with the vents. Only problem I've had with it is it has recently begun to de-laminate around the hood and in spot areas on the front thus allowing water to "soak" into the material leaving wetspots in the rain. Probably caused by the wear and tear over the years.
I called W.L. Gore customer reps and they told me to send in the jacket for analysis and informed me to go out and pick out a replacement jacket free of charge as it was a manufacturing defect!
Fabric: 3-Ply Gore-Tex
Price Paid: $500 (Can)

You May Like
Recently on Trailspace