Sierra Designs Women's Backcountry Bed 800 3-Season

#7 in women's 3-Season Down Sleeping Bags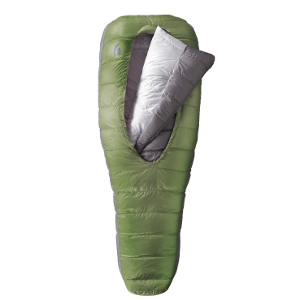 Specs
Price
MSRP: $439.95
Historic Range: $272.99-$539.95

Weight
2 lb 10 oz / 1.19 kg

Temp Rating
25°F (EN Comfort) / 13°F (Limit)

Reviews
2

reviews

5-star:

2

4-star:

0

3-star:

0

2-star:

0

1-star:

0
The Sierra Designs Backcountry Bed is a quality lightweight sleeping bag featuring DriDown technology and an exceptional new design given its comfort and versatility. While contented mummy-bag users may see no reason to switch, multifarious-position sleepers might just find a perfect fit.

In my experiences, when paired with a NeoAir XLite Thermarest and using the integrated pad sleeve, the ensemble provided the warmest and most comfortable nights ever spent outdoors. I was also excessively pleased by the ease of getting in and out of the bag… I would go so far as to say that after being spoiled by the Backcountry Bed, I will never hassle with a zippered bag again.

Take note, this bag is designed to be paired with a pad, due to a lack of insulation around the underside torso section…while this design worked great for me, this may be a deterrent to the minimalists choosing to forgo a pad.
Pros
Lightweight
Excellent loft
Incredibly comfortable design
DriDown (hydrophobic down fibers)
No zippers or cords
True-to-temp rating
Cons
Designed to be used in conjunction with a pad (area lacking insulation)
Sierra Designs Backcountry Bed Women's 3-season (15°F /800 fill) with DriDown technology.
Initial Impressions (what's included/materials/dimensions/loft/new features):
The Backcountry Bed comes in a nice mesh storage sack and includes a very lightweight (0.8 oz) stuff sack made of the same quality 20D polyester ripstop with a DWR finish as the bag.
My sample weighed in at 2 lbs 10 oz (as verified by three different scales; the women's model has 4 oz of extra fill compared to the regular). In the provided stuff sack, the bag measures 16x9 inches but I managed to squish it down to 10x9 inches using a compression sack. I would say that pack-ability is similar to other down bags of a similar temp. rating (and of course, far better than synthetic bags).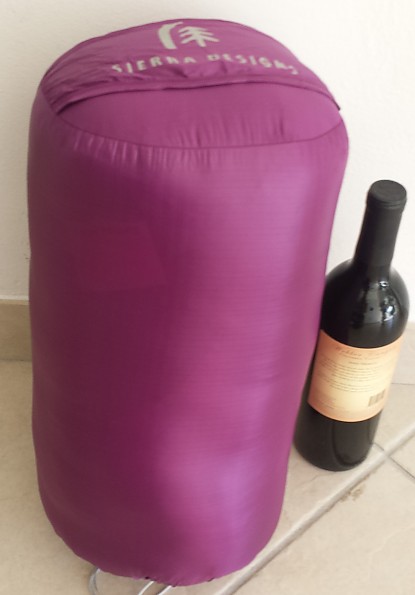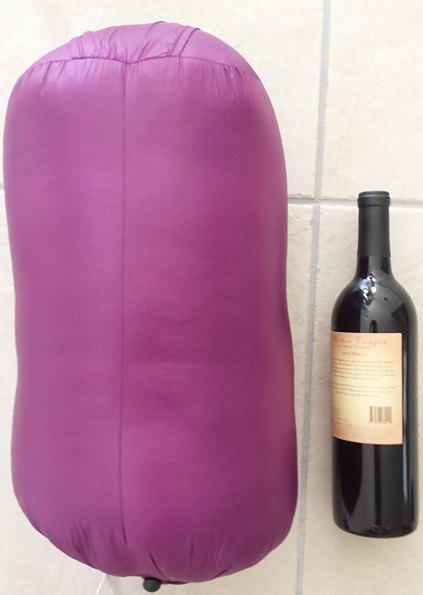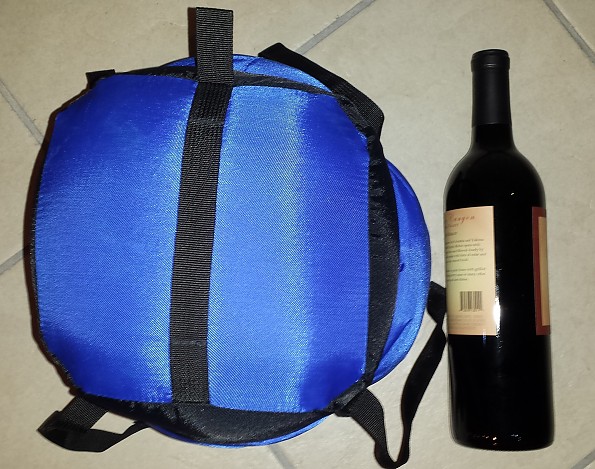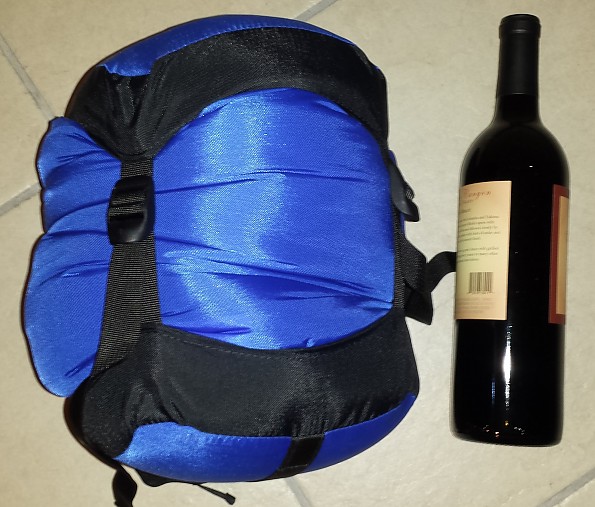 According to the manufacturer, the bag fits a person up to 5'8" (and I am actually closer to 5'9" on a good day).  Extended, the bag is around 72 inches long outside head to toe, and the comforter itself is about 46x46 inches. The bottom of the comforter is attached inside the bag while the other end is free, extending past the hood, with built in hand pockets. These aid in orienting/anchoring the comforter and in nesting cold hands. I found the oval opening to be generously large, in order to crawl in and out of.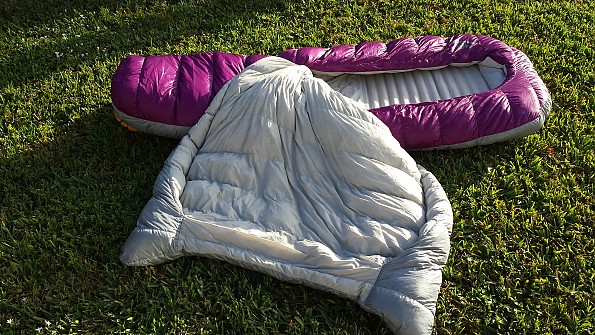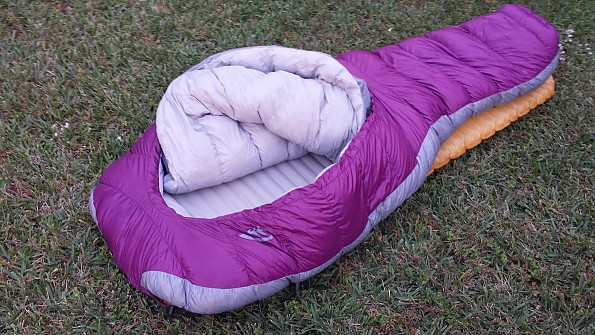 Note, I was able to find only limited manufacturer information on the bag (it's just hitting the market now), so many of the figures I just provided are from my own measurements. Here is a picture of the extent of information about my particular sample: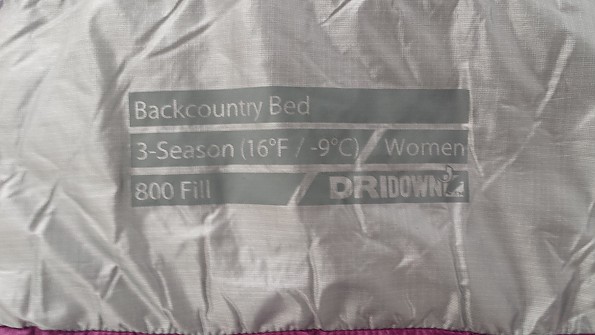 Upon releasing the bag from its stuff sack, it quickly exhibits quiet impressive loft. It struck me that it looked just like the (what I assumed to be) staged pictures online. You know that gear that looks so perfect in the store or catalog only because of some doctoring and/or stuffing?
Well, this bag manages to shape itself on its own (especially the lower half), which immediately prompted me to break out a couple of my old bags for comparison.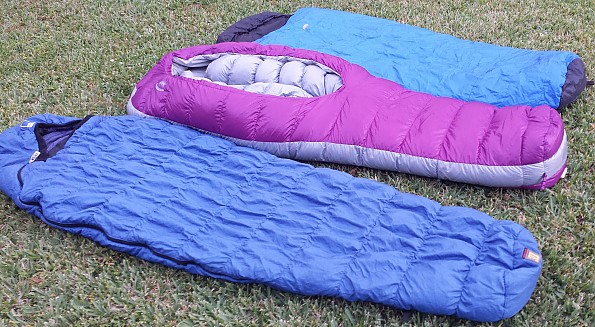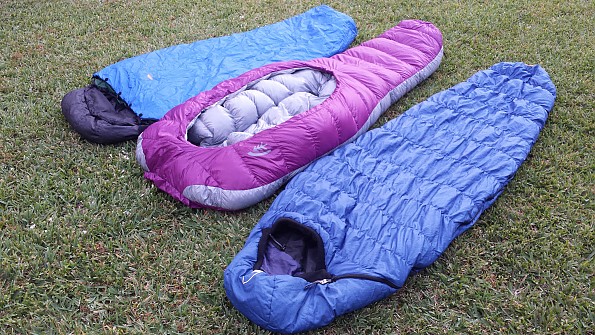 It seems sleeping bags have improved a whole lot since I bought my first backpacking bag over 12 years ago (which incidentally was also a Sierra Designs bag). Granted,  both comparison bags (blue hood: a 15°F synthetic and black hood: a 20°F 775 fill down) have both lost a lot of their loft over 10+ years of use, but I'm quite certain they didn't match up to this bag even in their prime.
New baffle designs, contours, and outer materials make for a much nicer shape, look, and feel. The down itself is supposedly much better…it's now hydrophobic! Sierra Designs states that its DriDown achieves/maintains loft better than traditional goose down and resists the deleterious effects of water and humidity…more on that to follow.
Other features or lack-there-of…goodbye draw cords and zippers!: 
I can't say enough about the design's simplicity and ease of entry/exit. The obligatory mention of zipper snag is blissfully unnecessary in this review. Instead, I could fill a few lines offering testimonial to the dangers of outdoor-equipment-zipper-overload and the enduring nightly struggle to navigate it all…perhaps in another tale. 
Let's just say that very limited brainpower is needed for a midnight bathroom excursion with this bag. Throw the comforter aside (with gusto if it's dawn), sit up, and pull your knees towards your chest while worming backwards just a tad and you're out!  In reverse, the large comforter easily envelopes you back into its warmth, inciting a high snuggle-factor and making you the envy of all your camp mates.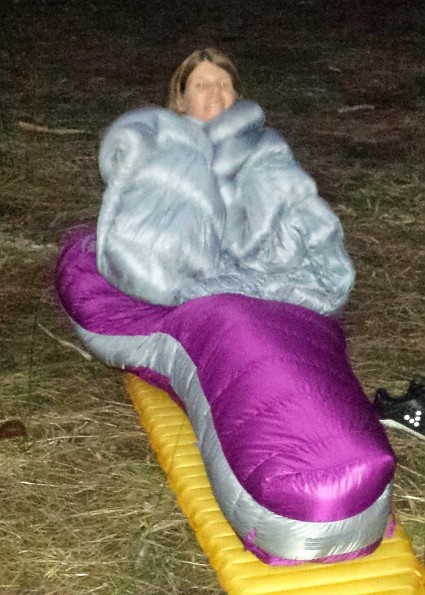 The product descriptions are on track in claiming that the Backcountry Bed is as close to your bed at home as you can get.  During entry, escape, tossing and turning, the pad sleeve keeps the ensemble perfectly aligned.  What amazed me most was how the top comforter stayed in placed as I moved around. With the pad sleeve holding the bag in position and the hood drawn over the top of your head, the sides of the opening actually create a taught sleeve in which to tuck the comforter.  As such, I was free to sleep on my stomach and rotate side-to side as much as I pleased, without the comforter coming un-tucked and letting the cold in. So in this way, the Backcountry Bed is even better than your comforter at home.
But there is one downside to this design. With the women's model, there wasn't quite enough room to fit a pillow AND my head inside the hood (recall, I'm at the uppermost limit of in terms of height for this bag).  The pad sleeve also does not allow for a pillow to be placed under the hood, between the pad. So in effect, if it's so cold that you need to use the hood, your options in using a pillow may be limited. I placed mine under the pad, thereby elevating my head enough so as to be happy. I also found that tucking the ends of the comforter under my head created just enough padding to qualify as a pillow and resulted in keeping the comforter in place even better.  In warmer conditions, when I didn't need to bury my head inside the hood, it actually served to keep my pillow in just the right place instead.
Comfort:
So let's talk about the Backcountry Bed's key focus: sleeping position versatility and freedom! In a bed, I almost never sleep on my back or in any one position for very long…a style not so suited for the outdoors. When I traded up to the much thicker NeoAir series of Thermarest, I was finally able to achieve my favored side and stomach positions but still kept getting 'lost' inside my mummy bags, as they failed to rotate properly with my antics.
The Backcountry Bed does what it touts, which is stay in place while you roll around and assume just about any sleeping position you please. It is designed to be used with a pad…really it's compulsory because there is a large section on the back of the bag (essentially the area where the pad sleeve is sewn on) that has no insulation. Keep in mind, such a strategy reduces the bulk and weight of the bag and is similar to several other bags on the market (Big Agnes). For me, such a design really worked with my sleeping habits and pairing of gear.
I found the Backcountry Bed to be the perfect complement to my XLite...almost as if they were made for each other. I would note that the pad sleeve is a pretty tight fit over the XLite (size regular) when it is fully inflated, which makes me wonder how more rectangular-shaped pads might fit.
Keep in mind, my sample is a women's size, so perhaps the regular or long sized bags might have a scaled-up pad sleeve. One trick I learned is to insert the pad first before fully inflating it. The sleeve has slots on either side so that the pad corners can protrude and inflation be adjusted. Together my pad and bag weighed approximately 3.3 lbs…that's pretty impressive for such a comfortable and thermally efficient system.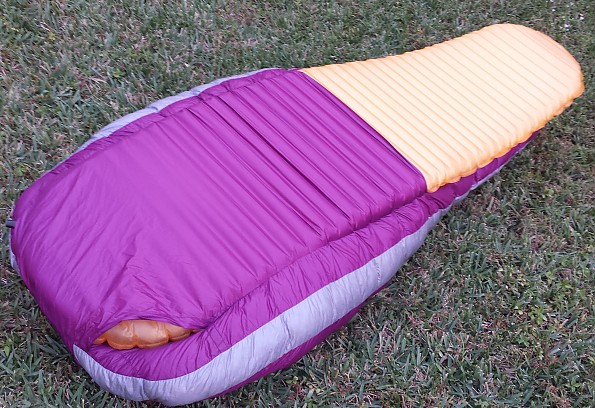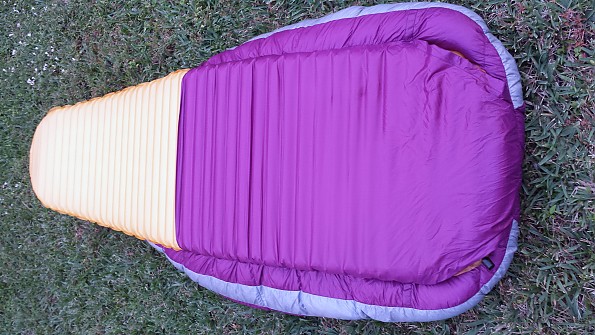 Water-resistance and repellency:
My best test of the bag's hydrophobic properties came during a thru-hike of Big Cypress National Preserve. With 3/4ths of the 30 mile trail underwater, it's almost an understatement to say that this is one of the wettest environments in the U.S. And while we had clear skies for the three days, a cold front brought the temps down into the mid 30's during the first night, resulting in copious amounts of dew. In fact, so much condensation formed on my tent that it pooled on the fly roof and started raining down on the interior around 2 AM.
While I found that my tent didn't handle these extremes so well (the same tent that has been through downpours and days of drizzle without so much as a drip before), the bag DID perform to the manufacturer's claims. I can say this with a lot of confidence because my unfortunate tent-mate happened to have a standard down bag, and the difference was quite clear. While her bag became saturated in all the places where it had contacted the tent wall and floor, the Backcountry Bed's exterior nylon felt only damp to the touch. And despite water dripping directly on the bag for several hours overnight, I stayed warm and dry and could not find any wet spots/clumping in the morning.  Loft was unaffected. We had an early start that day, so we had to pack all our equipment away before drying it out. I was again impressed that when I unpacked the bag at the next campsite, I could not detect any dampness whatsoever.
After this trip, I decided to really test the material's water repelling abilities under artificial conditions. As such, I subjected the stuff sack to a stream of water from the sink, which it shucked off completely. I then turned the stuff sack inside out, dumped a few cups of water inside, and hung it in the shower.  I forgot about my experiment until a full 24 hours later, when I returned to find half the water still inside. The outside material is thus pretty water resistant.
So given all these findings, I would be confident in using this down bag under conditions that synthetic bags have traditionally been recommended for. Can you sleep outside unprotected in the rain and not get wet? No, not really, as the bag is not intended for that. 
Gonzan gives a great review of what happens when you try this, if interested: https://www.trailspace.com/gear/sierra-designs/zissou-30-lite-dridown/#review26198
Warmth:
Finally, and perhaps most importantly but also most subjectively, I would say that the Backcountry Bed lived up to its temperature rating. Here's the part where I must mention that I sleep cold. It goes deeper than that…despite growing up in Colorado and having spent months in Alaska and the Antarctic, I am a complete wuss when it comes to cold…that's why I live in Florida, hello? I'm thin and long…which is not a body plan for conserving heat. In my other two bags of similar rating, I have felt chilled at 30°F before, even when encased in several layers of clothing and a hat!
Secondly, I must admit that I had to resort to sleeping in my parent's unheated shed, in Colorado in the winter, to really test the lower temps with this bag. So wind and humidity were negligible under this setting (similar to a hut or yurt).  But I can say during that week, I was incredibly warm in the Backcountry Bed at or just below freezing and with only long underwear worn. On the two nights that it dipped into low 20's inside the shed (single digits outside), I did develop a cold spot in the foot box. To me this is not all that surprising, given that I have poor circulation to my feet, which tend to always be cold.  I adjusted by using thicker socks the second night, which helped. I actually expected to find cold spots around the edges of the comforter but my torso proved to consistently be the warmest part in the bag.  
Given all this, I feel that the Backcountry Bed fares just as well as traditional mummy-style bags in terms of conserving body heat (and that is to say that the minimum temperature rating is often the temperature that you'll survive the night, but not necessarily be comfortable, at least for those that are in the 'sleep cold' category).
Also, from the knees down, there aren't as many options as with a 2-way zippered bag, which you can unzip from the foot end for ventilation. In fairly warm temperatures (60's), I improvised by pulling one or both legs out and just lying on top the bag, with the comforter spread lengthwise to cover much of my body. In this way, the design does offer good versatility in dealing with a wide range of temperatures. Note that newer versions will include a footbox sleeve on the underside of the bag, by which one can stick their feet out to vent (see comments below).
Summary:
I felt that a full 5 star rating was very justified for the Backcountry Bed, based on the quality and comfort of this new, innovative design. I spent a fair amount of time with it, appreciating it very much right from the beginning. It has actually helped to improve my experiences in the backcountry, which is saying a lot. It is also one of the few pieces of gear I would feel confident in paying full retail price for and consider in belonging to my core collection.
Testing Notes:
This bag was used in late October – February in Florida and Colorado. It was tested in both dry and humid conditions in temperatures ranging from 21-65°F.
Recommended Uses: Living it up in comfort in the backcountry, in huts, hostels, or wherever travels may take you. This is an all-around design suited for many uses.
In the backcountry of Big Cypress National Preserve.
UPDATE:
I found another circumstance in which the Backcountry Bed excels: bivouacing. I decided to try the bed with my OR Aurora Bivy sack for an overnight trip last weekend. My frustrations with using the sack previously stemmed from trying to wrestle with a zippered mummy bag inside the narrow tube of a bivy sack...it's kind of the square peg in a round hole scenario. Now I found a round peg...in the same effort/motions that it takes to enter the bivy, you're tucked into the Backcountry Bed too.
As is the norm for a Florida setting, I also contended with a lot of condensation, in and outside the bivy sack...all in direct contact with the bed. I'm pretty sure I sweated a good amount too but the bed stayed dry and warm on the inside, not clammy in the least.
The outside nylon of the bed was quite damp in the morning, to be expected.  It all got stuffed in this condition, still inside the damp bivy, for the hike out (note the shiny area on top of the bivy in the pics...that's all the dew reflecting the flash). When unpacked later that night, the outer nylon was still damp but the loft appeared unaffected and there was no clumping.
Source: received for testing via the Trailspace Review Corps (Sample provided by Sierra Designs for testing and review)

This has become my ultimate fave bag for backpacking ever!! BONUS: as a side sleeper it rocks as there is a sleeve to insert your pad so the bed stays put when you don't!
Pros
Excellent weight-to -warmth ratio (still qualifies as lightweight)
Stays put when you toss and turn
Superb ability to easily warm up or cool down quickly
Hand warmers in blanket!
NO zippers to mess with, but you can tuck the blanket in easily and it stays in place
Cons
A leeeetle tricky to get in and out of if you have longer legs, but you get used to it.
This has become my ultimate fave bag for backpacking ever. I've tried all iterations of sleep systems known so I say this with some authority. I've used this bag through two backpacking seasons so far, from spring to fall, with the lowest temps experienced being 30 degrees and the wettest night was during a full on mountain thunderstorm that lasted about four hours.
This is a very warm bag yet you can easily cool off by throwing off the blanket and/or sticking your feet out the end. I do have to say that I sleep with clothes on so can't speak to how it fares if you sleep without. One of the things that I like about this bag vs. a quilt is that there are still sides available to tuck your arms into if you need when it cools down. These sides allow the blanket to be tucked in around you blocking off drafts. Even in the wettest conditions outside I never experienced any condensation or moisture build up on the shell. The insulation is DryTek down.
The foot box is larger than most mummy bags but still provides enough warmth around my feet that I have never experienced cold spots. There are these little hand warmers sewn into the corners of the blanket that are fabulous! I used to have to wear an extra pair of socks or gloves on my hands but no more!
I never have used the hood other than to stuff my pillow into it, which is awesome cuz it keeps my pillow right where I want it all night.
The overall construction is pretty good, but it's a bag you still want to be careful with as it's still a lightweight bag. The curve at the bottom of the opening where the blanket is sewn needs to be watched when you are getting in and out of the bag, especially if you have longer legs as I do. (I have a regular sized bag and am 5'7".) I could see that getting ripped if you try to get in or out too fast.  But I got used to it pretty quickly. The best part of the construction design?...no zippers!! (*dance!*)
At 3 lbs., 1 oz. this disqualifies it from the ultralight set. For me, it's  worth every ounce and still lightweight.  It compresses nicely and fits into a stuff sack which slips into the sleeping bag compartment of my backpack and it fluffs up like a champ at the end of the day BONUS: as a side sleeper it rocks as there is a sleeve to insert your pad so the bed stays put when you don't! 
Overall, this is the piece of gear that holds the #1 spot on my gear list for overall excellence in performance and quality. Highly, highly recommended!!
Source: bought it new
Price Paid: The going rate at REI.


All Backcountry Bed 800 3-Season versions
In addition to the 2 women's reviews above, there are 3 reviews for other versions of the Backcountry Bed 800 3-Season. Read all reviews »
You May Like
Recently on Trailspace