Sierra Designs DriDown Rain Jacket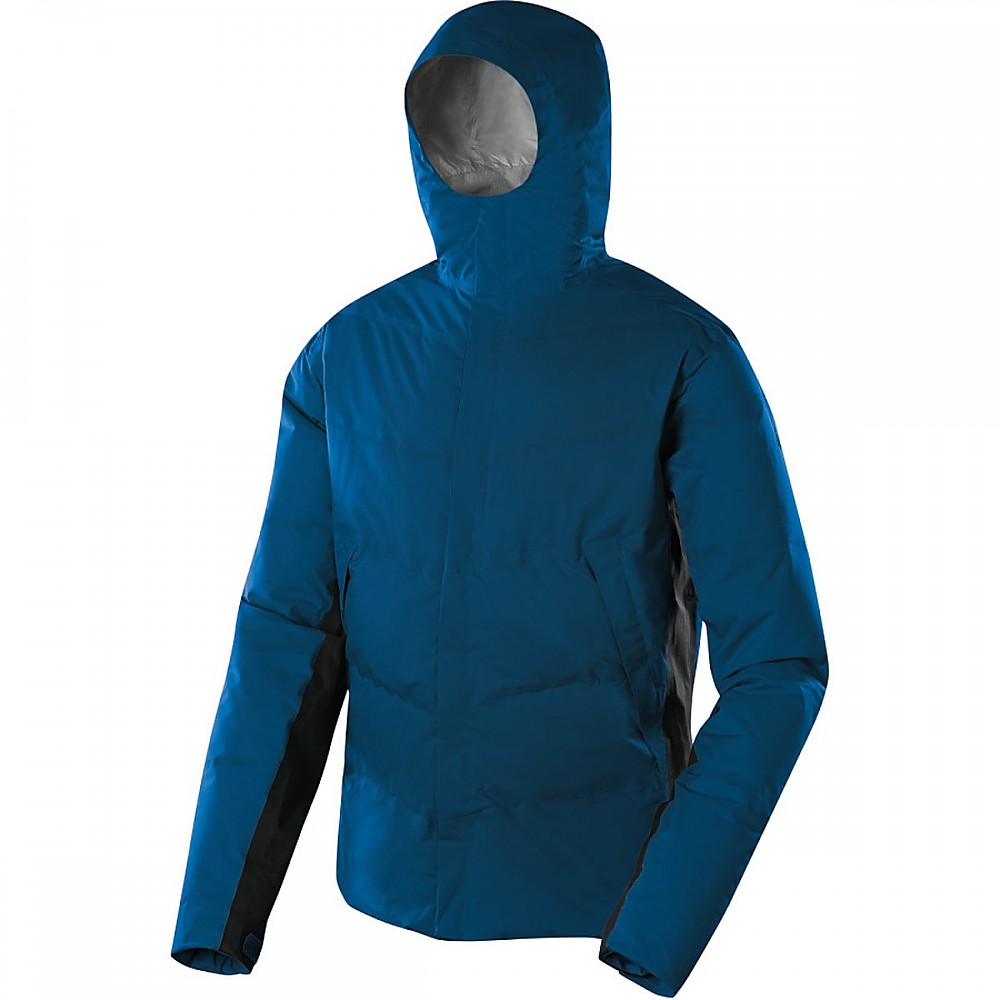 The Sierra Designs DriDown Rain Jacket is billed as "a single solution for wet, cold environments." It is a waterproof rain shell insulated with DriDown (proprietary treated down which according to Sierra Designs remains dry 10x longer than untreated).

It is a very well constructed jacket which for the most part works as Sierra Designs advertises. As a hybrid garment it will have its detractors who prefer traditional layering, but there are enough positive features that most people would find this a valuable addition to their outdoor gear collection.
Pros
For the right weather, highly convenient
Excellent quality construction, and clean unassuming looks
Hip-belt friendly pockets and long sleeves, which are excellent for scrambling
Use of DriDown (treated down)
Lightweight (~500g) and reasonably compressible
Cons
Lack of pit zips
Lack of insulation down the inside of the arms and the side of the torso
Would have preferred waterproof zippers
From Sierra Designs: tech specs
Water Entry Pressure: 17,000 mm

Weight: 19 oz. / 0.54 kg
materials
Fabric: 40D 100% Nylon, DWR, PU membrane

Insulation: 90g, 600 Fill Duck Down (DriDown)

MVTR: 5,600g (ASTM)

Suggest cost of $299
http://www.sierradesigns.com/product/dridown-rain-jacket
Fit/Adjustability:
With my measurements of a 43-inch chest and 33-inch waist, I typically take a size medium quite comfortably. However, to allow for layering in this instance I chose to size up to a large. As can be seen in the photos below, I have a down puffy vest underneath, which fills out the jacket nicely. Otherwise, as can be seen in the other photos where all I am wearing underneath is a baselayer, it can appear a bit loose.
For overall versatility, I would recommend sizing up. This also has the added bonus of letting the down fill loft a bit more than it would pressed against your body. The sleeves are adequately long that they never ride up regardless of your activity. I used this jacket comfortably for some graded scrambling, and the sleeve length was perfect.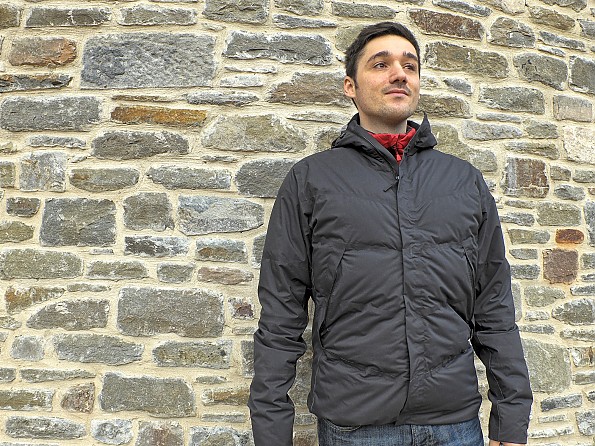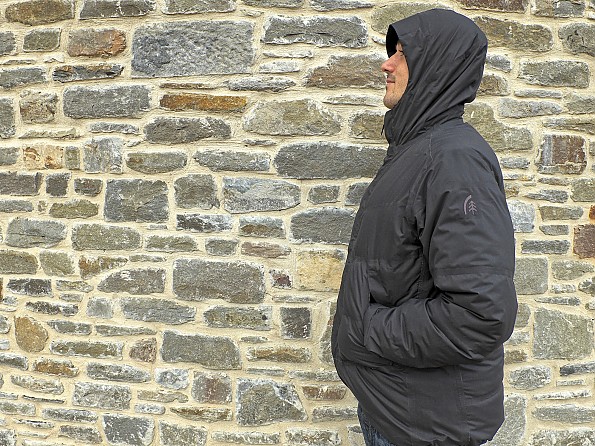 The jacket features standard Velcro tab adjustment on the sleeves, as well as a hem draw-cord, with a neat fabric tab that keeps the hem cord from dangling underneath the jacket (as is the case with most hem draw-cords) where it is vulnerable to snags.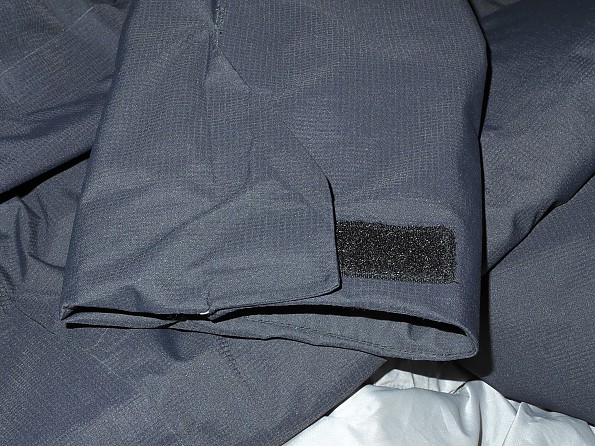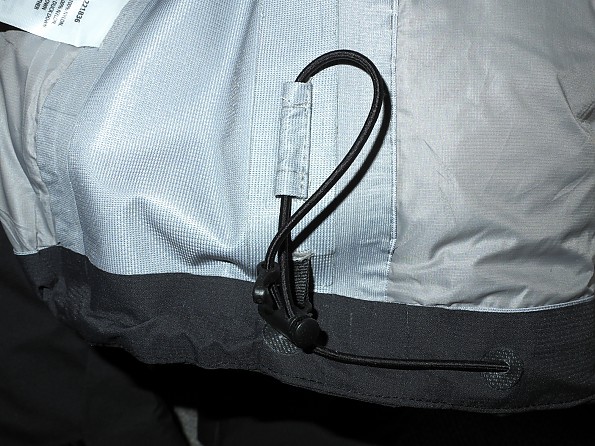 The jacket features what Sierra Designs describe as a "Hat (not helmet) compatible hood" which according to them "fits better and requires less adjustment". What this basically means is that it's a small hood. Adequate for a thick winter hat, but nothing else.
The adjustability is adequate with a standard draw-cord that is neatly tucked away, but easy to access (does not hit you in the face in high wind!). The peak is slightly stiff which aids in keeping your face dry. The hood is not very restricting to visibility, but because of minimal adjustment, it does not move very well with your head either. Turning your head any more than 30 degrees or so restricts motion and the hood becomes a blind spot (this is true of most jackets though).
Additionally, you will notice that there are two large external pockets, more than adequate for a hat, camera (I easily fit a Fuji X20 with a Lowepro case, which is not a small camera), and gloves with room to spare to keep your hands warm. They are also hip-belt compatible, which is a great touch.
There is also an internal chest pocket which I guess is good for some money or a phone, but I find it particularly useless as its too small for me to fit my hand in! (I don't have the biggest hands either, and usually take M-L gloves.) This can be improved.
Water Resistance/Breathability/Insulation:
This is a difficult area to grade the performance of this product. Because it is essentially a "hybrid" garment, there are obvious compromises due to offsetting design features; increased breathability lowers insulation, and increased insulation lowers breathability. In this respect, Sierra Designs has done an admirable job of reaching a very useable middle ground.
As a rain coat, it is decent. The outer fabric still beads water fairly well even after several months of use and no treatment or washes with tech-wash. (Photo below is a picture of the left arm after a one-hour walk in heavy rain).
The zippers are generic. I would have preferred waterproof zips, but the storm flaps on both the main zip and on the pockets are decent enough and appear to be working just fine. I have worn it under a range of pack sizes from 20L daypacks to a 60L pack loaded for a winter overnighter (40 lbs) and there were no signs of water being forced through in high pressure areas.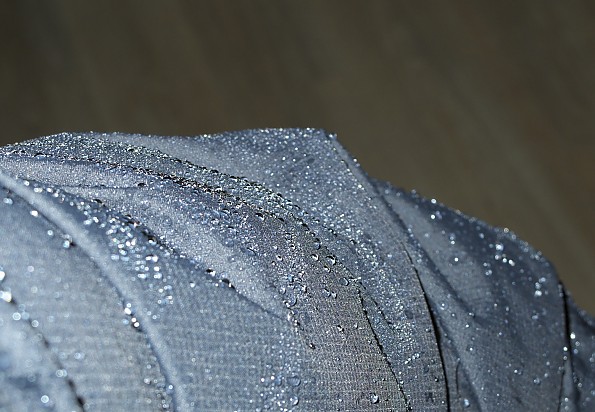 However, as a rain coat, there is one glaring failure for a garment, which will clearly get very warm; lack of pit-zips. Instead, SD offers "Die-cut underarm vents keep you cool under exertion without the hassle or bulk of pit zips" (pictured below, both from the outside and inside of the jacket).
While these certainly help compared to having no venting options, they fail on several regards. First there is no way to quickly dump a lot of heat in what is likely the hottest area while you hike. Second, there is a permanent opening which under very wet conditions can (and does to a small extent) let water in! While I understand the savings in weight and bulk from excluding pit-zips, and the clever alternative use of permanent venting, it just does not work well enough.
As an insulating garment, this jacket also has several short-comings: "No down under the arms, sides or hood for a streamlined fit, venting and packability." While this may be a slight selling point, I would be more pleased with proper insulation all the way around.
Packability is an important feature, and by all means this is a fairly packable jacket considering it is basically a thin down sweater and a rain shell in one. It packs only slightly larger than my Outdoor Research Neoplume primaloft jacket which is my standard insulating piece (which does not have a hood and is not waterproof).
However, the lack of insulation on the sleeves and along the sides is very noticeable. When the temperature drops those areas become glaring cold spots when physical activity decreases. Conversely, this does prevent overheating when more active. Ultimately the inclusion of pit zips would have offset this issue and allowed for full insulation which can be vented during higher activity.
(The glossy part running down the middle of the sleeve lacks insulation.)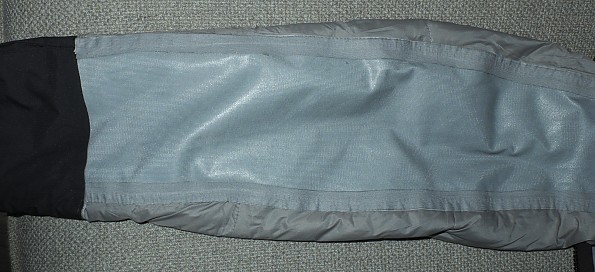 Construction/Durability:
It is in the area of construction, durability, and even innovation where this jacket shines. There are several innovative features which I think most people will appreciate. First off is the use of DriDown, which according to Sierra Designs is a treatment which keeps down dry 10x longer than untreated down. This makes it particularly useful not only in wet humid environments, but also intrinsically as an insulator for higher aerobic activity where sweat will accumulate.
While testing, I did get the DriDown a little wet from my own perspiration and you could see noticeable damp spots on the coat which did not dry overnight, as it was far too cold. This did not appear to affect the insulating properties of the jacket, nor did it result in clumping of the down which you would typically get with untreated down. Mind you, these were just damp spots, and they were not saturated, so the limits of the treated down technology were certainly not pushed.
Second, if you inspect the photos posted closely, you will notice no stitch seams. That is because all the seams are welded. This makes for a very slick look, but also offers several other advantages. This eliminates potential leak paths for water getting in (usually fixed by seam-sealing underneath the stitching), but also prevents down from escaping. Moreover, the baffles are welded directly to waterproof fabric, this results in weight and space savings (improved compressability).
Overall, my impressions are that this jacket is very well built. After months of unapologetic use in a range of conditions, there have been no failures of any welding, stitching, zipper, or any other type of feature. I have used it scrambling over sharp rocks as well as hiking with a heavy load. There are no signs of abrasion anywhere on the fabric.
Moreover, it is also a very nice looking, subtle outdoor garment. This is a bit of a departure for me as my gear closet is full of brightly coloured mountain gear. I have used this walking around town and never felt a bit out of place. Unlike a lot of other products, I also like the very minimal use of branding. In fact this tasteful monotone Sierra Designs logo on the sleeve is the only thing you will find on this garment.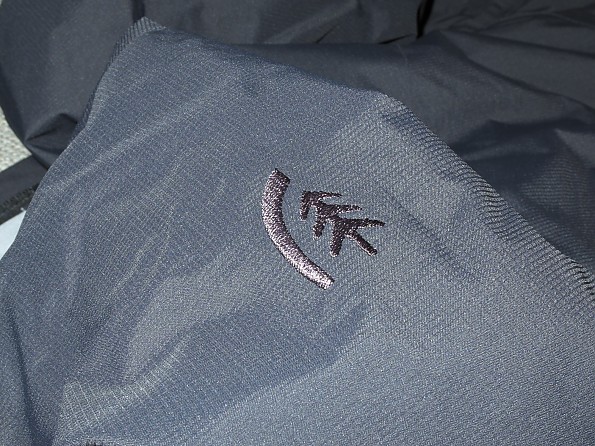 Performance:
I have used this jacket in a variety of environments, and in a variety of scenarios. This was mostly the result of me not really knowing how a jacket like this would fit in with most of my gear. I have used standard layering techniques ever since I got more seriously into the outdoors, so hybrid items like an insulated rain coat would not necessarily fit.
I have used this as an insulating layer on a trip to the French Alps. It was packable enough to not be "offensive" but there are certainly better options. Especially considering there is a lack of insulation on the inside of the arms as well as down the side of the torso. This became particularly evident in cold wind. Not to say that this was a terrible choice, but it certainly was not the best and I would not reach for it again in this type of scenario in favour of other dedicated insulated (whether down or primaloft) items I already own.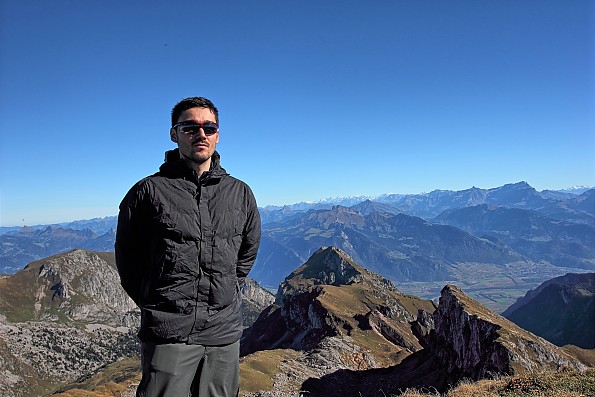 I have also taken this jacket with me on a recent business trip to Montreal and Ottawa where I was blessed with a blizzard and temperatures lower than -12°C. Just standing around in -6°C weather with a thin sweater and t shirt underneath, I was on the edge of cool but still comfortable with this jacket (bear in mind I run a little warmer than most). Anything lower than that, or an unwelcomed gust of wind resulted in me shivering. So again, perhaps not the best option as a purely insulating piece.
This proved to be quite good however as an "active" insulation piece on a recent overnighter to Central Wales where I encountered very rough weather, including a blizzard. This jacket really shone as I could layer underneath, and remain moderately active without overheating. The addition of pit zips would have been welcome, but overall I was warm, and dry during the snow storm.
(Note the extensive use of layering: merino baselayer, microfleece, wind hoodie, down puffy vest, and then the Sierra Designs jacket on top!)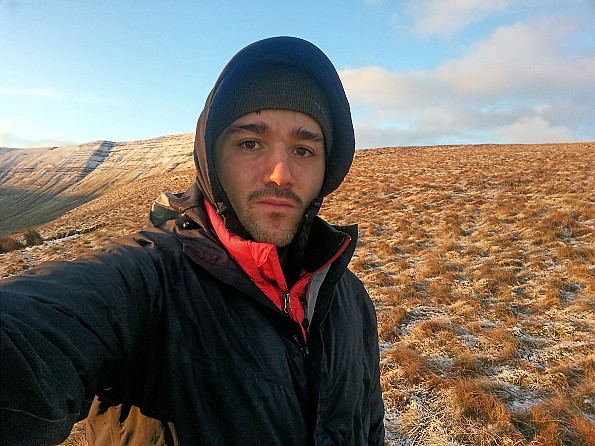 Living on the west coast of the U.K. has given me ample opportunity to test this as simply a warm rain coat; if there is anything we are blessed with…. It is rain! In that aspect it performs adequately. Again I cannot make a direct comparison to other rain jackets I have which are GoreTex, eVent, HyVent, since breathability is hampered by the inclusion of insulation. However when not doing high aerobic activity, I remained dry, and additionally quite warm.
Where this jacket really shines however is hiking in the fall in wet climates (I imagine spring as well, but that is not within my test time-frame). In particular for the U.K., you can have very mild weather at the start of the hike (sea level), and it will remain quite pleasant until you hit about 3,000 feet, where you suddenly find yourself in a cloud and facing different and often severe and wet weather. At this point you go from hiking in a baselayer or shirt to needing not only protection from precipitation and wind, but also insulation. In this instance, I have found this jacket to be excellent in that it provided exactly what I needed in one convenient package.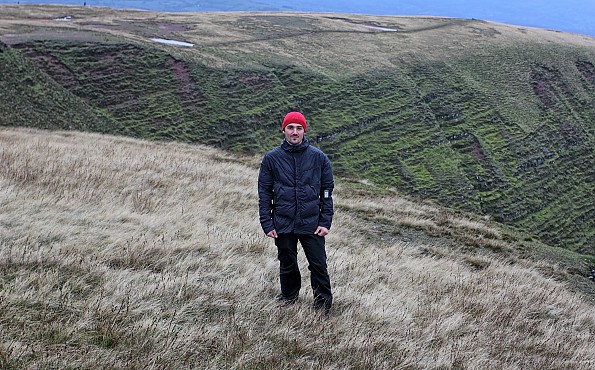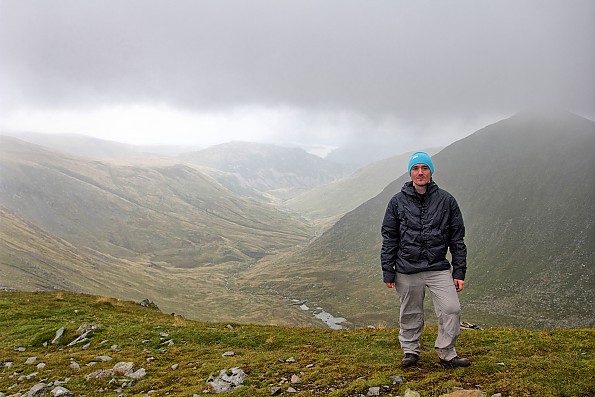 (Note the pockets are clear of the hip-belt thus remaining quite useful.)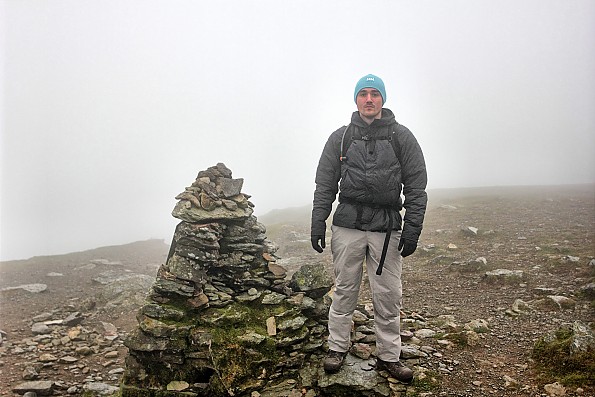 Conclusion:
Ultimately, this was a very interesting product to test because it is not a product I would have ever bought on my own; preferring instead to stick to layering techniques for my insulation/rain shells. So that begs the question… am I converted? The short answer is maybe???….
I can see many specific uses for this jacket. There are a lot of people who would benefit from it, and I am one of those people. It is not the perfect solution but it has a lot of great uses, particularly for those who either hike in cold damp conditions where they will not be over-exerting themselves, or those who live in places like the UK where you have massive temperature swings in one day going from sea-level to summit.
Additionally, the great design, use of innovative materials and construction techniques, as well as the great durability make this a very attractive product. There are some shortcomings/compromises such as lack of pit zips and lack of insulation on parts of the arms and torso which keep this from being a perfect product.
Nonetheless it is a very good product, and if it fits the user's purpose, I don't think many people would be at all disappointed with it. As such, a rating of 4 stars and a recommendation seems appropriate.
Source: received for testing via the Trailspace Review Corps (Sample provided by Sierra Designs for testing and review)

Your Review
You May Like
Specs
Men's
Price
MSRP: $299.00
Historic Range: $119.58-$239.20

Weight
19 oz / 0.54 kg

Insulation
90 g, 600 Fill Duck Down

Center Back Length
30 in / 76.2 cm

Air Permeability
0 CFM

Water Entry Pressure
17,000 mm

Fabric
40D 100% Nylon, DWR, PU membrane

MVTR
5,600g (ASTM)

Women's
Price
MSRP: $299.00
Historic Range: $139.97-$299.00

Weight
16 oz / 0.45 kg

Insulation
70 g, 600 Fill Duck Down

Center Back Length
28.5 in / 72.4 cm

Air Permeability
0 CFM

Water Entry Pressure
17,000 mm

Fabric
40D 100% Nylon, DWR, PU membrane

MVTR
5,600g (ASTM)

Recently on Trailspace