Reviews
Excellent value, easy setup, light weight and well…
Rating:


Source: bought it new
Price Paid: Not sure

Summary
Excellent value, easy setup, light weight and well vented.
Pros
Light weight, 2 doors and easy to set up.
I bought the tent about 7 years ago and it's been great. Easy to set up and light weight.
Just returned from the Grand Canyon. Hiked down to Indian Garden where the temp ranged from 105 -115 f. It didn't cool off much in the evening. Very happy the tent was well vented and had 2 doors.
Not sure what the cost was, but it was a very good value. Too bad it's discontinued.
Bought this tent back in 2005 for late Spring and…
Rating:


Price Paid: $150

Bought this tent back in 2005 for late Spring and Fall camping in the Southeastern mountains of GA and NC.
Heat and humidity are frequently a bother so my primary concern was to have a tent that vented well. Another prerequisite was a tent with two doors. Nothing more annoying than you or your partner having to crawl over one another to take a leak in the middle of the night. Lastly I wanted a tent I could pitch on the beach so it needed to be relatively free standing.
The Electron met all these requirements and over the years has passed all with flying colors. Was last used on an early fall trip to Yellowstone. Temps varied from 65 to 25 with a light snow for two days. Tent performed like a pro but as previously posted, a good bag is a necessity when it gets below 32 degrees.
A tad heavy with all the extras but if you're just doing a relatively light hike then it's not an issue. Tent has always stayed dry and for the amount of use it's had is holding up very well.
Am currently planning a trip to the Dry Tortugas and looking forward to seeing how it will perform there.
Bottom line is for the money you will be hard pressed to find a better tent with all the options the Electron affords.
Just finished hiking the North Rim and Long Range…
Rating:


Design: three season freestanding
Sleeps: 2
Ease of Setup: extremly easy
Weight: 5 lbs
Price Paid: $170

Just finished hiking the North Rim and Long Range Traverse in Gros Morne National Park Newfoundland. While there are tent platforms in some of the areas the wind and weather can be and was on occasion severe.
This tent suffered high wind extereme downpours and kept us dry. The storm vestubile also kept everything amazingly dry. There was little to no moisture build up on the inside of the tent itself, most on inside of storm fly.
The tent was quick set up and easy set up, room for all the equipment we had for 8 days 7 nights in the back country. The included gear loft was great for drying stuff out. The tent was relatively lightweight and packed nicely on inside of pack, with rest of equipment.
I cannot say enough good about this tent. This hike has no trails and can, on occasion, present with extreme weather and did so on a couple of occasions during this hike. The tent preformed well beyond expectations.
Bought the original version of this tent on closeout…
Rating:


Design: Three season freestanding dome tent
Sleeps: 2
Ease of Setup: Set up is a breeze, takes about 2 minutes
Weight: ~5 lbs
Price Paid: $189

Bought the original version of this tent on closeout from Campmor in 2008 and have really loved it. It was a steal at $189 because it came with the footprint, gear attic, and coffee slings (although I've never used the slings). It's been through the Grand Canyon of the Tuolumne and all over the Southeast.
Great free-standing design with two side entry doors, large vestibules, and full mesh upper is perfect on rain-free nights for good views from the tent. The set up is incredibly easy since all the pole connections are clips (no sleeves to deal with).
Possibly the only downside is that it has no ventilation toward the top of the rainfly, but the large vestibules allow for plenty of airflow so it's not a problem. I've spent several nights in it with a buddy of mine that's 6'3" and tent never felt cramped.
A touch on the heavy side but I'm sure the new models are lighter and when you split the weight between two people it's not bad at all. I would highly recommend this tent.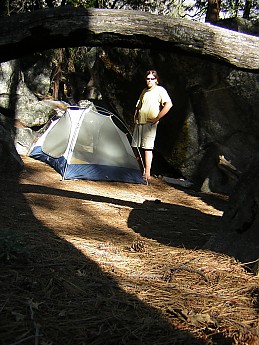 I bought the tent to enter into the backpacking realm.
Rating:


Design: three-season
Sleeps: 2
Ease of Setup: easy but time concuming to fully guy it out
Price Paid: $180

I bought the tent to enter into the backpacking realm. I love the space it has. I have spent a month in the tent for a geology field camp and it has been awesome. I have put it through a week of solid rain and everything was dry, even my pack, Jetboil and boots stowed under the vestibules. And the best thing was that it took 60 mph winds with snow/sleet in the Madison valley and everything was fine.
It is a great tent (easy pitch and take down) just know that you will need a warm bag if its 40 or below.
I bought this tent in April 2006 and promptly spent…
Rating:


Design: three-season freestanding dome
Sleeps: 2
Ease of Setup: It's a cinch!
Price Paid: $200

I bought this tent in April 2006 and promptly spent a month with it out in the middle of Utah between mid-May and mid-June without a spit of rain. It performed well and despite the fly being faded from the sun, I didn't see any wear and tear.
This past summer I took it out to Idaho for two weeks. On the way out there we stayed in the Badlands National Park for a night. It started raining early in the evening and poured all night. I jumped in my tent to find, much to my surprise, a small puddle on the floor and a wet spot on my bag. (Let me side note something here about how the tent reacts to temperature changes. When the temperatures cool at night the fly fabric relaxes and sags a fair amount, sometimes enough to touch the tent body (Note: This isn't really an issue unless you have a really heavy dew and is typical of most tents). During the day, the fly fabric gets taut as the temperatures increase and it dries out.)
That being said, the two hard black plastic sleeves that the cross pole sits in have effectively worn away the coating on the underside of the fly due to the rubbing from the changing tautness of the fly. The worn spots are right above the mesh doors and drip water straight down into the tent. I haven't figured out a way to stop this and I find it to be a huge problem, however I believe this only happened due to the harsh conditions and extended use of the tent.
That being said, for short trips it is great; packs up small and is very light. I'll definitely consider Sierra Designs for my next tent, however I'm going to check to see if there are any potential "rub" points that could compromise the fly. I hope the above doesn't discourage people from buying the tent, just be aware that there is a flaw in the design and take extra care to prevent rubbing (maybe sand the plastic pieces smooth).
My old Quest Preying Mantis was wearing out and I…
Rating:


Design: three season freestanding dome
Sleeps: 2
Ease of Setup: so easy a cave man could do it!!
Weight: 5.5
Price Paid: $150

My old Quest Preying Mantis was wearing out and I spent a lot of time searching for my new tent. This one fit the bill perfectly. Setup and take down is a breeze - has lots of room for one,plenty of room for two - two large vestibules capable of storing a pack and boots - free footprint and gearloft - packs in around 5lbs - and withstood two days of steady rain with no leaks and no condensation -- it's a great buy!!
I love this tent! At less than 6 pounds this is great…
Rating:


Design: three-season freestanding tent
Sleeps: 2
Ease of Setup: very fast & easy for 1 person
Weight: 5lb 10oz
Price Paid: $144

I love this tent! At less than 6 pounds this is great for backpacking. Very easy to set up and very sturdy, this ends up being a lightweight, durable, well thought out and designed tent. Great features like 2 doors and stash pockets in the corners that can be used to stash the mesh doors when the full coverage rain fly is on. Came with a free gear attic (great), removable suspended beverage holders (not of much use to me), and a great footprint. Rain fly includes 2 vestibules that add valuable covered space for boots and packs. With the footprint, rainfly, and poles, you can leave the tent at home for a lightweight fast packing shelter.
All in all, this is a roomy tent for two people that is quite sturdy, is very well constructed, well thought out... I really have zero complaints. With the quality, engineering, and additional features it has, I consider this tent to be a fantastic value! Would buy again without hesitation.
Camped for a week in the mountains of Alabama in February…
Rating:

Camped for a week in the mountains of Alabama in February in this tent. It performs excellently. Easy to set up, great vestibule and gear loft room, and stayed bone dry during an all-night downpour.
Be wary of:
-the all-mesh walls! this tent was dry but cold in freezing conditions. definitely a summer-friendly tent.
-a fly that's a little too clever. the corner clips would be nice, but they don't stay tight so aren't very useful. the fly itself requires some delicate staking to work its best.
I won't go into detail, as the review above does that…
Rating:


Design: Three season free standing dome
Sleeps: 2
Ease of Setup: A trained monkey could do it.
Price Paid: Can't remember

I won't go into detail, as the review above does that superbly. Just want to add that I'm very pleased with it. It was the best combination of weight/size/features that I could find without going into the ultralight territory. And the small bells and wistles, like color coding, attic and coffe slings, free footprint...they are the icing on the cake.
Camped in summer/fall conditions at 1500m once, with a fairly strong wind and rain overnight, but the tent was stiff as a rock (almost no flapping) and had no leaking or condensation whatsoever. For its price, I think it's an excellent bargain.
The only minor complaint I have so far is that the snag-free zippers of the fly openings do snag sometimes...oh well, I guess all of them do.
I tested the Sierra Designs Electron 3 on a recent…
Rating:


Design: Three-Season Freestanding Tent
Sleeps: 2
Ease of Setup: Easy
Weight: 5 pounds 10 ounces
Price Paid: $157.95

I tested the Sierra Designs Electron 3 on a recent trip to the Linville Gorge Wilderness Area recently and feel that this is one of the best buys that you could make.
The Electron excels in every category that it can be judged in. It is lightweight, easy to set up, stable in wind, roomy, and user friendly.
The trail weight for the tent with poles, stakes, footprint, and fly weighed in at 5 lbs 10 oz. It packed very small too, 6" x 24". The tent can be left out and you can use just the poles, fly, and the footprint for an ultralight shelter if needed.
I had only practiced setting up the tent once, and had it up and ready to inhabit in five minutes out in the woods. The poles and the fly are color coded and will allow you to set it up in low light conditions. You do not have to use the stakes but I felt that a tent is always better if you stake it out. Taking it down was just as easy. One nice touch is that you don't have to fight the carry sack, it is just roomy enough to put the tent in and not be too big.
I tested the Electron 3 in moderate temperatures (low 45/high 60) but in very windy conditions (gusts over 40 mph) and felt that the tent retained warmth and resisted the wind very well. The tent was not staked down with the optional guy ropes but just four tent stakes in the corners and it hardly rustled in the strongest winds.
The Electron is roomy, I am 6'1" and weigh 260 pounds and felt that I had plenty of room. Two of us used the tent and we had plenty of room between us. The light color of the tent walls did make it feel "roomier". The tent has two doors and two vestibules, each with 10 sq. feet of very usable space. In my vestibule I stored my pack (Lowe Alpine Contour IV), boots, a dog pack, some other gear and still had plenty of room to get in and out of the tent.
The interior offered a free gear loft with several pockets that are very user friendly. It also offers two clothes lines to allow your damp clothes to dry overnight. There are four stash pockets (my girlfriend found them) in the corners that allow you to store the mesh doors or other items that you might need during your interior stay.
The exterior has some unique features too. Reflective tie out loops will help you find your tent at night and miss any guys that are staked and tied out. The zipper pulls are reflective as well.
Overall I could not find a complaint about the tent. It is very easy to set up, roomy and user friendly, and appears to handle the weather. I highly recommend this tent for any three-season event.
Where to Buy
sponsored links
Help support this site by making your next gear purchase through one of the links above. Click a link, buy what you need, and the seller will contribute a portion of the purchase price to support Trailspace's independent gear reviews.
Sierra Designs Electron
Discontinued
The Electron has been discontinued.
previously retailed for:
$138.95 - $199.99
The Sierra Designs Electron is not available from the stores we monitor. It was last seen October 19, 2008 at OMCgear.
Recently on Trailspace