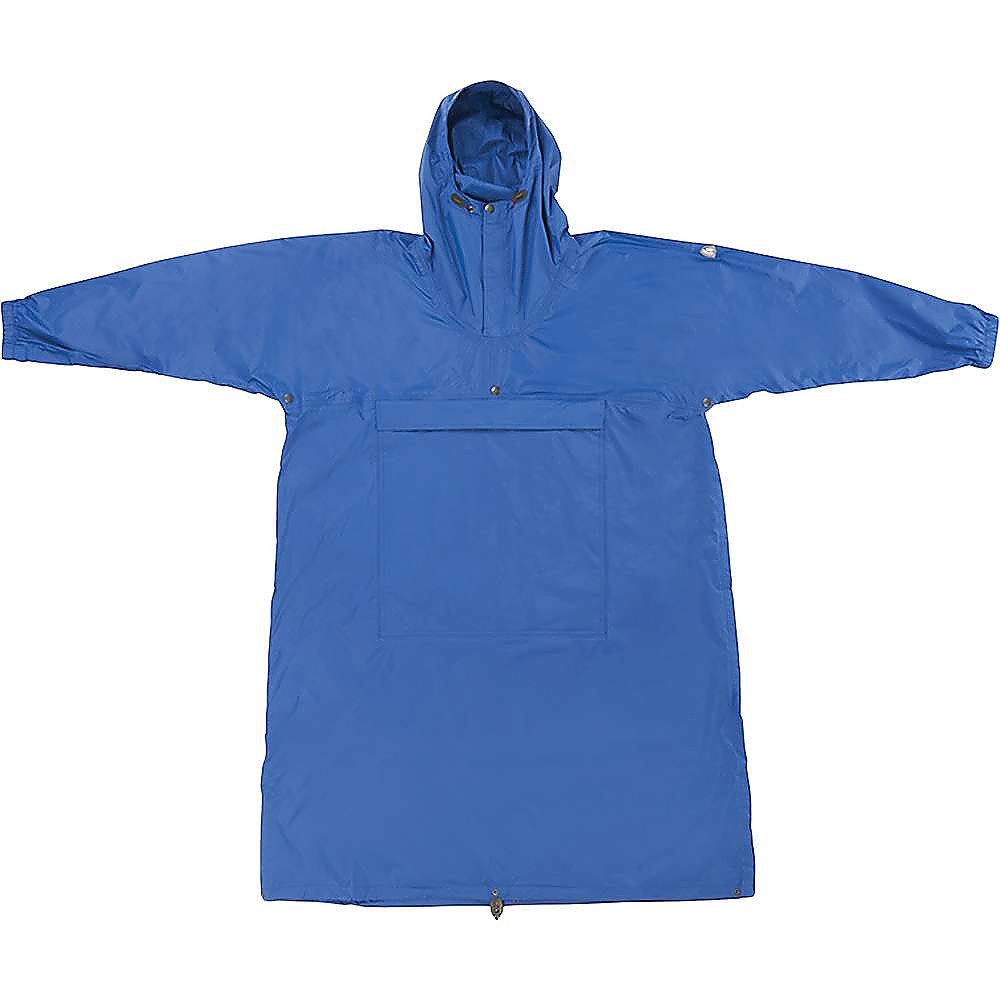 Specs
Men's
Price
Current Retail: $69.00
Historic Range: $30.99-$174.95

Women's
Price
Historic Range: $7.00-$174.95
Reviewers Paid: $100.00

Reviews
2

reviews

5-star:

0

4-star:

1

3-star:

1

2-star:

0

1-star:

0
Simple, lightweight, packable, and good ventilation. I have yet to find any real negative to the Elite Cagoule (6.5 oz.). It is lightweight, without zippers or pockets. The unique design allows for excellent air flow through the torso, as well as the upper legs and crotch when paired with the Sierra Designs Elite Chaps.
The Cagoule also gives you quick access to pants and shirt pockets. If you are looking for lightweight rain wear that works hard at keeping you dry inside and out, check the Cagoule out.
Pros
Good ventilation — actual airflow, not just a breathable fabric!
Lightweight but durable!
Large opening for your head makes it easier to put on.
Packs down small.
Good range of motion.
Cons
Hood could use a little more structure / adjust-ability, but it is a fair trade off for the weight.
The Cagoule is a ¾ length pullover; learning to get it on and off quickly took me a couple tries, but not bad.
Seirra Designs Elite Cagoule — tested as part of a system with the Elite Rain Chaps

Materials & construction
Well, let's get this part over with first, or skip if you wish.
Sierra Designs used a 2-Layer, 30D 100% Nylon, WR, PU clear coat fabric with a 7,300 mm waterproof rating.
The material is also wind proof with an air permeability rating of 0 CFM.
The seams are flat, tightly stitched and factory taped. Areas of wear or stress are reinforced.
What is a Cagoule?
I have to admit that up until a few years ago I did not know what a Cagoule was.
In French it translates as "hood", but historically refers to a monk's woolen robe. According to my research it is also a British / English term describing a style of waterproof garment made by Noel Bibby, Yvon Chouinard, and probably others(?) beginning in the 1950s and 1960s.
It is basically a hooded ¾ length pullover with a ¼ length neck opening, traditionally having a large, central front pocket, although there are several variations.
This short 2 minute video shows the Cagoule being used as part of a system along with the Sierra Designs Elite Chaps.

I have owned a Crestone brand Cagoule for about three years now and love it for places I don't wear a poncho. I bought it used, and found I really liked the functionality of the ¾ length design. In light rains I don't really need rain pants.
Sierra Designs has taken the Cagoule concept and come up with their own version that works around and over the hip belt of your backpack. During testing this worked great!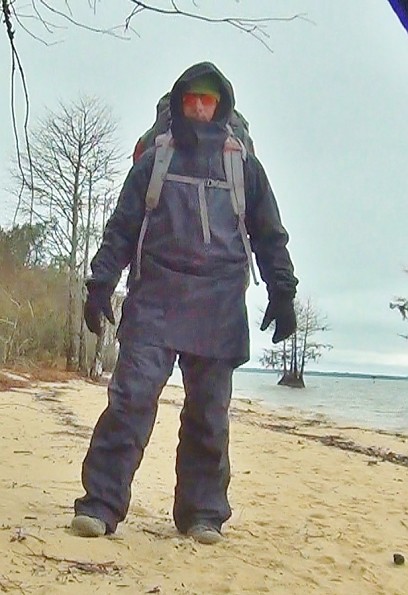 It is a simple design, no pockets, no zippers. Hip belt is inside the Cagoule!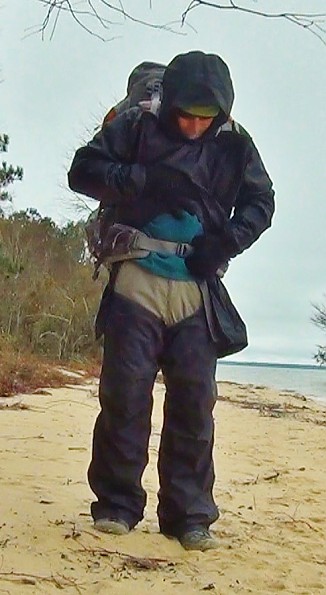 By lifting the front flap up, you can access your hip belt. You can also just slide your hands in from the sides and unhook the belt that way.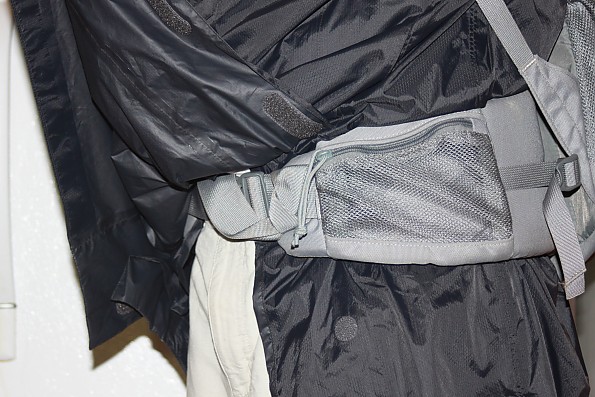 Hip belt passes through the Cagoule, not around the outside of it.
This leaves the front of the rain gear open instead of being constricted by your hip belt. You stay dry, but also get actual airflow up through the open Cagoule.
The Cagoule has no zippers, pockets, or draw cord at the hem, but you can access your shirt or pants pockets through the garments openings, as well as any pouches you may have attached to your packs hip belt, provided they are under the Cagoules front flap.
All of the openings use large Velcro tabs to fasten shut, and have wide overlapping flaps with gutter hems to keep water out.
The Cagoule is reinforced at stress and wear areas.


Hood
The hood has a reinforced brim, elastic drawstring, and lies down flat when you are not wearing it. It does not roll up and stash in the collar as some jacket hoods do, since the entire Cagoule is meant to be packable.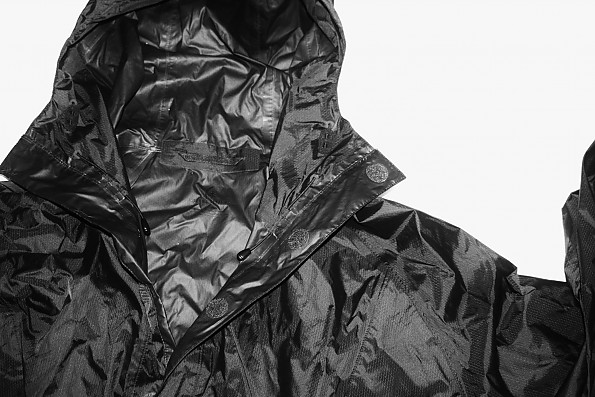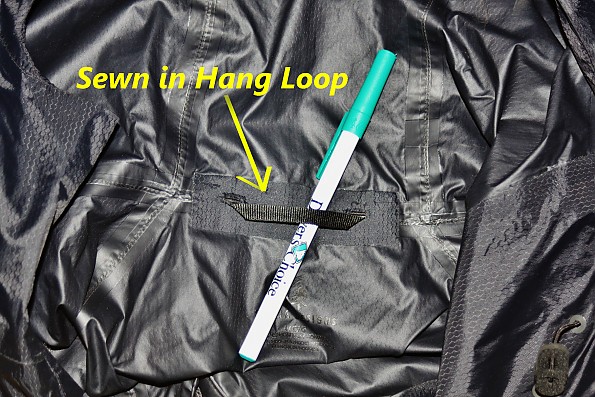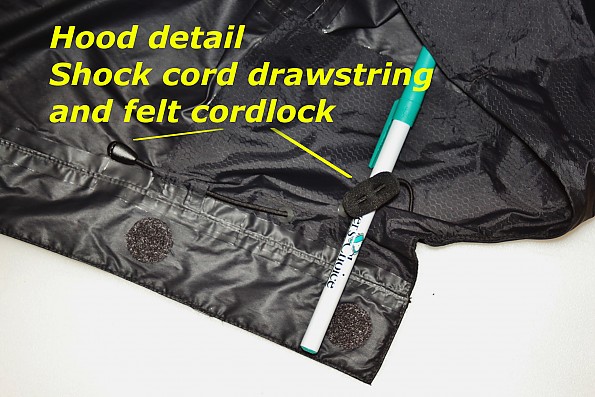 My only real complaint was the elastic drawstring for the hood. I found it difficult to adjust, the felt "cord lock" does work, but it takes a little fiddling. After adjusting the hood several times on a couple different trips I started to get the hang of it.

Sleeves
The sleeves are loose. They allow for full range of motion, and the sleeve ends have elastic cuffs and Velcro closures.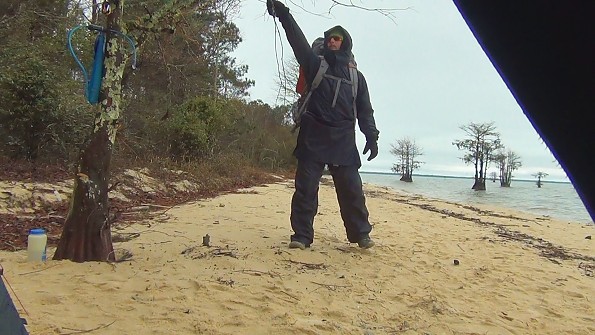 I found the sleeves to be comfortable without restricting movement.
Pit Vents
There are triangular shaped pit vents under each sleeve to allow some airflow around your arm pits. They measure about 3 in. / 7.5 cm. These are open vents, no closure of any kind.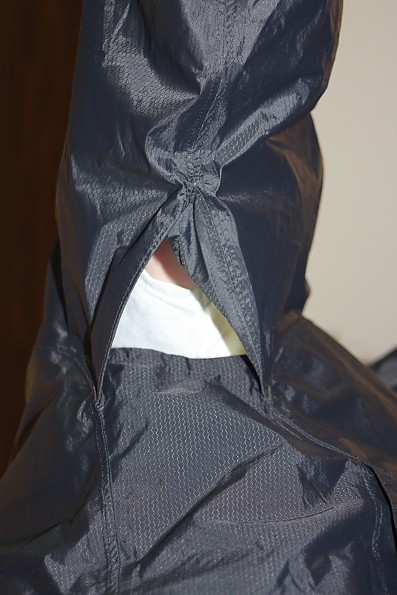 Underarm Pit Vents, just a triangular opening.
Fit
The Cagoule is cut to fit loose for ventilation, to fit over other clothing, and to allow freedom of movement.  Check the sizing chart at the Sierra Designs website for particulars.
I found the Cagoule I tested would also fit completely over a small UL backpack.
Testing & field use
I have been using the SD rain wear (Cagoule and Chaps) for the past four months on all my hikes and backpacking trips. I have worn it for both wind and water protection in some very exposed areas, to see for myself how it would do.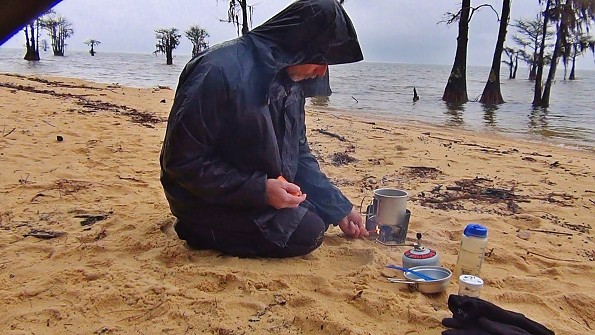 Very windy where I camped, there is about 10 miles of open lake out behind me. I had to use UCO Storm matches to light my stove.
Although the material used is a waterproof breathable material, it is the unique design of the SD Cagoule that provides the greater portion of ventilation. Even with a backpack on, you get airflow up through your torso.
I found this combination to be superior to the ventilation of my regular rain jacket and pants, and almost as good as a poncho, but without the wild flapping about of a poncho in windy conditions.
The material used by Sierra Designs did a good job of blocking the chilled air blowing across the water.
I found that everything worked as it was supposed to; I had no leaks, or malfunctions. The material is tightly knit and slick. It did not get hung up on brush as I walked, and seems to be very abrasion resistant.
The neck, arm, and leg openings were of adequate size to provide ease of use in putting it on and taking it off (see video above).
At first I had a little trouble getting the Cagoule on; it is basically a long pullover vs. a full zippered jacket.    After putting it on a few times I got the hang of it, you just have to bunch it up and slip it on over your head all at once.
I had my doubts that the Velcro openings would actually keep rain out. I was pleasantly surprised to see that they do keep rain out. While they may not be quite as watertight as a zippered opening, I didn't get wet even in hard rain, and the weight savings are an acceptable trade off to me.
In sandy areas I've found the Velcro works better than a sandy zipper.
The rain gear was easy to stuff in small pockets on my backpack, it easily fit into the pocket of my backpack lid, or a water bottle pocket.
I was very well pleased with the balance of weight, ventilation, function, & pack-ability. Ventilation being its most outstanding virtue, and it was well appreciated.
Testing was done in the lower coastal plain of South Carolina. I tested the SD rain gear on the beach, in two very humid swamps, and on a lake island that I often canoe to. During periods of rain and wind I set about the normal activities of hiking, setting up camp, cooking, making coffee, running around, etc.
I was genuinely impressed with the functionality of this design!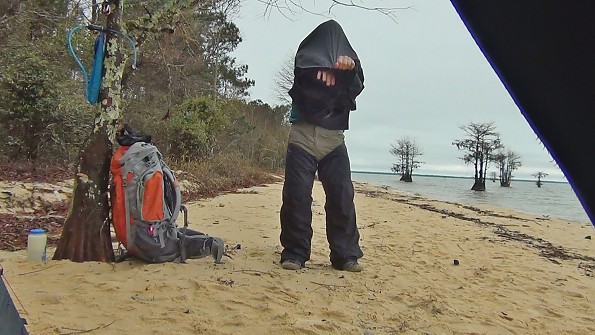 I repeatedly put the rain gear on and then took it off to see how easy it was in actual use.
I hope this review was useful to you.
Mike G.
Source: received for testing via the Trailspace Review Corps (Samples provided by Sierra Designs for testing and review)

Sizing is all wrong.
Pros
Super comfortable
Awesome ventilation
I ordered a medium, had to return it. Then a large, had to return that one. While my proportions are a little larger on top, I have never had to order an extra large before.  
Anyway once I was done with the exchange hassle, I was beyond pleased:  
The garment (sorry: cagoule is an idiotic term for this, it's a French word that means balaclava) is long, it hits down at mid thigh, which is great if you use it with the rain chaps that go with it. Water drips down well below the overlap, the hood is roomy and easy to adjust, won't interfere with vision even when turning your head, the sleeves are long enough even with arms raised overhead. Rain will absolutely not drip in.  
There are gusseted vents under the armpits, a deep snap placket at the neckline: great for dumping heat fast. I find that this keeps me drier than the traditional rain jacket and pants because it's so well ventilated.  
Also highly packable: I put it and the chaps in a small stuff sack. It takes no room in my pack and weighs close to nothing.  
While it is mid thigh long, the sides Velcro on and off, which means that if it's rain and you put it on, then put your pack on and the belt clips under the front flap on the garment, so your pack belt stays dry.  
There is a tunnel handwarmer pocket on the front too.  
The fabric is not one one of those typical breathable waterproof membranes, I think it's just waterproof, hence the price, but honestly I find that all the vents make it really pleasant to wear.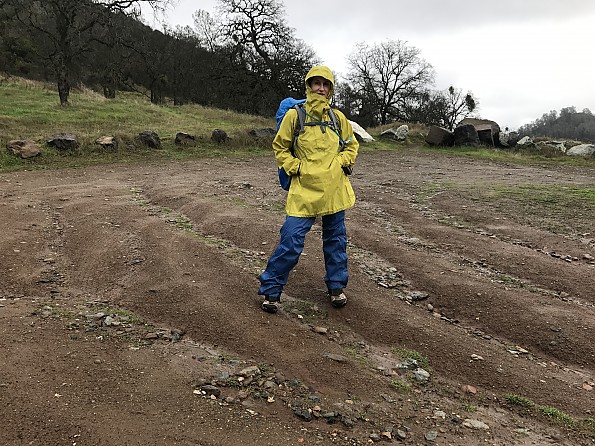 I don't have many Sierra Designs products but this sure sparked my interest.  
Source: bought it new
Price Paid: Around $100

Your Review
You May Like