Sierra Designs Elite Rain Chaps

#1 in unisex Waterproof Pants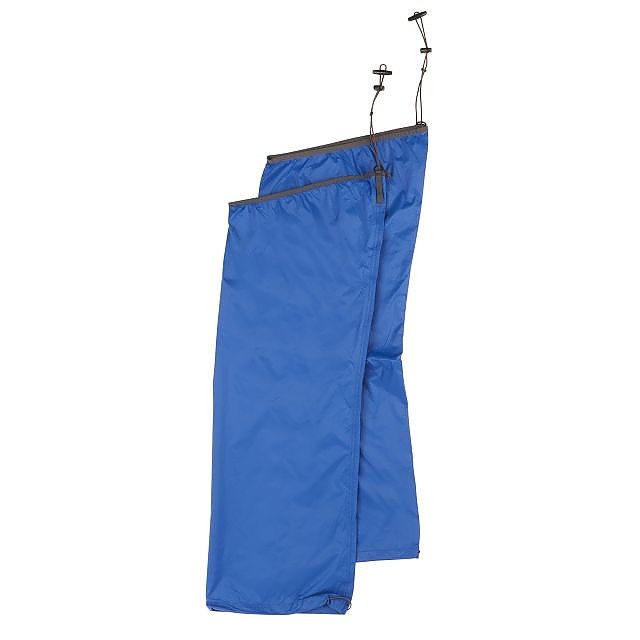 Simple, lightweight, packable, and good ventilation. I have yet to find any real negative to the Elite Rain Chaps (5 oz.). They are lightweight, without zippers or pockets, and the design allows for excellent air flow around the upper legs, and crotch. Its design also gives you quick access to pants pockets.

If you are looking for lightweight rain wear that works hard at keeping you dry inside and out, check these out.
Pros
Good ventilation — actual airflow, not just a breathable fabric!
Large openings for your feet / legs, easy to put on and take off.
Lightweight
Packs down small
Allows for full range of motion
Cons
Won't work well with a waist length jacket, you need a 3/4 length jacket or poncho.
Sierra Designs Elite Chaps.
The Chaps are intended to be part of a system & require a 3/4 length Cagoule or Anorak to function properly. They would also work with a poncho. I tested them as part of a system with the Sierra Designs Elite Cagoule Jacket.


Materials & Construction
Well, let's get this part over with first, or skip if you wish.
Sierra Designs used a 2-Layer, 30D 100% Nylon, WR, PU clear coat fabric with a 7,300 mm waterproof rating.
The material is also wind proof with an air permeability rating of 0 CFM.
The seams are flat, tightly stitched and factory taped. Areas of wear or stress are reinforced. The Chaps have 3 layers of material in the knee area (see photo).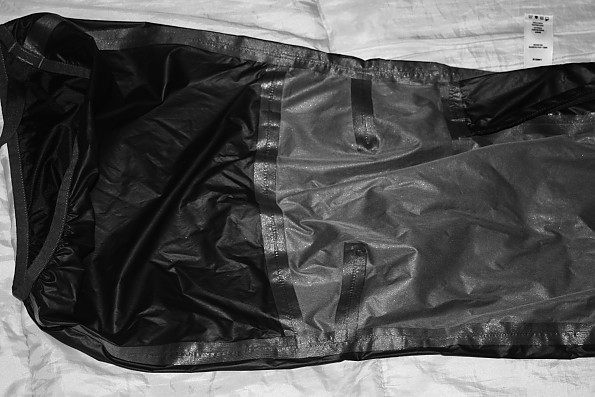 This photo shows the inside of the Chap. Articulated knee, triple layer construction, and seam tape.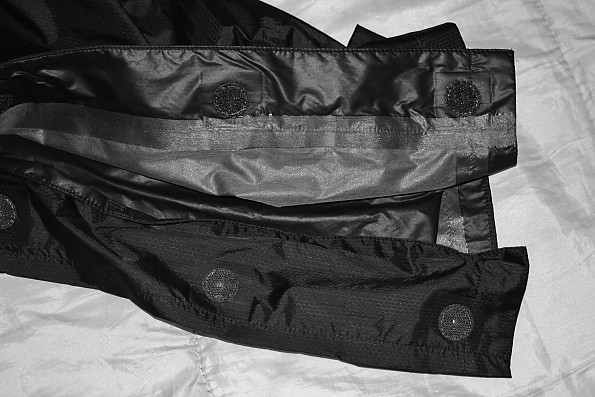 Leg opening at the bottom of the Chaps.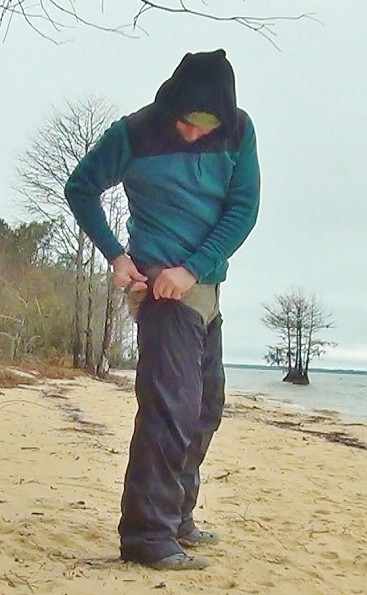 The Chaps are held in place with webbing straps.
The only chaps I ever wore before testing the SD Chaps were snake chaps. I know from past experience that chaps allow for greater flexibility when stepping up high, bending or kneeling — compared to pants.
This short 2 minute video shows the Chaps being worn as part of a system with the Sierra Designs Elite Cagoule.
The SD Chaps leave your upper thighs, crotch, and waist open so you get actual air flow across these areas.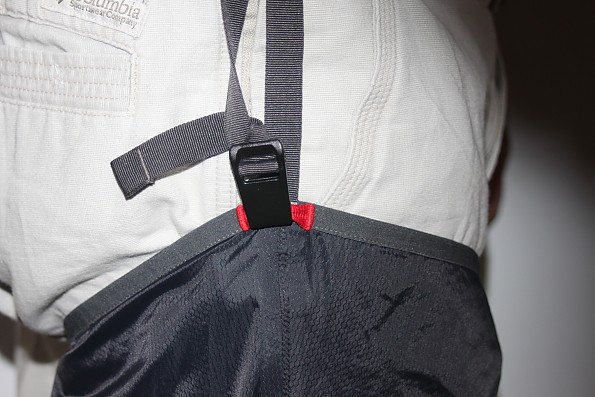 There is a left and right chap, the right side is marked with a red tab, the left has a black tab. (See additional photos below).
Adjustable Straps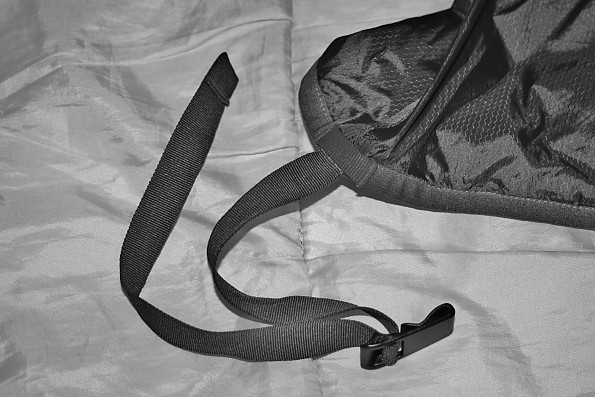 Each Chap is held in place by an adjustable webbing strap, and can be hooked to your belt, pants waistband, or a pants pocket.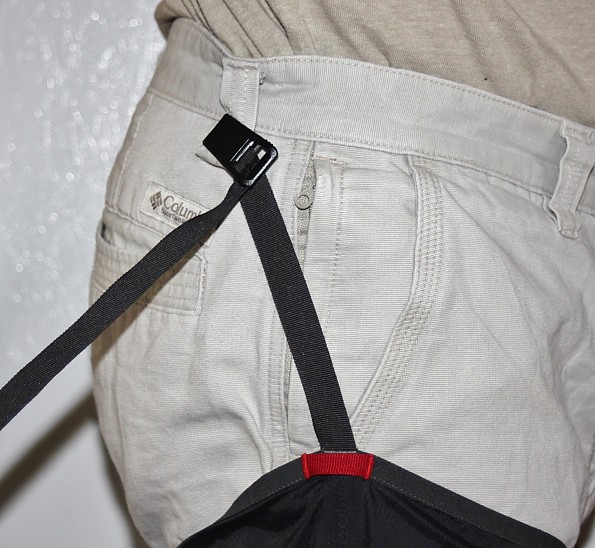 The webbing and clip are designed to work with or without a waist belt.
Leg openings
The leg openings allow you to put the Chaps on while you are wearing trail hikers or shoes, and make it easier to get them on and off quickly.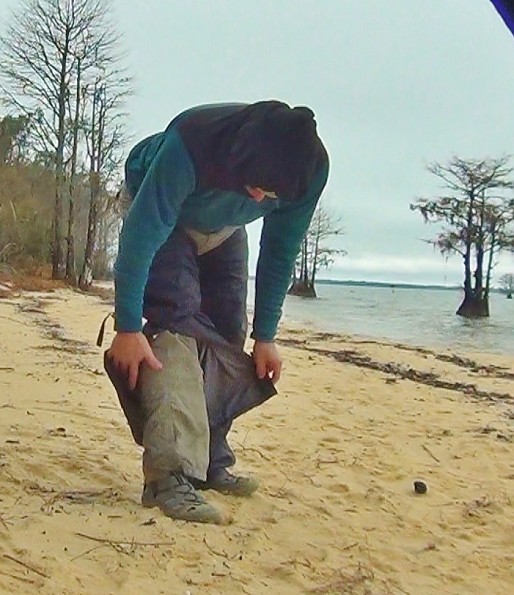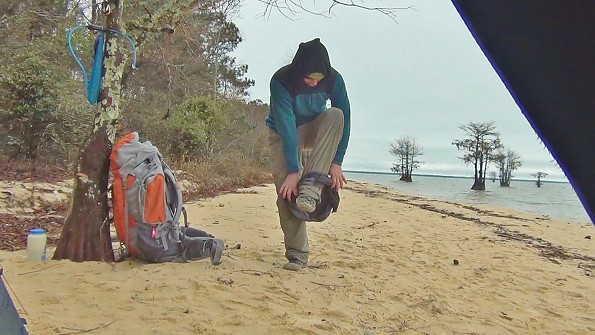 I just leave my shoes on.

Just like the Cagoule, the leg openings use large Velcro tabs to fasten shut, and have wide overlapping flaps with gutter hems to keep water out.
Fit
The Chaps are cut loose and with plenty of length for me, but check the sizing chart at the Sierra Designs website for particulars.
Testing & Field use
I have been using the Sierra Designs Cagoule and Chaps (together as a system) for the past 4 months on all my hikes and backpacking trips. I have worn them for both wind and water protection in some very exposed areas, to see how they would perform.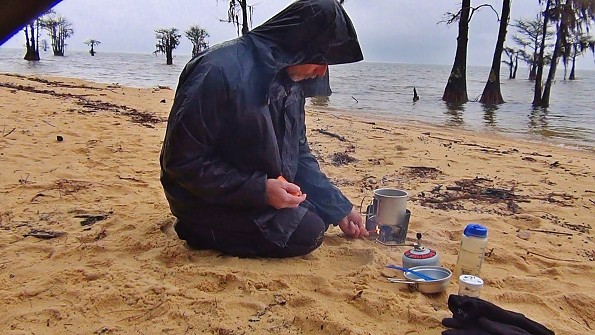 Very windy where I camped, there is about 10 miles of open lake out behind me. I had to use UCO Storm matches to light my stove.
Although the material used is a waterproof breathable material, the use of chaps leave your upper thighs, crotch, and waist open, this allows air to circulate helping to keep you dry on the inside too.
I found the combination of chaps & 3/4 length cagoule to be superior to the ventilation of my regular rain jacket and pants, and almost as good as a poncho, but without the wild flapping about of a poncho in windy conditions. The chaps could also be used with a poncho.
The material used by Sierra Designs did a good job of blocking the chilled air blowing across the water. It is very tight knit and slick. The Chaps did not get "hung up" on brush, and seem to be very abrasion resistant. I think the durability is going to be very good for a lightweight fabric.
I found that everything worked as it was supposed to; I had no leaks, or malfunctions. The Chaps were easy to hook up, and stayed adjusted.
The leg openings were of adequate size to provide ease of use in putting them on & taking them off (see Video).
At first I had my doubts that the Velcro openings would actually keep rain out.
I was pleasantly surprised to see that they do. While they may not be as watertight as a zippered opening, I didn't get wet, and the weight savings were an acceptable trade off to me.
In sandy areas I've found the Velcro works better than a sandy zipper.
The Chaps were easy to stuff in small pockets on my backpack, it easily fit into the pocket of my backpack lid, or a water bottle pocket.
I was very well pleased with the balance of weight, ventilation, function, and pack-ability. Ventilation being its most outstanding virtue, and it was well appreciated.
Testing was done in the lower coastal plain of South Carolina. I tested the Sierra Designs rain gear on the beach, in two very humid swamps, and on a lake island that I often canoe to.  During periods of rain and wind I set about the normal activities of hiking, setting up camp, cooking, making coffee, running around, etc.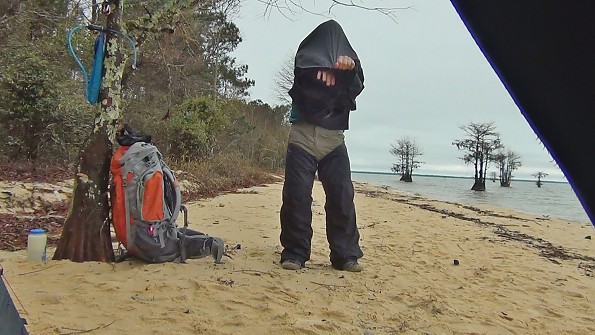 I repeatedly put the rain gear on and then took it off to see how easy it was in actual use.
(See video above)

I hope this review was useful to you.
Mike G.
Source: received for testing via the Trailspace Review Corps (Samples provided by Sierra Designs for testing and review)

These chaps are a lightweight alternative to regular rain pants. They shed water and have much more ventilation than rain pants.
Pros
Waterproof
Lightweight
Excellent ventilation
Cons
Side strap loosens while you walk
I had the opportunity to test the Sierra Designs Elite Rain Chaps this summer, first on a drizzly day hike in California and then for four solid days of rain on the Tour of Mont Blanc.
The chaps are an interesting alternative to rain pants in that they are two separate legs that attach to pants or shorts using a plastic hook on a single side strap (one strap per leg). The top of the chaps are elasticized which helps them stay up. The chaps are made of water repellent nylon treated with a polyurethane coating (2 layers for pants and 3 layers for the knees).
The benefit of these chaps over rain pants is that they are extremely lightweight at just 5 oz (only 4 5/8 oz on my scale). I don't like to carry rain pants (which weigh 8 oz) if they are going to be dead weight if it doesn't rain but I'm more likely to take chaps because they are light and don't take up much space.
Another benefit is that overheating is minimized because the chaps only come up to the crotch. Since they do not have a waistband venting is much greater than with the traditional combination of rain pants and jacket, which seals in heat. Because they don't cover the buttocks they are meant to be used with long jackets that cover the rear end. I paired them with a Sierra Designs UL Trench that is long enough to work with the chaps.
The chaps worked very well in light rain. During prolonged rains it worked fairly well after I figured a few things out. The wide legs were easy to put on even with hiking boots on. If more room is needed the chaps open from the bottom to the knee with Velcro closures and have one snap at the bottom.
The elasticized top is adequate to hold the pants in place. A plastic hook on a side strap slides over the top of hiking pants, shorts or leggings and can also simply hook onto a pocket. This one strap plus the elastic is the only thing that holds the chaps up.
Everything was in order as I began walking in the rain, but as I hiked the strap loosened gradually without my noticing it until I realized that the bottom of my shorts were soaked. I tightened the strap repeatedly but it kept happening until tied a knot in the strap to keep it cinched up. After I did that the chaps were more successful at keeping my legs dry.
I noticed a significant improvement over rain pants with increased ventilation and hiked for seven hours (12.5 miles with an elevation gain of 2700 feet). The benefit of not overheating for this amount of time is well worth a little inconvenience getting the strap cinched up.
With regular rain pants there is often an uncomfortable bunching up that occurs around the waist with two waistbands and the bulk of the jacket. With the chaps it was much more comfortable and when we ducked into a mountainside hut I left the chaps on, finding them comfortable to sit in. At another hut it was easy to slip them off to dry out while we had hot chocolate.
On the fourth day of rain I was thrilled to see a chair lift that whisked me down to the bottom of a big hill. Not surprisingly, while sitting on the wet chairlift left my bottom got soaked once again, this being an unusual hiking circumstance when the full coverage of rain pants would have been beneficial.
Overall, I liked the Elite Rain Chaps a lot and will be inclined to take them when the weather report is marginal during times when I might have chosen to take a chance and leave the rain pants at home. I think a design change could improve the function of the strap that holds the chaps up. However, they shed water, hardly take up any room and are light enough that I barely noticed the weight. That combined with the phenomenal ventilation makes them worthwhile.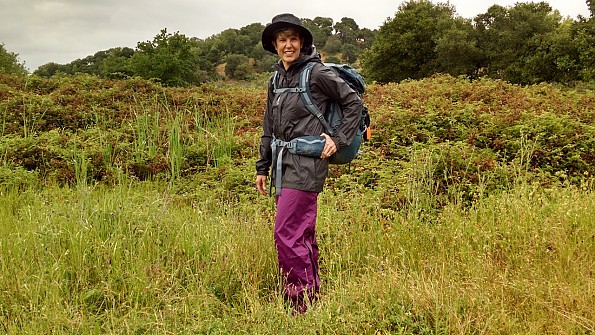 Source: tested or reviewed it for the manufacturer (I kept the product after testing.)

Disclosure: The author of this review received a sample of the product from the brand or its representative in exchange for a review.
What a cool idea!
Pros
Lightweight
Well ventilated
Packable
This, with the cagoule, is the coolest rain system ever.  
You have to have been caught in diluvien rain with a full pack on with several more peaks to ascend to appreciate this one.
I recommend wearing them and adjusting them before your trip, because once properly adjusted, they easily slide over wet boots and clip onto your pants. I got to test the entire system on a hike in the Sierra foothills where I got caught in heavy rain and high winds and it performed beautifully.  
When I got back to the trailhead, everyone was soaked but I was bone dry and comfortable.  
Oddly enough, while the cagoule is way undersized, the chaps are perfect: order true to size.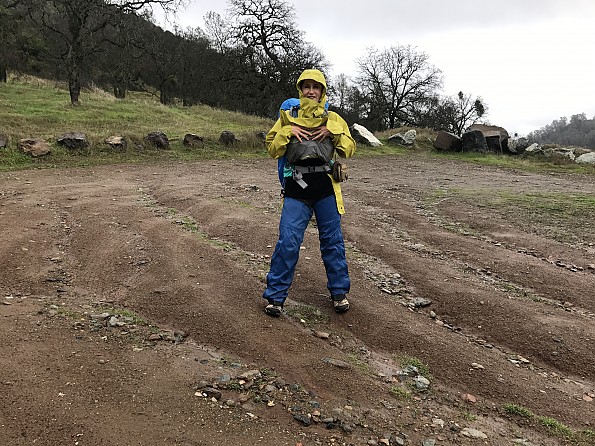 Source: bought it new

Your Review
Where to Buy
Help support this site by making your next gear purchase through one of the links above. Click a link, buy what you need, and the seller will contribute a portion of the purchase price to support Trailspace's independent gear reviews.
You May Like
Specs
| | |
| --- | --- |
| Price | Historic Range: $46.99-$79.95 |
Recently on Trailspace