Sierra Designs Genesis 3.0 Parka

The Genesis 3.0 Parka has been discontinued. If you're looking for something new, check out the best waterproof jackets for 2023.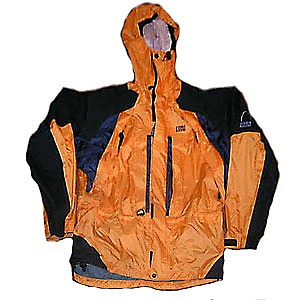 A good parka that's served me well over the years, but has shrunk a bit after more than a decade. It still serves its purpose quite well, and I've been having it pull double-duty with snow in winter and rain during the rest of the year. It's a good one to look out for second-hand and in consignment shops these days.
Pros
Durability
Impenetrable to water
Fit & Comfort: My only complaint is the arms love to bunch up in my elbows when it's wet when I'm fishing. That's has more to do with the activity than the jacket itself. Other than that, it's still fitting me very well. Comfort is only so-so, as the fabric isn't the best feeling stuff in the world, but it's kept me perfectly dry. I can't really complain.
Adjustability: The cords let you adjust the waist and hood on the fly, and I haven't had issues with them developing a slip. It provides a good seal for skiing, and loosens up fairly well for the warmer months.
Water Resistance: The Gore-Tex has held up well. I haven't had a single issue with water seeping in through seams in heavy downpours.
Breathability: The vents really make it a great jacket for summer rains. They've got decent coverage over them, so you stay dry while still getting a good rush of air. The Gore-Tex liner keeps the fabric breathing well as always.
Warmth: There's no real insulation to speak of. It's an outer shell and gives a good bit of wind protection. I've had no issues feeling wind chill under it while skiing.
Layering: Shrinkage aside, I can easily pile on thermal underwear and an insulating layer and toss this jacket on top. It's become a bit snug even though I haven't gotten any fatter because of this.
Abrasion: The cuffs and arms survived my arms going through a windshield during an accident, and no real damage occurred to the jacket. The backs of my hands weren't so lucky, but the scars stop where the cuffs started. I was amazed the jacket was no worse for the wear, but that's testament enough.
Function: The inside pockets are easy to confuse with the vents, so be on the lookout for that. Otherwise, I've had no storage issues. One of the zipper pulls eventually gave out, but those are easy to replace and break all the time on everything.
Conditions: Everything and everywhere from mountain skiing to squalls in Key West. This jacket's been a good performer at keeping me dry and comfortable.
It's long discontinued, but if you find it in a consignment store or yard sale, snatch it up. I'll only think about another similar jacket if this one finally gives up the ghost. It's shown no signs of that whatsoever through loads of abuse since 1999.
Source: bought it new

Sierra Designs made a good product out of this parka. I'm using it for about six months -- I don't have anything to complain about. Great look, great performance. I've heard that Genesis 3.0 fabric is faulty -- that it lets wind in 25 m/h wind or somthing like that; speaking from my experience -- it does not. I found it out when skiing downhill 35 mph plus wind about 15 mph (I had gps to be precise). Excellent water and wind protection. I paid $70+ delivery of $20 for it at SierraTradingPost. But i would strongly not recommend buying SD Downflex!
Fabric: Genesis 3-ply
Price Paid: $70

Your Review
You May Like
Specs
| | |
| --- | --- |
| Price | Reviewers Paid: $70.00 |
Recently on Trailspace