Sierra Designs Hyperlight 3 AST

The Hyperlight 3 AST has been discontinued. If you're looking for something new, check out the best three-season tents for 2022.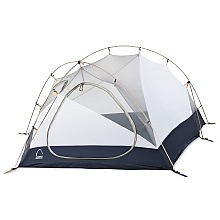 Specs
Price
Historic Range: $139.93-$339.99
Reviewers Paid: $110.00-$300.00

Reviews
5

reviews

5-star:

1

4-star:

4

3-star:

0

2-star:

0

1-star:

0
Lightweight and perfect for two adults, this tent combines great construction with some very nice features. Great quality and overall value (esp. for $125!).
Pros
Lightweight
2 large doors
2 vestibules
Quality construction
Great in wind + rain
Cons
Somewhat awkward dimensions
I purchased this tent to replace a North Face Salamander "2 person," and could not be happier. I now prescribe to the "-1" rule when looking at tents— a 3-person is really best suited for two adults, etc.
The  Hyperlight AST 3 has two large doors with separate vestibules and so coming and going is easy—no stepping over your camping cohort to hit the head or grab some jerky in the suspended food pack. The rain fly and footprint help ensure that you'll weather even the worst downpours quite well.  
Others have noted that ventilation is an issue—remember that you an always open up the fly over the vestibules a bit to help push air through, it is sometimes inevitable!
I paid $125 or so at an REI closeout for a new Hyperlight. I am lucky—amazing deal. If you can find one at a similar value, go for it—these are well manufactured and provide some nice versatility. The weight and packed size make it perfect for two adults and it has enough interior space that you can hang out inside if the weather is poor or if the insects are on a feeding frenzy.
Love + Peace + Flying Geese
Source: bought it new
Price Paid: $125 USD

The Hyperlight 3 AST is a great tent... if you're looking for a very spacious 2 person tent.
Here's my opinion. I've always thought that the 2, 3, 4, etc. person designation for tents should be based on a regular sized thermarest footprint. If you can lay 2 of them side by side, it'll be a 2 person tent and as I'm sure you'll agree, most 2 person tents can't do that without an overlap.
But I digress. When I started my search for a 2 person tent, I actually looked for the lightest 3 person tent because the vast majority of 2 person tents were too small for my tastes. To my pleasant surprise, the Hyperlight 3 was just as light as most 2 person tents. So, I didn't hesitate in picking one up.
The kite design of this tent makes it very stable and very easy to set up. However, it also makes the interior space seem a little awkward because it's barely possible to lay 2 Thermarests without touching each other - let alone 3.
The tent is perfect for two people. Foot space is a little tight but since they'd sleep away from each other near the head, it's possible to fit a small pack in between to add even more privacy if required. The separate entrances for both is a great feature as well.
I guess it's possible to squeeze in a 3rd person but unless it's a child, I wouldn't try it personally.
Design: 3-season freestanding
Sleeps: 2
Ease of Setup: Very Easy
Price Paid: $300

This is a great tent for the money I paid---only $110 USD. It's on clearance since SD has stopped making it.
Shaped like a kite leaves tons of room in the upper three fourths of the tent. However, the bottom one fourth causes the sleeping pads to overlap which is no big deal if it doesn't bother you.
Other than that one thing this is an excellent roomy tent for 2 people. No 3 person rated tents that I know of can really house 3 adults with some gear. The tent makers are much too optimistic in that area. But a tent that retailed for $360 and sold new for $110 is such a deal that I can put up with a little pad overlap.
The tent is also very light considering its size. The tent poles are much lighter and flexible than the ones on my 15 yr old SD tent.
Design: 3 season freestanding
Sleeps: 3
Ease of Setup: easy to set up
Weight: 5 lbs
Price Paid: $110 USD

This is a terrific 2-person tent for backpacking.
Actually, it's a decent tent for three people who are very good friends or family members, who use it according to its designed purpose as a lightweight backpackable shelter. My two young-adult sons and I (6-2 180, 5-11 190, 6-1 220) took it to Colorado in summer 05. That was a pretty big body load. The kite floor plan limited our foot room, but it provided capacious shoulder space. We slept like babes. (Granted, how hard is it to get to sleep after hiking several hours at 8-10,000 feet?)
Pitching it is as fast and easy as it gets.
Two months later we took a trip to the West Coast. Forgot to pack the tent. Oops. Stopped at REI's Seattle treasure house and went with a Taj-3. Another really nice tent, and a super value for the low price. Gave it to one of my sons.
Anyway, the AST3 has been discontinued, but I hope this review helps people looking at used tents, or closeouts.
Design: three-season freestanding
Sleeps: 3
Ease of Setup: Easy
Weight: under 6 pounds
Price Paid: $Full

We are JR, Jessica and Reed, just-research review team. We bought our SD Hyperlight 3 AST in December of 05 in Southern Ontario. We paid $575 (CND), although it was a special order for the '06 model which had the second door, plus $40 for the additional footprint, for fast-packing trips. This may appear to be a premium however, contrary to popular belief, there are not a lot of camping gear places to choose from in Southern Ontario. We are not online buyers, as we like to test/touch what we want before we buy it. This may seem old school, with the internet and E-Bay so readily available, but it is our preference. Moving on to the SD Hyperlight 3 AST.
First the CONS: It's yellow! We like it but make it available in different colours. Yellow is yesterday... Next, we noticed that the Hyperlight has a very hard time ventilating properly with the fly on in rainy weather. In fact when we had it out in a warm downfall, that lasted about 5 hours, the tent kept rain out but unfortunately trapped the condensation inside to the point we had wet sleeping bags and all our clothing were damp. When the temperature dropped that night we had no dry clothing to put on.
Moreover, the shape of the interior may be great for wind resistance but it doesn't lend itself kindly to comfort. Because the kite-like shape of the Hyperlight narrows at the feet, it is difficult to fit two Therm-a-rest sleeping pads with gear at the end. The vestibule(s) are large enough for boots and a very small pack but nothing else. If you have a mountain dog that travels with you on your excursions make sure he/she knows they will be sleeping outside this time. There is barely enough room inside for all your gear, pending you need to bring it all in due to inclement weather. It would be nice for the vestibule(s) to have a floor, like in our Kelty. We would also like to be able to cook in the vestibule at any time. You never know when you might get caught inside, or for how long.
To finish the CONS and move on to the PROS of the Hyperlight we would like to end with the Jake's corner connection when applied to the fast-pack footprint. Basically it cannot be attached because SD, in 2006 when adding the second door had the brilliant idea to sew the Jake's corner connector itself to the actual tent, thus needing an additional connector for the footprint and fly set up. SD does not provide this with the tent. The worse part of it is, SD had no idea of the design flaw until we made mention of it.
The PROS: It's yellow, we like it cause we are old school. The set up is extremely easy and at the time Jess, with absolutely no knowledge of tents, had it set up virtually by herself in about ten minutes. The poles are very light and aid in making this 3-person tent very light for the overall size it provides for 2 (with gear). We weigh the tent in at exactly 5lbs 10oz packed. You can always opt to lighten the load even further if you wanna dish out 50 extra bucks for lighter tent pegs! This 3-person, truly a larger 2-person tent, is as light as they get for the room it provides.
This Hyperlight not only holds up to its birth name but maintains its youthful nature by providing loads of see-through mesh for those star-gazing nights. It is wonderful with the fly off on a cool summer's night and vents quite well.
The fast-pack is extremely light and if you want to call SD, as we had to after finding out they sewed the Jake's corner connector to the tent for stability in '06, they will send you a separate connector. We didn't have to pay for the part and Sierra Designs, aka Black Water Designs Inc. the Canadian representative for SD, was very helpful in shipping us what we needed immediately!
If you have a relatively new washer with a 'hand-wash' cycle on it, the Hyperlight 3 is small enough to get a great gentle cleaning. After a muddy trip in Algonquin Park, trust me, machine washing your gear is a huge time saver. Make sure you use NIKWAX Tech Wash, which is recommended for a variety of waterproof/breathable materials like Gore-Tex.
When all is said and done, the tent pitched, you can rely on this structure to never blow over or away on you during your day excursions. I don't think you can get much better for the overall weight of this tent.
Design: 3 Season
Sleeps: 3
Ease of Setup: Very easy and quick
Weight: 5 lbs. 10 oz (packed)
Price Paid: 575 (CND)

You May Like
Recently on Trailspace