Sierra Designs Hyperlight AST

The Hyperlight AST has been discontinued. If you're looking for something new, check out the best three-season tents for 2021.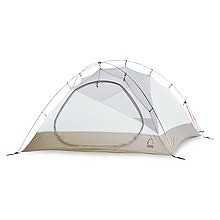 Specs
Price
Historic Range: $154.93-$269.99
Reviewers Paid: $170.00-$230.00

Reviews
9

reviews

5-star:

4

4-star:

2

3-star:

3

2-star:

0

1-star:

0
Had used this tent initially for just 2 to 3 night hikes. This is a light very roomy tent that keeps one dry in the rain.
This tent recently scored well with me on a trip to Gros Morne National Park. The tent withstood high winds, heavy rain and still kept us dry. The tent even wet packed nicely dried quickly and is extremely light.
The lightweight design combined with the sturdiness, and spaciousness of the tent have made me a one tent person now.
Design: three season free standing
Sleeps: 2
Ease of Setup: very easy and quick
Weight: with foot print barely 5lbs

I realize that this tent has been out a while, but I have to put my two cents in here. I was a tent buying junkie until I bought this one, and I've used it so many times I couldn't even tell you. More than any of the others by far. Snow, rain, wind, one person, two person. I love the space around the shoulders that the shape provides, even with two people it feels like you have room to your side. It's long! One person, forget it, it's great.
Ventilation could be better with the fly on and closed up. Pitch the door into the wind, and add a 2nd zipper to it so you can leave it closed from the bottom but flapped down a bit from the top if you can't leave door opened.
Another thing that hardly anyone talks about is color. I have so many tents (at least 10 or 12) where the green or blue color just makes me feel like like I've woken up on a cloudy day, and opened up to find beautiful sunshine. The colors on this tents fly make you feel happy the moment you wake up in any weather. I will never buy a tent again that has a green or blue fly...as much fun as waking up in an emergency room or that drug store scene in Natural Born Killers when Woody H. is looking for snake venom antidote. Try any tent with the golden yellow colors found on this one, and try climbing back into that Eureka Zeus again- Ughh.
Have Fun!
Sleeps: 2
Ease of Setup: Easy Enough
Weight: Haven't weighed it, but plenty light.
Price Paid: Don't remember

The rave review in *Backpacker* led me to buy this tent, and, boy, am I sorry I did.
Set-up is awkward -- the Jake's Corner is a nuisance -- and the strange floor-shape forces uncomfortable sleeping arrangments for two.
Sleepers must either have their heads jammed into claustrophobic corners OR must somehow overlap their feet in the tight Jake's Corner end in order to have their heads near the door so they can breathe. (That is what we did.)
My husband complained bitterly about the tent, which made using it even more uncomfortable. (He leaves all backpacking decisions, arrangements, and purchases to me.)
Yes, the tent was quite dry, and its cramped space certainly kept us warm and cozy because we were literally fanny-to-fanny.
I'm trying to sell it so I can use the money to buy a more-comfortable tent, even if it weighs a little more.
Design: Three-season, freestanding, irregular hexagon
Sleeps: 2
Ease of Setup: Awkward, especially the Jake's Corner. However, the fly is much easier to put on right than was our Sierra Designs Meteor Light's fly.
Weight: About 4 lbs. plus (we carry a footprint, too)
Price Paid: $230 (?)

I am a mountaineer, so when I pack in I have to carry a lot of heavy gear in addition to the basics. I bought this tent (new) on Ebay, and I find that is very high quality construction, and is a perfect compromise between weight and usable space. I always use it as shelter for two, and find interior space very comfortable.
The wedge-shaped dome maximizes floorspace and headroom at one end, and saves weight at the "foot" end. It is not practical to sleep head-to-foot. Interior space is adequate for some clothing, food, etc, but your pack must stay outside, protected by a large garbage bag. Vestibule is enought for boots, stove.
I heartily recommend this tent.
Design: 3 season+ dome, sil-nylon fly
Sleeps: 2
Ease of Setup: very easy system, has guy points for heavy wind
Weight: 5 lbs
Price Paid: $170

Great tent for one person and great quality materials. Although I bought it for two people. It may have lots of floor space, but it isn't usable for sleeping, yes, even when you sleep foot to head, and also, how often can you find a perfectly flat tent site in the backwoods that would allow that type of sleeping arrangment?
For just myself with all my gear inside it's wonderful and spacious. But you try and get two 6 footers in without jamming your feet or heads into the tent's sidewalls. The tent allows no room to move, without jamming in to the sidewalls. Maybe if you had a regular length sleeping bag and a half length sleeping pad (Square full length pads don't fit without one of the corners bending on the side wall) and stayed in a perfect mummy position all night.
No thank you, I'll wash my money down the drain and get another tent.
Sleeps: 2
Price Paid: $175

The tent is definitely sturdy. The design lends itself to strength in its setup. I can imagine this tent doing well in a strong wind. I found that the unique diamond shape left a lot of the large floor space wasted, and I was unable to lay out the pads for two tall people without at least one pad riding up one wall a bit. If you don't mind fitting yourself into the available space, and spreading your gear out into available nooks once setup, the floor space to weight ratio is great for a free-standing tent.
Design: Three-season (maybe four), free standing, dome
Sleeps: 2
Ease of Setup: Easy after some practice
Weight: ~5.5 lbs
Price Paid: $210

This tent is a perfect addition to our tent collection. We needed a rooomy 2-person shelter that could accomodate a 70 lb Aussie Shepherd and also weighed under 5 lbs. This is it!! It sets up quickly, is strong and lightweight for a 43 sq/ft tent.
Design: Three season free-standing
Sleeps: 2
Ease of Setup: Extremely easy
Weight: 4.5 lb +/-
Price Paid: $199

The Hyperlight is the biggest two-man tent for backpacking at 43 sq ft. It is small when compared to the car camping tents, but is light enough to be carried far. The inside shape is a bit strange. I wish it were more square inside for more room. That would add weight though. The vestibule is large enough for my 4100 cc pack and boots. The first time I used the tent it rained for two hours. I stayed dry and so did my boots in the vestibule. With the complete coverage rainfly, it should stay dry even in thunderstorms.
Design: 3 season freestanding dome
Sleeps: 2
Ease of Setup: easy
Weight: 5.5 lbs with footprint
Price Paid: $195

New and innovative. Features, rock solid. Waterproof. Rear Jake support poles and cross pole bungee really unitizes the entire structure. Interior is snug but warm and colorful. Tie it down, Guy it out and let the wind race around this aerodynamic wizard. You+1 will be tight and stable for the night. You might want to look for lighter guy line (trip tease) and titanium stakes for icing on the cake.
Design: dome
Sleeps: 2
Ease of Setup: easy
Weight: 5.1
Price Paid: $185

You May Like
Recently on Trailspace