Sierra Designs Lightning 2 FL

Top 25 in Three-Season Tents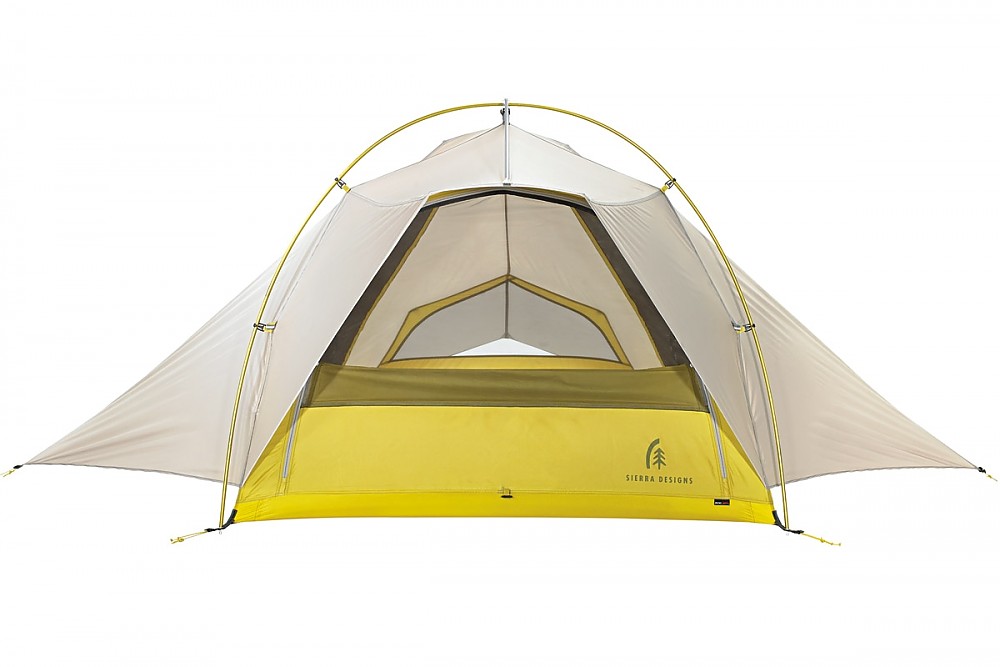 Specs
Price
Historic Range: $227.99-$379.99
Reviewers Paid: $300.00-$399.00

Reviews
4

reviews

5-star:

2

4-star:

2

3-star:

0

2-star:

0

1-star:

0
Pros
Very easy and dry setup
Lightweight
Awesome giant door opening with awning
Cons
Gear closet doors should probably be bigger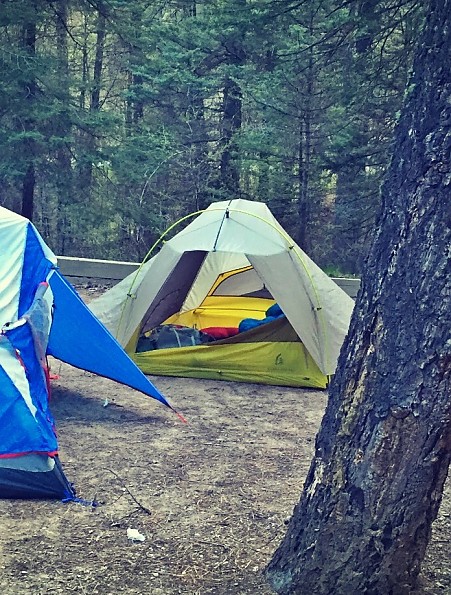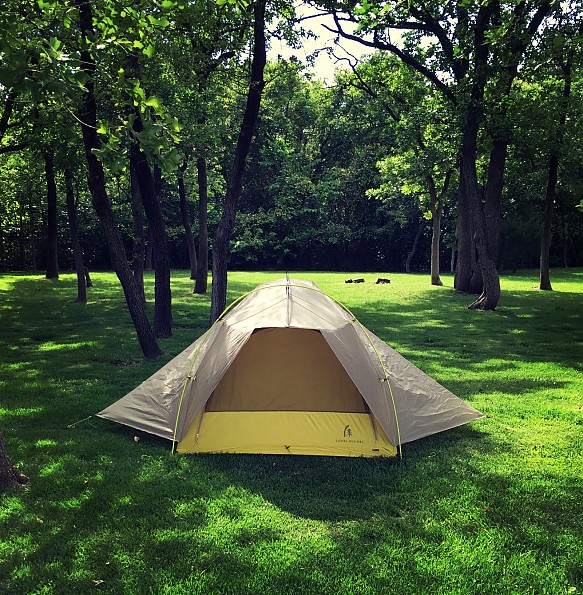 I deliberated over tents for an upcoming trip for weeks. I read through tons of product reviews and watched videos etc. Finally I decided to pull the plug and buy this tent.
I took it to the Santa Fe National Forest for some backpacking and camping a few weeks ago and got to put it to the test. I LOVED it!! A friend of mine had a BA UL tent that is comparable in size to mine and as rain started to fall and we got our tents out, I threw my gear inside of the tent as I put it up and hers sat on the ground getting rained on.
If you think your backpacking adventures will involve much rain, you will love the dry setup of this tent. I had it pitched in 5 minutes with no problem. The other thing that drew me to this tent is the big front door. I can sit and have coffee in the morning and enjoy a great view from there. Two people could easily sit side by side and have the same view.  
I'm 5'9" and for a lightweight tent, felt it felt like a palace! I had my 6'3" husband get in with me when it first arrived and we comfortably could lay side by side. Obviously much less moving around room with him in it, but again, for an UL tent, it was great! 
The only thing I think could have been better is larger access through the gear closets. Honestly, this did not affect me at all since I pulled my entire backpack in the tent with me, but I could see how it might be helpful if my backpack actually were sitting in it and I were trying to access my things through those openings. They have a newer version of this tent out now I believe that addresses this but, the overall weight of the tent is now heavier.
Source: bought it new
Price Paid: $360

Fast and easy to set up. Only about 3 lbs. Integrated fly, so only 3-5 minutes to set up once practiced twice. Best for hiking, bicycling, motorcycling, anywhere weight and ease of use is important, such as with beginners like me.
Pros
Easy to learn how to set up
Fast after only a couple of tries
About 3 lbs. in weight. Can split poles and tent between 2 people.
Cons
Must get used to getting out of the tent.
You have to practice clearing the awning.
Otherwise great tent!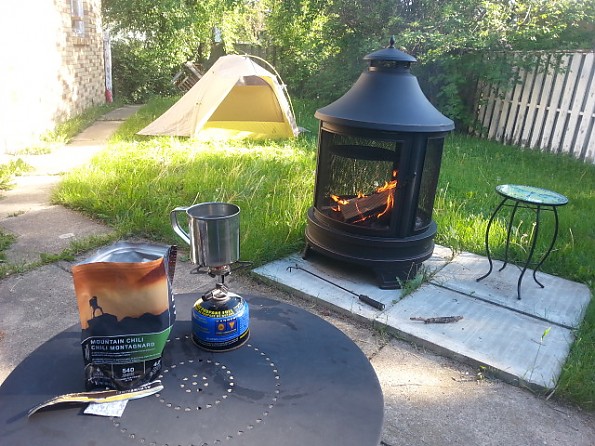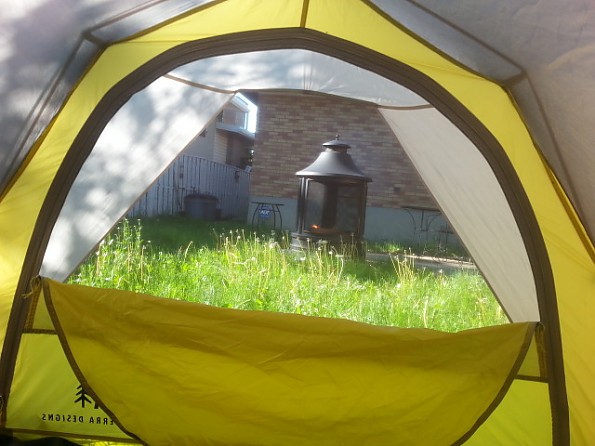 First off, why did you buy this Lightning 2 FL tent?
I bought it for hiking, motorcycling and cycling trips. I wanted something light (it's about 3lbs.), and something that went up fast, (moving quickly, say literally 3 minutes), and something that would keep me dry in the rain, as motorcycles and bicycles both are modes where you are exposed to the elements.  Please note, that in the above photo, I have only the left vestibule wing staked out.
How experienced are you at camping?
I am just a beginner, which was another reason for buying this Lightning 2 FL tent. It is super easy to assemble. All you have to do is remember to place the plug clips, the two main ones, with the open sides down, and the rest is child's play. You lay the tent out, and temp stake the 4 corners. Unfold the poles and lay the poles big wings closest to the big end of the tent.
Next, just clip in these main plug clips as described, put the end tips of the black poles into the front and back of the vent tops. Next put the 2 yellow wing pole ends into the 4 corner holes, and clip the rest of the clips to the Tent Fabric. To finish, you can re peg the corners or use the guy lines to tighten as needed. There! Done.
I assembled it once last summer, when I bought the tent, and this summer, 2016, I didn't look at the instructions at all and it took literally 3 minutes for the first trip of the summer.
As a beginner, you assemble this tent once or twice, and it is easy peasy 3 minutes up, from there on in. In terms of space, I am a muscular guy, and I find there is lots of room with me and my XL air mat, sleeping bag. Once I put my motorcycle riding jacket, helmet, backpack, hip pack, and a couple odds and ends, I still have room, but just, for a few odds and ends. If I put my backpack and hip pack in one of the large vestibules, then I have a lot more room.
If you were a couple, or one person with a dog, you would have to leave your gear in your backpacks and put them in the vestibules, or in the car if you were car camping. Two people would be comfortable if you had reg or smaller air mats, and you knew each other pretty well.
Lying in the Lightning 2 FL at night and looking up, you have lots of room around your upper torso and head and eyes. I found it really comfortable, even though you cannot see out to the stars. There are net pouches on either side, near the front. Great for hand sized items. The front door has a screen in the top half that you can manage air flow with by zipping up or down the screen cover. In this way you can eliminate condensation, I found, and regulate heat as well.
Ground sheet of some sort is recommended as the bathtub bottom is not thick, in order to save weight. There are loops in the center roof seam, that you can run a cord through and make a clothesline by making enough loop to go through the loops, and loop down to hang clothes on. Rear vent does not close. This is needed to maintain air flow to ensure you do not get condensation. Remember that the vestibules are mesh, so they act as an entry point for fresh air or air exchange,, which drafts to the main door screen, which I recommend you leave just a bit open instead of closed.
Now, if you look at a picture of the Lightning 2 FL, it is hard to imagine that it has a large interior, but it does. It is almost as big as a queen size bed at the front, and only ten inches or so narrower at the foot. When you combine this front near queen width with large meshed in vestibules, the feeling perception is really big and spacious, and comfortable.
Now, just one "not like". I have to repeat: I really like this tent. It is roomy, doesn't feel stuffy and it is easy and fast to set up.
My only con would be the following: because of the awning extending beyond the door, I recommend that you take care to clear the awning before you stand up upon exiting the tent. I just roll out or walk on my knees two steps, and I am out. It takes a bit of getting used to, but so does sitting in the tent with the door open, watching the view, or the rain without getting wet. You can't have one without the other, and the benefits of this style of door outweigh the time it takes to get used to how to exit, by leaps and bounds.
If you get a ground sheet, or footprint, and this tent, and you do the type of stuff I do, I think you will find it a really good purchase, an an outstanding value that you can enjoy again and again. Campsaver sometimes has them on sale / discount at the end of the summer / fall season.  I got mine this way for about $300 USD. 
Source: bought it new
Price Paid: $300 USD

This tent sets up extremely easily, even alone, and at just over 3# packed weight, is still super light. I could set it up with the footprint and guying out the vestibules in about 6 minutes by myself. It tears down and packs back up in about the same time.

This tent was an excellent choice for my week-long hike in the Emigrant Wilderness. Although made to sleep two, it is still an excellent choice if going it alone. I highly recommend it for anyone on a long outing or just a long weekend.
Pros
Lightweight
Easy setup/tear down
Durability
Cons
Designed for your head to be at the door, I prefer it at the other end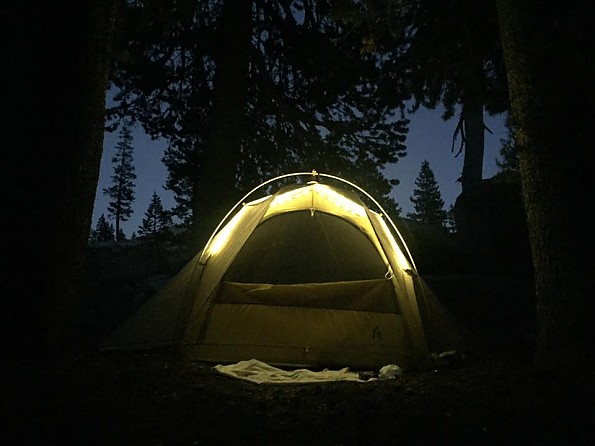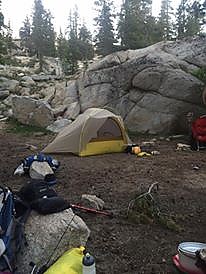 This tent is so easy to set up, I handed it to a friend and asked her to set it up without any instructions. It only took her a few minutes longer than it takes me. It is such a simple design and very well thought out. As long as you guy the vestibules out taut, this tent is very stable.
I have been fortunate not to have encountered any adverse weather conditions in this tent yet, so I cannot speak firsthand on how it handles the rain. I was a little concerned at first about the vent at the foot always being open, but it was very warm and I never had any condensation inside the tent. It seems to breathe very well, but is not drafty. I have an older Kelty external frame pack, so I never tried to actually store it in the vestibule (which is accessible from the inside or outside).
I did however keep a lot of my gear, clothes bag, stuff sacks, boots, journal, etc in there. It was very convenient to be able to access them from the inside. At 6'2", I was very comfortable sitting up inside while noting the days activities in my journal. My 80# Black Lab, Zeus spent every night right beside me. The tent, poles, footprint and pegs packed up nicely together into about a 7" x 20" bundle.  The poles and pegs are in a separate bag that can be attached to or detached from the tent bag, making it where you can share the weight with someone else, if need be.  
This is my first lightweight backpacking tent, so I don't know a lot about the brands, but this is the easiest tent I have ever set up, by far. One feature of the Lightning 2 that I really liked (and my friends that went with me thought was the coolest) was how the vestibules were on each side and it has an overhang style porch. This allowed me to be closed in my tent, but still be able to see out, even with my gear fully protected in the vestibules. This was so nice to be able to watch the sunrises and sunsets without getting out of the tent (the mosquitoes were horrible). Other than getting a little sap on it, this tent looks great, it even survived Zeus's toenails, that was my one concern, but not one scratch, rip or tear.  
For my week-long, summer (June/July) hike of about 60 miles in the Emigrant Wilderness in California's Sierra Nevada mountains this tent was one of the best pieces of gear in my pack.  I plan to use it again soon on the PCT, the John Muir Trail, and for some overnight outings in the Sierrras.
Source: bought it new
Price Paid: $379

This tent is super easy to pitch. The fly and tent body are integrated, so there is no need for extra stakes. Natural color of tent offers more private camping appeal.
Pros
Fast drying
Lightweight
Big front door
Cons
Poles bend easily
Vestibule walls do not roll up
Condensation management
The Sierra Designs Lightning FL 2p tent is a great camping home. The tent compresses nicely and is simple to pitch with one connected set of DAC poles. The setup only requires 6 stakes. The tent ceiling is high enough to sit up and to change.
Also, this is an excellent tent for stealth camping. 
Source: bought it new
Price Paid: $399

You May Like
Recently on Trailspace