Sierra Designs Lookout

Top 25 in 3-4 Season Convertible Tents
The Lookout has been discontinued. If you're looking for something new, check out the best 3-4 season convertible tents for 2023.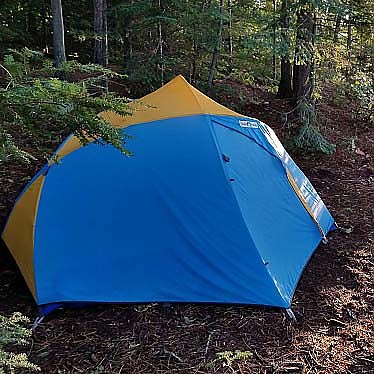 All in all, this is a true workhorse of a tent. It's suitable for all weather conditions, it's spacious, durable, and lightweight. A few personal preferences that they could have done differently, but overall I give it a 9/10...because nobody's perfect. Haha!
Pros
Lightweight and compact
Spacious
Full coverage fly
Wind resistant
Convertible
Cons
Slightly more "unzippable" ventilation would be nice
Smallish vestibule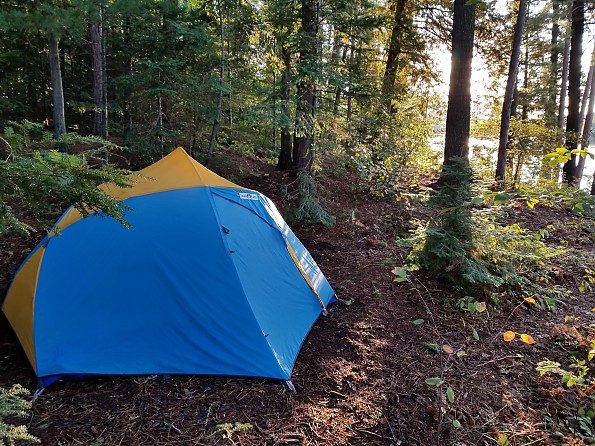 My Sierra Designs "Lookout" Tent, in Algonquin Park

Setup 9/10: Without instructions, it took a couple tries to figure out the poles the first time. Otherwise, setup was a breeze. The poles attach to the tent exclusively with grommets and clips, so there aren't any annoying sleeves to deal with. The fly attaches to the pole ends with grommets, and all the peg loops are large and easy to use. Guy-lines are entirely optional, but the connection loops for them are also large and easy to attach to.

Stability 10/10: Very taut, Wind-resistant (when fly installed). I always use pegs, but I feel you could do without them if you wanted to, because the tent supports itself well enough. For extreme wind, guy-lines are included, and tie-off loops are large and robust.
Weather Resistance 10/10: As with everything, you have to take care of your gear for it to last. The full-coverage fly ensures that water stays out. If you treat the seams, it will serve you well.
Ventilation 7/10: It's not horrible, but it could be better. Ultimately, I can understand that it is a 3/4 season tent. The solid fabric sides add to the warmth, but on a hot summer night I'd prefer slightly more air movement. Later versions changed to a full-screen door (instead of the small corner of screen at the top of a door). I would prefer that option on mine.
Room & Storage 9/10: Headroom is great, I can sit up comfortably. Length is excellent, I'm 6'1"(185cm) and I have excess room at both ends. Width, I'd call it a 2.5-man tent. I'm a firm believer in downgrading the manufacturer's listed occupancy by 1, as I'm obviously larger than their average body... but compared to other lightweight 3-man tents, the space is quite acceptable (no spooning required... LOL).
Packability 9/10: The light fabric allows it to stuff and compact easily. The poles and pegs are lightweight and small. I'll probably go the extra step and stuff it in a compression sack to make it even smaller if pack space is limited.
Features 9/10: One feature I wish was incorporated into MY version of this tent is the full-screen door, and the awning-style fly, both of which you can see on the newer model. I'm also a fan of larger vestibules, but this one is large enough for shoes and a small pack (good enough).
Construction & Durability 10/10: Especially considering I bought this tent used, and it's probably about 20 years old: All the zippers are smooth and solid, the poles are all perfect, the grommets and loops are in great condition, and the fabric is without blemish.
Disclaimer: I stole these photos from an Asian review site I found using Google:
Source: bought it used
Price Paid: $80 CAD (used)

Perfect for motorcycle, snowmobile, sled, and canoe camping.
Pros
Solid, well designed with three poles
Versatility
Setup is easy—two straight poles, grommet front and back and do the same with the other two arched poles on each side of the body, cross them at the back and use the clip with the little bungee cord to lock them together at the X.
Then start clipping on the clips. Start at the middle of each pole and work your way around. Arch pole, put it in one grommet on one side hold onto the pole, bring it around to the other grommet on the other side and lock it in.
Start clipping on the clips. Start at the top mesh, then the same with the two clips with the bungee cord at the X. (I never know what is front or back, I use the door end for the front or head end so I can get to my essentials outside under the fly.)
Good summer tent in shade if possible and fly off, or winter snow camping.
I have had this in some crazy New Mexico, Colorado, and Nevada weather this year.
Hail was scary thinking it was going to destroy this tent's rain fly. Nope!!
Wind—if you have it tied down it gets shaky, but holds like a turtle.
I have a few different models of this tent and the only issues I have are:
The rain fly, it would have taken another pole to fix most people complain about it, the space under it and the water that falls on your head and into the tent when you unzip the fly in wet weather. A small outward arch would bring the fly out and create a small awning to keep the water away from falling on you. as well as extra space under the fly.
Not a big one, but Sierra Designs designers decided to install the door mesh on the inside and not outside like the older models. What's the issue?
The old model you unzipped the panel for venting and didn't need to touch the screen, new models you unzip the screen to get to the panel to open to vent the tent. Problem: Bugs that you are trying to keep out will fly right in before you get a chance to zip up the screen—one mosquito and the night sucks.
Heavy tent for two, not an issue split it up.
Now I have to make a comment on people that say the tent isn't warm and cozy. No tent is warm and cozy in cold damp weather. You have to get creative, why I bring a UCO tent candle. It burns off condensation left by your breath. Condensation is what makes the difference between feeling like you are sleeping in a cold damp galvanized drain pipe or a comfortable tent with sleeping bags and some layers on you. The smaller the tent, the more heat it will retain.
I had an SD Alpha 3 person convertible thinking it would be perfect for motorcycle camping for long stays at location, base camp for short. Well, one stay the temp dropped to a mere 35 degrees and it turned into a large damp mausoleum, had to vent the tent and bring in the Snow Peak Giga lantern to keep it warm. My North Face VE-25 is a different story, why? I don't know. Maybe the dome-like low interior combined with the candle lantern?
Nevertheless this tent is perfect for one large person or two normal people.
You can get one these days in good condition for around $145 to $65 on Ebay or Craigslist. Get a footprint or cut a tarp to size. Tyvek is OK but noisy, and if you are set up over a sharp stone it will poke through it.
Source: bought it used
Price Paid: $125 to $85

Had my Lookout since 1996. Lots of use for backcountry paddling and backpacking.
Pros
Has been very resilient in bad weather
Fits a double sized air mattress perfectly
Cons
Needs a second door (older model)
The Lookout has served me well in the 22 seasons I have owned it. A slightly crooked pole hasn't stopped this tent from performing. I gave it a bath a couple seasons ago and it was DIRTY!! but still holding strong from weather of all kinds.
I have actually used this as a 4-season tent. From deep snow and cold to hot and humid. You don't want to stay in too long in the sun as it heats up quite quickly with the fly on. Take good care of your stuff and it will last! A well made tent, only a small rip on my screen that was easily remedied with some duct tape.
I'm on the "Lookout" for a new tent to accommodate my young son and dog. Highly recommend a Sierra Designs product. 
Source: bought it new

I've had this tent for almost 10 years. It has never let me down. I been dry in severe thunderstorms and comfortable in sub-zero weather with high winds. In fact, I own 3 Sierra Design tents and they are are great tents.
This tent is well constructed and durable. The Sierra Design footprint is a must. Set up is a breeze and the poles are well made.
Air flow has always been good, regardless of the season. I particularly like the zipper vent in the fly combined with the zip panels in the tent roof. The vestibule is a good size but a bit of a reach to zip down all the way. But nothing is perfect.
At 8+ pounds it's heavy to backpack but I've done it. I expect several more years of happy camping from this tent.
Design: Convertible tent
Sleeps: 2
Ease of Setup: EAsy to set up
Weight: About 8 and a half pounds

My brother has had one of these tents for about seven years now and has had no major complaints. We have taken it on a ten day trip where it rained every day, we stayed dry. It has also made it up onto a col with 60 mile an hour wind gusts. I won't say it was warm and cosy inside, but all things considered it did great, it stayed dry and stayed rigid. There have been countless other trips where the tent has been pushed to the limit and we always stayed comfortable and dry. My only complaint is that in the summer months it lacks proper ventilation and can get rather hot. Overall I would say that this is a great tent and is well worth it.
Design: 3-4 season freestanding
Sleeps: 2
Ease of Setup: extremly easy once you are used to it the first few times it can be kind of confusing
Weight: around 7-8 pounds
Price Paid: gift

I have thoroughly enjoyed using this tent. Granted, my previous tents, various Eureka models, were lower on the totem pole of cost/durability... so my expectations were set low.
The Lookout has two features that I just love: the overhead window and the two side doors rather than end doors. For sleeping two, each person in tent has their own door (three people in this tent would be tight--but two people and all of their gear is a breeze).
The Lookout is easy to set up, and fully staked out with guylines makes a rugged winter shelter. In the summer I have found the tent to stay well ventilated by leaving the nylon panels at the tent doors and upper vent open, putting on the fly and opening the window in the fly. If it cools off and starts to rain, just wake up and close the fly window and all is good.
Buy the footprint for the tent, because you can then set up just the footprint and fly as a shell, and hang a mosquito net inside for a nice light-weight setup.

Sleeps: 3
Ease of Setup: easy
Weight: 8 lbs? - a little heavy

I have owned it for 11 years and just now replaced it, not that it was a bad tent. I replaced it due to the fact that it was no longer waterproof, fly or floor, even after a retreatment. Hell after 9 1/2 years who could complain(?). I replaced it with a Ziod 2, bought on sale. I live in the Southeast, but we still get below zero temps in the high country.
Design: convert 3 season
Sleeps: 2
Ease of Setup: piece of cake.
Weight: that I have seen some where around 7 lbs
Price Paid: $350

Version reviewed: 1995
This tent is a breeze to setup and carries very light, especially for a 4-season tent. Drawback for summer use is ventilation. With the rain fly on, this tent does not breathe well. For winter camping, the major drawback was that condensation from the inside of the rain fly would drip into the tent at the corners of the convertible roof where the zippers stopped. They need to stop the zipper at the top of the roof like on the Marmot citadel. If ventilation with the rain fly on or winter camping are not an issue, then this is a good tent.
Design: 3/4 Season convertible
Sleeps: 3
Ease of Setup: very easy
Weight: 6 lbs 8 oz
Price Paid: $350 (US)

Really wind and waterproof even after five years of use. Lot of space for two people and winter gear. Good ventilation with the removable mesh panel on the roof. But one problem: the crescent shaped mesh window on the door is really too small. So, my brother-in-law sewed a full door mesh window and the tent is now perfect, summer as winter.
Design: 3 or 4 season (convertible) modified dome
Sleeps: 2
Ease of Setup: fast and easy
Weight: 6 lbs 8 ounces
Price Paid: $450 (can)

Your Review
You May Like
Specs
Price
Historic Range: $265.00
Reviewers Paid: $350.00

Recently on Trailspace