Sierra Designs Mobile Mummy 800 3-Season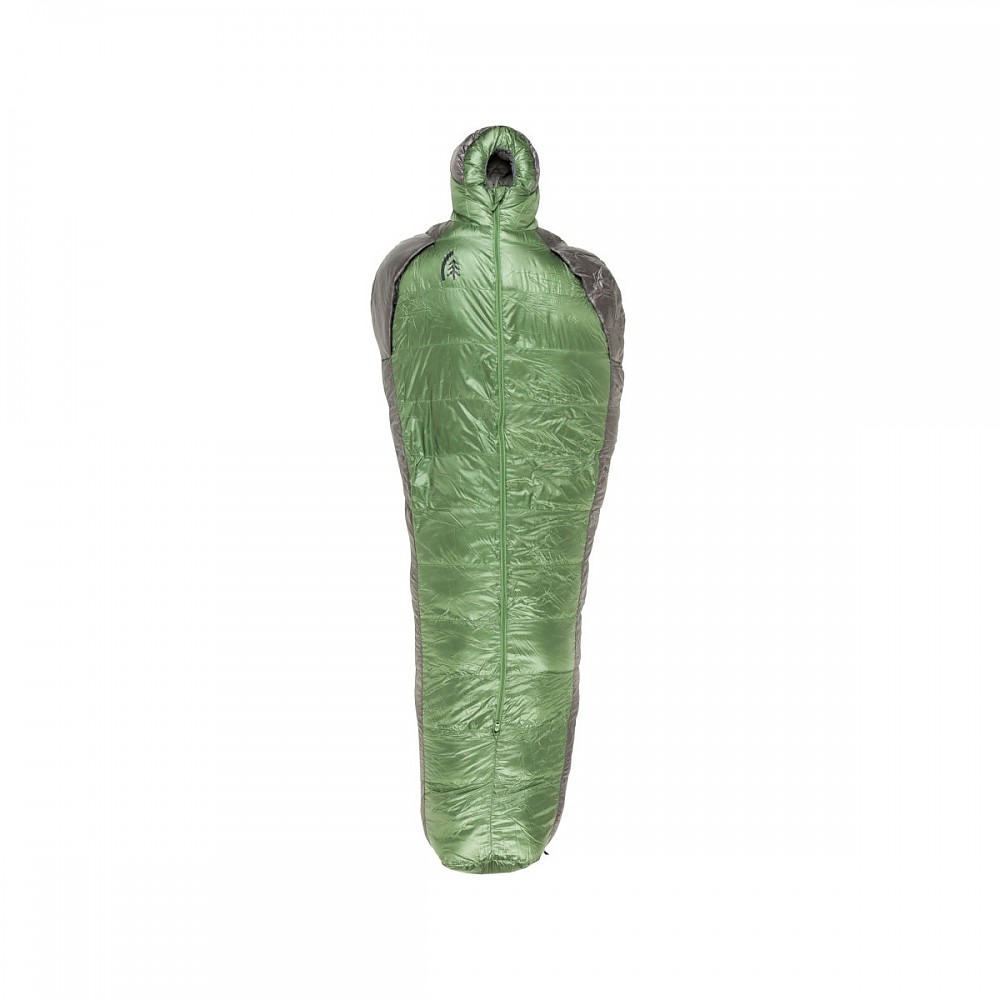 Surely you have had to deal with the agony of having to crawl out of your warm sleeping bag when it is freezing cold out. Nobody likes it! Sierra Designs has come up with a solution for it by creating one of the most innovative new sleeping bags on the market, The Mobile Mummy.

It is a garment style sleeping bag that you can wear while you walk around camp and use your arms to read, eat, or drink a beverage while in your tent. While it isn't the first sleeping bag with arm and leg ports, it is certainly the most well designed one that I have seen.

Weighing in at 2 lb 7 oz, this women's specific version is packed with over 23 oz of lofty 800 fill Dridown. It is rated to a comfort level of 20 degrees and a lower limit of 7 degrees.
Pros
You can walk and have full use of your arms while wearing it
Save weight in your pack because you don't have to bring a jacket
Very warm
Very comfortable
Stylish — looks great while wearing it
Cons
Women's length is short; Max user height is 5'8"
No pockets
Hate being stuck in your tent because it is too cold to leave your sleeping bag? The folks at Sierra Designs did too, so they created the Mobile Mummy to solve this problem.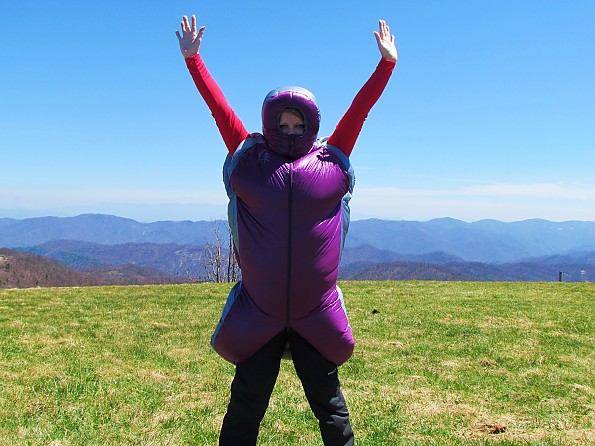 No more mummy bag confinement — do whatever you want in the Mobile Mummy: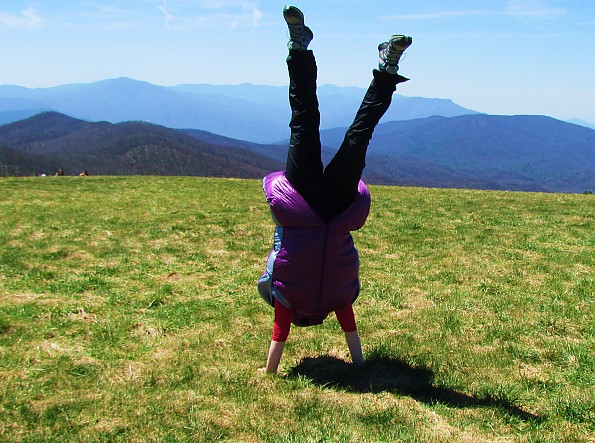 Handstands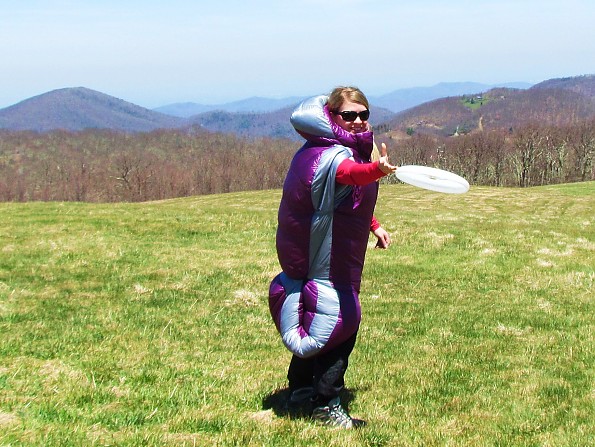 Throw frisbee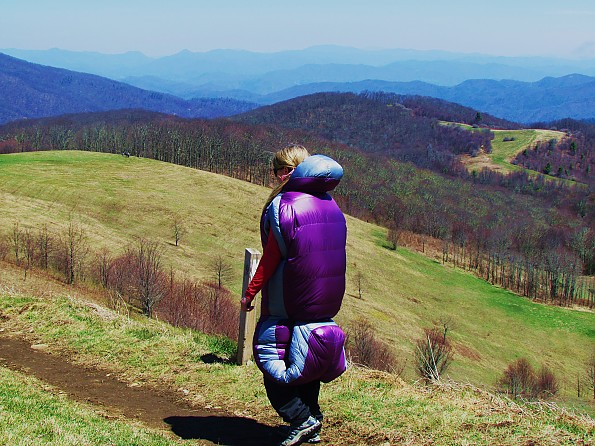 Hike the Appalachian Trail - or just walk around in your campsite
You name it, you can do it in the Mobile Mummy. 
About the tester: I am a 5'4" 30 year old female backpacker from South Carolina. I typically day hike and backpack in the southern Appalachian Mountains, primarily in North Carolina. My backpacking style is comfort-driven. I am not afraid to carry an item that is a few more ounces if it means it will be more comfortable. I prefer big tents, warm and roomy sleeping bags, plush sleeping pads, and packs with very comfortable waist belts and shoulder pads. In other words, "roughing it" is not my style.
Testing Conditions:
I was able to test the 3 season Mobile Mummy on three different occasions. The first night that I tested it, the temperature got down to around 20-25 degrees.   I was wearing my SmartWool Midweight Pattern Zip-T and Bottoms and dry SmartWoolPhD Outdoor Light Crew Socks, I slept very comfortably at that temperature. I think I could have slept comfortably down to 15 degrees and maybe even colder with a down jacket on. I also wore it around camp that night, but a down jacket was definitely necessary underneath. 
I also wore it outside in Jackson, Wyoming, when I was there in March. It was 20 degrees out and I was very comfortable walking around in it. I do have to note that 20 degrees in Wyoming is a whole lot different than 20 degrees in the south because of the difference in humidity. I know I could comfortably take this to 15-20 in the south, but in other parts of the country (or world) where the humidity is lower, you could probably take the bag way lower than 20 degrees.
I also slept in it at around 30-35 degrees (wearing a synthetic l/s shirt and synthetic pants) and was toasty enough to open the vents. I kept my arms out of the ports for a little while, but they eventually got too chilly, so I slid them back into the bag. 
Each time, I slept on the Big Agnes Insulated Q-Core pad. If I am able to keep the Mobile Mummy for extended testing, I will update with more cold weather testing data when winter comes back around.
About the bag:
Sierra Designs has recently revamped their line of sleeping bags. The three main new ones are the Mobile Mummy, the Backcountry Bed, and the Backcountry Quilt. There are several different variations of the Mobile Mummy bag: Men's 2 season (EN rating: 39, 29) and 3 season (EN rating: 27, 16) and Women's 2 season (En rating: 31, 20) and 3 season (EN rating: 20, 7).
I was sent both of the Women's bags to test. Here is my review of the Women's 2 Season Mobile Mummy. They are both warm past their temperature rating and stuffed with more down than competitive bags for their temperature ratings. Both of these bags stand out from all other bags because you can walk and use your arms while you stay incredibly warm.
Both bags have tremendous amounts of down fill. They both have 58" two-way zipper allows for venting whenever and wherever you want it. They also both have jacket style hoods with 12 baffles full of down, footboxes with 8" of loft, draft tubes lining the zippers and arm ports and super lofty draft collars around the neck. Of the two, the 2 Season bag has a little bit more room in the bag. You have more shoulder range of motion in the 2 Season bag, as well. It is not stuffed with quite as much down as the 3 Season bag.
 The size and shape of the Mobile Mummy allows you to comfortably sleep in almost any position you'd like. The leg area has enough room for you to bend your knees while side sleeping, stomach sleeping, or back sleeping.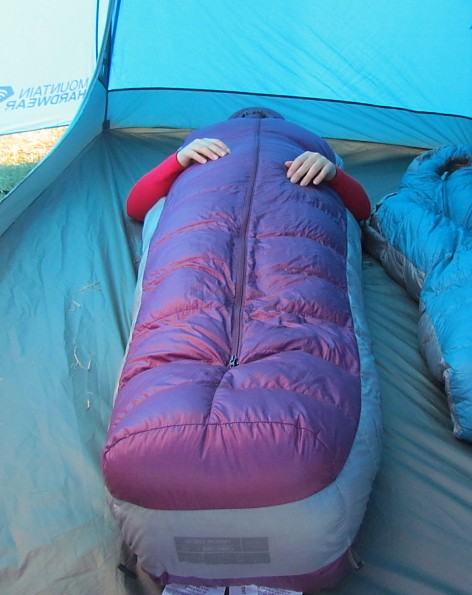 The Mobile Mummy is also designed to move with you. Whether you are wearing it or sleeping in it, it moves with your body. In typical sleeping bags, you roll around in your bag. In the Mobile Mummy, the bag actually rolls with you because it is a garment style bag that fits close to your body.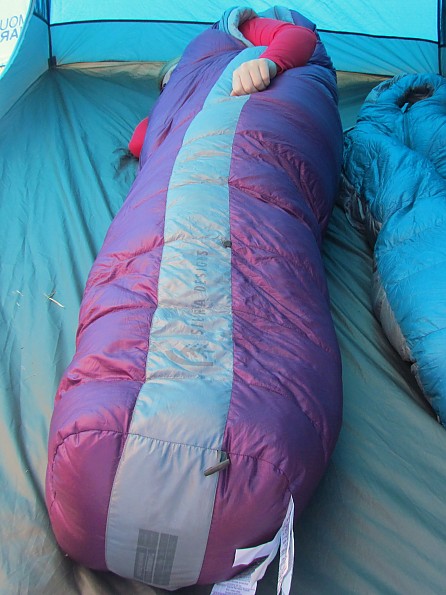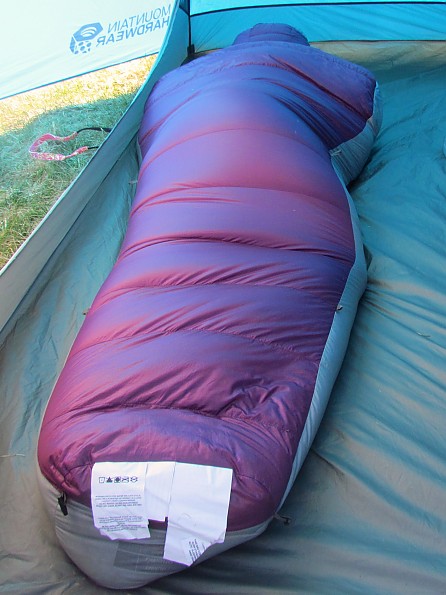 As you can see here, you can even bend you knees while stomach sleeping in the Mobile Mummy.
Who would use it? :
I think that the Mobile Mummy is great for backpackers because it gives you the option of leaving a jacket at home and ensures that you will always be warm around camp and in your tent or hammock.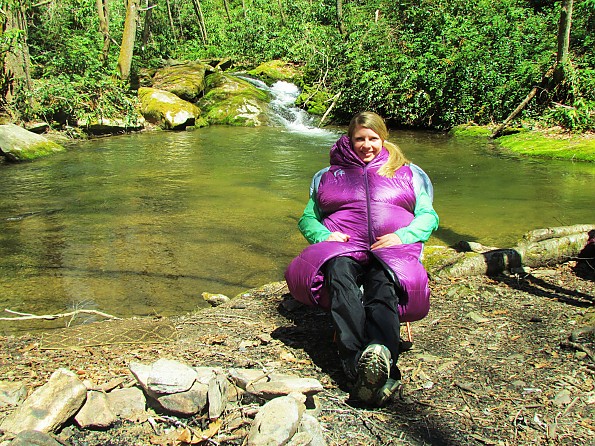 Can't get a fire started when its cold out? No problem! Be the envy of your fellow campers and wear the Mobile Mummy around your campsite.
The Mobile Mummy should also be a huge hit with climbers and climbers who bivouac. I often see pictures of climbers bivouacking and they are halfway in their bags, sitting upright, cooking or eating. Imagine how much the Mobile Mummy would improve the quality of their camping, not only because they could wear their sleeping bags, but also because the bag is filled with water-resistant DriDown. I am not a climber, but I can tell you that if I were suspended on a big wall in a bivouac shelter, the Mobile Mummy would be my bag of choice.
Specs:
EN Lower limit: 7 degrees
EN Comfort: 20 degrees
Weight: 2 lb 7 oz
20 Denier Ripstop Nylon Exterior
20 Denier Nylon Taffeta Liner
800-fill water resistant duck DriDown
23.21 ounces down fill
Warmth:
The Mobile Mummy is thermally efficient because it has a very high concentration of down stuffed into a shorter than average bag. Of the 39 ounces that this bag weighs, 23 of them are down fill. In fact, the Women's 3 Season Mobile Mummy has 2 ounces more down than the Men's 3 Season Mobile Mummy long version that is meant to fit a 6'6" person. It has lofty draft tubes that line the neck, arm ports, and zipper. It also has more down in the areas where you need it most, the hood and footbox. I was comfortable in the bag at 20 degrees. It is rated to 7 degrees for the lower limit and I believe it! 
I have not noticed any cold spots whatsoever in this bag. The cold spots that I've seen in other sleeping bags (esp U.L. mummy bags) is where there is a lack of down. The Mobile Mummy is packed full of down all over, so I can't see how it would be susceptible to cold spots with all that down. When you lift it up and look at it through the light, you do not see any bare spots. During the testing phase, I only noticed a couple of feathers leak out.
When you exit other sleeping bags in the night, you expose it to cold air and your warm body heat leaves the bag. When you are wearing the Mobile Mummy, your backcountry bed is always warm because you never have to get out of it. 
Venting:
The Mobile Mummy has the best venting options I have ever seen in a sleeping bag. The 58" two-way zipper can be unzipped completely (from the inside or outside), or as much as you'd like from the top or bottom. You can also pop one or both legs out. The Mobile Mummy also has arm ports, where you can pop your arms out of the bag easily at any time for additional venting. The top can also be unzipped to allow as much air in (and extra neck room) as you'd like.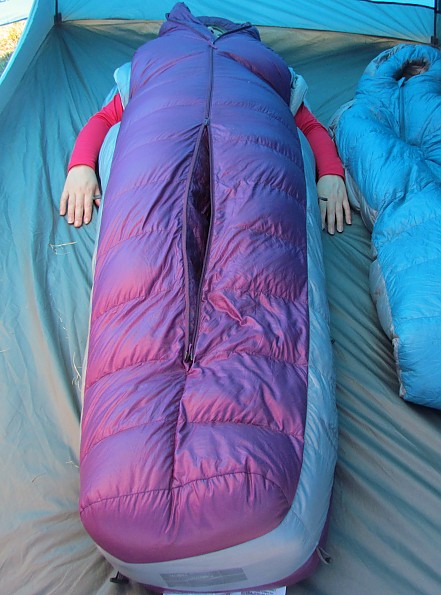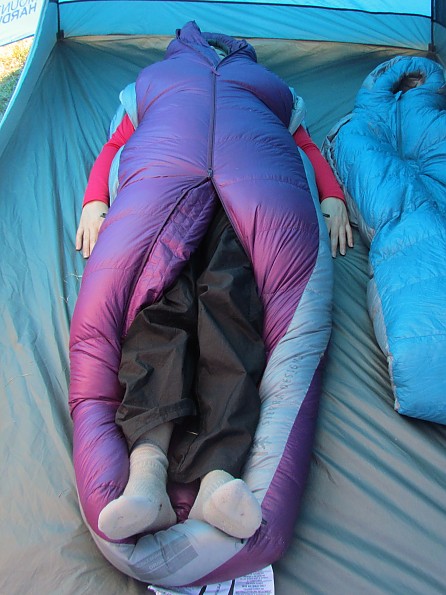 Fit & Comfort:
The Mobile Mummy is very comfortable and fits my 5'4" frame very well. There is no gapping in the shoulders when you are wearing it because it fits like a jacket.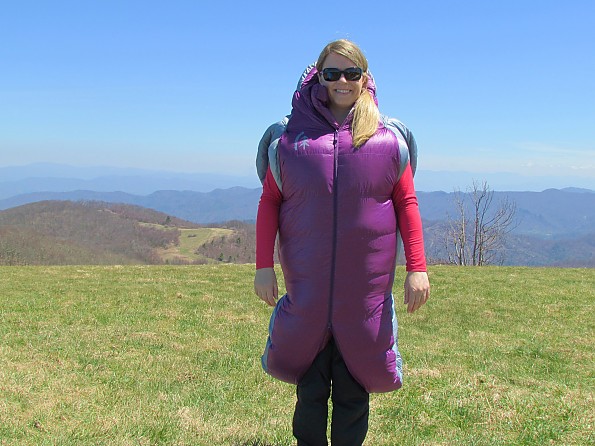 The hood fits snugly and comfortably.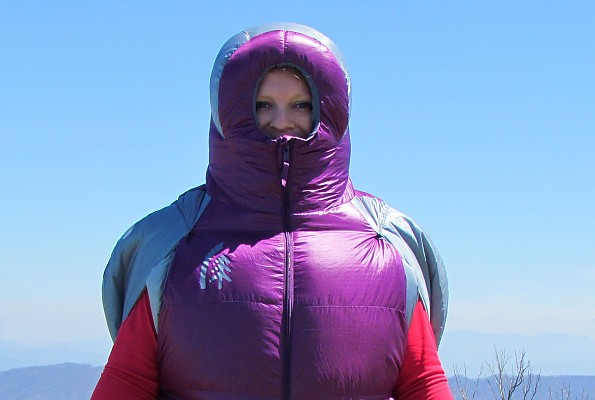 The bag is also very comfortable due to the amount of leg and shoulder room. The shoulder width is 60", the hip width is 56", and the foot width is 36". The only gripes that I have about the bag's fit is the actual length of the bag, which is 74", and the neck area is a little cramped with the burly draft collar. 
The footbox is sort of cramped lengthwise, (not width or height of the footbox). My toes hit the end of the bag any time I point them (which I often do when sleeping on my stomach). This is a cause for concern for me, because it could lead to cold spots from your feet pressing the insulation against the end of the bag. It does not have any noticeable cold spots at this time, but I wonder if it would after extended use. I will add that for a 5'4" female, I do have rather long feet (I wear a size 8.5-9 shoe).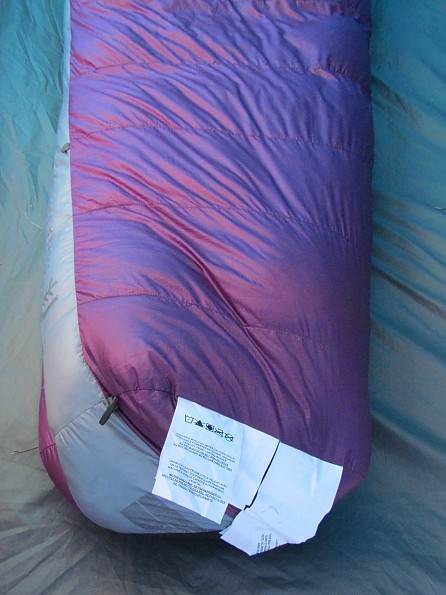 Entry & Exit:
You can enter the bag a couple of different ways. Step into it or slip it over your head to wear it as a garment or unzip it down the front and slide into it if you are sitting or sleeping in your bed.
Exiting the bag is also simple. You can slide your arms out of the ports, unzip the front as far as needed and step out or you can unzip the bottom, toggle it at the waist, and then walk around wherever you need to go.
Mobility: 
This bag allows full range of motion of the arms and legs. You can do virtually anything in this sleeping bag that you could in a jacket and pants.You can cook, eat, drink a beverage, read, set up or pack up camp, and most importantly sleep comfortably. In case you are wondering, you can definitely get in and out of a hammock in the bag, as well. I will add those pictures tomorrow.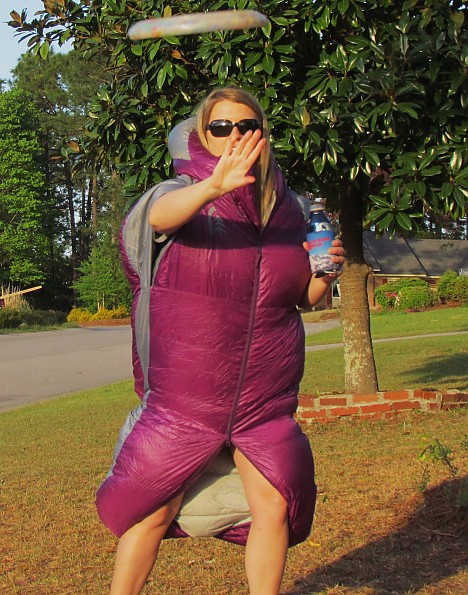 Full range of motion
Moisture:
The Mobile Mummy is comprised of 800 Fill DriDown, which is regular down treated with a molecular level polymer to create a hydrophobic finish on each individual down plume. This finish allows DriDown to stay dry longer, loft better, and dry faster than regular down, keeping you warmer in any environment. As untreated down gets wet, it loses loft and therefore loses its ability to insulate.
DriDown helps eliminate this problem. DriDown stays dry 10-times longer than untreated down. DriDown retains 170% more loft than untreated down when exposed to moisture and humidity. DriDown dries 33% faster than untreated down.
*Third-party testing conducted by California Down and Feather Testing Laboratory
(www.sierradesigns.com)
I was not able to get any condensation on the bag, so I misted it with a hose at home to my estimation of how much condensation the bag could get on it. I didn't completely drench the bag, but I made sure I sprayed it enough to get the feathers inside good and wet to simulate real condensation.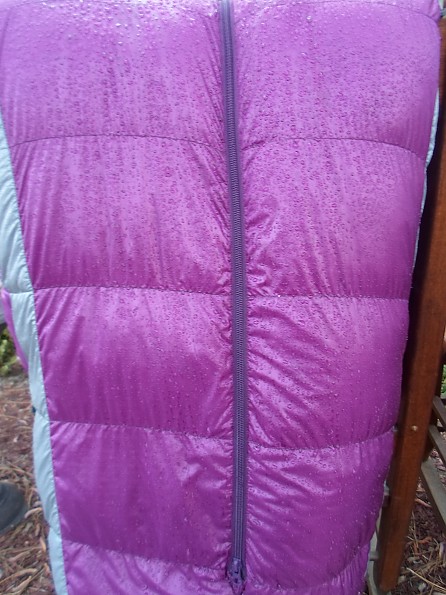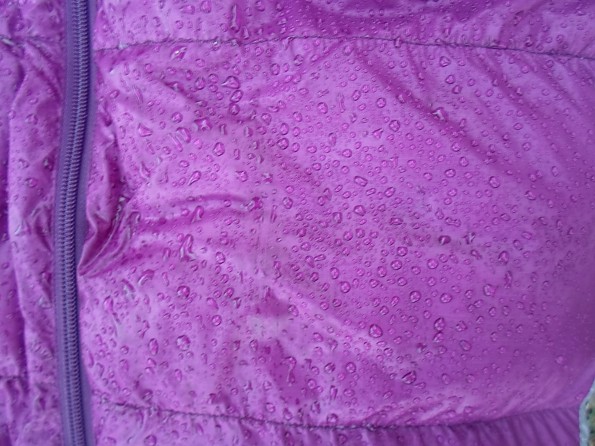 Here, the bag is wet, but maintained its loft. I wore it for a while and noticed that I could feel the temperature of the water, but my body was still warm. It dried very quickly. I obviously can't say exactly how fast it was completely dry, but after about 30 minutes it wasn't noticeably wet anymore. The 3 Season bag took a little longer to dry than the 2 Season bag in my testing. I am not sure if it is because there is more down fill in there to dry or if it is because I sprayed more water on the 3 Season bag. I did make a conscious effort to spray the same amount.
Many bags on the market today use a water-resistant Pertex shell and or DWR treatment. This shell is not very water-resistant because the water soaked through pretty easily. This is not a flaw of the bag, because it does not claim to be water-resistant as a whole, just the DriDown insulation.
Packability: 
The Mobile Mummy packs down very small in an after market compression sack. There isn't a really noticeable difference between the packability of the Mobile Mummy and my other twenty degree mummy bag, the Montbell U.L. Spiral Down Hugger #1. 
Loft: 
The Mobile Mummy is naturally very lofty.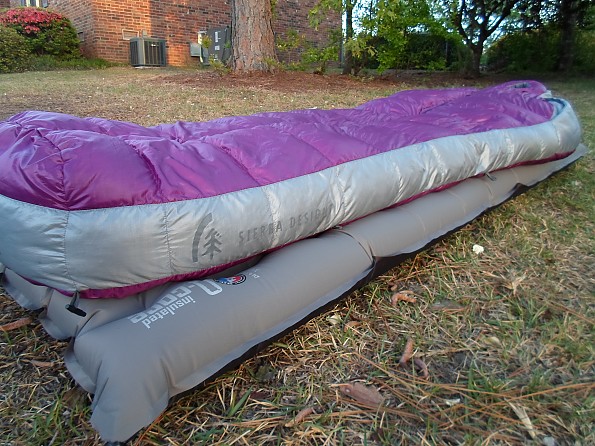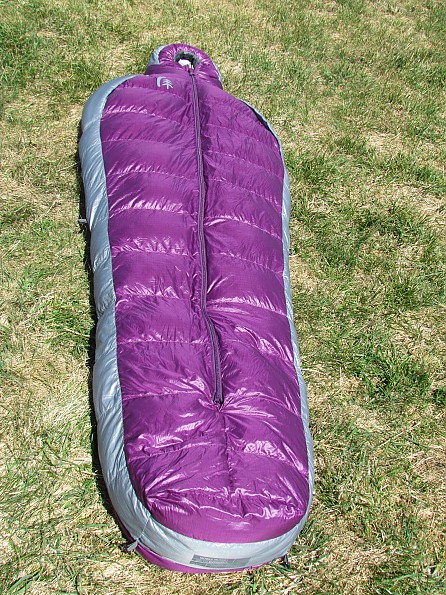 The lofty Mobile Mummy, fresh out of a compression sack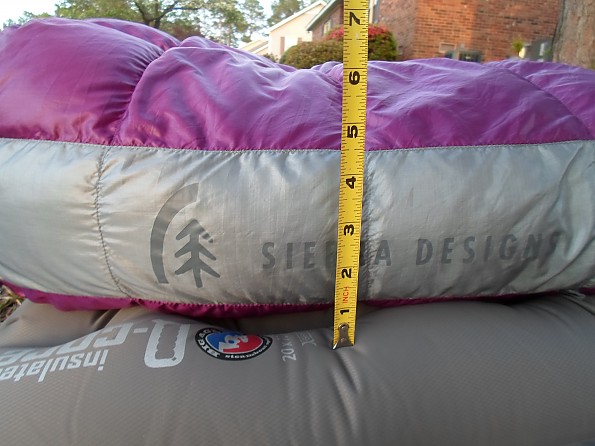 The body of the bag has 6" of loft and the footbox has 8".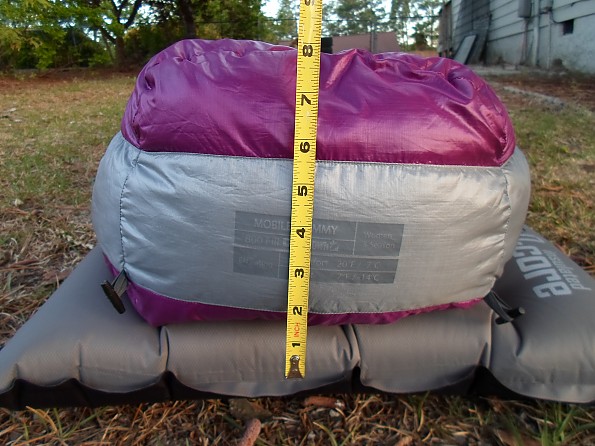 Style:
I think the Mobile Mummy is very stylish because of its jacket style fit and the beautiful colors it comes in. It looks great! I think it does look a little goofy with the hood on, but who cares? It is SO warm!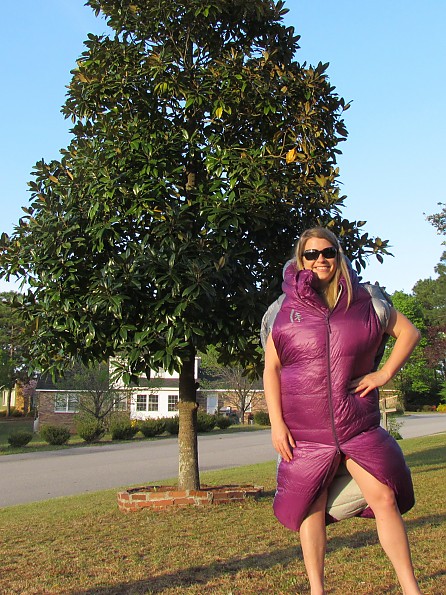 The Mobile Mummy isn't just a sleeping bag, it is a fashion statement!
Features:
Hood:
The jacket style hood has no toggles or itchy velcro tabs. It has a very comfortable elastic band that adjusts to the size of your head and fits your face exactly as a hood with toggles would, except that you don't feel the pressure of the cords and don't have to deal with rolling over on toggles. As an extension of the hood, the neck also has a specialized cut and is jam packed with down.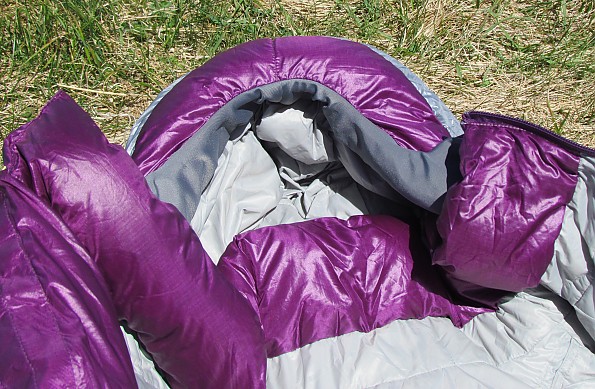 Hood and draft collar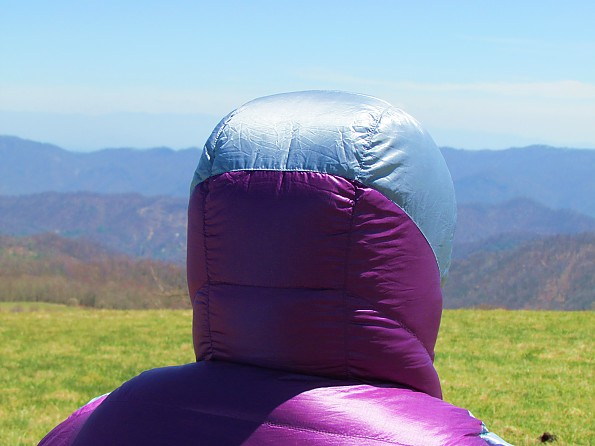 It's no wonder the hood is so warm, it has twelve baffles!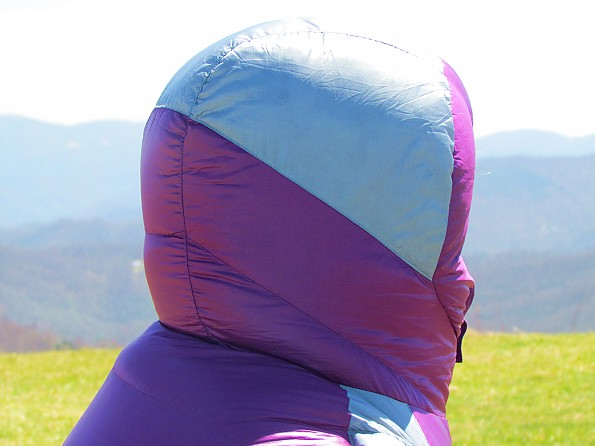 Zipperless Arm Ports with Draft Curtains:
My favorite feature of the Mobile Mummy is its zipperless arm ports, which are about 12" long.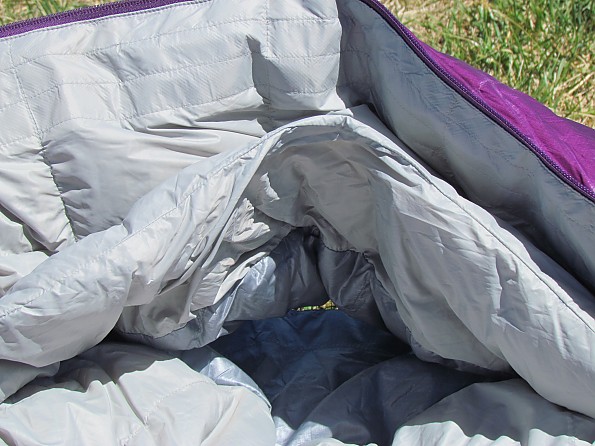 Here you can see the "draft curtains", which seal in your body heat so that no drafts come into the bag.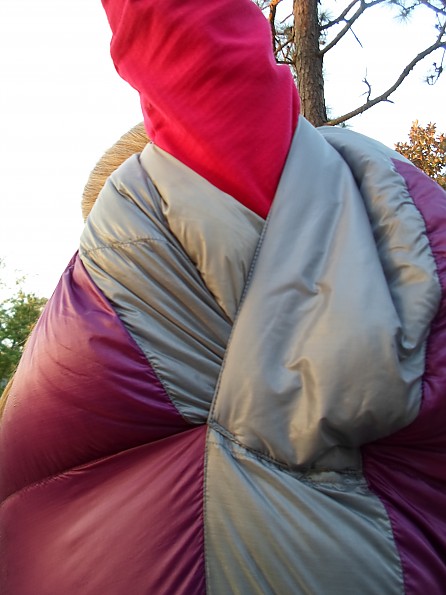 Arm ports allow full range of motion
The arm ports seal by pressing your elbows out toward the edge of the bag. I was suspect of this initially, but after testing it I realized that they truly do not let any air in.
Draft Prevention System:
The Mobile Mummy has a Draft Prevention System that includes a draft tube that runs the length of the 58" zipper and has anti-snag stiffened zipper backing, a plush draft collar around the neck, and the draft curtains in the arm ports.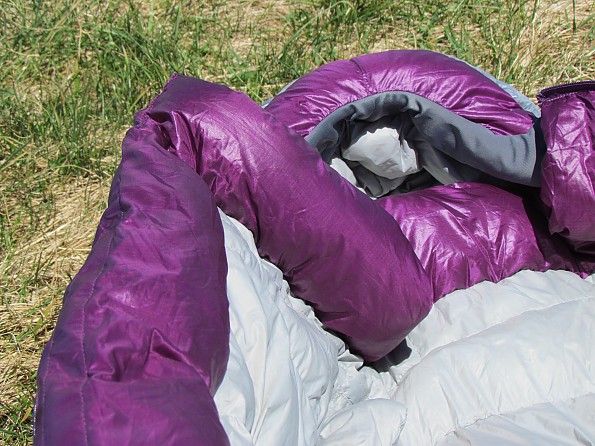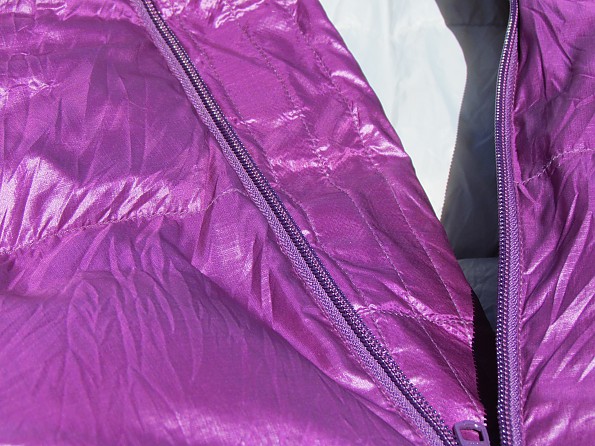 The two-way zipper zips and unzips very smoothly and rarely catches, due to the anti-snag backing.
Two-Way YKK Zipper:
The Mobile Mummy features a 58" two-way zipper that zips up the front center of the bag. You can zip or unzip it from the inside or outside. This makes entry and exit of this bag a breeze. It is also great because it provides multiple venting options, which are far superior to standard sleeping bags.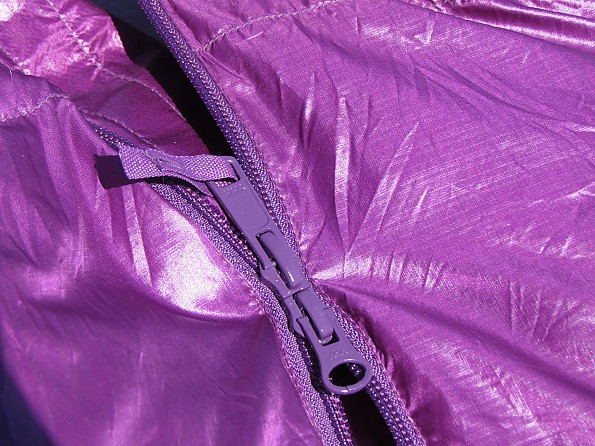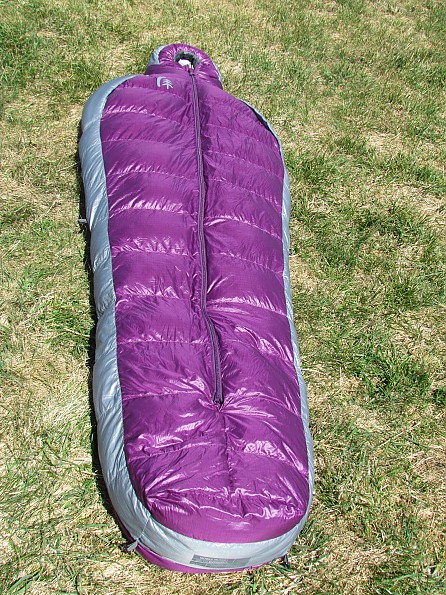 The zipper stops about 12" from the bottom of the bag.
Shell/liner:
The 20 denier ripstop nylon shell paired with the comfy 20 denier taffeta lining are the perfect combo for this bag. The ripstop nylon is tough enough to survive outside of the tent without having to be babied too much. I would not recommend sitting near a fire with it on, but you would not need to anyway because it is so warm.
Stowable Footbox: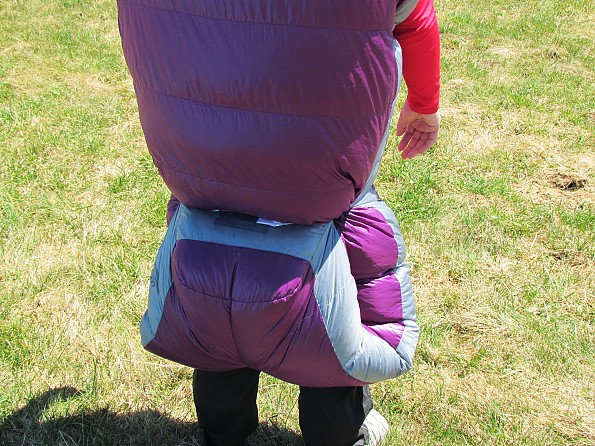 The stowable footbox attaches by a set of toggles on the bottom of the bag and loops midway up the bag.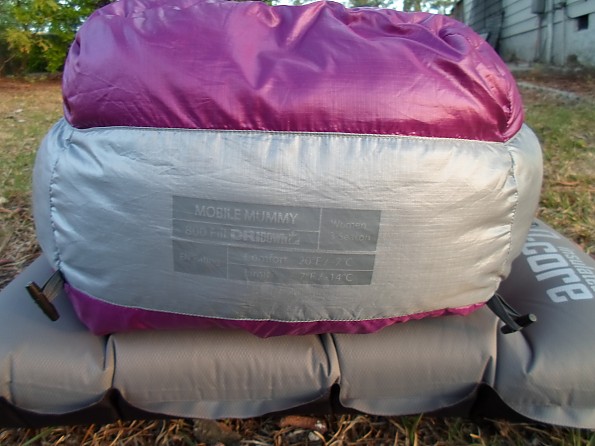 Here you can see the loft of the footbox and the toggles that double as hang loops for your bag.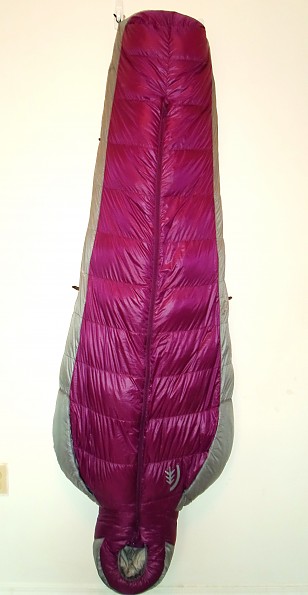 Storage Sacks: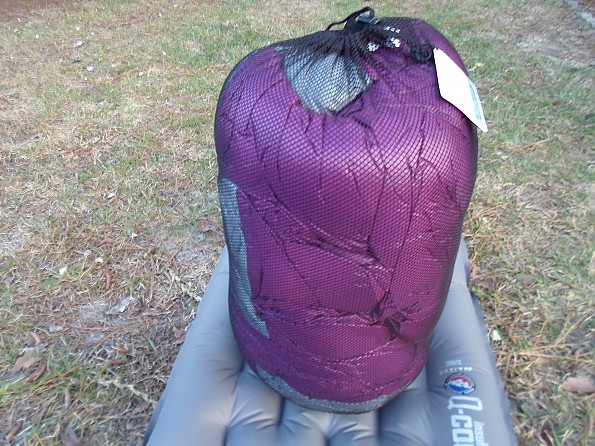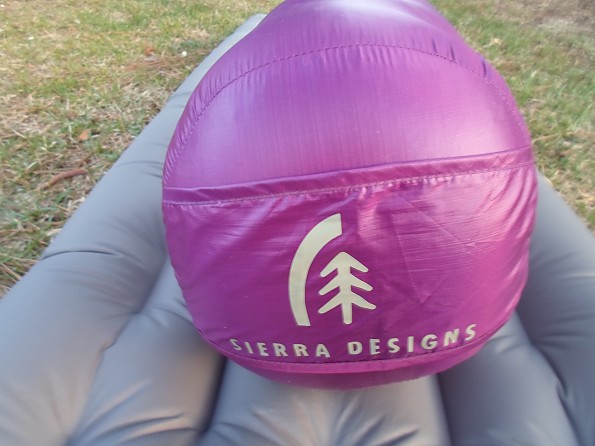 Conclusion:
The Sierra Designs Women's Mobile Mummy 3 Season is a great bag for shorter ladies who are active in their campsites and don't like to be confined to their sleeping bag when it is cold out. The only things that I would change would be to add a little more length and add pockets on the front of the bag.
I recommend this bag because it has been a game changer for the quality of my camp life. I will never be able to use another sleeping bag without wishing that I had full use of my arms. I gave the Mobile Mummy a 5-star rating because of its stellar design, comfort, and because of its impressive temperature range. I expect to start seeing these all over the trail very soon.
Thank you for taking the time to read my review of the Sierra Designs Women's Mobile Mummy 3 Season sleeping bag. Thank you to Sierra Designs and Trailspace for giving me the opportunity to test and review this awesome bag.
Source: received for testing via the Trailspace Review Corps (Sample provided by Sierra Designs for testing and review)

Your Review
Where to Buy
Help support this site by making your next gear purchase through one of the links above. Click a link, buy what you need, and the seller will contribute a portion of the purchase price to support Trailspace's independent gear reviews.
You May Like
Specs
Men's
Price
MSRP: $379.95
Historic Range: $149.73-$499.95

Weight
2 lb 4 oz / 1021 g (Regular)

Temperature rating
27°F (EN Comfort) / 16°F (Limit Rating)

Fill
800 fill DriDown

Shape
Mummy

Season
3 Season

Women's
Price
Historic Range: $249.99-$519.95

Recently on Trailspace