Sierra Designs Night Watch CD

The Night Watch CD has been discontinued. If you're looking for something new, check out the best four-season tents for 2023.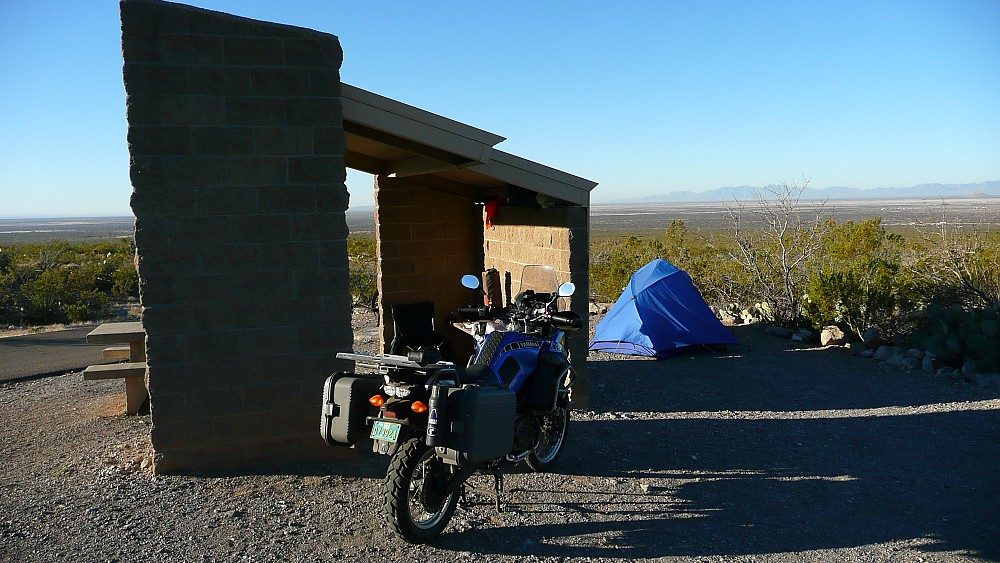 Great bomber tent.
Pros
Bomber—can take winter and be cool in the summer
Go-to tent
Room for the big guys
Cons
Small vestibules size and half screen door (older model)
Not made anymore!!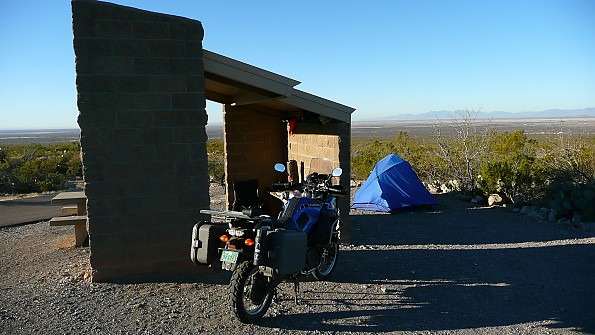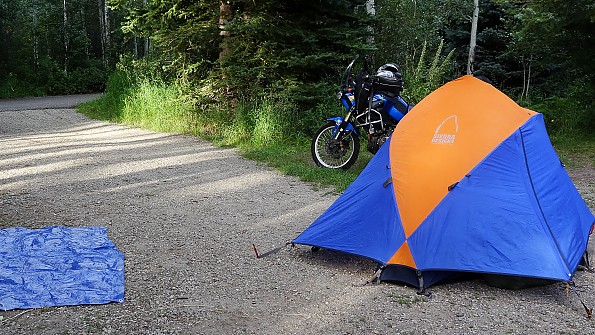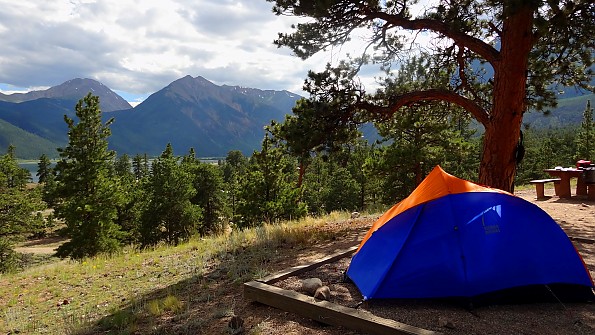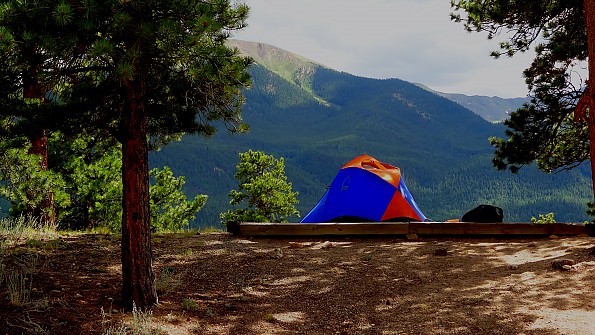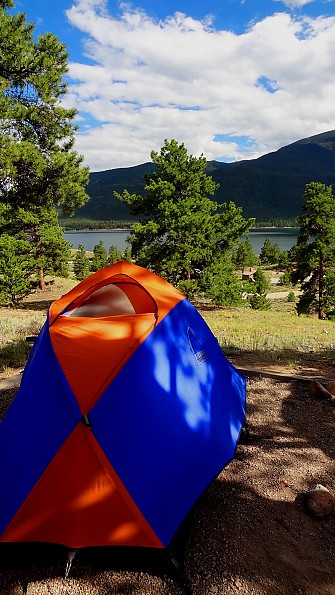 I have three versions of this model. Two are the first blue fly half D door, no fly vent also called the Lookout (First photo Oliver Lee State Park, Alamogordo, NM). (Like Jesse's tent in the above review, but with half D door un-vented blue fly. The one I sold was like Jesse's. Wish I didn't, the twin fly zipper was great use as a canopy) and the last of this model the orange blue with the stand up body and fly vents and silly narrow foot end, but does have two doors and larger two sided vestibules (posted photos at McClure Pass FREE campground off 133 south of Carbondale, CO and the other photos at Twin Lakes, CO).
I tend to like the older versions, much less hassle to pitch and has more room at each end. I have had this in windy rain and in hot desert night conditions. It is to me the perfect convertible design I have used. Looks small outside, but inside for one person it's a house.
I had the CD Night Watch and sold it. I wish I didn't as it was best of the two combined with a two-zipper fly door you could set up like an awning with trek poles, came in handy in The Tetons for cooking and sun shade.
The older models have two minor to me issues. One, small vestibule. The other is the body angle when you get in or out in the rain you can get water in the tent.
The late model has twin vestibules, two doors and covers the storage issue. You can open the roof and fly completely and stand up in it, but it is by no means built for two people with the stupid narrow end.
I have three types of tents for motorcycle camping. One is the Night Watch another is the Quest Starlight for hot weather camping and a Eureka ICS2000 one-man combat tent for smaller night-to-night location-to-location hopscotch camping, quick easy setup.
Most of the time I am going for the Night Watch for the sprawling room if I am caught in days of rain and it's convertible if things get nasty.
This Design has had many names over its period of time—Lookout, Night Watch, Night Watch CD, and Nightwatch CD 2.0.
The new 2015 Nightwatch doesn't come close to looking like a convertible Nightwatch.
An added gripe for the late model Nightwatch, as was my gripe with the Alpha:
Why SD decided to put the gnat net screen on the inside of the doors was stupid.
Open the screen to open the door, mosquitoes and sand gnats clinging on the door drop in for a nightly feast, zip up screen and suffer all night.
Source: bought it used
Price Paid: $100

My favorite 4-season tent. At 7 lbs, it's several pounds lighter than my Trango 2. It keeps me dry and comfortable in sub zero. The tent is comfortable in seasons other than winter because of its clever venting.
Pros
Dark interior
Fairly lightweight for a 4-season
Good size vestibule
Vents well
Stability: Tent is very taut when guyed out. Camped in -20°F with 20-30 mph winds. I tied the fly to some logs and shrubs and staked it out best I could in frozen ground. No flapping. No problems.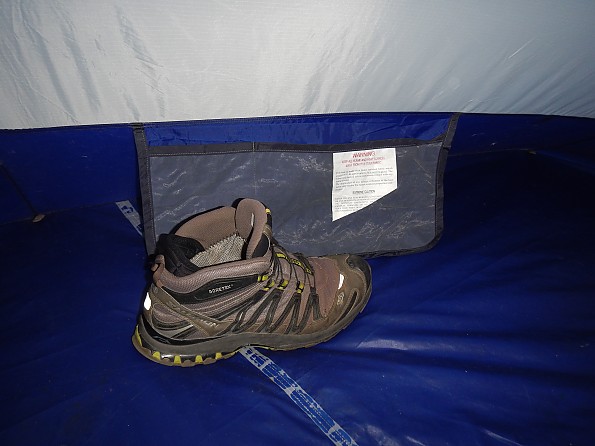 Weather Resistance: I've always stayed dry and the tent is 14 years old. Some seam tape on the floor is finally blistering. 
Ventilation: This tent vents very well. This is due to the large fly vent and the fact that the center pole elevates the center of the fly significantly higher than the rest of the tent. 
Room and Storage: Standard 2 pockets.
Packability: Packs down well. (7 x 20") 
Ease of use: All works well. One of the Easton Aluminum pole inserts came loose and was floating in the pole. I tried to crimp the pole to tighten it to the insert (bad idea); the pole cracked. I wrote to SD and let them know what happened. They replaced the pole (no charge). 
Features: Center pole elevates the roof of the fly giving it a great capability to shed snow. 
Construction and Durability: The tent is very durable. Stitching is reinforced where needed. I guess CD means computer designed. Does this mean that there's some sort of computer algorithm that optimizes the ergonomics? It's still going strong after 14 years. 
Conditions: Bought it used 2 years ago and have used it in weather from 70°F to -35°F. It is a very versatile tent. I usually reserve it for cold weather due to weight. 
Update: 4-27-17
I lent the tent out to some younger, more inexperienced campers for a week-long trek. They got sand all over the interior and ground it in. The incessant grinding ruined the waterproof floor membrane. I took it on an outing  and water got through the floor. I bought Nikwax and tried to re-coat it. It didn't work. I did a straight Nikwax (non-diluted) application. Still, no cigar.
Since the floor receives constant direct pressure, the water was able to seep through despite my efforts. I ended up selling the tent with a tyvek ground sheet and a disclaimer. Boo Hoo! The end of an era. Replaced it with a Marmot Sanctum 2. Beware of sand! 
Source: bought it used
Price Paid: $25

Genius tent for the adventurer — the original Nightwatch (one door, blue/white).
Pros
Durability
Compact footprint
All-weather, nearly all-conditions
Cons
Low ceiling
Small vestibule
Loved this tent from around '94 until it was stolen in the post (!!) in 2013.  I am a former national park ranger and have spent A LOT of time in backcountry. This tent served me extremely well in sustained wind storms of 70mph+; snow camping in the Cascades of WA state, hot dusty Black Rock Desert in Nevada (you can keep most of the dust outside), heavy rainstorms in WA State. 
The ONLY thing this tent doesn't do well is allow you to sleep in it on incredibly hot and sunny days, which has never been an issue for me anyhow (isn't that what the hammock is for?). And yes, this is a roomy 1-person tent or a compact 2-person tent where the big packs then need to live under a tree somewhere. That sounds like a drawback, until you need to set up your tent in a REALLY tight location where there is crazy terrain in all directions and you are glad that you found the ONE spot on the hillside that is relatively flat. Big tents with big vestibules are awesome until you find yourself in that situation, which I have many times (big adventures don't always go exactly as planned :). 
Even though there was only one door, it was at one end of the tent rather than the middle. That's usually where we would put our feet so then you would just be climbing over someone's feet (not so difficult). That said, I'm interested to get my hands on a 2-door version just to explore that variation.
The ceiling is not high compared to newer tents. I think that this is a real advantage when you are trying to conserve heat (as with winter camping) or in high winds (lower profile). Otherwise, a slightly higher ceiling would be nice so that one doesn't bonk one's head on the candle lantern while moving about. 
This is a cozy tent for two people who are cozy with each other. I have many many excellent memories in this tent. I guess that I can confidently say that this is an adventurer's tent.
I hope that the outdoor industry gets wise at some point and goes back to the basics. I still patch and use REI raingear that they don't make anymore and an REI exterior frame pack that was once my mother's. Sometimes the old equipment can't be beat.
Source: bought it new
Price Paid: don't remember; around $300?

Skyline vent is most fabulous.
Pros
Roomy
Skyline vent
Has held up really well since original purchase.
Cons
22+ years later, zippers aren't working and I am not sure how to repair them.
My all-time favorite tent. Even back in the day used it backpacking, the 8 (?) pounds divided between two hikers was manageable.
Easy to set up. Roomy.
My favorite aspect is the screened skylight (vent , perhaps the reason for the name Night Watch. Without the fly, the screened skylight allows for stargazing while being cozy inside tent. The screened skylight allows the camper(s) to be inside and adjust the amount of airflow because the skylight zipper is on the inside of the tent. No need to exit the tent in the middle of the night to close this vent or put on the fly (well, unless it is rainy or really really windy).
I like the solid walls of the tent, because now I use it car camping and well, you know, campgrounds are filled with too many people, so the solid walls provide privacy.
Having the solid door and screened door are nice. Though, I do understand another reviewer's comment about a better idea would be to have the screen door on the outside solid door.
22+ years after buying it, the zippers for the solid and screened door are constantly off track. I am not sure how to repair them.
Source: bought it new
Price Paid: About $300 ??

I purchased this tent in 1999 from REI. It's gone thru Oz, NZ, Mainland West and Hawaii. One of the tent poles broke two days ago. I have a second pair of tent poles to get me through. Please suggest a tent comparable or similar, mahalo
Radical.
Experience
okay
Source: bought it new
Price Paid: 495

Nice little snuggle tent for two. Very durable and stable.
Pros
Very sturdy
Great ventilation
Durable
Compact
Light
Stays warm in winter
Aluminum poles
Cons
A little heavy for a backpack tent
It's a snuggle tent for two
Ahhh....the "Snuggle tent"! I picked this up a while back and it was few years old with light use. This tent has been great. It's compact and backpacks well, even though it's a little heavier than today's lightweight backpackers.
It is very durable and stable and I have put it through its paces over the years. It is time for a reapplication of waterproofing of the fly as it is a little seepy under rain, but after countless uses and a few or more years under its belt, that is expected.
The tent vents fairly well in the summer due to the enclosed type of rain fly, but is just right for the other three seasons. This is my go-to winter camping tent. Its compact internal area helps hold heat while the mesh roof opening can be adjusted to control heat loss and humidity build up. Two closed cell foam sleeping mats fit perfectly side by side and fill the entire floor during the winter.
I have camped in single digit weather and the inside has always stayed above freezing. There is a small vestibule area good for your footwear or a small pack. Setup is fast and easy. Space is limited, as you would expect in a 2P backpacking tent, but has proven adequate for comfortable sleeping. 
Source: bought it used
Price Paid: $35

Best tent ever!!!!!
Pros
Light
Strong
Fast easy setup
Very stable
I have had this tent for several years. It is a great lightweight tent. It is very very sturdy. We have camped in this tent at Copper Breaks State Park in Texas when a tornado missed us by only about a mile.
My son and I were the only ones of the group of three tents that had a usable tent in the morning!!!!
I will buy this tent again, "IF" I ever have to replace it!!!!  
Get the footprint groundcloth, you won't regret it.
Ready to leave? Pick it up and shake it out, roll it up and go.
I'm sure the 2.0 version is even better!!
Source: bought it new
Price Paid: $300

Great tent for me. Strong design holds snow well. Low down shape sheds wind. Keeps you dry and happy in the worst of conditions. Despite how small it looks there is actually plenty of room for two people. I don't have a problem fiting two packs in the vestibule and extra gear inside, at one end of the tent. Plenty long (I am 6'1"). Light, compact.
Bottom line: A tent of this Caliber can't be beat for the weight. If you are a serious backpacker that encounters nasty weather (to both extremes). This tent is for you. Buy it now!
Problems: None, except that you can't really cook in the vestibule. But I never do anyway, for various reasons (it's not a smart practice).
Design: 4 season Convertible, Dome
Sleeps: 2
Ease of Setup: Fast, simle, easy!
Weight: ~5.5 pounds
Price Paid: $300

Solid tent at a reasonable weight. Very sturdy in a storm, and has plenty of room inside for me, my gear, and my 85 lb German Shepherd. This is my third Sierra Designs tent, and I have always been pleased with them.
Design: 4 season convertible
Sleeps: 2
Ease of Setup: Lots of things to clip and buckle which takes time, but increases strength
Weight: 6 1/2 lbs
Price Paid: $269

This is a storm-worthy tent and good price. Unique 3-pole design has space for 2 comfortably. The vestibule is sort of small though, but still enough for 2 packs. The zip open storm flaps on the door and skylight are very nice. The fly has a vent, but can't be opened from inside. I have been on two 2-week trips in Colorado where it has rained every day. It sort of leaked but not bad. I called Sierra Designs and they say it is a defect and are sending me a new fly! Very light for how quality it is. Easy to set up and very well placed guylines. I definitely recommend.
Design: Convertable 3-pole
Sleeps: 2
Ease of Setup: Very easy, all clips, free standing
Weight: 5lbs 6oz
Price Paid: $299

This tent has been a real luxury for me. It has allowed me to sleep through some of the most wicked storms you've ever seen. I think the roof vent is a nice feature, and the double sliders on the vestibule are nice for venting, too.
Design: Convertible
Sleeps: 2
Ease of Setup: What set up?
Weight: 5lbs, 6oz
Price Paid: $300

Your Review
You May Like
Specs
| | |
| --- | --- |
| Price | Reviewers Paid: $25.00-$300.00 |
Recently on Trailspace