Sierra Designs Sirius 2

The Sirius 2 has been discontinued. If you're looking for something new, check out the best three-season tents for 2022.
Specs
Price
Historic Range: $86.10-$169.95
Reviewers Paid: $30.00-$150.00

Reviews
12

reviews

5-star:

4

4-star:

6

3-star:

2

2-star:

0

1-star:

0
Three-season tent with plenty of room for two people, or one and all gear. Great for backpackers, car campers, or canoe campers. Best for those looking for a good product at a reasonable price.
Pros
Easy to pitch
Lightweight
Well ventilated
Cons
The mesh is relatively fragile, so snagging it could make a hole for bugs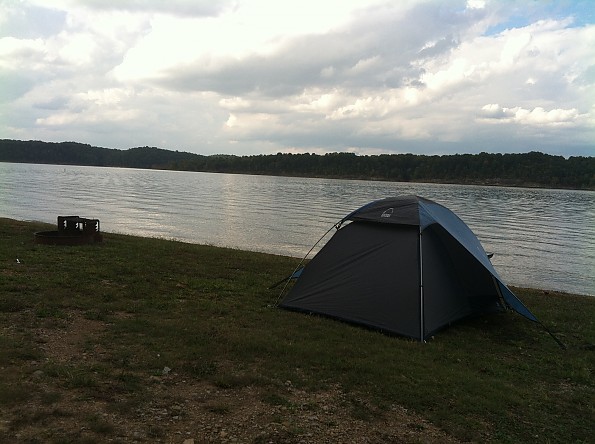 This is the easiest tent I've ever pitched. The poles all snap together easily, and are all connected in advance so there is no guesswork. The tent snaps easily to the poles, and the fly buckles on. The tent can easily be pitched in under two minutes.
The tent has been stable and comfortable both in good weather and in bad. I have not experienced it in a bad storm with high winds, but for garden variety three-season rainfall, it got the job done. Just make sure the rain fly is on, as most of the tent is made of mesh so rain will quickly seep through without the fly.
The upside of all that mesh, is that the tent is extremely breathable. Even in a storm and with the rain fly on, it resists getting that closed-in, sticky feel that most tents get. It also keeps the tent very light, making it good for backpacking, car camping, or canoe camping.
It can easily accommodate two occupants, or one occupant with gear. There are only small vestibules, though, so if you are sleeping two, you may need other arrangements to keep any gear out of the weather.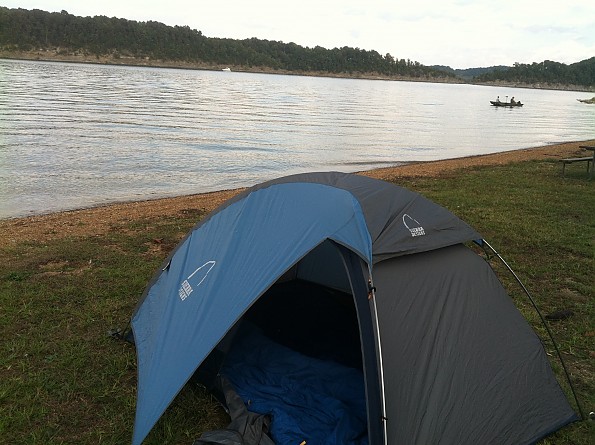 Source: bought it new

This is the greatest, most versatile tent I've ever owned. I thought at first it sweated some until I switched sleeping ends and then I was treated to being able to look out of the tent while still having the benefit of a fly and no sweat problems at all. If it gets too cool I can close one side of the fly or just switch ends. Really don't need the full fly they came out with later if one knows how to use the tent, but a two piece fly might be nice if one wants to use it in real cold weather.
Pros
Lightweight enough that it compares to one-person tents, but roomy enough to keep my pack inside.
Feels like sleeping under the stars even with the fly on.
Cons
I imagine if it is set up wrong a driving side angle rain might be able to blow under the fly but I've yet to experience that.
With the half fly alone one can't just use the fly and the footprint alone.
This tent is real easy to pitch and the footprint is easy to use with it. A two-piece fly would be nice if one wanted to just use the footprint and the fly by themselves, but a one-piece fly would take away from the experience of owning this tent. 
Never had a problem in any weather and I've been in some windy situations. Seems like the half fly could trap the wind but it ventilates so well I have yet to see that happen. This tent handles rain and wind but doesn't make one feel as if they are shut off from the outside world. 
Condensation is not an issue if one sleeps with your head under the screen but when it gets a little cool ones head stays warmer if you sleep under the single wall end. Then a little bit of moisture builds up but not near enough to be a real bother like every full fly tent I've ever used in cold weather.  The amount of ventilation can be adjusted if it gets cool simply by not staking the fly wide open on the bottom and if need be shutting one side of the fly.  
I have a four season tent that is warmer in real cold weather but this is a three season tent and as a three season tent I feel like it is the best design on the market. 
Great  room and storage but I use it as a one-person tent because it is so light. There is enough room for two people but I can't really give an informed review of two person usage because I've yet to use it as a two person tent.
SO far the construction has been excellent but I would recommend using a footprint because the floor seems like it could wear easy.
I've had this tent for about 4 years but I've only used it about 8 times or so, so I may have different results after I've had it for years, but so far I wouldn't trade this tent for any other unless it was a similar style. This is the best tent design I've ever used but reading some of the reviews I don't think some of the people know how to take advantage of it.
Source: bought it new
Price Paid: $100

A well-ventilated, simple, inexpensive, lightweight dome tent.
Pros
Very easy to set up
Lightweight for a 2P tent
Inexpensive
Cons
A little heavy for solo backpacking
Not full-coverage fly
This tent was discounted nicely just when I was looking to switch to a free standing tent...a necessity for camping on the wooden platforms (chickees) found in the Everglades.
It has proven to be the perfect companion for Florida camping, namely because it is so well ventilated. On hot, steamy nights, pitch it so the fly wings face open into the wind and you have a wind scoop (also blows the bugs out of the vestibules).
I've also used this tent on some very cold nights too...yes, it can get pretty cold here in the winter...into the low 40s a couple nights, so on such nights it is key to pitch it with the fly NOT open to the wind. Actually, the first time I ever used this tent, it snowed a couple inches on the tent! I was in Colorado, not Florida, but the tent held up well to even that surprise...and it was a surprise, let me tell you. Obviously it's not meant to be a 4-season tent, nor am I meant to be a 4-season adventurer.
Also, if it's looking like a monsoon is about to hit, you have to position it so the wind does not blow the rain in. So far I have always kept dry, even with the partial fly. It's just a matter of planning. I really like the partial fly too because it makes it easy to enter and exit the tent. Inside, you can look out to see what's going on.  Plus, it reduces the weight and bulk of the tent.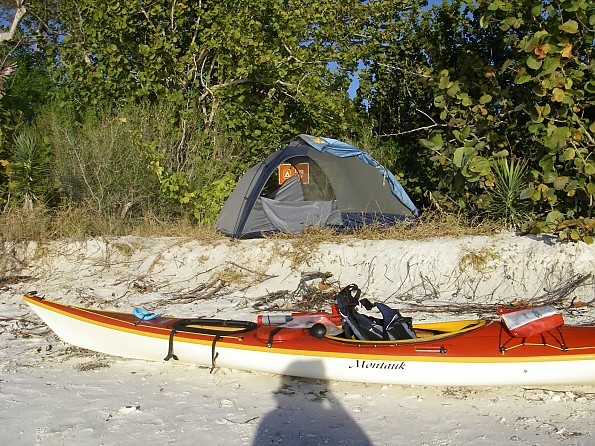 The tent is roomy enough for two smallish people under 6 ft. That's what I've fit, so I can't speak for anyone else. Mostly I have used it by myself for kayak trips, and it has plenty of room for one. It is crucial to position your head on the end with the mesh, otherwise you'll get condensation, water transpiration, and less fresh air.
Finally, this is the easiest setup of all the tents I've owned. I've done it in the dark many times and I've gotten so good at it that it actually slows me down if someone else tries to help. The two poles are connected at the center (hubbed) so they automatically position themselves for the setup. Usually I set up my tent in a few minutes and then go to help my friends that are still struggling to just get their poles situated.
For the price I paid for this tent and its intended uses, you can't beat it. SD has provided me with some long-lasting, inexpensive gear over the years and I am most happy with the brand.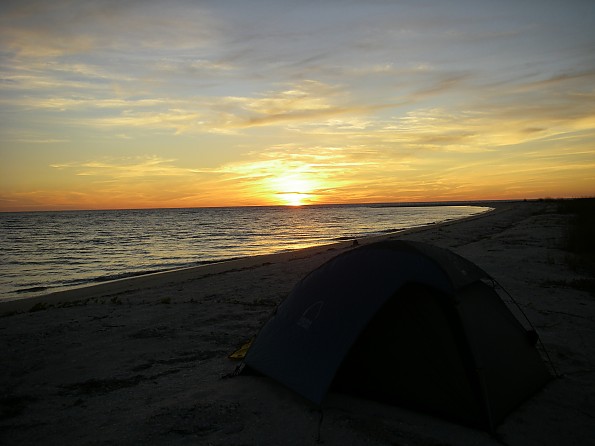 Source: bought it new
Price Paid: $100

I bought this tent because it's 4.0 lbs packed. It's an easy, two-pole setup gig, no problem even at night. Don't bother getting the footprint -- make your own. I used some 6mm vapor barrier, cut it to shape and used duct tape in the corners -- I punched holes in the duct tape so the tent poles fit.
The weekend of 8/21-22/2004 in Mount Jefferson Wilderness, Oregon, was a record rainstorm, a good test for this tent, and although it fire-hosed all night and water even ran underneath, this tent never leaked. There was no escape from running water during this "floodstorm."
My one issue is the zippers, which snag 100% of the time if you use the zipper pulls. It's annoying when it is pouring and you are holding something in your left hand, trying to unzip with your right, and always have to put everything down in the mud to unsnag that zipper.
On the positive side, breaking this tent down is done in a flash, something I apprecated in the downpour in the morning!
Design: Three-Season Free Standing dome, half fly half single wall
Sleeps: 2
Ease of Setup: Extremely easy. You must stake out the fly, however.
Weight: 4.0
Price Paid: $116

10 years of use on three continents.
Pros
Ventilation
Weight
Simplicity
I bought this tent in 2003 prior to hiking Vermont's long trail—300 miles over 30 days and over half of it in the rain. I have never felt the need for a ground tarp. I love the simple design of this tent. It is super light for two people and spacious and comfortable for one.
The half fly design has many advantages including great ventilation — and an openness that takes away the claustrophobic nature of small tents. You can sit or lay down and watch the weather outside change — or cook in the open vestibule. 
This tent has been my second home for many years. I brought it to the Andes in Peru, a month long trip in the Caribbean, and on numerous bicycle and motorcycle tours. When the TSA confiscated my poles I contacted Sierra Designs in Boulder, Colo., and they personally made me a new set. At my request they even machined the poles in smaller sections so the tent would pack better for bicycle trips. 
In 2013 I took the tent across Central America for a month camping, most of the time traveling by bicycle. The tent sets up quick (3min) and is freestanding. Most nights I would leave the fly attached and rolled up at the base for stargazing — if a late night rainstorm came through it took 60sec to unroll and secure the fly.
In 2014 I spent three days on the glacier below Mont Blanc with the tent. Although it wasn't ideal in the numerous snowstorms we experienced, it did hold its own with the fly pinned close to the walls. I have used this tent in all weather—including tropical heat and snowstorms—more than once.
This past year I took the tent on a 40-day motorcycle trip from Colorado to Guatemala camping 80% of the time. Recently after losing this beloved tent I began searching for a replacement. .. when looking over the new options for tents I see only gimmicks —bright colors and wacky pole designs. Nothing comes close to the simplicity and proven durability of the 4-lb Serius 2 in price or in weight for a freestanding tent.
Source: bought it new
Price Paid: $150

Great summer tent. Under 5 lbs. Vents really well if you enjoy a breeze. Since the cross poles are attached at a central hub, it makes setup much easier for one person.
Pros
Stays cool and vented
Super easy setup
Double doors
Cons
Does not perform well in high winds and cold weather
Setup: One of the easiest setups on the market (2 min). It's a single cross-pole design, which makes it super easy. Just extend the pole from its folded up state, put the 4 corners into grommets, clip the tent to poles (all exterior clips with no sleeves to worry about). The crisscross design radiates out from a small central hub that clips to the top of the tent. 
Central pole hub
At first I couldn't figure out what the big yellow velcro straps were on the bottom side of the fly. I found out it's so you can roll your fly back like a sardine lid and velcro it in place. To be honest, this feature seems like more work than it's worth. I can just unclip the fly and take it off in less time than rolling it back and strapping it together.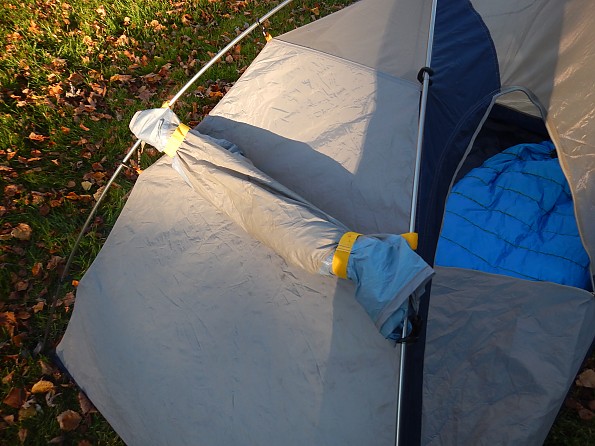 Rolled back fly
Stability: Point it in the right direction and it's fine with moderate weather.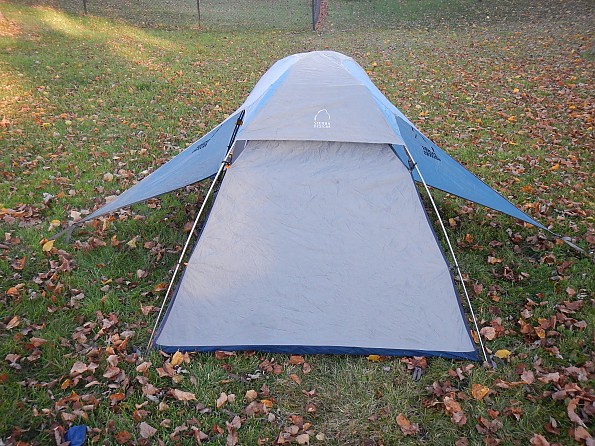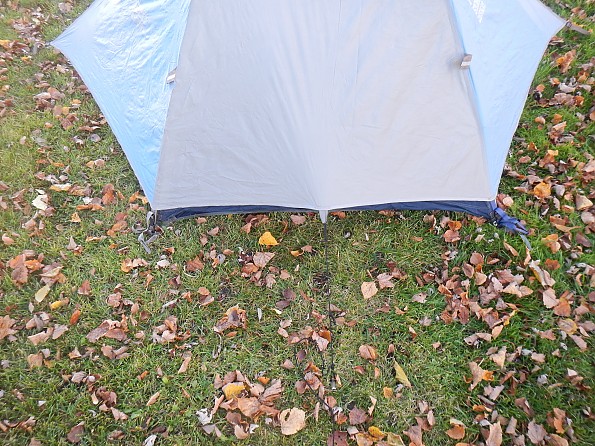 Point the tent into the wind to avoid the air that could be trapped under the wings
Weather resistance: Does very well for how open the design is. I thought there might be some splash up from rain but I was in a real downpour with this tent and it let no water inside.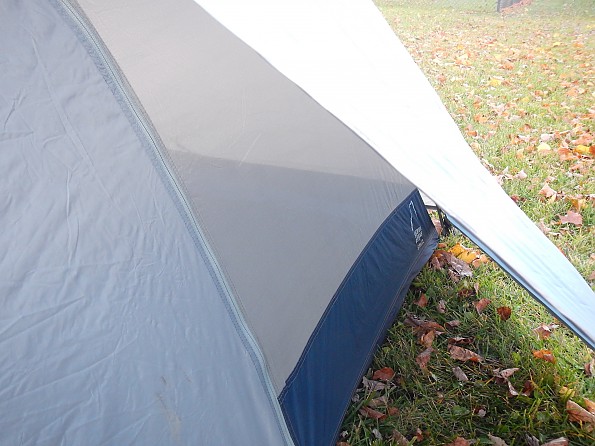 View into the tent from the exterior
Ventilation: Fantastic. No condensation if you sleep with your head on the fly end and you guy out the fly behind the head. I've slept in this tent in all conditions in 4 seasons and have never had a condensation issue. I dare say it it the least prone to condensation than any other tent I've ever owned. You have a nice breeze that constantly flows through the tent from one side to the other. It is especially effective on warm summer nights.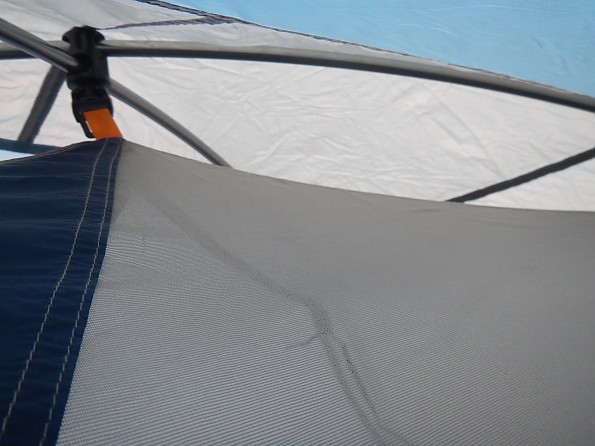 Great ventilation
Room and Storage: The tent is just over 6' long so there's not much head room if you exceed 6'. The tent is ample for 2 people but does not leave much room for interior storage. There's a small bit of storage under each awning but they have limited protection from the elements. A large pack would not fit under each wing.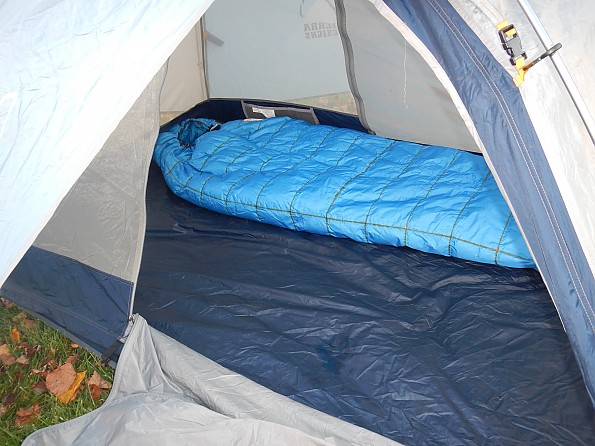 Ample room for 2 in the tent.
Ease of use: Very easy. The zippers on the doors are sometimes tough to get started when opening from the ground up unless you push a stake down in the loop just below the zipper. This gives some resistance to the upward pull. Taking the tent down is a breeze. All parts fit easily into an oversized bag.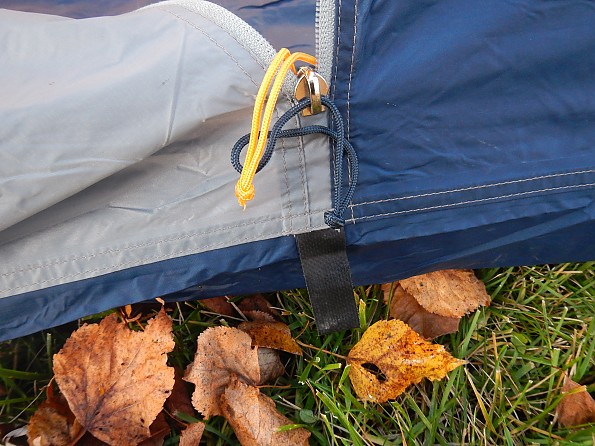 Door works better when the loop beneath it is staked down
Since most people would prefer to pack in less stakes, I usually use the ones that I would stake the fly out with for the door loops and then fashion some dead branches into stakes for the fly. This is so I'm not stepping on sharp wooden stakes in the middle of the night just outside my tent door (did it once, ouch)
Features: Double doors and small boot/shoe vestibules. Clips for fly. The footprint does not attach to tent so I just tied the corners with lightweight paracord to the tent grommets. Stays fine now.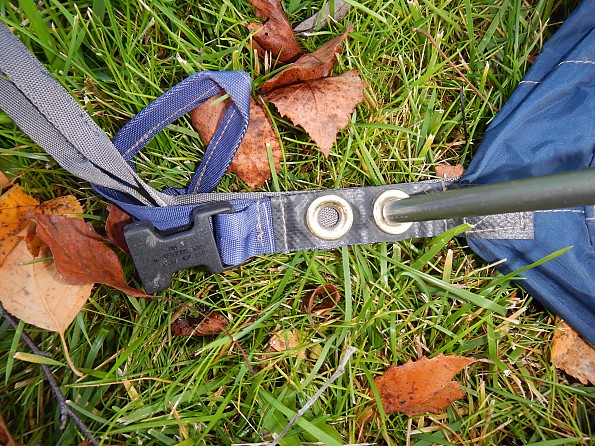 Corner clips and grommets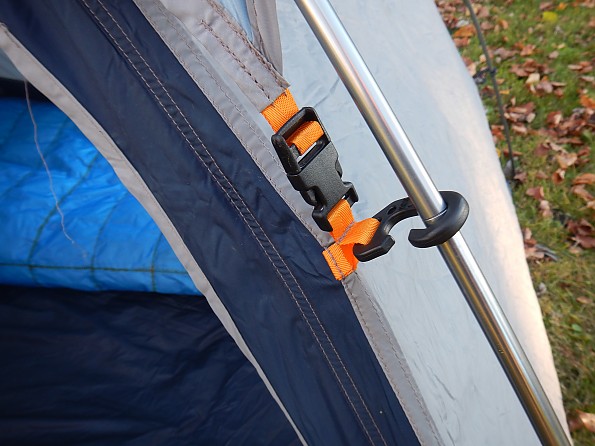 Fly clips

Construction and durability: I've used it in 3 seasons for 4 seasons now and it's still going strong. The construction is very good with double stitching, durable materials, and reinforcements where needed.
Side Note: The one issue I had with the Sirius 2 is when I was camping in the Badlands. A ferocious windstorm blew in. There was so much dust blowing into the tent I started coughing. I couldn't close it off. I had to take the whole thing down off of the plateau I was on and seek shelter in a small gully at 2 a.m. That was an extreme case.
Not ultralight, but still under 5 pounds. Fast pitch weight is around 4 lb and a few ounces. I have been thoroughly impressed with this tent. I was worried about the open wing design, but all of my concerns have been allayed. I highly recommend this tent to anyone who wants comfort and ease.
Source: bought it used
Price Paid: $30 from a friend

Great tent!  At first I thought it built up a little condensation but I figured out I had my head at the wrong (single wall) end. Really like the wings in that you can see out all the time and don't feel like you are in a cave walled off from the outside but I suppose that feature might make it a bit breezier than other tents.   
Overall I like this tent better every time I use it. I feel like it would actually be a bit small for 2 men but I use it as a one man tent so I can put all my gear inside and it works excellent for that with just enough room under the vestibule for my boots, camp shoes. and stove gas containers. 
Would highly recommend this tent.
Price Paid: $120

Great tent in my opinion. This tent is pretty light weight, easy to set up, and has kept me dry. I can set this tent up by myself faster than my friends setting theirs up with each other.
Took this tent on a 1.5 week summer backpacking trip in the Brooks Range.
Overall it's fine: not too heavy, fast and easy to setup, didn't let rain in, didn't let snow in.
Comments:
- Due to incomplete fly coverage (see pics) and lots of mesh, it's an extremely breezy tent. For this reason, it is realistically more of a 1.5 season tent than a real 3 season tent. On the other hand, there's zero condensation and the tent felt great when it was warm and sunny.
- Also due to incomplete fly coverage, the vestibules are smaller than usual.
- Also due to incomplete fly coverage, the tent basically has wings that catch the wind. It's critical to have the tent facing in the right direction. I got lucky and had it the right way during a fairly serious arctic summer storm and it held up OK (fully guyed out + big rocks on all stakes) but the 40 MPH gusts would have destroyed the tent if the wind had switched direction.
- It's kind of short, I'm 6" and had to lie diagonally to keep the ends of my bag from getting wet against the tent walls.

Sleeps: 2
Ease of Setup: easy
Price Paid: $94

Trail Weight 4 lbs 2 oz
Fastpack Weight n/a
Packed Weight 4 lbs 10 oz Packed Size 23" x 6"
Number of Doors 2
Interior Area 31 sq. ft.
Vestibule Area 4 + 4 sq. ft.
Peak Height 39"
Floor Material 70D Nylon, 3000mm
Body Material 40D Nylon
Fly Material 68D Polyester, 1500mm
Number of Poles 2
Hubbed Poles DAC Press Fit, 8.84mm
The Sirius 2 is a double/single wall hybrid tent that boasts low cost for a low weight.
Likes:
Bargain Price for weight/cost ratio.
Attractive design and colors (to me at least!).
Weight is easily carried by 2 people equaling a little over 2 pounds each.
No rain leakage yet
Fly-less pitching: great for star gazing.
Gear Pockets
Having 2 doors and 2 vestibules is verrrry nice.
Capacity- as expected- good, not huge, but I didn't buy a huge tent!
Good in semi sandy conditions, but have not experience any strong storms yet, thankfully.
Freestanding
Dirt or sand in the tent? I like that I can just pick it up with the poles on and shake it out!
Light enough I would consider it as a one man tent on short trips.

Dislikes:
Single wall does not allow for good ventilation unless the rear of the fly is guyed out as far as possible while keeping the fly taunt.
Stuff Sack: not even water resistant if more than a few drops.
Vestibules do not give much cover for gear, bring a cover or other means of protecting them from the elements.
MUST ventilate well to avoid condensation
Tent stakes are lack luster- bend easy and do not hold in sandy areas.

Bottom Line:
It works well for 2 people, if a bit "cozy" for 2 6' guys, yet I find the tent to be roomy and more than adequate so far in my travels. Strong, light, and a great looking 2 man tent for a heck of a price when all you need is shelter for a night.
Design: freestanding, double/single wall hybrid
Sleeps: 2
Ease of Setup: SImple and Easy
Weight: About 4 1/2 pounds.
Price Paid: $120 with footprint

This is a great tent, especially for the price.
Pole-clips make set-up a breeze. Set-up time is 3 min or less. Very helpful in bad weather.
Roomy enough for two, but not packs. Can easily put 2 Therm-a-Rest reg length pads inside. However, tent is not overly long: My 6'2" husband just fits. My 6'5" brother hits the ends. Side to side the fit is just fine. Would be nice if the vestibules were bigger. I generally cover my pack in its rain cover, put my boots on top and shove that under the vestibule--it just fits.
Never had any condensation problems, and have taken this tent out from 25 - 60 degree weather.
I've found tent weight to be 4 lbs, 10 oz with tent, poles, 6 stakes, and rainfly.
This is a great, basic backpacking tent. Very durable. A real bargain for the price.
Design: Three-season freestanding dome
Sleeps: 2
Ease of Setup: Fantastically simple
Weight: 4 lbs, 10 oz (excluding footprint)
Price Paid: $129

I got this tent about a year ago from Moosejaw and haven't looked back since. It's lightweight, easy to set up, and really is waterproof. Don't be a dummy though, point it in the right direction. Having two doors is always a great idea, and when you take the rain fly off and lay down while star-gazing you thank the good Lord you bought this steal-of-a-deal.
My ONLY complaint is that the vestibule space is really lacking, so if you're hiking w/2 + gear you might want to make sure your pack and gear are protected from the elements. (Oh, and yes it's a Sierra Designs so yes, the zippers snag--get over it.)
I would highly recommend this tent and even more so I'd highly recommend http://www.moosejaw.com. There is no better online retailer and I'll never do business with anyone else. They're that good. Love the madness.
Design: 3 season freestanding dome
Sleeps: 2
Ease of Setup: lay out the tent, insert the poles. (pretty tough eh?) : )
Weight: Trail 4lbs -- Packed 4lbs 9oz
Price Paid: $139 + free footprint

You May Like
Recently on Trailspace