Sierra Designs Sirius 3

The Sirius 3 has been discontinued. If you're looking for something new, check out the best three-season tents for 2021.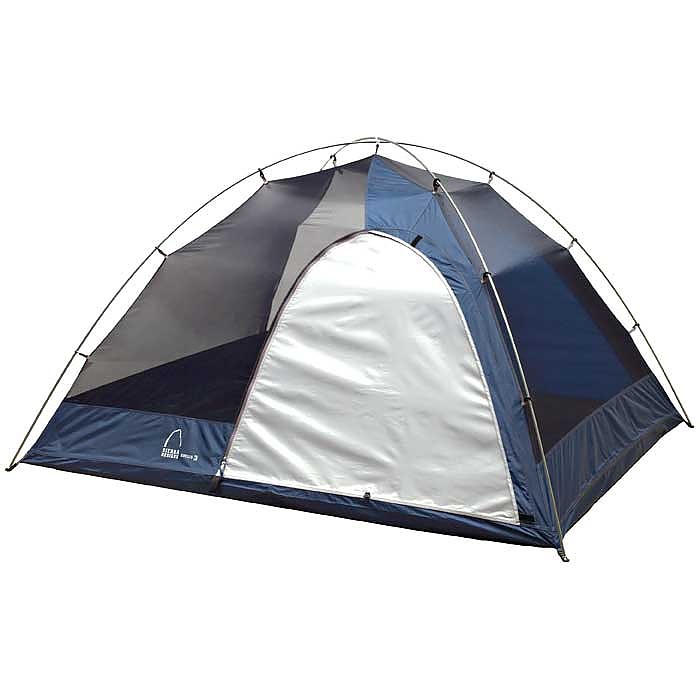 Specs
Price
Historic Range: $109.95-$199.95
Reviewers Paid: $100.00-$160.00

Reviews
13

reviews

5-star:

3

4-star:

8

3-star:

2

2-star:

0

1-star:

0
This is a great, lightweight, 2-person tent with room for packs inside. Personally I wouldn't go for a tight 3-person fit.
Pros
LIGHTWEIGHT
Fairly easy setup
Cons
All the mesh. The rainfly is the only real roof.
We have owned this tent for a while and have used it a few times. We're only able to backpack and camp every few months.
This little tent is very pack friendly, it doesn't take up a lot of room, and can be put most anywhere on the pack from what I've experienced.
My wife just did a "test camp" this weekend to check how she did with it getting colder and the tent performed well. There was no real weather to stress it much though, just cold.
Source: bought it new

My daughter and one dog and I used this tent for our 5 day backpacking trip along the Colorado Trail and were very happy with it. The storage bag that it came with was large and bulky, so we had to use a different bag from another tent. The Sirius 3 did pack nice and tight and compact, with all the pieces rolling up together.
This tent is the easiest I have ever set up. It took a minute to figure out the fly though. We stayed in temperatures in the high 20's overnight and were quite comfortable. We would recommend this tent.
Design: Three-season dome
Sleeps: 3
Ease of Setup: Simple and fast
Weight: 5.8 lbs.
Price Paid: Sale $100

What drew me to this tent initially was the allure of my first sub 5 lb. tent (and my first "real" tent). It is billed as a 3 person tent, but if you plan on sleeping that many be aware that it will be very tight, but doable. This tent weighs almost as little as many 2 person tents, and as a 2 person tent, this baby is great. Each person has their own door, which is great for 2. When there are 3 people, the middle person will have to climb over one of the other 2 people.
Although the fly leaves something to be desired, I have experienced some pretty heavy rain in this tent without getting wet. The only caveat to this is opening the door. If you open one of the doors too far in heavy rain you will get rain in the tent. So, if you can't open the door all the way, it can turn exiting the tent into a bit of a contortion act (keyword: bit). This isn't an issue usually for a limber 22 year old like myself, but I could see it being difficult for someone with more miles on their bones. Also, just to point out, I have not used this tent in an all-out deluge, so I can't speak on its abilities in that sort of weather.
The one other negative thing about this tent that I perceived is that it relies on a single wall, uncovered by the fly at one end. While this is great for a weight reduction, it can cause moisture buildup in some situations. I haven't found this to cause significant problems, excepting a small amount of water
With that said, I must point out that I am extremely happy with this tent, especially considering the great deal I got from Steep and Cheap. I gave this tent 4 stars simply because the cost/quality ratio is excellent, and at this price I would buy the same tent again in a heartbeat. In fact, I recommended it to a friend, even though it is $160 at backcountry.com at the time of this review.
Design: Three-season freestanding
Sleeps: 3
Ease of Setup: Extremely East and Fast
Weight: 4 lbs. 12 oz (tent, fly, and poles only)
Price Paid: ~$120

Wow, amazing you can get this tent for 100 bucks now. Anyway, other reviews summed up this tent really well, so I feel there's not a lot to cover.
It wouldn't be great in extremely wet conditions if you had to traverse in and out, but waiting out a heavy rain for the night with no pee breaks was fine. Have used it numerous times for 3 season backpacking. Setup is quick and easy. Vented well with minimal condensation. Enough loops and pockets to keep 2 people satisfied.
Weaknesses are definitely the half fly with lack of fastpack and the weak "boot vestibule" which barely even keeps the boots dry. I've car camped with 3 guys just fine keeping most everything in a car, but 3 guys with backpacks full of gear? Think twice about that.
Know what this tent can do: 3 season backpacking or light camping in good to fair weather conditions with 2 people. 3 people if you aren't picky about getting you/your stuff wet.
And what it can't do: 4 season backpacking and 3 person backpacking in extreme conditions.
If you take these into account and use the tent for its intended means, you will be happy. Which I was.
Design: freestanding
Ease of Setup: easy
Price Paid: $160 with footprint

OK for motorcycle camping.
The Sierra Designs Sirius 3 is one of the five tents I have used on past motorcycle camping trips. I bought it at an REI scratch and dent sale and have used it on a few trips. My observations of the tent agree with the comments made by other reviewers.
First of all, it has a great space to weight ratio. It offers 41 square feet of floor space and 3 feet, 8 inches of headroom yet packs smaller (5-pounds, 4-ounces) than most other 3-person, 3-season, backpacking tents. Furthermore, it is reasonably well ventilated and very easy to set up, even in the dark.
The primary limitations of this tent are its short length (7-feet long) and its poor rainy weather protection. The short length means that you will likely touch both ends of the tent when you stretch out (especially if you are 6-foot, 2-inches tall like me). Touching the mesh on the double wall side with your head may not cause a problem but touching the single wall side with your feet will likely soak the bottom of your sleeping bag from rain or condensation. If the rain gets very hard, the vestibule area will become wet and you may have to enter and exit the tent on your hands and knees in the mud.
One other limitation is that the door zippers can easily snag at the top of the door where the zipper cover tapers down to the material. Once you become aware of this problem, you can prevent it by using your fingers to push the material to the side when zipping the door at the top.
In conclusion, it may be a good choice if you are less than 5-foot, 10-inches tall and have limited packing space. But be aware of potential problems in rainy weather.
Design: three-season freestanding dome
Sleeps: 2
Ease of Setup: Very easy; attach clips and buckles
Weight: five-pounds, four ounces
Price Paid: $100

I bought this tent this past spring 2008. I used it regularly throughout the summer and am very happy with my purchase. The tent is well designed, comes together very easily, and fits in the tent bag without any hassle.
The only foreseeable issue you may have with this tent is that it's a little bit of a tight squeeze for three people. It will hold three, but I would only recommend getting this tent if you will likely be using it for two or fewer people at one time.
Still definitely worth 5 stars! Happy camping!
I purchased this tent as 2007 closeout model special (from Sierra Trading Post).
Pros:
(1) Extremely light-weight
(2) Easy to pitch by yourself, and especially fast pitching it with a partner.
(3) Great ventilation
(4) Double entry doors
(5) The Quick Pitch Swivel pole system seem to make it more sturdy during strong wind gusts.
(5) Plenty of length. I'm 6'1'' and no problems.
(6) Awesome price-to-weight ratio!
Limitations:
(Note: I hate to call them 'cons' because that would make it sound like there's something defective with the design)
(1) Be aware of small vestibule (only 4 sq. ft. on each side) that doesn't over 360-degree coverage
(2) No fly coverage over the doors.
(3) No end door exit for the middle guy (if you plan on using it as a truly 3-man tent)
Analysis:
I imagine there are better 3-man tents out there on the market by some of the 'big guys' (Marmot, Big Agnes, TNF, Dana Design, Mtn Hrdwear, Bibler, etc.)...but none would come with this kind of lightweight design for under $200 list. So it is great value for what you are getting.
My wife and I don't intend to do a lot of heavy back-country camping, and we wanted something that would give us a little extra space in the tent. So far under Bay Area wind and light rain, no water issues at all. And the single wall side of the tent definitely cuts down a little on the packing bulk.
Of course, with those trimmings comes limitations. If you plan on spending a lot of time in rainy weather and need a functional and versatile vestibule, you may find it difficult. The side doors are actually double walled...and not covered fully by the vestibule. So while light rain proved no problem, getting in and out of your tent a lot during a bad rain could prove difficult.
We had no problem staying dry once inside the tent on the double-wall side. But it would be difficult to use your vestibule while positioned in the tent, if the rain starts to come down hard.
So although you're NEVER suppose to fire up your burner under a vestibule, let's face it -- in bad weather, sometimes you have to, if you want to eat! In either Sirius, you don't really have that option....because the door doesn't open right into the vestibule. (Go to the Sierra Designs website, click on the picture, and you'll see what I mean!)
Also, because it's a hybrid (half) fly, there's no option to fast pack with just the fly, poles, and foot print. Fortunately, we have a floorless Black Diamond when we need that option.
I can't comment on how three adults might do in it. Three average girls, no problem. Three larger guys, I'm thinking maybe some problems. (Of course, that could be said about 95% of the 3-man tents out there!)
We got this for spacious 2-man use, and it certainly yields no problem there. If you are looking for a true-three man solution, I pity the guy has to pee at 3am and yet finds himself stuck in the middle...because someone will need to be hurdled in the process of exiting. I wonder if it would be better to have a head or foot door, if you really want something for 3 people.
All in all, it's a great tent for my needs. It provides spacious-yet-light accommodations for this couple, and I never thought it possible to get this good of a tent for this price. I might consider another 3-man, if it were seriously discounted to below $200...but until then, you can't do any better than the Sirius 2.
2 big thumbs up!
Design: 3-Season Freestanding
Sleeps: 3
Ease of Setup: Extremely Easy
Weight: 5lbs, 8 ozs
Price Paid: Appx $130 (with the footprint)

My wife and I bought this tent last year for a trip to the sequoias/high sierras. My wife, me and our aussie cattle dog fit comfortably inside. We were both very happy with how fast it was to set up and tear down. On average, it takes us half the time as everyone else we go camping/backpacking with to set up camp.
Since that trip, we have taken it to the desert several times, the high Sierras twice, the beach in northern California in 40-60mph winds twice, and in every condition we have exposed it to so far, it's been a damn fine tent.
So far, we've logged over ten trips in this tent with no signs of wear. I'd highly recommend it for the price.
The only beef I have with the tent, and on balance, I generally have this problem with any tent is the stakes that it shipped with are flimsy. If you camp often, you'll be replacing these. Everything else seems to be quality to me.
Dan
Sleeps: 3
Ease of Setup: Rediculously easy
Weight: 5'ish pounds including stakes(which we replaced)
Price Paid: $150

I purchased this tent for camping and backpacking. I'm very happy with this product! It's light and very simple to set up. This is a very well thought out design as far as tent assembly goes. It's a three-man tent, but I use it for me and my girl. It would be a little cramped for three people.
It's a freestanding tent, so it doesn't need to be staked down. I do recommend at least staking down the rainfly at a minimum. It helps with ventilation and eliminates condensation inside the tent.
Sierra Designs also manufactures a tent "attic" that fits this tent. It's very handy for stashing small gear items you want to keep out of the way.
Design: Three season
Sleeps: 3
Ease of Setup: Couldn't Be Easier!
Weight: Check the REI Website
Price Paid: Don't Remember

The perfect tent for two adults and a dog. My wife and I routinely hike with our shepherd and this is the perfect size tent. We really enjoy all the possibilities for ventilation since 1/2 the tent is mesh with a fly. You can leave the fly off, have it pulled down tight, or just about anything in between. Also, having a door on each side is good. The vestibules are big enough to protect your shoes, but not much more.
Design: 3 season, 1/2 single wall, 1/2 double wall
Sleeps: 2
Ease of Setup: Easy
Weight: With footprint and gear loft over 6 pounds
Price Paid: I don't remember

Good tent, lightweight. It is very roomy for two and you can also put gear inside. Three grown adults will fit but it will be tight and the gear will have to sit outside.
Design: three-season, 3 person
Sleeps: 3
Ease of Setup: very easy
Weight: 7 lb
Price Paid: $140

This tent has one considerable advantage and a number of compromises to achieve it. It is about the lightest tent for its size, with lots of space for two (this being a three-person model).
Its drawbacks are small interior room for three; it is really not adequate for three grown people. I'm 6'3" and do fit, taking the whole length. Its combination of single and double wall construction means that it ventilates okay but will leak some spray in driving rain.
I use the three-person version as a two-person tent when I am backpacking with one of my boys in fair conditions. In this case there's lots of room for two plus some gear, and the low weight is nice as dad has to carry the whole tent at this stage of duty. Having two side access doors is also nice.
In very rainy conditions some spray or drips will get past the flap where the fly overlaps the single wall area (be careful when pitching how the floor aligns to the wind if rain is expected). Another nit is that the door zippers snag the tent's zipper flashing (there to keep out rain). The vestibules are adequate for boots but not packs.
I recommend this tent if you want a fair weather full enclosure tent for two with comfortable elbow or sitting room and wish to pack lightly. You'd have to go with a pure single wall tent to get a lighter combination with this much space, and then bug-proof ventilation would be your issue. I like this tent's compromises, though if expecting foul weather or high wind I prefer a different one.
Design: 3-season freestanding combo single/dbl wall
Sleeps: 3
Ease of Setup: Easy
Weight: 5 lbs 4 oz packed
Price Paid: $120 at REI

The perfect lightweight 3-person tent if it had another 6 inches or more in length?
At 7 ft length, you'd have to be 5'6" or so to fit lengthwise without bumping your sleeping bag against the single-wall. From my experience, water will leach right through a tent wall if you rub against it. Probably fine in dry climates, for short backpackers.
I am probably going to return mine for this reason.
Sleeps: 3
Weight: 5
Price Paid: $130

You May Like
Recently on Trailspace