Sierra Designs Zissou 30 Lite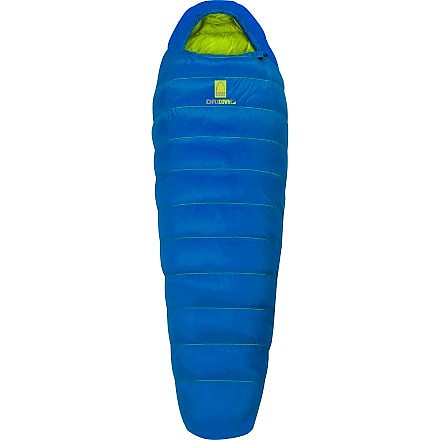 The Zissou Light 30 is a versatile, lightweight down sleeping bag, best used for three-season backpacking, especially in areas prone to heavy condensation, mist and humidity.
This new line of sleeping bags from Sierra Designs features their new "DriDown" technology, which is supposed to allow the bag to be used in wet and humid conditions.
Overall, I am pleased with the bag, as it is well made, well featured, warm, and light. While the proprietary down coating does certainly increase the down's water repellency and resistance to moisture, it did not quite live up to some of the manufacturer's claims.
Pros
Well featured and designed
Good quality craftsmanship
Warm / Accurate rating
Compact
Lightweight
Increased water repellency
Very fast drying
Cons
Not quite as water repellent as advertised
Fabric DWR could be better
Zipper snags easily
Stuff sack has no compression feature
Slight clammy/humid skin feeling after night's sleep
Full Video Review: 


Scope of Testing: 
Used on five different outings, slept in nine nights. Used in a variety of conditions including rain, fog, dew, and high humidity, as well as in elevations from 1,500ft to 5,200ft, and temperatures from 33°F to 60°F. 
User Info and Experience: 
Male; 5' 8", 190lbs; Frequent hiking and backpacking throughout the Cumberland Plateau and mountains of eastern Tennessee and western North Carolina, with experience hiking in the northeastern U.S., and western U.S. Rockies. 
Product Testing and Review
Overall I am quite pleased and impressed with the Sierra Designs Zissou Lite 30 down bag, finding the design well thought out and applied, in most all respects.

[Zissou Lite 30 DriDown Sleeping Bag]
Included Items: 600FP Down Bag, Mesh Storage Bag, PU Coated Stuff Sack
Features: Some of the nice details included on this bag are a small zipper pocket on the upper end of the bag, the sleeping mat lock-loops, and storage hanging loops. The zippered pocket is small, but large enough for keys, pocket knife, headlamp, or small devices. 
There are six loops on the sides of the bag that can be used to secure it to a climber's ledge or sleeping mat.

[Pad/sleep mat lock-loops and zipper pull]
Two largish loops are found on the end of the foot box, which allow the bag to be conveniently stored in a hanging position. Hanging your bag so the down isn't compressed helps extend the life and loft of your bag.  
Warmth: The bag was quite warm. When dry it provided plenty of insulation in the temperatures which I used it, ranging from 60°F to 33°F. I am a relatively warm sleeper, so in temps above 45°F it was actually too warm to sleep with the zipper closed. I would have complete confidence using the bag down to at least 25°F and possibly 20°F, though 15°F would likely be uncomfortable. Unfortunately, the weather hasn't gotten cold enough yet for me to put that assessment to the test. 

The treated down does seem to induce an odd side effect, creating high humidity of the air inside the bag after a nights sleep. This did not negatively impact the bag's warmth, but can result in a slightly clammy feeling when emerging in the morning. 

[Gonzan comfy in the Zissou bag alongside Slickrock Creek in N.C.]
Hood: Roomy but not baggy, with a double drawstring that allows the forehead and chin to be adjusted separately and comfortably. 

[Adjustable hood with double drawstring]
Fit & Comfort: I am a bit overweight, so I expect an average size bag to be a little tight. This bag provided enough room, and I did not find it to be overly restricting. A person larger than myself might have difficulty. The tapered shape conformed well to eliminate excess dead air spaces to be warmed, but was not constricting.
Entry & Exit: The long 60" zipper made getting in and out of the bag a breeze. The hood's drawstrings are fastened with a button style cord lock, which allows easy adjustment when settling in, and quick release when getting out of the bag. 
Packability: The included stuff sack is an appreciated inclusion, and works to stuff the bag to a manageable and relatively compact size. If a compression sack is used instead it can be compressed down to around an 8" ball, or about half the stuffed size. Though not a big deal, a compression feature on the provided sack would have been wonderful.
Zipper: The long 60" zipper has double sliders, which allow it to be opened or vented from both the top and bottom, is perfect for needed ventilation in warmer weather.
A full length draft tube covers the inside of the zipper, and a pouch of down filled fabric at the top of the zipper, seals out cold air and protect your skin from the metal zipper pull.

[Upper zipper pull and cheek-protecting fabric pouch]

Even though anti-snag nylon tape has been sewn in along either side of the zipper, it has a surprising tendency to bind easily on the draft tube and inner fabric. Even with careful attention to keep the zipper straight, and without side-pull or twisting, it binds regularly. I have multiple other bags, some cheap and some expensive. My lowest quality bag, made by Ledge, binds easily, while I have not experienced such finicky behavior with my Valandre. I believe a slightly wider anti-snag tape, or a less stretchy interior fabric, would eliminate the tendency.
Construction and Durability: The bag has proven to be well made, with even, fine stitching and good seams. Even though the zipper keeps "biting" the fabric, it hasn't ripped frayed. I have not noticed any defects or failures, and have seen almost no down leakage.


[Gonzan's camp with the Zissou bag in the Nantahala NF)


Loft: The 600 Fill Power down used by Sierra Designs seems more fine and lofty than other cheaper standard 600 down I have used. It expands and lofts quickly when removed from compression, and  is very soft and comfortable. The average lofted height/thickness of the bag is 5 1/2." Sierra Design's claim that the "

DriDown

" coating allows the bag to maintain much of its loft when exposed to heavy mist and condensation was proven true in my testing. But, when exposed to heavier moisture the warmth of the bag was greatly compromised. More on that below.

[testing conditions with driving fog and 20-30mph winds]
Performance in Wet Conditions:
Ok, so I know you're asking "Does this DriDown stuff live up to all the hype?" Well, my answer is "Yes, and No."  
In their promotional videos, Sierra Designs claims that the DriDown hydrophobic coating allows the bag to be used even when exposed directly to "rain, sweat, or melting snow." During testing, I exposed this bag through multiple nights to heavy dew and mist. On those occasions the treated down and fabric DWR performed well. Even though a good deal of condensation accumulated on the exterior of the bag, I did not experience any significant wetting-out of the fabric or moisture penetration to the interior, and the warmth of the bag was not noticeably diminished. 
On the night I attempted to sleep in a drizzling rain with an outside temp of 35°F, however, the results were much less positive. Within the first half hour, I felt water creeping through the seams and zipper. Over the following two hours, water continued to soak into the down and find its way inside the bag. The fabric DWR kept the exterior from completely wetting out, and did shed much water, but didn't impede it seeping through stitched seams.
In comparison, the exterior DWR of my Valandre seems much more repellent.  After 2.5 hours in the rain, I called it quits and bailed to my tent and a backup bag. At that point the down had soaked up several pounds of water and lost about 35-50% of its loft.
It is important to note that untreated down would have lost nearly all loft had it been that wet. The invading water wicked away my body heat through conduction, leaving me extremely cold and uncomfortable. While I was not surprised by this result, it was clear the manufacturer claims were not entirely realistic, and overly optimistic. While I found the treatment definitely improved the bag's ability to maintain loft and repel more water than regular down, it did not keep water out of the bag or prevent significant loss of warmth. 
On the upside, I was very impressed with how fast the bag dried! The evening after I got back from that cold wet night in the rain, I wrung out the worst of the water and draped it over the couch. With an inside temp of 65°F in the dark house, the bag dried completely in less than six hours. I think it might even perform better in this regard than Sierra Designs claims.

[testing the Zissou Lite in an open camp on Balsam Mountain, GSMNP]
Conclusion:
This is a very good bag for those who want a good down sleeping bag at an accessible price. Though not quite as resistant to moisture or able to perform in as of wet conditions as claimed, the DriDown coating definitely increases the down's repellency. Just be aware you can't go sleep out in the rain!
If I were venturing out somewhere it is highly likely that my pack would get soaked or submerged, such as wet canyoneering or in a rain forest, I would choose a synthetic insulated bag over treated down. For virtually all other applications, the DriDown would be an ideal choice. 
The Zissou line of bags offer a great option for someone who is attracted to the benefits of down, but is hesitant because of concern over moisture difficulties. I would definitely recommend this bag to the educated buyer looking to make the transition from synthetic to down.
Source: received for testing via the Trailspace Review Corps (sample provided by Sierra Designs for testing and review)

Your Review
Where to Buy
Help support this site by making your next gear purchase through one of the links above. Click a link, buy what you need, and the seller will contribute a portion of the purchase price to support Trailspace's independent gear reviews.
You May Like
Specs
| | |
| --- | --- |
| Price | Historic Range: $138.73-$269.95 |
Recently on Trailspace