Simple Outdoor Solutions Original Outsak

#8 in Food Bags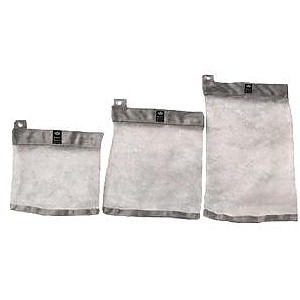 I am not reviewing the product, I am reviewing the company's return policy and customer service. I attempted to return a product, and the retailer refused to accept it stating it was damaged (it was not). If you want hassle free returns and professional customer service, I would not recommend this retailer.
Cons
Ambiguous return policy
Unprofessional customer service
The retailer has a poorly specified return policy and would not accept my return. I purchased an Outsak outdoor food storage bag, which is a fine metal mesh bag with a fabric Velcro top opening designed to stop rodents from getting into food placed in the bag (typically used when backpacking/camping).
After receiving the product I was concerned rodents might just chew through the Velcro top to get into the bag. I contacted retailer and he indicated he had no reports of this ever happening. I ultimately decided to return the new/unused product. I contacted the retailer, he sent return information and indicated the cost of original shipping would be deducted from the return.
I contacted retailer and asked if there was anything he could do about deducting original shipping costs. I explained that prior to purchase I read his websites return policy which said:
"Unused returns purchased through SimpleOutdoorStore will be fully refunded, excluding shipping costs, provided the return has the following requirements: The product is unused and undamaged; has the original packaging tags still attached; the original, dated, proof of purchase (receipt) is included, within 30 calendar days of Receipt of Payment email; and proper Return Goods Authorization code used. "
I said I thought  "excluding shipping costs" meant return shipping, and had I known I would have to cover shipping both ways on a return I wouldn't have purchased. I suggested the website's policy on returns was ambiguous which is why I was asking if there was anything they could do about the original shipping cost.
Initially the retailer said the return policy "is what it is". The retailer also repeatedly (over several emails) told me how I was wrong about my concern regarding the product. The retailer was obviously offended by my concerns regarding his product. I understand someone sharing confidence about their product, but repeatedly telling a customer over several emails how they are wrong to worry about a product is demeaning; I had simply just decided the product wasn't right for me and just wanted to return it, not be lectured about how I was wrong to not want the product.
I admitted I misunderstood what the product was, and that I should have called to ask questions prior to purchase. At some point the retailer offered to refund half the original shipping, I responded that I wasn't even worried about that anymore. I was going to find out how much return shipping was and then decide whether to return it. I specified that if I did return it I wanted him to deduct the entire original shipping cost from my refund.
I decided to return the product. The product comes rolled and was originally shipped in a box. I re-rolled it and wrapped it paper mailing wrap and used clear mailing tape over the paper wrap. As previously stated the product is a fabric strap and metal mesh bag. The retailer contacted me with the following:
"Attached are pictures of your return item. We cannot accept this as a return. It is flat. Simple as that. You sent this item in a way that is was going to be damaged. We ship our products in a box. It ensures that the item will arrive in NEW condition. The condition of your item is flat. I will drop it at the post office this afternoon and refuse delivery. This was grossly negligent. We are not even going to open the bag. The 10% restock fee will not bring this back to sellable condition.
 Have a nice day.
 SOS"
The pictures sent showed the package to be in the same exact condition as when I mailed it. The size and shape of the item I sent back was exactly how I initially received it out of the box. The package was not damaged in transport back. If the retailer thought the product was damaged, then they had originally sent me a damaged product. I had not used it, and it was certainly not damaged in transport based on the pictures the retailer sent.
I can not speak to the actual functioning of the product since I did not use it, nor will I if/when it is returned. I can say I found the retailer's return policy on the website to be ambiguous (it should be specifically stated that customers are responsible for both original and return shipping on returns). I can also say that my experience in terms of customer service was that I was treated rudely and in a demeaning way.
Source: bought it new
Price Paid: $38

I got back a few days back from a Labor (Day) Week hike. I was looking up the manufacturer to send a thank you for a great product. I'm that kind of guy. Then I came across some reviews, and thought I would share my experience with others.
I hiked Grand Canyon and we used an Outsak. It was suggested to us at the permit desk at the park. Previously all I have used is a nylon bag, or I would sleep with my food. The rangers weren't trying to sell me one, just suggested that I think about how I was going to store my food. They mentioned rodents and ringtails like to raid campsites. They showed me a mesh bag that stops small animals from getting at your food. I bought a medium.
That night, in out hotel room, we looked at the manufacturer's website www.simpleoutdoorstore.com and they had some suggestions, in video form, of how to use the bag properly. Very helpful stuff.
I bought one, hesitantly, every penny counts these days. We used it for 3 nights/4 days. It worked wonderfully. On two nights we were able to hang it, on the third we left it on the ground(mostly trash in there at that point) and all seemed find. It got a bit wrinkled along the way, but I can see it making it through several more trips.
On the last morning we woke up before the sun was up, and I could swear the ravens were waiting for us to leave our site. They were stalking us, preparing for a raid at dawn. Too bad we had our Outsak, the bag trusted to be sold at Grand Canyon.

Price Paid: $40

The Outsak is a great product.
On a trip to Utah (Escalante) I recently took along an Outsak, Animal Resistant Storage Bag. It is made by a small company in Flagstaff, AZ. It is a stainless steel mesh sack that keeps small animals from penetrating your food storage.
We did about 25 miles trip over 4 days, using this bag as our primary means of food protection. We viewed the videos on the Simple Outdoor Solutions website, and followed their suggestions. We packed our food in lightweight odor proof bags, and put those inside a nylon bag, which we put inside an Outsak.
The whole bundle was put out of sight during the day, and at night we either elevated it any way we could (hanging from hiking pole wedged in crack, put it on top of a high rock) or we stacked rocks around it. On each night we woke up hearing animals nearby, each morning we saw tracks in camp.
We have only one confirmed attack on the Outsak and it apparently did what it was designed to do, keep out critters. Something kind of moved the wires around a bit, but didn't get to any food, not even the edge of a wrapper.
This is a piece of gear that will go on all future backpacking trips. It is lightweight (medium 9 oz 1600 cubic inch capacity) and durable. Usually a combination that doesn't go together. The top closes with a thick velcro, the bag itself is a tightly woven stainless steel mesh that most small animals cant chew through. There is a small loop on the end to aid in hanging and it also works well as a spot to start to get the bag open.
5 stars for this one. I do a lot of backpacking and hiking. I just discovered how wonderful Southern Utah is, and this Outsak bag is the perfect addition for all my future trips.

Price Paid: $39.99 w free shipping

Version reviewed: medium
Outsak-Animal Resistant Storage Bag. Stainless Steel Mesh Bag that keeps critters out of your stored food, overnight or just while you are away from camp.
I love this bag. It was shown to me by a friend and I can't stop saying good things about it. I've seen first hand how it stops critters. We had an animal prowl our site, somehow got to our hung Outsak bag, but it couldn't get in...HA!!
The manufacturer offers free shipping
www.simpleoutdoorstore.com
When traveling in areas where small critters are a concern, the Outsak will help you get through the night without wondering if your food will still be there in the morning.
The manufacturer offers all kinds of info on the site.

Price Paid: $39.99

Your Review
Where to Buy
Help support this site by making your next gear purchase through one of the links above. Click a link, buy what you need, and the seller will contribute a portion of the purchase price to support Trailspace's independent gear reviews.
You May Like
Specs
| | |
| --- | --- |
| Price | Reviewers Paid: $38.00-$40.00 |
| Weight | |
| | SM - 8 ounces |
| | MD - 9.5 ounces |
| | LG - 10.5 ounces |
| Dimensions | |
| | SM - 18 x 14 inches |
| | MD - 18 x 19 inches |
| | LG - 18 x 24 inches |
| Capacity | |
| | SM - 1,100 cubic inches |
| | MD - 1,600 cubic inches |
| | LG - 2,100 cubic inches |
Recently on Trailspace