Slumberjack Super Guide +30°F

The Super Guide +30°F has been discontinued. If you're looking for something new, check out the best 3-season synthetic sleeping bags for 2023.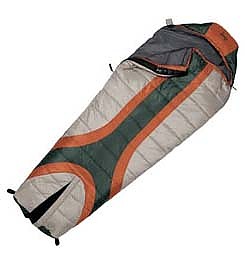 I have had this bag for several years. For the price vs. weight ratio the bag is the best out there. It appears that most of the people writing reviews don't know very much about sleeping bag ratings. The bag temp is the survival rating NOT the comfort rating. If you want to wear no clothes and be hot in 30 degree temps buy a 0 degree bag. Otherwise throw on a pair of wool socks and a hat and call it a warm night.
I read the reviews on this bag before I bought them, so I had some reservations about the temperature ratings and, notwithstanding the guy who insists you should sleep in this bag without warm clothes on, found the bag to be way over-rated for temperature.
While the one I checked out in the local sporting goods store looked to be "OK," I had strong suspicisions about how warm we would stay in this bag when I unpacked them, since after three days they still didn't recover much loft. While I think this is, and will be, a very servicable bag for what we intend to use it for (Scout campouts), we (my son and I) both got cold on our first night using them when the temperature got down to the lower 30s, and that with two layers of warm clothes on inside (maybe I need to try the "no warm clothes option").
The second night, my son used one bag inside the other and stayed warm when the temp got down to 29. The zippers do have a tendency to snag on the fabric, which is frustrating in the middle of the night when one needs to get up. I'm sure I'll learn to avoid that problem with further use, and it's not a problem if you can sleep all night without having a call from nature.
There is also the problem with unzipping the zipper too far when getting out and having the two parts separate (like they are suposed to do if you want to connect bags together). Again, another "problem" that you don't like to deal with when you are already cold, but one that is easily avoided with a safety pin in the right spot.
Design: mummy
Fill: thermolite extreme
Temperature Rating: 30 degrees F
Weight: 2 1/2 lbs
Price Paid: $59.99

To put it bluntly, I got this bag because it was cheap. I got what I paid for. The 30F temp rating is pretty optimistic, It got into the 30s the first time I used it and I was frigid all night. On the second trip it got into the mid 40s, this was more than the bag could handle - I should say I'm 6'1" and 215lbs and don't feel cold easily.
If this were the only failing here, I might be able to overlook it...but the zippers bind and are cheaply made. The shell feels chintzy and actually soaks up water, and there is only a 1/2 zip. Otherwise, it looks cool and the stuff sack is nice. Splurge for a better bag and you'll dodge the bullet on this one.
Design: mummy
Temperature Rating: 30...not really
Price Paid: $50

I purchased this bag based on the weight and packed size with some reservations on the temperature rating due to the lack of loft. I should have listened to my instincts. A recent 4-day canoe trip to North Florida offered the perfect test when a cold front provided nighttime temperatures of 29, mid 20s, 36, and 46F. In a fully closed tent on a Therm-a-rest pad combinations of a Thermax base layer with lycra winter tights, fleece, hat, and Smartwool socks did not help on the coldest nights. There is simply not enough fill on the top to eliminate cold spots. The final night in the mid 40s was quite comfortable. Treat this as a +40 or 45F bag and you will love it because you simply can't beat the size and weight at this price.
Reportedly Slumberjack is adding 3 oz of fill for 2007.
Design: Mummy
Fill: Thermolite Extreme
Temperature Rating: 30F
Weight: 2 lb 7 oz
Price Paid: $59.99

Everything about this bag is great, except for one thing...the temperature rating.
The good: it's light, it packs small, it has the nifty zipper in the foot section with mesh, and it was plenty of comfortable.
The bad: I had to come in from my backyard when the temperature hit 40 degrees. I had on thermal underwear, a fleece jacket, flannel pants, and fleece socks. I still got cold. I think I'm a cold sleeper, but for me this bag is probably good to 45 degrees with my clothes on.
Design: mummy
Fill: thermolite extreme
Temperature Rating: 30
Weight: 2 pounds 6 ounces (long model)

I bought this bag from Bass Pro for backpacking. From a size and weight standpoint, it's great. I recently camped out where the temperature dropped to 40 degrees. I was ok with long johns and a stocking cap, but my feet were cold enough to warrant putting on a pair of socks. I imagine that at 35 degrees I would have been a bit chilly.
The bag features a half-length zipper that opens easily. If you unzip the bag at night to grab a pair of socks when your feet are cold, for example, the zipper will easily unzip and come apart. It can be a little challenging trying to reclose it while then holding a cold flashlight in your teeth so you can see the zipper.
That said, I enjoy this bag and I feel that I got my money's worth for 70 dollars. I did invest in a winter bag, though, since this obviously will be challenged at 30 degrees. All in all, it's a great three-season bag.
Design: Mummy
Temperature Rating: 30 degrees
Price Paid: $70

This is a fair sleeping bag at a fair price. I bought the bag for the size and weight. It is not a cold weather camping bag. Glorified backyard sleeping bag.
Cons
Thin materials
Freezing in cold weather
This is a fair sleeping bag at a fair price. I bought the bag for the size and weight. It is not a cold weather camping bag. After about 35 years of camping, I froze in this bag on more than one occasion. I have tried it every way I can think of, hat, dry clothes like thermals. I have also tried it the other way the next night with the same basic results.
Luckily I had a real sleeping bag with me. I pulled out the old REI and put this bag inside this one. I didn't want to get completely out of the bag in the middle of the night.  I have owned the REI for about 25 years and it has never let me down.
I would like to say if you can shine a weak flashlight, or better yet just hold it up to the light you can see the light coming through.
I have used this bag in tents and on cots with and without mattresses.
Go to a real camping store and look at the difference in the loft of the material and you can see a huge difference.
I think this is more of an early fall or late spring camping trip bag.
Source: bought it new
Price Paid: under $70

Good: Small and light. Compression sack included which packs it to the size of a cantelope. Footbox can be opened with mesh cover for summer weather which makes it a great summer bag.
Bad: Temp rating is unrealistic. Should be rated at +45F (-1 star). Fully clothed and hooded I was chilly with this bag in 43F weather. Used with a thermarest z-pad(r3) and inflatable mattress(r5). Not enough loft in bag to use without a pad. Zipper does not extend fully, snags and comes undone (-1 star).
I would highly recommend this bag for mild weather trips and those seeking sub 25lb packs. This is a good alternative for those not willing to shell out big bucks for down fill.
Design: mummy reg size
Fill: synthetic
Temperature Rating: 45F
Weight: 2-2.5lbs
Price Paid: $80

Okay so I have been camping/backpacking all over the state of New Mexico, through Montana, back East, and in Canada. Never has my Kelty let me down (Clear Creek rated for +20). I recently convinced my girlfriend to try camping so I gave her my Kelty and went out and picked up the Super Guide. Amazed by its size and knowing that I am one of those strange people that don't really get cold I picked it up amazed by the price.
I took it out this weekend and was thoroughly unimpressed. My girl was able to sleep were I shivered all night with longjohns, flannel bottoms, and jeans on my bottom and on my top I had a T-shirt, long john top, adn a hoddie plus a knit cap on my head. It was only 32 degrees and I was miserable. The only way I was able to sleep the second night is I got a lowtech old canvas and flanned bag to lay on.
Slumberjack Super Guide is uncomfortable to sleep in (lack of padding) and I could feel myself venting heat. An inferior product that I will never never use again. The Slumberjack is a product that I would not recommend and I feel ripped off that I paid for it. I would not give that sleeping bag away.
Design: mummy
Fill: ?
Temperature Rating: 30+
Weight: 2 pounds 6 ounces
Price Paid: $59

Best backpack bag I have used for the price in twenty years, period (I got a great deal). Have used it summer peakbagging in the Sangre de Christos (10-12 days out), autumn canoe trips on the Buffalo River, and winter camping on Greylock and Monadnock (cold in Massachusetts!)
The weight is just right, about 2lbs 7oz, and packs down to barely nothing. The trail rating of 30° seems high, I have never been chilled in this bag, even in snowy basecamp, but personal preference means a lot (that and a MH Mountain Jet tent....) I tend to be hot-natured, and though my wife and I could zip ours together (regular and left-long models, I am 6' 215lbs) we seldom do -- it's too hot!
Overall, this is probably the best backpacking bag I have owned; I also have a Kelty Mistral 0°, but I swear the Slumberjack is just as warm, and at 6lbs 8oz the Kelty is a monster compared to the Super Guide. I bought the Mistral as a cold weather bag when we moved to New England, but have hardly used it, the Super Guide does it all. That, plus it's got groovy stripes. The Diamond shell shows little signs of wear after several seasons of use, and the zippers have never failed me.
The bag loses one star (nearly perfect) since most of the better bags have more inner pockets for things you may need without reaching out of the bag to get them (flashlight, etc), and I also think that the ventilated foot box could do with a better way to insulate the zipper. It's not that the cold gets in; it's just that having a zipper at your feet just feels, well, strange in a mummy bag. Maybe it's me. But it's a great bag. Best I've owned.
Design: mummy
Fill: DuPont Thermolite Extreme
Temperature Rating: 30°F (feels lower)
Weight: 2 lbs. 5 oz.
Price Paid: $59.99 at Campmor!

I love the bag. Suits me for most all of my needs in the field and on the road. I have had my bag for 5 years, and it has held-up very well except the main zipper. The zipper has come apart and I have been unable to figure it out, HELP! ivanho@charter.net
It's amazing to see reviewers not properly use a sleeping bag. Do not expect to be warm inside a bag with clothes on. Get in with as little clothes on as you can, wear a hat. Your body will heat up the bag. Use a sleeping pad.
As far as the bag itself. It's designed for backpacking, period. Anyone who is a backpacker knows there is a trade-off of weight versus performance for certain equipment. It will borderline at 30F, it will keep you asleep, but you won't be super warm. For the price vs weight and space... this bag is almost impossible to beat.
Design: Mummy
Fill: Extreme
Temperature Rating: 30F
Price Paid: $65

Your Review
You May Like
Specs
Price
Historic Range: $39.95-$79.95
Reviewers Paid: $50.00-$80.00

Recently on Trailspace