Snow Peak Penta Air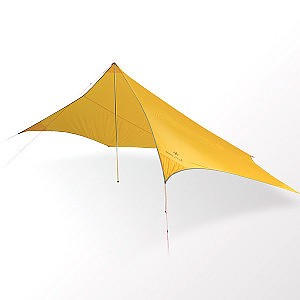 The Snow Peak Penta Air tarp is a lightweight shelter that is well constructed and can be employed in a variety of ways. Utilizing catenary cut edges and a five sided design, the Penta Air can be used as a primary shelter, to escape an afternoon shower, or for protected cooking and dining. This shelter is best used for ultralight backpacking in conditions where complete protection from the elements is not paramount, or as an auxiliary shelter for cooking and relaxing.
Pros
Light
Sturdy
Multiple uses
Simple
Trekking pole support
Cons
Large pitch footprint
Incomplete weather protection
Limited functional space
Bug protection needed
Ground protection needed
Trekking pole support (if you don't use them)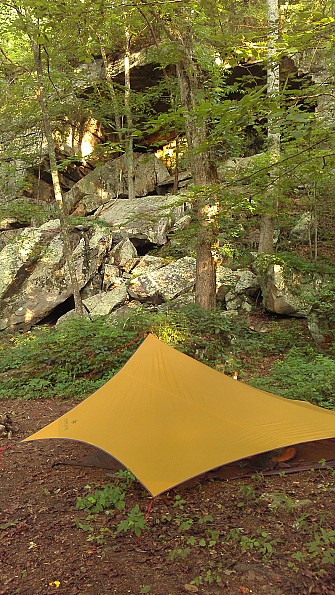 [Penta Air below Cumberland Plateau cliffs]
Scope of Testing:
Used on four different outings, slept in seven nights. Used in a variety of conditions including very heavy rain and wind at over 4,000ft in the Smokies. The other outings were along the Cumberland Escarpment of the Tennessee Valley near Chattanooga, TN.
User Info and Experience:
Male; 5' 8", 190lbs; Frequent hiking and backpacking throughout the Cumberland Plateau and mountains of eastern Tennessee and western North Carolina, with experience hiking in the northeastern U.S., and western U.S. Rockies.
Initial Impressions
I have recently begun experimenting with simplifying and reducing the weight of my shelter system, especially for 3-season use, so testing this tarp shelter made perfect sense. My initial inspection of the tarp, guy lines, and tent pegs revealed what has proved to be a quality product. I tested the tarp only, and not the optional inner tent product.
Video Review:

Included Items: Penta Air catenary tarp with stuff sack, guy lines,  6 "L" shaped aluminum tent stakes.
Features: The tarp has aggressively cut catenary sides to allow for a very tight pitch intended to shed water and snow. Very light but small guy lines are provided for pitching with a few variations. The lines are equipped with sliding aluminum line-locks. Six tempered aluminum stakes are provided for each of the tie out points.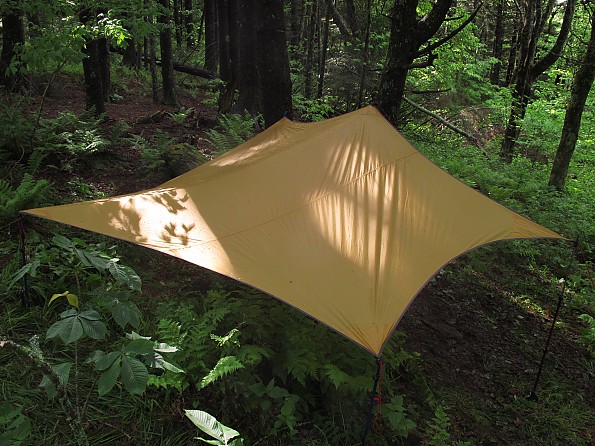 [View from above, showing the deep catenary design]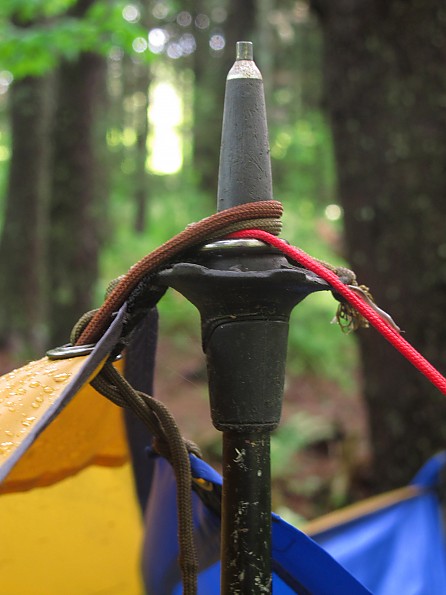 The center front and rear center tie-off points are equipped with a metal ring to accommodate the end of a hiking pole as support, as well as grommets in the fabric.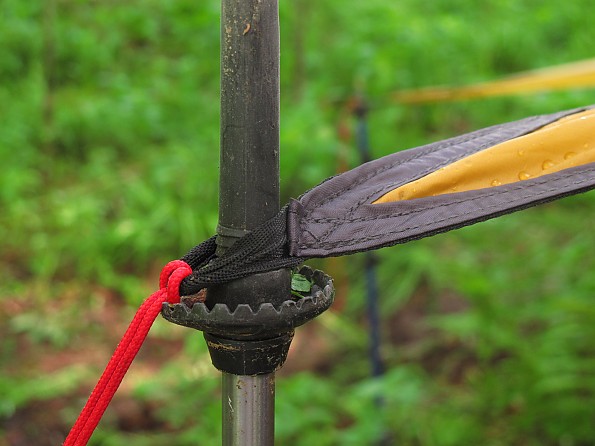 The other four corners have reinforced sewn fabric loops to which the guy lines are attached.
The big selling point of this shelter is low weight, at an advertised 15.2oz, it is very light.
Tech Specs
The manufacturer info on the package I recieved states the fabric is 15D Silnylon with PU coating that provides 1500mm of water resistance. The weight listed as: 15.16 oz / 430 g
*NOTE: several websites list the fabric as 20D Silicon polyester mini rip stop, with PU coating, and water resistance of 1500mm. Also, listed weight on some sites is 3lbs. The lack of consistent published info is bizarre. 
Setup
Pitching is relatively easy, but it does require some adjustment and tweaking before things are exactly right, with all surfaces good and taut.
It can be set up with a single trekking pole on the front center ring. I found that while this worked, it wasn't very practical. With that configuration the space between the ground and the tarp, especially the lower half, was low enough to touch your sleeping bag and gear. Increasing the height by lashing two trekking poles together allows you to gain some more vertical space, as does elevating the center rear corner.
It must be noted that you can't raise the rear point too high—maybe a foot and a half—before the relative slope from front to back is eliminated and causes slack areas of the tarp surface and poor shedding of precipitation.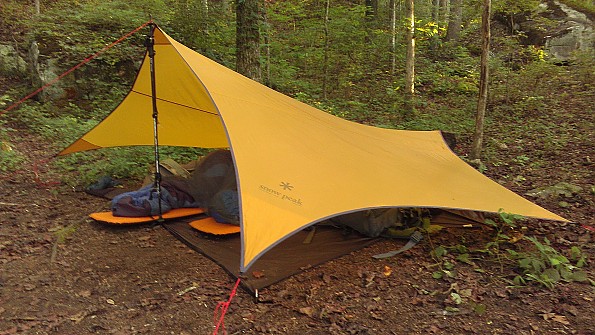 [Penta Air set up above Middle Creek, Signal Mountain, TN]
The guy lines are configuration with lengths to pitch the tarp easily at the standard height, which leaves between 6" and a foot between the ground the lower edges. Within that range, the line locks work well and provide the needed adjustment to get things tight.  To pitch it very low, shortening them is necessary. Conversely, lengthening them with some extra cordage is required to set it up higher.
The Penta Air also requires a lot of space to set up, as there is between 16 and 20 feet between each opposing stake point of the tarp. With 6 stake points, that is a huge amount of real estate for a 2 person shelter.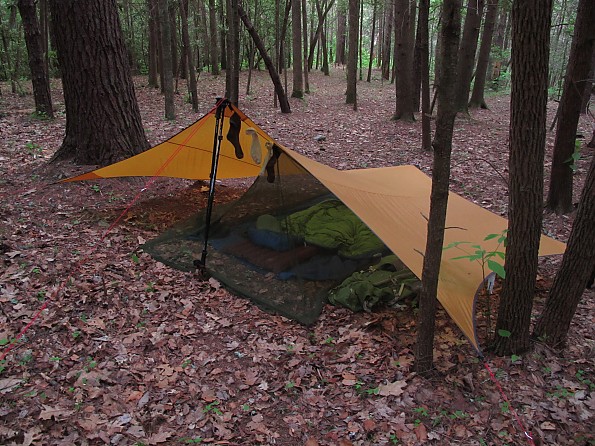 [Space at premium: threading between trees to have enough room]
Stability:
The catenary construction makes getting a spring-tight pitch easy, and the six-point tie out design does a good job keeping things in place in most conditions. It is important to keep in mind this elegant tarp shelter is essentially a giant kite, which will willingly take flight if not facing the wind correctly. The front side is large, acting as a veritable wind scoop, and must face downwind.
Weather Resistance and Ventilation
This shelter saw me through some very lively storms while backpacking in the smokies, and the fabric performed well. It did not let any moisture through as far as I could tell. That said, there is no way to pitch this shelter without having a large gaping opening at one end. It makes the most sense to lie with one's head at the high open end, but this allows a notable degree of spray onto your upper body. When set up with four edges as low as possible, and your bag far enough back to keep out of wind blown spray, the tarp and your bag will be getting to know each other quite well.
Under most circumstances, the  use of a ground cloth is of course necessary, which increases the practical trail weight of your shelter.
It is nearly an open tarp, so air circulates freely. While this is absolutely wonderful in fair weather, it is also your foe when things are foul out. On one trip several young group members were getting hypothermic after hiking in pouring rain and wind for hours. So, we stopped and set up the Penta Air on the lee side of the pass, pitched high enough to sit under using three sets of trekking poles.  Even with it pitched optimally, there was so much air movement underneath the edges that I set up a second tarp along the front of the shelter keep us protected.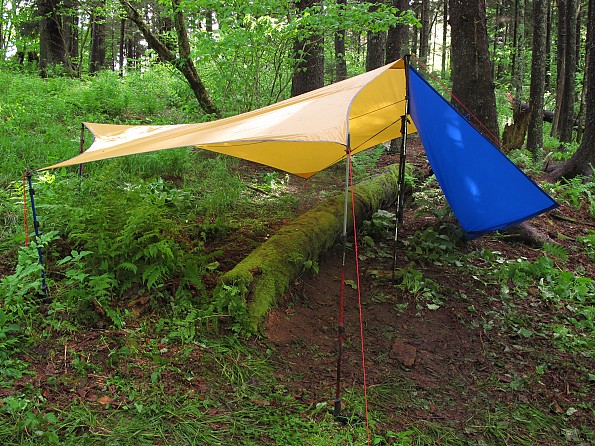 [Penta Air pitched with a second tarp for added protection]
In heavy rain and wind, you're going to get some degree of wet or damp under this tarp. It is welcome shelter, but it doesn't provide complete protection.
Room and Storage
The amount of usable space depends on how high and steeply it is pitched, and how severe the conditions are. In nasty weather, there's enough room for one person and their gear to keep relatively dry. In fair weather, mild rain, or light snow, two people would have adequate space, and three could huddle in an emergency.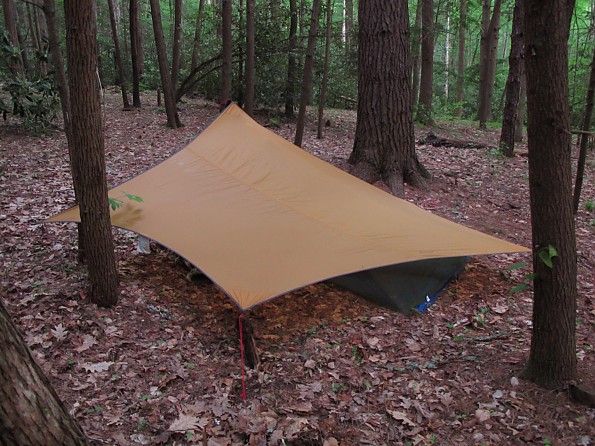 [Elevated pitch, limited usable space]
To get a better visual idea of the practical space, here is a video from a recent trip that shows my pad and bag laid out underneath, as well as my brother still slumbering blissfully. Pertinent shots are at 0:36 and 1:45, but hey, the whole video is cool! 
Practical Function and Packability
As mentioned, there are limits to how comfortably this shelter can be used, and considerations to be taken with various conditions. For backpacking in the Appalachian region, a ground cloth that protects from water and netting to deal with biters are a must, at least for me. For a ground sheet I used a cheap silnylon tarp. The simple aftermarket netting was purchased online, and hung with para cord run overhead down the inside of the tarp ridge. Both of those items add weight and bulk to the overall package.
On its own, the tarp is small and light. I weighed the system with items for each possible configuration, and found that just the tarp was a bit heavier than the listed specs:
Just the Tarp w/ Guy Lines and stuff sack............................................................17.45 oz
Tarp w/Lines, and Stakes, w/Stuff Sacks for both................................................20.40 oz
Tarp w/Lines, Stakes, Stuff Sacks, Bug Net w/cord, and Ground Sheet................40.75 oz 

The final consideration is if you normally use trekking poles. If you do not, you will either have to suddenly adopt their use or carry some form of pole to set things up. Or, if your camping sites are always wooded, some extra cordage could be used to attach the high tarp end from a tree.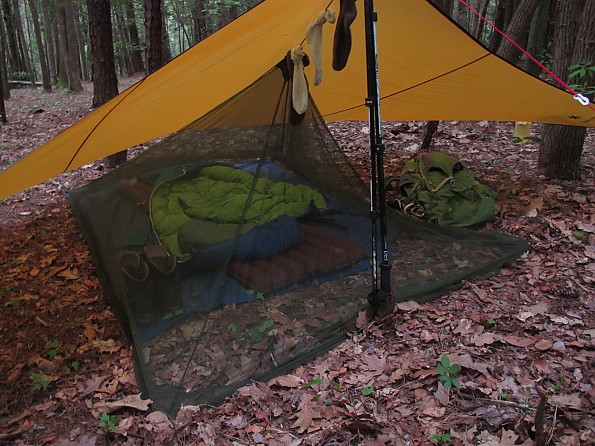 [elevated pitch with bug net and ground sheet in place]
Construction and Durability
I have had no failures in materials, and have discovered no flaws in construction. So far it has held up very well in the heavy rains and high winds we experienced.
Conclusions:
I like this tarp as a secondary shelter when backpacking in a group, especially as a "meal tent," but was not happy with it as a primary shelter.  
In my region, a bug net and ground protection are vital, and while still weighing less than most tents with those additions, and taking up less room as well, I don't feel it is worth the inherent drawbacks. It simply doesn't provide complete protection in severe weather, and takes notable amount of work to make it functional with added "parts.".
I also experimented with an 8' x 10' rectangular shelter that features slight catenary edges. I found it much more versatile, able to provide more complete protection, and requires less room to pitch. There are also pyramid style systems that are almost identical in weight but yet provide much more complete protection on a smaller footprint, while sporting integrated ground and bug protection. 
Source: received for testing via the Trailspace Review Corps (Sample provided by Snow Peak for testing and review)

Your Review
Where to Buy
Help support this site by making your next gear purchase through one of the links above. Click a link, buy what you need, and the seller will contribute a portion of the purchase price to support Trailspace's independent gear reviews.
You May Like
Specs
| | |
| --- | --- |
| Price | Historic Range: $187.46-$249.95 |
Recently on Trailspace