SOG Tigershark Elite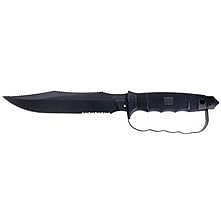 Hello,
I came across my SOG Tigershark Elite fixed blade knife in a unique way. A week before, I had bought a BS cheapest, dumbest knife ever Master Cutlery Rambo 2 knife. I swear that knife is made with tin cans. I could bend its blade with my bare hands and even no gloves. Also, the knife came damaged and the serrations on the top of the blade were all very unevenly cut.  And here, this knife is supposed to be a Certified Authentic and direct usable replica of the original knife made by late great Jimmy Lile. 
Anyway, I immediately contacted the Ebay seller I bought it from and set it up to be returned for a full refund. I still wanted a good solid knife, so he helped guide me to more practical and valuable knives on his site. He suggested the Recon Sxcout by Cold Steel, but I wasn't interested in paying More money, so I passed it up, and glad I did, because I have heard bad reviews on it. 
But then I came across the SOG SEAL Teams S37-K knife that he had, which was about the same price as the cheapo made Rambo 2 knife. I looked up the SEAL SOG, and it had outstanding reviews, aside from it being the actual SEAL Teams issued knife, which has went through countless testing by the US Navy SEAL Teams. 
When it arrived, I was smitten with its sharpness and design. I also loved the way it felt in my hands and its maneuvering capabilities. I was still wanting a knife of high quality that had the same length blade as the First Blood/Rambo knives, so I started looking.
I then came across the SOG Tigershark knife, which right under it was the brand new Tigershark Elite version.  It sports a 9 inch blade with serrations for wood notching, etc.. all up and down the top of the blade.  It sported a handguard with an end cap that holds it in place at the top of the handle and has a very sharp metal point, and it is actually called a skull-crusher tool.  After seeing it in person, I strongly believe that if used rough against an opponent and in self-defense, it would do just that. 
Anyway, the price of this awesome knife was steep, but after getting the knife it was well worth it.  The Tigershark Elite knife is actually the biggest and the baddest knife in the SEAL Teams SOG family. It had almost the same exact design as the SEAL Teams Elite S37K knife, except it is much much bigger and much more intimidating.  And SOG knives carry a Lifetime warranty.
My SOG Seal Teams S37-K knife and my Tigershark Elite knife are the absolute best there is. I have talked to professional knife makers and bladesmiths who actually have complimented me on my choice of the SOG knives over the Cold Steel knives.
I have been told, and I believe, that there are just a couple of companies that use Aus-8 steel for their knife blades and that actually know exactly how to properly heat treat and temper them to where they are the best quality. The knife makers told me that of the very few that do, SOG is the top of the top of the line company that knows how to do this with Aus-8 steel. SOG's Aus-8 steel is a superb and even beyond match in some cases, to knives that have SK-5 blades. I found out that with the perfected way SOG treats and tempers their Aus-8 steel, their knives made with it is just as good in ruggedness and performance as ones made with SK-5 and D2 steel, and even outperform some SK-5 and D2 steel knives.
No matter what, however, I am very glad that I chose the SOG Tigershark Elite knife. It was well worth the $155 price tag that was on it and that I got it for (Got some extras with it too)!  At the time I bought my Tigershark Elite knife, which was about 2 weeks ago, every place around and online was selling it for $200 and up. I saw where one sporting goods online company had their Tigershark Elite knives priced at $339.  And so, even though it seems like places have marked them down now and are now selling them for anywhere from $125 to $200, at the time I bought mine, and with the free Shipping, I believe that I got a great deal, and still do! 
If you are trying to choose between the Cold Steel Recon Sxout knife and the SOG Tigershark Elite knife, or it and any other knife, the decision is simple! Get the Tigershark Elite or the basic Tigershark knife by SOG! You will not go wrong!! 
Update: June 25, 2011
Hello,
Well, it has been just over a month since I bought and owned my awesome SOG Tigershark Elite fixed blade knife, which is the biggest and the baddest knife in the SOG SEAL Teams family. Anyway, after owning it for some time now, it is still truly one awesome, massive knife. 
I managed to finally get rid of the factory edge (which was very sharp by the way), and then alter the edge pattern and put my own very sharp edge on it.  These awesome knives are so great with having a wear-resistant edge that it takes some time with putting your own custom sharp edge on it, but once you have worked through it and then have the blade edge pattern going the way that you are wanting and needing it to go, then getting the blade's edge razor sharp again is very easy. 
Anyway, as I was saying, this knife is well worth the price it costs, and if you take really good care of it, this knife will last a lifetime, and then some, and unless you just want to buy another knife, this knife is the Only knife you will ever need! 
I highly recommend this knife to anyone and everyone, but unless you are accompanied by an adult when buying it and with any and every time you use it, then I do not suggest it for you.  This knife is definitely not a toy, and it is not to joke around with or to play with.  Doing so could cause some very serious injuries and even death.  Even adults should use this knife with extreme caution.
The SOG Tigershark Elite knife is such a massive combat/ survival/ all-around useful knife that it can either be your best friend or your worst enemy!! But if you can handle this knife with extreme caution and professionalism and adulthooid, then I highly recommend it! Thanks for reading!
Price Paid: $155

Your Review
Where to Buy
Help support this site by making your next gear purchase through one of the links above. Click a link, buy what you need, and the seller will contribute a portion of the purchase price to support Trailspace's independent gear reviews.
You May Like
Specs
Price
MSRP: $248.50
Historic Range: $129.95-$143.99
Reviewers Paid: $155.00

Weight
16.3 oz

Blade Length
9 in x .24 in

Overall Length
15.25 in

Edge
Partially Serrated