SOL Escape Pro Bivvy

The Escape Pro Bivvy blurs the line between an emergency survival shelter and an ultralight sleeping bag cover. While it is comfortable and functional in ways a mylar space blanket could never be, the Escape Pro can't quite compare with full-fledged waterproof-breathable fabric bivvy sacks. In carving its own niche, it may have hung itself out to dry.
Pros
More comfortable than other emergency shelter options
Small packed size
Lightweight for a bivvy
Provides a bit more warmth than a space blanket
A zipper!
Stretchy
Cons
Not sure what it wants to be
Expensive for what it does
Stretchy
Best For: Aspiring fastest-known-time record setters. Fastpackers and backpackers needing a just-in-case shelter. WFRs and WEMTs looking for an all-bases-covered hypothermia-treatment option. Prepper types in search of something to answer the "But what if I have to spend a night out?!" question. Big-wall climbers with a bit of room left over on their gear loops and a wily glint in their eye.
Design
SOL's Escape Pro Bivvy is the only survival shelter bivvy I'm aware of made of Sympatex's Reflexion fabric. This is a novel use for the material, though it is perfectly sensible given Reflexion's properties: It is waterproof, "breathable" (more on this later…), supple in hand, rather durable, and integrates a heat-reflecting aluminum layer a-la Mylar. SOL predicts the average user will be comfortable with just this bivvy down to 50 degrees Fahrenheit.

In keeping with all of SOL's survival shelter options, the outer surface of the Escape Pro is emblazoned with safety orange to assist with visibility in rescue situations. The inner surface is a shiny silver metallic color. The seams are fully taped in a contrasting grey. Orange silnylon is used for the drawstring channel and the zipper flap.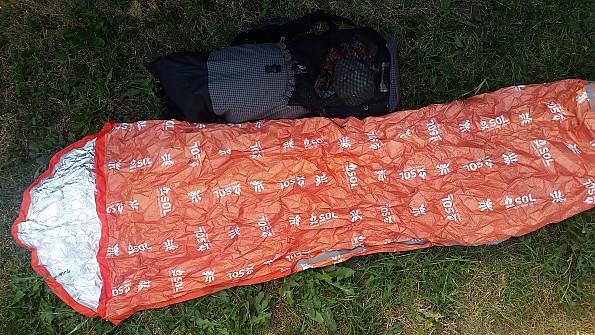 The shape of the bivvy will allow anyone under 6'2" and, maybe, 250 lbs to escape the elements. It measures 84" x 31", though a fabric oval sewn into the bottom of the foot-box gives the illusion of taper. A 24"-long horizontal zipper on the side extends about 1/3rd of the way down the bivvy to allow easier entry and exit. The face area is open, though the hood features a drawstring with cord-lock to seal things up.
The spartan feature set keeps the weight down to a very respectable 8 ounces, and the Escape Pro packs down into a stuff sack the size of a grapefruit. The stuff sack itself is also made of the Reflexion fabric, a smart move to provide the packed bivvy an added degree of protection against potential precipitation. (Alliteration FTW!)
Performance
The first thing I noticed when using the Escape Pro was how quiet the material is in comparison to both the standard mylar space blanket and the original Escape bivvy that I purchased a number of years back. It is also a more supple material, with a better drape that helps reduce drafts. Compared to a mylar space blanket it is noticeably warmer, and it seems just as warm as my Escape (with a substantially reduced pack size). The seam tape job is more functional than pretty; the tape itself has held up very well, with no delamination or shifting of the adhesive.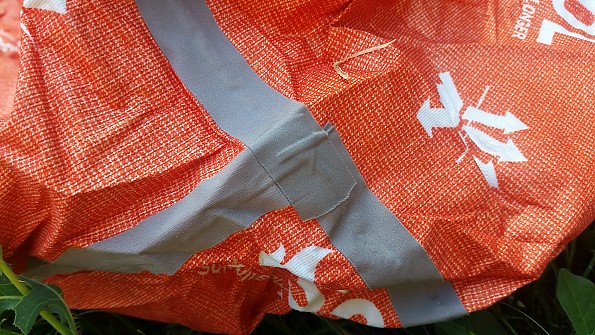 I can attest that Reflexion is also more durable than both mylar and the spun-polypropylene used in the Escape. By durable I mean it is a real fabric—a woven 2.5-layer fabric—which is quite resistant to abrasion, puncture, and tear. I could see the Escape Pro lasting an entire thru-hike with a bit of care and service.
The Reflexion fabric also has a touch of mechanical stretch to it. I've made it a point to thrash around in this thing, and whenever it seemed to me like a seam might pop, more room was magically made.

The zipper is a godsend. SOL chose a coil-type to keep weight down, yet the zipper itself is of a robust size, so the functionality provided is well worth it. While it obviously helps with ingress and egress, the zipper also extends the range of comfort by allowing one to vent heat as conditions dictate. Though not a two-way zip, on warmer mid-summer nights such a zipper is my friend.
The fabric oval SOL opted to place in the bottom of the footbox is also very welcome, as it allows a more ergonomic shape which accommodates my size 12 feet quite well. I appreciate the lack of pressure on my toes while laying on my back, and the decreased dead space around my feet as compared to an envelope-style footbox.
The hood is generous in volume; a good thing, methinks. All the better to surround the loft of a corresponding sleeping bag hood or climbing helmet. The hood's drawstring does its job without issue, the inner face of the Reflexion fabric never feeling uncomfortable against the face.
In evaluating the waterproof-breathable qualities of the bivvy I can say I found the former true. After one particular (very) humid night I found myself questioning the latter. A lot of online research helped me discover that while the term "breathable" is used in conjunction with the press for this bivvy, it is perhaps not appropriate to think of it as breathable in the same way one might with GoreTex, eVent, or other more well-known WPB membranes.
See, while conventional membranes allow the transfer of moisture in both liquid and vapor form—as well as a marginal amount of air—I discovered that Reflexion only permits the dispersion of condensed moisture. That is, any moisture one brings into the bivvy, be it in one's clothing or perspiration or respiration, first needs to condense on the inner surface of the bivvy. From there the fibers of the fabric soak it up and transport it to the outer surface, where its evaporation is regulated by a number of factors.
Point is, while this mechanism does allow moisture to escape it is a far cry from what the general public has come to call "breathable". That said, it is still leagues better than watching pools of water form inside one's mylar burrito roll.
Cleanup & Maintenance
Though I've read anecdotal reports of SOL's bivvys being able to withstand machine washing on the gentle cycle, such an idea just generally seems bad to me. I mean if, in the light of the morning, you find you've bedded down on a giant cow pie then yeah, a washing machine is probably warranted; otherwise, I'd just spot-clean it with a pinch of pure soap flakes dissolved in warm water and an old toothbrush.
The zipper on the Escape Pro is very similar to that found on the more-or-less disposable spun-polypro rain gear made under various names, and there is no snap reinforcement at the top of the track to take up stress. So treat it nicely, and tell it what a good job it's doing every once in a while.
That mechanical stretch I mentioned? Employing it will be inviting tears. One can witness a puckering/thinning of the membrane by pinching a bit of the stuff sack between the fingers and pulling. So, you know, don't stress the seams, and maybe do a bit of site prep before you lay it down, for all those stress points may soon be leak points.

Soapbox
SOL likes to think of the Escape Pro Bivvy as a versatile solution to a number of universal outdoor needs. They say it can be a sleeping bag liner, a shell over your sleeping bag, and a stand alone shelter by itself down to 50 degrees Fahrenheit.
Thing is, it can't be all those things for everyone. For me, a 6'2" tall, 170-lb male, it is a tight fit with a 40-degree sleeping bag inside; loft is impaired in the chest/shoulder area. Used inside a sleeping bag it will undoubtedly increase warmth, though there will be a vapor-barrier effect on account of the aforementioned lack of breathablity.
I'd also be wary using it as stand-alone insulation on a 50-degree night, for entire night. In other words, if I were using the Escape Pro to shelter and insulate me for a nap of a few hours during some masochistic 50-mile-a-day jaunt, I'd think it suitable. Once the exhaustion wears off though, I know I'm going to want more insulation, and I think most users will too.

All this brings up my major issue with the Escape Pro Bivvy in that it doesn't really solidly succeed at any one thing, let alone multiple things; it's not strictly an emergency bivvy, it's not a sleeping bag liner, and it's certainly won't replace a summer-weight sleeping bag. And the notion that the mechanical stretch inherent to the fabric as sewn might also prematurely induce membrane failure, gives me pause.

Now don't get me wrong, I know that these crossover products can be well-executed (see my Vargo BOT review from a few years back…) if they get the admittedly touchy formula correct. I'm just not sure SOL has, especially at this price-point. And for $125 it really needs to, considering a space blanket goes for a couple bucks and a top-shelf full-featured fabric bivvy with proper breathability can be had for under around $150.
Conclusion
I like the Escape Pro—it's the first of SOL's bivvys that I haven't thought of as disposable—but I don't love it. There are certain trips I take where this bivvy is perfect and is exactly what I want to have with me, yet those trips are few and far between. If one can find the Escape Pro on sale, it then becomes a real contender to fill a number of roles considering its combination of light weight, small packed size, waterproofness, and warmth. Otherwise, this level of comfort and function in an emergency bivvy comes at a price, and SOL might be ahead of the curve on this one.
Testing Conditions: Hiawatha National Forest, Pictured Rocks National Lakeshore Trail, and Escanaba State Forest in Michigan's incomparable Upper Peninsula.
About the Author: Vince Contreras has been working as a professional Forester and Ranger for various federal land management agencies since graduating with a Bachelor's Degree in Forestry from Southern Illinois University in 2010. He currently resides in Michigan's Upper Peninsula, an occasional Forester for the US Forest Service. He enjoys rock climbing, backpacking, and debating nineteenth-century German Idealist philosophy. Other hobbies include leather-working, bushcraft, and really, just creating original things.
Vince always welcomes questions and suggestions from his readers. Visit his Trailspace page at: www.trailspace.com./people/pillowthread or email him at pillowthread@yahoo.com
Source: received for testing via the Trailspace Review Corps (Sample provided by SOL for testing and review)

Your Review
Where to Buy
Help support this site by making your next gear purchase through one of the links above. Click a link, buy what you need, and the seller will contribute a portion of the purchase price to support Trailspace's independent gear reviews.
You May Like
Specs
| | |
| --- | --- |
| Price | Historic Range: $114.95-$125.00 |
Recently on Trailspace