Soul Poles original soul :: trek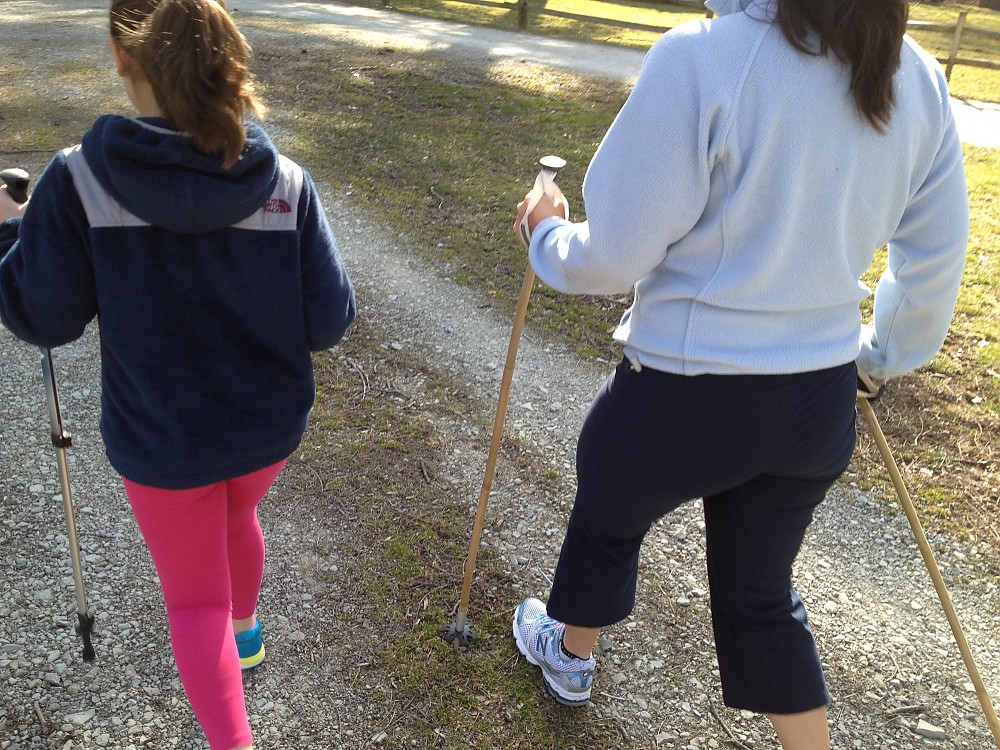 Soul Poles tried to take their existing ski poles, and market them as a trekking pole. The result was a disaster.
Pros
They will take some of the load off your legs
Cons
Quality
Price
Function
Looks
I was excited to receive a custom cut, bamboo trekking pole that is eco-friendly, and made with recycled materials. I love nature, and I loved the fact that I could be walking down the trail with bamboo beneath my palms, connecting me to Mother Earth in all her magnificent glory. The feeling of releasing myself from the trappings of metal sticks that clanged and clopped along, tapping buckles and making disturbing noises that distract from the peace of the glades. 
Yes, bamboo was the answer to re-connect, and still be able to take up to 30% of the load off my legs and transfer them to my arms. I was ready for all these things when I took into my possession not one, but two sets of the original soul poles for myself and my wife. I was wrong to have such high expectations.
The company "Soul Poles" was started in 2009 by some skiers who wanted to create a product that was conscious of its impact on the earth. Based out of Utah, they sell ski and trekking poles you can customize with different colored handles and baskets.  The handles and basket are made of recycled materials.  The tips are aluminum that is machined with carbide tips, also from recycled material. 
You can also have them paint the bamboo by their resident artist, and if you have enough money, they will even paint the mood of your trip on the poles.  Yes, I said "The Mood".  They sell ski poles and trekking poles. 
On their website, the ski pole page, and the trekking pole page are exactly the same except at the top which designates "Ski", or "Trekking" poles.  Same poles, same price, same specs, same options.... exactly.  I started to worry after realizing this. I was getting ski poles disguised as trekking poles.
The Poles
I was surprised the poles arrived with all of the pieces because of the poor packaging job they did. I shook the package a few times, and the baskets fell out of the box without any opening on my part at all. I snapped the baskets onto the tips and realized the first problem: These weren't going to come off if I wanted to switch them out for another color.  They boasted this on their website about being able to customize even the basic Soul Poles. 
I also noticed the handles were glued on because I could see copious amounts of glue coming out onto the pole.  The logo was burned into the bamboo, but it was crooked.  Glue was also coming out of the tips onto the bamboo. Overall, the fit and finish on all four poles were very poor.  
The Handles
To put it bluntly, I've never held a pair a poles in my hand that felt worse.  They are ski pole handles that are meant to be held with winter gloves on. I wear an XL glove, and these handles are still two inches too big for me. Your hand doesn't fall into them, they are left searching for a comfortable spot to rest without getting a blister.  
There is only one handle size, in many colors, and in order to switch them out you have to cut them off. I'm not guessing about having to cut them off. I received this information from someone at their company when I called to find out how to switch them. Cutting them off renders them unable to be reused.  That makes them not as eco-friendly as I'd hoped.
The straps are far too wide, and made of material that collected all of my smelly sweat. The way they are attached to the handle with the cinch down straps make it difficult to tighten unless they are on the correct hand. This keeps them from being ambidextrous which is another fail in my opinion. 
The Bamboo
When I first researched the bamboo part of the pole I was left with the impression that they grew the bamboo locally in order to lesson the carbon footprint of shipping in material. Then I found a picture of a member of the Soul Pole team in China inspecting bamboo for shipment to the states. I have no problem with this part of business.  I understand people work to make money and you have to budget costs, but I was disappointed with the fact that a company that is devoted to the environment as they based their business model after, was flying and shipping their bamboo from so far away. "Carbon Footprint" came into my mind when I discovered this.
The bamboo is nice. I felt it was thicker than I needed to be effective, and they look bulky. The diameter of the bamboo was consistent in all four poles, and they did not feel mismatched, one being thicker than the other.  They were just too bulky.
The Tip
Made of aluminum with a carbide tip, they appear to be machined and the marks are clearly visible. The finish is fair, but could have been refined. The baskets friction fit over a lip in the tip, and can only be taken off by cutting them if you want to change the color.  Again, this information is from the manufacturer, and they recommend not heating them up to stretch them back over the lip because it will heat up the glue, and the tip will come off. 
The ends are flat, and there is no option for either a rubber tip or a spike that can be inserted.  I had a hard time on the hard soil I often walk. My poles could find no purchase in the dense ground. I was expecting this because they are just ski poles after all...
Comparisons
The original Soul Poles are one-section, non-collapsable poles.  When compared to collapsable poles, it's difficult to find the room to store them, carry them along the trail when not in use, and to find room in smaller vehicles to keep them. I've grown spoiled in being able to collapse my trekking poles into such a small package. 
If not being able to shrink their size down doesn't matter to you, then I have to admit: I feel they're are other fixed pole options out there that are much more suitable for the trail. Gossamer Gear, and Panda Poles if you like the idea of bamboo, are two options you might look into. They are also more affordable.
The Bottom Line
When my wife was using the poles on one of our local trails, other hikers came by and laughed. "Are you going skiing?"  
These poles are uncomfortable. too bulky, and made for the powder; not the trail. Soul Poles made a ski pole, and tried to sell it as a trekking pole. With all of the technology that goes into a dedicated trekking pole, a standard ski pole just can't compete, and it shouldn't try to.   
Source: received for testing via the Trailspace Review Corps (Sample provided by Soul Poles for testing and review)

Your Review
You May Like
Specs
| | |
| --- | --- |
| Price | Current Retail: $125.00 |
Recently on Trailspace