SPOT Satellite GPS Messenger

The SPOT Satellite GPS Messenger has been discontinued. It was replaced by the SPOT Gen4.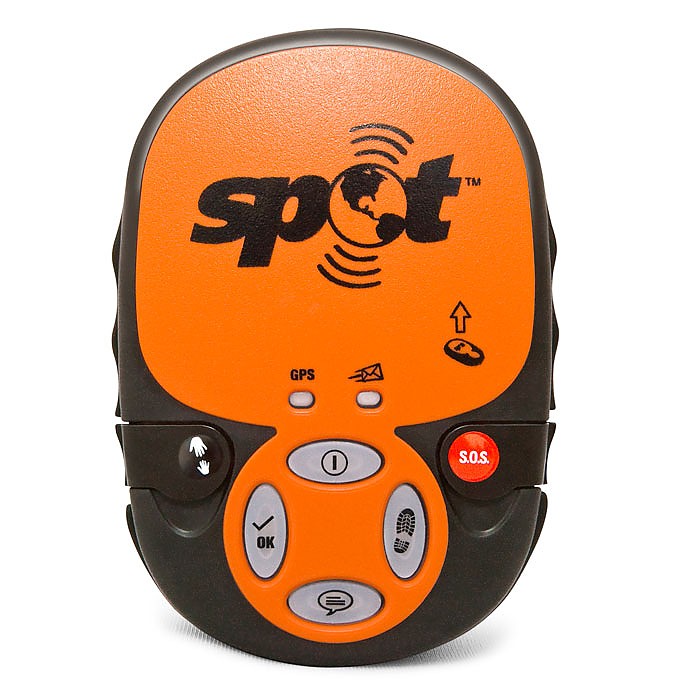 The Spot 2 is a small, rugged, highly portable, GPS locating device which allows the user to transmit pre-typed messages to friends and family using the Globalstar satellite network. It also transmits "Help" and "SOS" messages for non-emergency or emergency situations. It does not have the ability to receive messages.
Pros
Compact
Lightweight
Rugged
Easy to Use
Multiple ways to carry it
Cons
Small buttons
LED light difficult to see in bright sunlight
No coverage in Southern Africa or Extreme Polar Regions
Needs clear view of sky to operate correctly
The Details:
I have recently purchased a Spot Satellite GPS Messenger (for the rest of this review I'll refer to it as "Spot 2" or "unit") through an online website for $99.  I've noticed the price varies from $99 to $169, although the MSRP is $119 on the Spot website.
The Spot 2 is marketed as follows, "The SPOT Satellite GPS Messenger provides a vital line of communication with friends and family when you want it, and emergency assistance when you need it. Using 100% satellite technology, SPOT works virtually anywhere in the world, even where cell phones don't – all with the push of a button." According to the coverage map on the website, in regards to land areas, there is nearly coverage everywhere except the southern portion of Africa and the north and south Polar Regions.
The Spot 2 consists of a palm sized, orange colored plastic case with a rubber bumper around the case's perimeter. It seems pretty rugged.  It's advertised as being waterproof according to IPX7 standards (Puddle, stream, beer cooler and splash rated - Protected against water immersion - Immersion for 30 minutes at a depth of 1 meter).  Spot recommends 3 AAA Lithium batteries for operation (included).  Spot says you can use alkaline batteries if necessary, but, lithiums are preferred.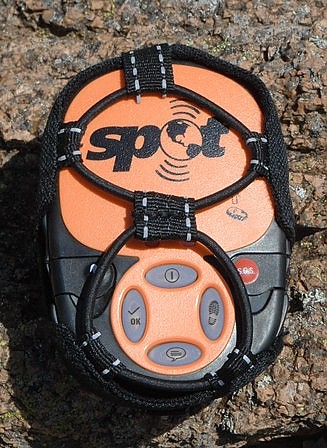 You can't tell from the picture, but, it's about the size and shape of your cpu mouse and weighs 5.4 ounces. A bungee/nylon case is included with it as well as an adjustable, elastic arm band. The SOS and Help buttons are protected from accidental activation by little plastic covers which can be flipped open. Two extra covers are included in case of breakage. 
The four, larger buttons are: (clockwise from top) power, tracking, custom message and check/ok.  The buttons are quite small, so operating the buttons with gloved or large fingers would be difficult.  
The following actions can be performed with the Spot 2: it sends SOS, Help, check/ok, and custom messages.  It also has a tracking feature which costs an additional $49 annual fee and it enables the user to activate it on the Spot 2 using the unit to transmit gps coordinates every 10 minutes.  It would allow friends and family to see the user's progress on an online map.
The Spot website must be used to create the check/ok, custom and help messages.  The unit's owner must create an account with the usual info and then a service plan must be selected.  $99 is the starting price and there is an additional $49 fee for a tracking option.  There is a product replacement plan for $17.95 a year and a $30 deductible.  I didn't select the tracking option because it wasn't an important need for me.  The website is easy to navigate. 
The main thing I like is the ability to create several profiles for specific trips if you wish.  I have a few profiles such as, one for testing the unit (messages go to me only), a default profile (my wife gets the notifications), and a profile I use when going out of state (in addition to my wife, my brother gets notifications).  These are an example but there are many ways to set up the profiles. 
With regards to the website, once the user logs in to his/her account, the user is brought to a page which has 5 tabs, much like a tabbed browser.  They are, "My GPS Locations", My Spot Devices", "Share", "Settings", and "Billing".  I'm not going into much detail here.  The person who purchases the device and service plan will get plenty of opportunities to fuss with that page. 
The "Share" page is interesting.  The user can share a webpage, either public or private, with friends, family or by creating a link to it for a forum, such as Trailspace.  Then, as the user "checks-in" with the Spot 2, it will be visible on a map for all to see.
These are the basic functions of the Spot 2 (the "read more" option is not selectable):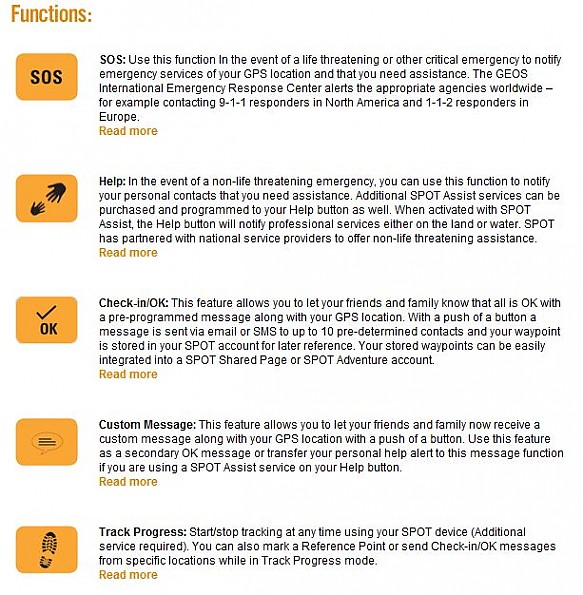 The Spot in Use:
So far, I've tested the unit under the following conditions (I've used a profile in which the messages return to my cell phone so I can actually determine the length of time it takes for the service to transmit the messages): 
I placed unit on the grass in the middle of the backyard. The Spot 2 was on for 5 min and it sent the check/ok message within a few minutes. The sky was clear.  I have trees which surround the perimeter of the backyard but the view of the sky is unobstructed.
I went to a nearby park and sent a check/ok message and left the Spot 2 on the dashboard of my vehicle.  I returned to the vehicle about 20 minutes later and removed the unit from the vehicle.  I then sent a check/ok message while sitting under some trees.  I drove home and put the unit on the dashboard while sending a custom message.  The skies were clear and open.
I tested the Spot 2 once during the night while it was cloudy and raining. Again, I put the unit in the backyard, in the grass, and it sent a check/ok message within minutes. 
The wife and I took a trip to Yakima, Wash., and the Spot 2 went with us.  I set up a profile so the help, check/ok and custom messages went to other family members.  I also created a shared page and emailed the link to them so they could look at where we had checked in.  
Also, when a message is sent, the GPS coordinates are sent and when the designated contact receives the message, a link is also available.  This link, when clicked or selected, brings up a map showing the exact location of the last check in.  Spot says the accuracy is 21 ft.  So far, from the testing I have done, it seems as accurate as my GPS I use during hiking.
I took the Spot 2 with me while mountain biking at a local trail.  The trail winds through mostly wooded areas with some open spots in the canopy.  There are dense areas in which the sky is not visible.  I sent two check/ok messages and one custom message during the ride.  All messages were transmitted and the accuracy was spot on when I looked at the coordinates on the map later in the day. 
I tested the Spot 2 while hiking on a nearby wildlife refuge in Oklahoma.  This area is known for spotty cell phone reception.  It is has some woodlands within its borders.  The refuge is geologically very old. It consists of granite, rhyolite, and gabbro that solidified and was uplifted between 330 to 290 million years ago. Millions of years of weathering and erosion have lowered the mountains to average heights between 400 and 1,000 feet. At several locations the elevation above sea level is greater than 2,000 feet, including a peak measured to be 2,464 feet.  I transmitted a total of eight messages. 
All messages went through.  Three of the messages were transmitted while driving.  The remaining were transmitted on the hike.  Four were transmitted while walking and one was transmitted while I took a break.  I placed the unit on the ground and left it alone until resuming the hike.
During my use of the Spot 2, I have not had any problems with the unit in regards to bad reception.  All messages sent went to the intended recipients.  The unit started every time I pushed the power button. I cannot comment on the battery life as of yet.  I've had the unit less than a month so I will have to post an update to this several months from now.
Battery Life: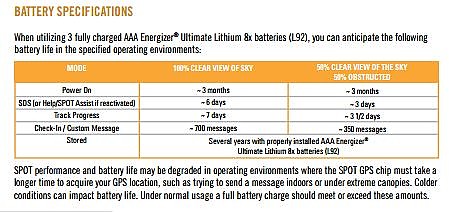 Meets My Needs:
I am happy with its performance and it gives loved ones piece of mind when they can receive a message telling them I am ok.  Having this does not change my perspective however, in regards to taking chances on terrain outside of my ability/comfort zone.  I know my limits and don't intend to exceed them just because I have a device which would afford me rescue.
I gave it a 4 out of 5 because of the difficulty in manipulating the buttons.  They are smallish and in bright sunlight, the blinking LED's are hard to see.   
Update 6-27-2012:
Well, I have not had issues with my messages getting through to the recipients since I have been using the Spot 2. Then again, I have made sure to have an open view of the sky so the unit can find the satellites.  
I can't comment on the subscription service renewal nightmare as others already have. My subscription isn't up until May of 2013. I have been satisfied with the performance and the piece of mind is gives others when I am in remote areas.
Update Oct 2012:
First, I have the same batteries in the Spot since the day I purchased it and haven't had any problems. I have been using the Spot while hiking, mtn biking, trail running, etc.  
Second, I went on a backpack trip in the beginning of October and I had one message fail to transmit. I had hiked up to an elevation of 11,500ft and began to set up my tent. In the mean time, I placed the Spot in an area which had a clear view of the sky about 100 yards from where I was setting up. I must have left it there for about 20 minutes before retrieving it and turning it off for the night.
I think I did not give it enough time to transmit, eventhough the indicator light was green, meaning it had acquired satellites. I had been transmitting messages in the days prior to and after the trip so that's is why I can't say the messenger was faulty. The instructions indicate the Spot should be allowed to transmit for a full 20 minutes before turning it off.  I can't remember if the transmit light was still blinking when I powered it down.  So it may have been user error in this instance.
Also, the Spot, at least from my point of view, has been accurate in reporting my positions. I have verified it on the Spot website when I look up the positions I had transmitted from in the map mode.  
The next update I post will be in regards to the renewal of the subscription sometime in April or May 2013.  stay tuned.
The Spot is transmitting: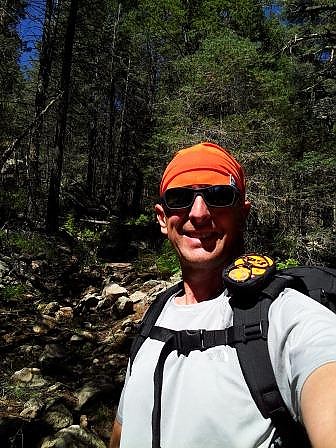 Update 4-3-2013:
I received an email this morning from Spot LLC notifying me of the upcoming automatic renewal which is to take place on 5-3-13. It appears the renewal price is unchanged also.
Last update concerning automatic renewal:
The automatic renewal did not occur because I changed my credit card information which was kept on file when I initially signed up for the Spot service. I had to go to the website and pay for the renewal which went without issue. The price was the same from a year ago.  
I did receive a reminder email about the contract renewal about 1 month before the renewal date. No complaints from me. It was as expected.
Update 2-10-17:
I still have the same one. It's been many places now and transmitted messages and coordinates to loved ones. Transmission of messages are much faster now because Spot has been upgrading the technology. The majority of my check-ins are transmitted in under 2 minutes. I may have had one or two messages that didn't transmit last September while I was in Montana, but that could have been my fault for not finding an open patch of sky.
Source: bought it new
Price Paid: $99

I was gifted a SPOT GPS messenger by the lovely people here at Trailspace about a year ago. Now that my subscription is about up I wanted to write a review of my experiences.
Pros
GPS tracking that is updated to the Internet as you go.

Send messages (to the people that get paranoid)

get help (i did not use or test this but put faith in the function)
Cons
BATTERIES! (expensive and lots of them if you want to track your week long trip)

$100+ a year (It a big deal for me because that's all I get in a year to buy anything for my trips).

Coverage (I had a very times where my track cut out in dense trees and deep valleys)
I give it four stars because overall the SPOT worked great, did its thing and gave me some false sense of security (not much), but it did not really fit me.
My biggest beef is the stupid expensive batteries. I am not a technology backpacker, the only battery powered gear I carry is my Petzl Myo 5, and the batteries last for months (I carry two extra just in case I need to give them to someone else).
The battery specs say 3-7 day depending on the sky coverage and so on if you track your trip; the catch is the better the sky view the better the battery life. Walk the flat prairie and you get 7 days; wander the Bob Marshall and get 2-3 days tops. I spent $24 dollars on 12 exotic AAAs and used every one of them in a 9 day trip (in fact the last few miles were not tracked at all). I learned my lesson to only check in and leave the tracking to someone that needs to prove something.
My wife liked the check ins but the reason I get outdoors it to not have to check in so it cramped my style in that way too. I did not feel safer having the distress call handy mostly because I feared in the end the batteries would die and all I would have is the tracking data to my grave, days later when my wife notices I am camping in the middle of my trip for too long.
I still get a better sense of security when hanging my food :) and sleeping with a 45 under my "pillow". In the future when they figure out how to make the units power longer or for less money I will look at the idea again.
Price Paid: Gift

It's small and rugged and puts out a strong signal to a satellite. If you hike alone or with other people it provides a check in ok-help or SOS.

It's best made for anyone who travels the backcountry, whether you are in a car or on your feet. I highly recommend this product.
Pros
strong signal
peace of mind
small but rugged
Cons
not a GPS but a spot location
I'm in the woods a lot, it may be backpacking for 5 days, an overnighter, or just a day hike. I bought the Spot Messenger for two reasons. One is to let people know where I'm at and if something happens, minor accidents or a SOS signal.
The second reason was to come home and look at where I was at on the trip on a aerial photo on your home computer. The Spot Messenger has fulfilled my reason to buy this small, rugged efficient tool. I now pack it everywhere I go.
You download your message on their website and you have up to ten contacts for your check-in. You can specify and combination of text/SMs messages or email for your contacts. There are fields on there site to fill in for ok messages, help, and SOS.
You can buy additional service that will track your progress as you travel but I didn't get this service because you can track your progress without the added service.
It is small, very rugged and I bought it in July of 2013 and I'm very happy with it.
I paid $99 for it and the service for one year is $99.
Sometimes you can't get any cell phone coverage, but with the Spot Messenger the satellites are in the sky.
Source: bought it new
Price Paid: $99

Version reviewed: Gen2
Excellent product. Long battery life. What keeps it from a fifth star is that it doesn't float.
Purchase the second gen Spot locator to assist me if required as I live in Labrador, Canada. The first big test was a nine-day paddle in my kayak down the River Grand in August 2013. There is no cell phone coverage so it worked well. I used the tracker option to keep family and friends in the picture of my location as the trip was 168 miles.
During the trip it rained every day and some days all day. The Spot is completely waterproof as proven when I flipped my kayak in rapids. It was attached to me which was good as this device does not float, which I would say is the only con. The tracking devise worked well but... the website needs to be easier to use when family are looking for my progress.  
This product is worth its weight in gold. I also use the roadside assistance option as when I am traveling through Labrador to Quebec is a 14-hour drive with cell coverage only in Labrador City. The Trans Labrador Highway can be unforgiving and this device gives myself and my family peace of mind. Being stranded on the side of the highway in the winter with no cell coverage and in a snowstorm waiting for someone to maybe drive by... no thank you.
I won't leave home without it.
Source: bought it new
Price Paid: $120

A gamechanger. Rugged, simple, and affordable. It gives you the peace of mind to push the limits of your adventures consciously knowing that your life it is not at stake.
Pros
Rugged
Affordable
Reliable
Cons
Could be smaller (new versions are)
Web interface could be better
Venturing into the wild, either on foot, on a vehicle or on a boat can be dangerous if something goes wrong. Statistically things don't go that wrong that often, but all you need is for them to go wrong wrong ONE time, then the game is over.  
Take the stupid part of the risk out your game! Go backcountry skiing in Canada, take your motorcycle across the Atacama desert, take your jeep to Baja, but do it with the peace of mind that if all else fail there's always somebody ready to pick you up anywhere in the globe.
And this is not just passive safety! When you know the boundary of your adventures you are more relaxed, confident, and more concentrated on what you are doing! As simple as that.
Source: bought it new
Price Paid: 400

A GPS locating device that allows you with a Smart Phone to send messages with your phone or send preprogrammed messages. It also allows you to send a SOS message in the event of an emergency. Uses batteries.
Pros
Lightweight
Small
User friendly
Cons
Not capable of receiving messages
I take SPOT with me on all outdoor activities. It makes me and my family feel more at ease to know I can call for help if I need it. The only downside is not knowing if the message went through or being able to receive a response back.
Source: bought it new
Price Paid: $99 plus monthly subscription

Great product and piece of mind.
Pros
Easy to use
Low cost
Compact product
Cons
No battery level indicator
I have used my SPOT Messenger for years but thankfully never for an emergency. The vast majority of my time is spent on the Chesapeake Bay fishing and boating in open waters away from shore. The SPOT Messenger allows me to check-in with family back on shore or send a distress signal with my precise location.  
I never boat without the SPOT Messenger and view this as a critical component for my boating needs.  
Source: bought it new
Price Paid: $199

Important lifeline to my wife and kids. Can't recommend it enough.
Pros
Small and lightweight
Great battery life — mine works for 2 weeks on a set of AAA
Lifeline to wife and kids
Cons
One-way com only (also a pro!)
Works absolutely flawlessly. I used it for Greenland Kayak Expedition 2013. Best of all is the great support I received after I lost my unit during some Greenland Rolling training ;-)
My wife and kids especially loves the ability to track my progress while on adventures, and discuss the various places I'm visiting.
Can't recommend it enough.
Source: bought it new

We live on a remote farm in NSW Australia, with no mobile reception. I use this device on a regular basis when out working in the paddocks. Cheap insurance for one's self.
Pros
Easy to use.
Great battery life.
Cons
The case to attach the GPS to your arm is not so great. I have cable tied the GPS in the case, to prevent it falling out again.
A good well made product over all. I have only had it for 1 year.
Source: bought it new
Price Paid: $200-ish??

Your Review
You May Like
Specs
Price
Historic Range: $74.98-$169.99
Reviewers Paid: $99.00-$199.00

Weight
5.2 oz / 147.4 g

Height
3.7 in / 9.4 cm

Width
2.6 in / 6.6 cm

Thickness
1 in / 2.5 cm

Operating Temp
-30°C to 60°C / -22°F to 140°F

Operating Altitude
-100m to +6,500m /-328 ft to +21,320 ft

Humidity Rated
MIL-STD-810F, Method 507.3, 95% to 100% cond.

Vibration Rated
Per SAE J1455

Battery Type
3 AAA Energizer Lithium Ultimate 8X