Stanley Adventure Nesting Two Cup Cookset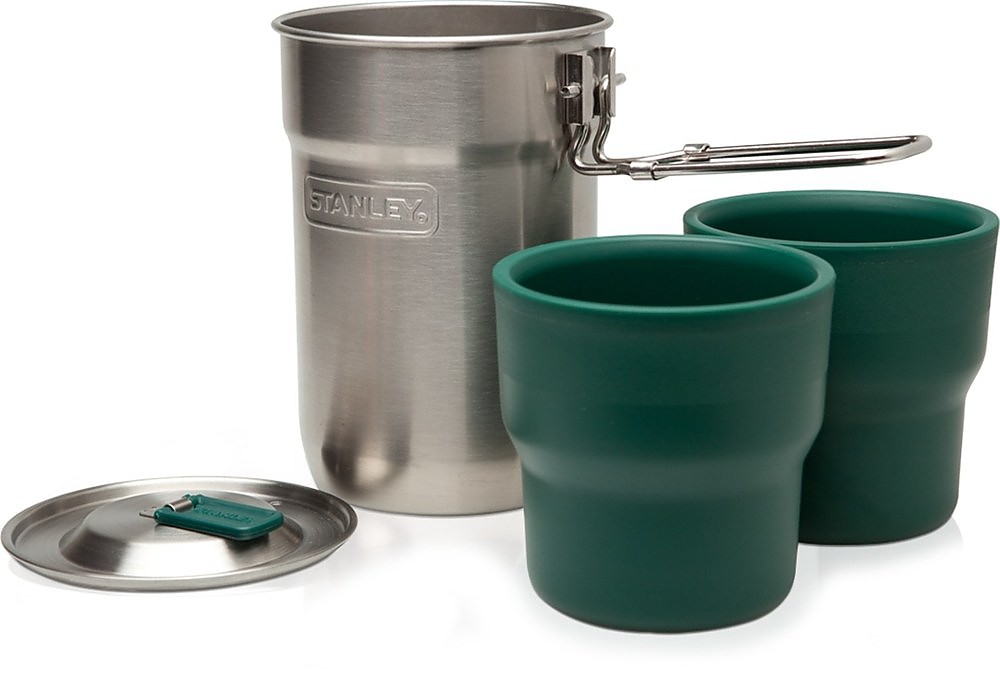 With all the hype about expensive high end gear, this set is a refreshing relief for the budget minded. The pot is extremely tough and I have used the same one since they came out. I replaced the standard cups with a stainless cup and now my entire cook set fits inside the pot.
Pros
Lightweight and durable
Marked measurements for backpacking meals
Handle folds across lid and snaps in place to keep everything inside
Cons
Plastic tab on lid will melt
Cups that come with the set are useless
A little bit bulky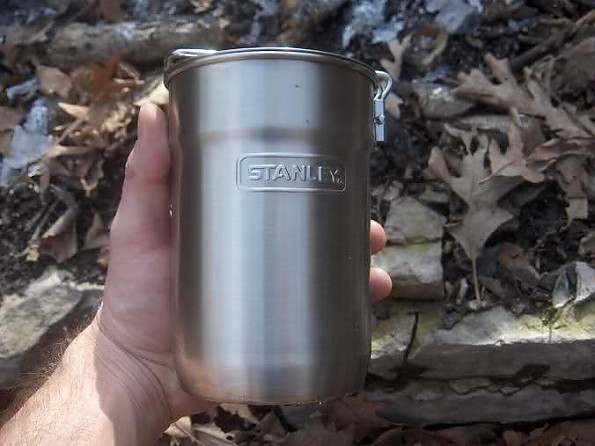 For the $15 that it cost me, I couldn't be happier with this pot. A lot of people seem to think that the cost is directly relevant to the quality. In some cases I agree, but not with this set.
Straight out of the box, it is fairly impressive. Stainless steel construction with a very strong handle that when squeezed can fold across the lid and snap into place. I don't have to worry about my stuff falling out of it when it turns over. I replaced the factory plastic cups with a single stainless cup that fits perfectly into the pot. The saved space allows me to store my hiking stove, utensils and seasoning bottles all inside the pot.
Truthfully, the only thing I can really say I didn't like was the plastic tab on the lid. It melted off the first time I cooked with this pot on an open fire. This was actually a blessing in disguise because to replace the tab, I used a large key ring. Now, with the handle locked in place across the lid, I can hang the pot from the key ring over the fire under a tripod.
The cups that came with the set are decent quality, but they are fairly small. I removed them and put a stainless steel cup in the set that fits perfectly into the pot and essentially takes up almost no space.
I like the measurements being stamped into the side of the pot because it takes any guess work out of preparing dehydrated backpacker meals. I will usually cook everything right in the pot (instead of pouring water into the bags) and eat straight from the pot. This eliminates the need for carrying a bowl to eat out of. I have used the same pot for several years now with no complaints. It cleans up easy and stores away in my backpack. I do wish Stanley would make a smaller one. The 24-oz size is usually more than I need for most situations.
Overall, I would recommend this product to anyone that doesn't want to spend a fortune on a cook pot. I've used the high end titanium pots and the only difference I could see was the weight and the cost.
Source: bought it new
Price Paid: $15

This is a very sturdy set. A little heavy. Set wt. 13.8 oz. or 390 g. without the cups 7.8oz. 220g. I found to use it without the cup. A canister fuel can will fit inside with a small stove and small spork. The lid is vented and you can strain with it and the lifting tabs locks up. The handle locks in tight. Measures on side to 20 oz. can hold up to 24 oz. I bought it for around $14.50 at Target. Well worth the money. Would work real good for younger hikers or others hard on gear. would be great for scouting. One cup wt. 3oz.
Pros
almost bullet proof
lid can strain and holding tap can lock up straight
can hold fuel canister inside with small stove
stainless is easy to clean and scrub
will hold heat longer can be good or bad
very good deal for price
Cons
little heavy for advanced hikers
most likely won't use the cups
takes longer to heat than titanium
I have used this cook set on two scout hiking trips. For dehydrated food and such this set never fails.
Three of my scouts have this set too. I got this set to show them. The kids are hard on gear. They don't have any dents in their sets, so it's almost bullet proof. 
It will take longer to cool down but on the other hand it will stay warm longer. If you do burn something in it you won't have to worry about scrubbing too hard. The handle will get hot, but not too bad. The handle locks down tight.
About 6 strainer are in a row on the lid, so you can strain water out. The tap for lifting the lids locks straight up. You can do some measuring on the side. IT does hold about 24 oz total. I didn't use the cup. Heavy duty cups.
Price for this set is real good. I can fit my canister fuel in it with a pocket rocket, spork, and lighter. 
Hope this was helpful.
Source: bought it new
Price Paid: about $14.50

This is the perfect size cookset for an alcohol soda can stove with a windguard/potstand made from a large soup can. The stove and fuel can easily fit inside and the large soup can slides right over the exterior. The two insulated cups make it so you can easily eat your food while it is still hot. The lid reduces cooking time, but it can also be used as a strainer. The handle folds away nicely and does not get hot.
Pros
It is the perfect size for certain stove designs.
Insulated cups let you eat while the next pot is cooking
Cons
It is heavy with both cups.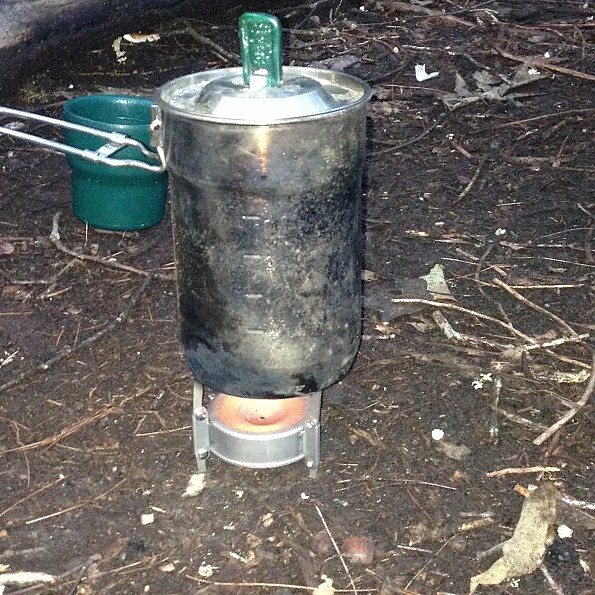 This cookset is the perfect size for an alcohol soda can stove and a windguard/potstand made from a large soup can. The soup can fits snugly over the lower end of hte pot and the stove will fit inside the nested cups inside the pot. I like using alcohol for fuel because it can also be used as part of the first aid kit. 
The handle folds over to hold the lid on while packed and locks in place when in use. This cookset is durable and easy to clean. If traveling solo, the cups can be left at home to save weight.
Source: bought it new
Price Paid: $15

I have used this with a homemade white box style alcohol stove and it works great. Solid and dependable. Very well thought out.

8/3/13 Update: Even with all of the kits I have, I keep going back to this pot. The handle and the lid are what make the biggest difference. I made a small whitebox style stove from a 8.5oz aluminum Coke bottle and it is crazy efficient with this pot. Love it.
Pros
Bombproof
Built-in measurements
Strainer lid
Locking handle
Cons
Cups are bulky - Get hot - Stay hot when the liquid is gone
A little heavy compared to aluminum or TI
I bought this little unit because I like to test different products with my different alcohol stoves. I have to admit that this is one of my favorites.
Sure, it is heavier than TI, but I think you are better off saving those ounces somewhere else. Don't get me wrong, I really like my two Snow Peak TI cooksets, but for the extra money, are they worth it?  
The metal lid is a nice feature when using alcohol stoves. The higher flame scorched the silicone lid on my Snow Peak hybrid unit and started to melt the edge on the clear plastic lid on my GSI double boiler.  They are both great, but best used with a gas stove.
If you are planning on using alcohol or wood fired stoves, this is a good solid choice.
Source: bought it new
Price Paid: $12.88

Great for lightweight hiking or compact car based BOB.
Pros
Lid fits many pots, cups. GSI, Ozark trail cup, etc
Stainless non coated, you can clean it with a handful of sand
Locking handle
Straining lid
Just right amount of capacity
Cons
Can't do fire cooking without modding the lid
No bail for suspended cooking, but you can mod it :)
Love this thing! Its best use is heating water. Second best is heating canned items. Third best at noodles/rice/beans. Does not fry anything lol. If you caught a fish you will have to clean and dice it, but that may be just what you want to do to add to your rice.
Rice and noodles need attentive stirring to avoid burned bits. Not a big deal and it goes quick. Knorr brand dry soup mixes are my favorie. Mix in a little caught or shot protein and you're set! This is my go-to for spike camps and spur of the moment solo hikes
Search for the key ring mod and drill two holes for the ultimate in flexible cooking potential! Love it.
Would have given five out of five. Probably will if I can learn to poach my egg instead of fry.
Source: bought it new
Price Paid: $15

This little and compact cook set has saved me from endless hours of cooking when at the base camp! I own at least 10 of them...read on below!
Pros
Great complete cook set for the solo hiker!
Good for 2 people for cooking a side dish to main meal.
Great for base camp uses.
Very sturdy, easy to clean and self contained!
Cons
A little heavy for some packs.
Traded out the plastic top tab for O-rings, won't melt.
Well, I can't say enough good about these little sets! I own at least 10 of them, no joke!!!
Short story why I own so many. Us ladies seem to spend more time cooking than the guys do. It's just a fact most of the time. Well, I love to cook BUT I also like sitting and talking and enjoying the fire and all the things that make being back at base-camp more fun. These cook sets help me do that!  
I bought them and gave each person one to cook their own foods. Each person had fun cooking and the cleanup is so easy they didn't complain about it. This thinking, of course, allowed me to join in cooking and cleaning with everyone else, at the same time, and I could relax afterwards, at the same time. It just turns into a fun group-cooking experience, perfectly.
Now, about those two cups that a lot of people ditch first thing. Don't. They are great little side dish cups for fresh fruits, oatmeal, mac-n-cheese, dips and even for small salads. Think outside the box and different uses will come to you.
So, yes, even when group hiking or at base-camp each person can be a *Solo* and everyone has time together - cook some, relax some. It's a perfect fit for everyone 10-110 yrs old. And cleanup is a breeze!
Source: bought it new
Price Paid: appx. $15 at Walmart. The prices may have gone up some, had them two years.

Well worth $15.
Pros
Sturdy all around
Inexpensive
Relatively lightweight considering the price
Cons
Not ultralight
Plastic tab on lid prone to melting eventually
Could be a little wider at the base
Great pot if you're on a budget. It's not an ultralight cook set so treating as such will only disappoint you. The pot is 6.5 oz, lid 1 oz, and the cups 2.8 oz each. The handle of the pot is very sturdy. Looking for a way to replace it with something more minimal to cut weight.
I usually leave the lid and cups at home and use foil as a lid and a small styrofoam cup for coffee. Using the pot in conjunction with a Fancy Feast alcohol stove and it boils up fine. The handle is far enough away to not get super hot. Did I mention it's only $15?!
It's a very sturdy product all around. The only part that may need changing is the plastic tab on the lid. I would have gladly paid the same price for only the pot. Down the road I may switch to a more expensive titanium pot, but for now I can't justify spending upwards of $50 to save 2-3 ounces.
Source: bought it new
Price Paid: $15

This is simple and effective for my uses. Not too heavy. If you want a durable decent cookset for one that's not too expensive this is for you.
Pros
Fairly light
Durable
Includes cups
PocketRocket fits inside
I really like this cookset for boiling water for dehydrated meals. I use it for backpacking. While not ultralight it's fairly light at 10.5 oz with 1 cup in it.  I only use 1 cup as this is for me.
A PocketRocket stove, lighter, and 2 coffee "singles" bags fit inside with ease. Which is how I carry it on a weekend trip. Easy to clean.
I also like the handle locking positions.  It holds the lid on when not used and doesn't get too hot when in use.   
Source: bought it new
Price Paid: $25

Good idea but for me too heavy. Very versatile and ingenious idea!
Pros
Versatile
Stainless steel
Company I love Stanley!
The cups were the main weight, although you could always leave them at home. The other thing that I thought was an issue was the handle. The lid is super cool has a couple holes for vent.
I think it was clever, just they lost me when it came to the weight. Not sure on weight since I don't own a scale but my hands sure know when something is too heavy for me! I found mine at Target and also saw it at Walmart. Could see it lasting for years very durable.
In the end I decide not to get it. 
Source: bought it new
Price Paid: $15- 16 I think

This is well made, but does not fit well on our backpack stoves--too small. Also it does not use stove fuel efficiently being such a small diameter it takes longer to boil water than a larger pot.
We tried this out making mac and cheese for a picnic. Took a lot longer to boil water due to the small diameter. Would only fit on one of our stoves due to this also. It is nicely made and the cups feel good in your hand and keep tea warm, but are a bit heavy.
Source: bought it new
Price Paid: $16.99

A couple pros and cons, but all in all a good product.
Pros
Stainless steel
Good quality
Cons
Discoloured if in flame
Made in China
I got this product about two weeks ago. It is made in China, which is not ideal for me, but it is good, still good quality and works fine on a grill or over a fire, but be aware if the flames are reaching the side it does discolour the stainless steel. Also if you are cooking on a fire soot does build, but can be washed off.
Source: bought it new
Price Paid: $29.99

This just might replace my GSI set. Smaller footprint and simpler.
Pros
Simplicity
Size
Durability
I currently use a GSI Dualist cookset. I got the Stanley because at this price I couldn't pass it up. As soon as I find a way to pack my cat can stove and fuel inside this, it will be my go-to set. Typical Stanley ruggedness and I like the handle. 9 out of 10.
Source: bought it new
Price Paid: $19.99

This is a perfect mess kit for one or two people (if they're both minimalists). Lightweight.
This inexpensive kit is perfect for a backpacker.
Source: bought it new

Simple, inexpensive.
Pros
Perfect size for one or two
Cons
Not light enough for backpackig
Just right for a canoe trip where weight is not an issue. Heavier than expensive sets, but worked great! Reasonable price.
Source: bought it new
Price Paid: $15

Your Review
Where to Buy
Help support this site by making your next gear purchase through one of the links above. Click a link, buy what you need, and the seller will contribute a portion of the purchase price to support Trailspace's independent gear reviews.
You May Like
This set of pots and and cups was formerly known as the Adventure Camp Cook Set, and as the Steel Cooker and Nesting Cups.
Specs
Price
MSRP: $25.00
Historic Range: $11.93-$29.99
Reviewers Paid: $12.88-$29.99

Weight
0.90 lb

Dimensions
4.33 x 4.02 x 5.83 in

Details
18/8 stainless steel, BPA-free / Locking handle / Two nesting insulated cups included (10 OZ / 295 ML) / Dishwasher safe

Recently on Trailspace