SteriPEN Traveler

Top 25 in Water Purifiers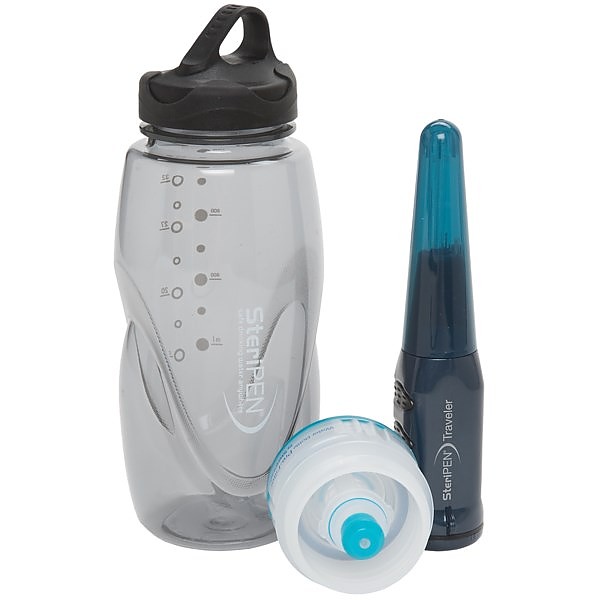 by now, the technology is no mystery - UV light kills the DNA in whatever bacteria, protozoans, even viruses may be in your water bottle.  that prevents them from reproducing after you ingest them, which means they can't get you sick.  it works.
i purchased the traveler because it was inexpensive, and i figured why spend a lot on an item that some have complained isn't very durable.  so far, durability hasn't been an issue for me - though you have to be careful.  i figure one solid drop to the ground could damage the UV lamp and disable the device.  i keep this inside my pack, and not near the skin, to avoid this.  but, several hikes and airplane overheads and horribly bad roads have not done anything to it.
hidden costs - this only uses lithium or nickel metal hydride (nimh) rechargeable batteries, more expensive than alkaline.  takes 4 AA batteries.   i'm interested in trying to be green, so i am using nimh.  so far, so good.  on a trip to costa rica where this is serving as my primary source of clean water, i have cleaned about 3L of water daily, and battery life seems to be good.  a set of four nimh batteries will run you nearly 20 bucks, though.  this doesn't get rid of sediment or floaties, and a pre-filter to screen that stuff will cost a little extra (they sell one, see below). 
this is not the lightest weight or most technologically advanced model - no LCD screen, and weighs about 5.7 ounces with batteries.  still weighs less than my manual water filter, and it's faster and easier to purify water.
caveats - you probably shouldn't use this on dirty, scummy water.  the literature says it may not work.  they sell a pre-filter (another 15 bucks) to clear out sediment, or you could use a bandana, which would be a pain.  also, if the batteries run out, you're out of luck; best to bring a chemical backup or have a place to recharge on a long trip. 
also, lithium batteries aren't always easily available, especially outside the US.  i don't know why alkalines aren't recommended, but the literature very clearly says this won't work well with alkaline. 
finally, it should go without saying that this can't purify water on the mouth or threads of a water bottle; you either have to wipe those clean, or make sure to splash some purified water onto the mouth and threads after you're done (just as we should all do with a manual filter anyway, after dipping a bottle into a stream). 
i have not used this with a camelbak and would probably opt to use with a bottle, then dump to the bladder, as this is only intended to purify a liter at a time - many bladders carry more than a liter.  i wonder whether my most recent camelbak, which has a physical baffle to prevent sloshing, would prevent this from working with full effectiveness. 
for most situations, i expect this will become my go-to water purification solution.  with a little care to avoid dropping or impact, it is a lightweight, easy-to-use, fast, and apparently safe way to get safe, drinkable water.  with rechargeable batteries, it should last about as long as a filter.  if i expect to be in places where water sources are very dirty, i will probably stick with my msr filter. 
with all due respect to the more advanced models, i don't see any reason to spend more to save a few ounces or get an LCD - seems to me simple and cheap will do the job just as well. 
Price Paid: $49

This water purifying source is very easy to use. It is very small and lightweight for backpacking trips. I recommend a backup treatment option of some kind in case you run into battery or workmanship issues. At right around $50 it is very affordable.
Pros
Lightweight
Small/compact
Affordable
Cons
Didn't provide as many treatments as advertised before it needed to be serviced
My friend had a SteriPen Classic and the quick, easy treatment of the water with the UV light was very impressive. I found this smaller, lighter model and purchased it instead.  It provided about 400 treatments before I had issues with it (the light stopped illuminating).  
When I contacted the company they requested I send it in for service.  I sent them $7 for shipping and handling and they sent me a new replacement pen after inspecting my pen. Great customer service I would say.  My friend's Classic is 5 years old and still functioning effectively.
Source: bought it new
Price Paid: $50

After three years using the Katadyn Exstream bottle and dealing with the iodine after taste the Steripen was a welcome addition to portable water purification.
There is little difference in weight between the two purifiers if you include your water bottle with the Traveler but cleaning a batch of cooking water is much easier than the squeeze bottle method. 
PROS - Very light weight, super quick purifier for relatively clear, non turbulent water sources.
CONS - Not a good unit for pesticide loaded, muddy water, best stick to the Katadyn for these sources.
Conclusion - I carry both the Katadyn Exstream and the Steripen Traveler. I use the Katadyn's bottle with the Traveler and keep the Exstream's filter element in my pack for backup.
Price Paid: $65

Your Review
Where to Buy
Help support this site by making your next gear purchase through one of the links above. Click a link, buy what you need, and the seller will contribute a portion of the purchase price to support Trailspace's independent gear reviews.
You May Like
Specs
Price
Historic Range: $39.96-$110.46
Reviewers Paid: $49.00-$65.00

Recently on Trailspace