Stone Glacier De Havilland Pant

#10 in men's Soft Shell Pants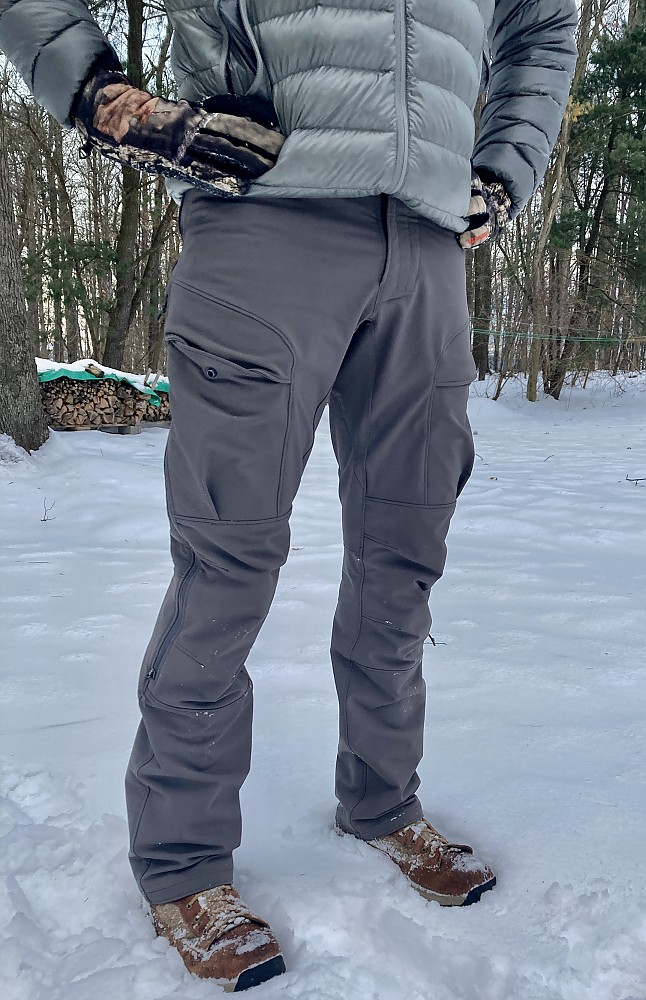 A robust yet comfortable pair of pants that are truly at home in the outdoors. With tons of sizing options and an innovative Contour Waist System, it's easy for these to become the best fitting pants in your closet. While Stone Glacier is primarily known for its ultralight hunting gear, the brand makes gear appropriate for all sorts of outdoor activities, like hiking, camping, general outdoors shenanigans, and more.
Pros
Contour waist system
Lots of sizing options
Long side zips for venting
Durable
Useful pockets
Cons
Limited (although nice) color options
Male-centric sizing only
Testing Conditions
I've tested the De Havilland pants for three months during the fall and winter in the mountains and valleys of central Pennsylvania. The pants have been on several day hikes and in the field for seven long days of the Pennsylvania whitetail deer firearms season. The De Havilland pants were worn as I pushed through thick brush, up hillsides of mountain laurel, across cold creeks, and more. Temps ranged from 50°F (10°C), where I vented the legs, to 5°F (-15°C), where I layered them appropriately.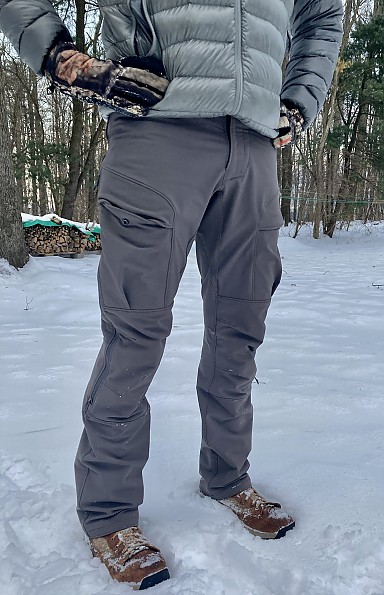 Tester Specs
I am 6'2" (1.88m) and 200 lbs (90.7 kg). My normal pants size is a 31"-32" waist and a 34"-35" inseam. Thanks to Stone Glacier's generous sizing options (10, yes 10, sizing options exist including tall options and options like Medium-Large for those who fall in-between sizes) and the adjustable (and innovative I must say) Contour Waist System, the Medium Tall size fits extremely well. The only thing missing from the sizing options are women-specific sizes. 
Fit and Comfort
Okay, if you couldn't tell from that last paragraph, the sizing and fit on these things is absolutely top notch. Stone Glacier probably has a size of these pants that fits the vast, vast majority of folks. Yes, there are always some exceptions, but for most of us, they have a size that fits. They don't carry women's-specific pants, which is a bit of a bummer for the ladies. 
For me, I'm always a bit nervous wearing pants that I haven't first tried on, because something usually doesn't fit quite right. After considering the manufacturer's online sizing chart, I went with the Medium Tall and couldn't imagine them fitting any better. Honestly, they almost have a tailored feeling to them due to their sizing options and adjustable waist (more on that in a little bit). 
As far as comfort, the pants are easily worn all day, which I've done on several occasions, including for 16 hours straight during hunting trips. No digging, no chafing, no rubbing, just all-day comfort.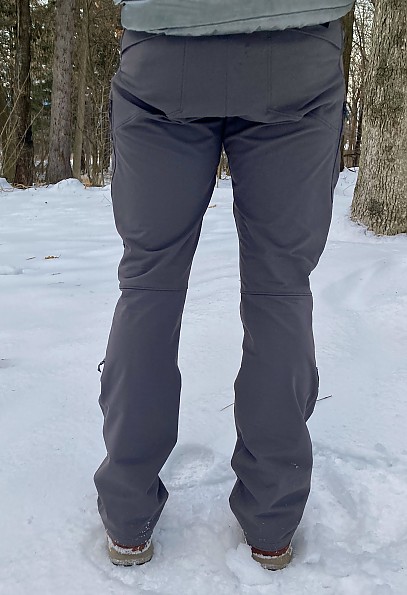 Construction and Durability
Have you ever had the feeling of opening up a new product and you can tell right away that it's built right? With today's throw-away, single-use society, we are growing more and more accustomed to shoddy and sub-par products, so when I come across a product that is built to last, it's typically immediately noticeable. That's what happened the moment I opened the packaging on these pants, and after three months of relatively heavy usage, my mind has not changed one bit. The De Havillands are constructed with purpose and built to last for many years. 
Regarding their fabric make-up, the pants are 50% Polyester, 43% Nylon, and 7% Spandex Technical Fabric, so they have a generous stretch and movability to them without feeling like leggings/yoga pants. The fabric is DWR treated water and wind resistant and the cut is semi-athletic with articulated knees. The brand recently released a De Havilland LITE version of these pants, which are reportedly 25% less weight and meant to be worn in warmer temps. 
Even the little details were apparent right away, such as the rubberized coating that covers the zipper pull cords, which ensures they don't come untied (something I personally experienced with another pair of pants). 
In terms of real-world testing, I put the pants through a beating and there is almost no sign of wear after three months. The photos I took don't adequately capture the thickness and brutality of the brush I hiked through with these pants (hiking through thick brush helps kick-up deer when hunting), but in short, these pants can withstand a lot. Head-high thickets, knotty mountain laurel patches, and rocky outcroppings were all encountered by the De Havilland pants and besides getting dirty, the pants showed no signs of wear and tear. The pants also never dug or bunched under my pack's waistbelt.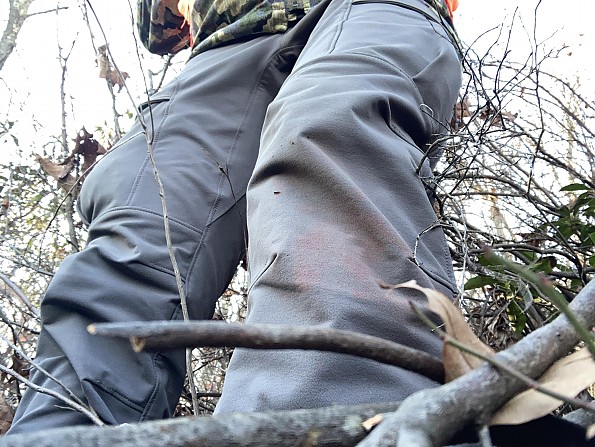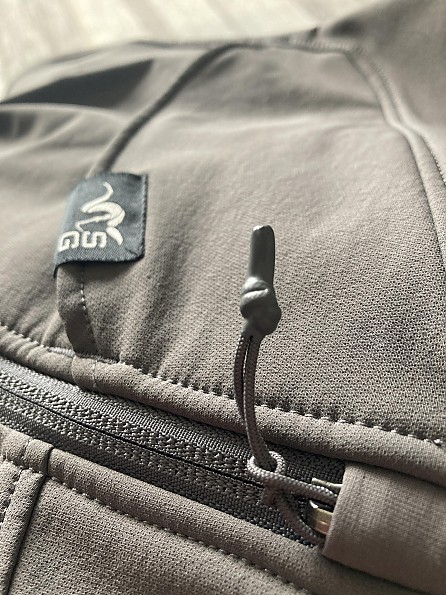 Features and Functionality
Although Stone Glacier's marketing materials clearly show them as a western U.S. hunting brand, I think their solid color choices and design features are just as relevant to the general outdoors population. Sure, the pants have some nice hunter-specific features like knee pad compatibility and quiet closure pocket buttons that the general population probably is not specifically looking for in a pair of pants, but features like large vent zips (21"/53cm in length on both sides) to dump excess heat from the legs when hiking hard and the Contour Waist System, which allows for an individualized fit with up to 3" (7.6cm) of variability without bunching the fabric is just as relevant for the non-hunting outdoorsy crowd as it is for hunters. 
A word about the innovative waist system. Essentially the fly is adjustable with a high-quality velcro, thus making the waist larger or small with ease. Couple this with an integrated belt adjustment and the pants are easy to dial in. The streamlined belt still allows for a more traditional belt worn over top, for those who wear belts for carrying gear like bear spray, knives, pagers, etc.
Wait a sec, did you say velcro on the crotch? Yes, sort of, but it's not uncomfortable like it sounds. I thought the same thing when I first saw photos of these pants, but upon wearing them in tons of different situations, they honestly don't feel any different in that down-there region than any other hiking or hunting pants. The velcro goes completely unnoticed.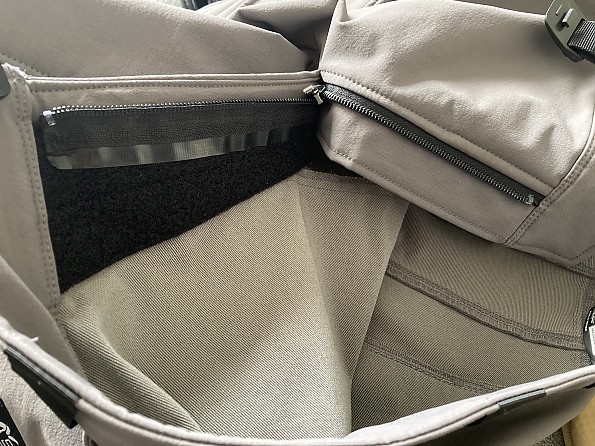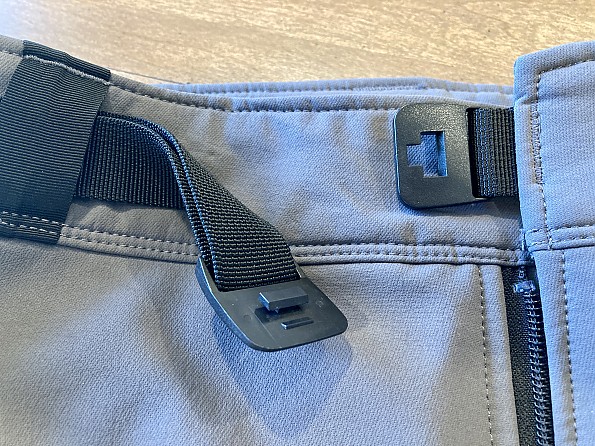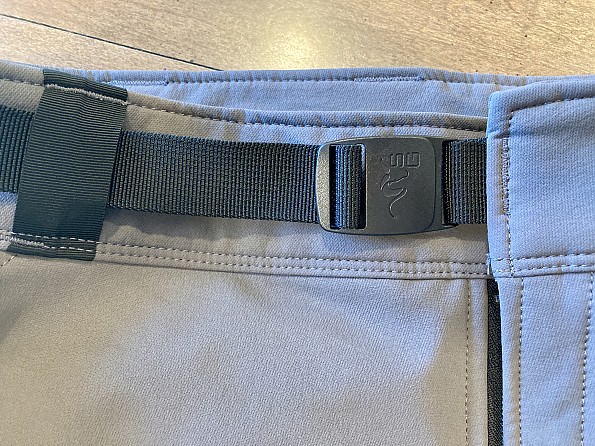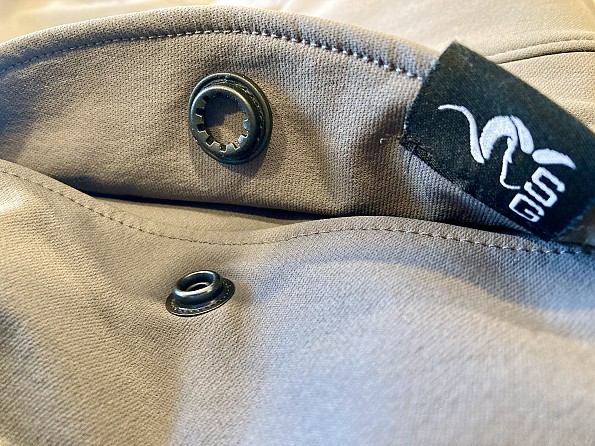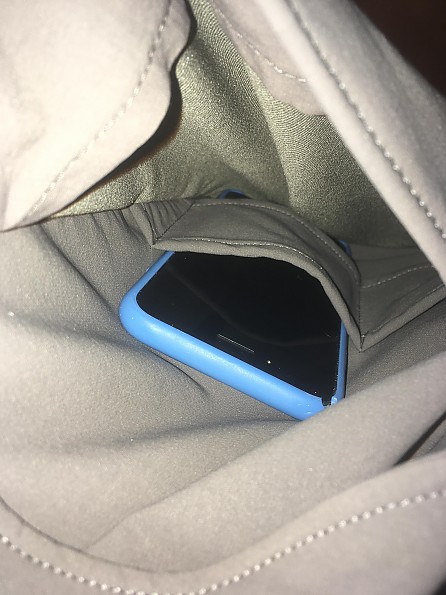 As for pockets, the pants have six total—two in the front, two in the rear, and two front-facing cargo pockets. I don't normally get much use our of such cargo pockets, but the left cargo pocket does feature two internal loops for holding in place a wallet, cell phone, knife, or other items that you want to secure. I've found myself using this quite a bit and not been bothered by it. The front-facing cargo pockets are roughly 10"x7" (25cm x 18cm).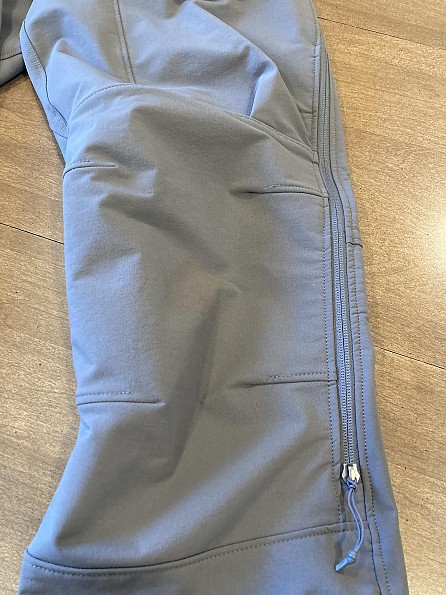 I personally prefer to utilize hunting gear that can also be worn as hiking/general outdoors gear without it looking out of place. I'd much rather wear neutral earth tones while hunting than wear camo while pursuing non-hunting outdoors activities. For this reason, I'm drawn to Stone Glacier due to their non-use of camouflage across their entire line of products. All their apparel is solid colors only and fits nicely into a hunter or hiker's wardrobe.  
Handling the Elements (Cold, Hot, Water, Wind)
As previously mentioned, the De Havilland pants laugh in the face of abrasion, but what about cold, heat, and water? I go by a 5-temperature rating scale that includes really cold, chilly, mild, warm, and really hot. I believe that Stone Glacier made these pants for the broadest use, meaning they are not made for extreme temps like really cold (no insulation means they'll need layers) or really hot (the vents are nice but there's a reason they just released a lighter version of the pants). The pants are most comfortable in chilly, mild, and warm ranges, which is most of the time I want to be outside anyways, so that works great for me. 
As far as water and wind exposure, the De Havillands have a durable water repellent (DWR) treatment and wind resistant face. After sitting on an exposed mountainside in the rain for four hours while looking for deer, I wasn't complaining...well, I was complaining actually, but it didn't have anything to do with the pants.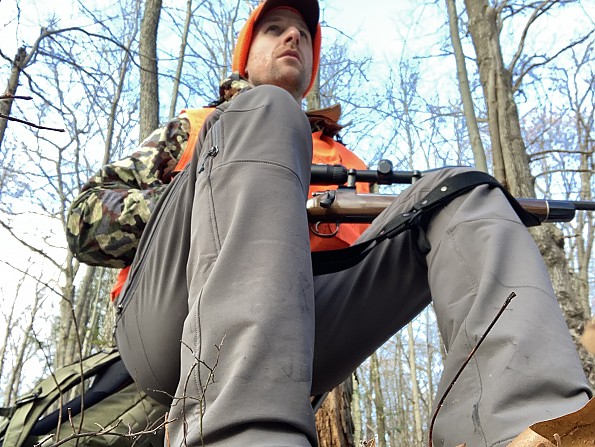 Layering
There have been three layering combinations that I've primarily used with the De Havilland pants. First was just the pants (well, with underwear of course) in temps in the 40s and 50sF (4-10°C) when I knew I'd be hiking fairly consistently. The long venting side zips came in handy during these days.
The second, and most commonly deployed, layering option has been with a pair of merino baselayers underneath the pants. This combo worked very well down to near freezing and was great when being active or sitting still in the woods for long hours at a time.
The third option was when things got really chilly and I went with the merino baselayer, followed by the De Havilland pants, and covered those with these wool outerlayers. This was mostly for sitting still in below freezing temps with significant winds.
Laundering
The Pennsylvania firearms season for hunting deer is 14 days long in late November to early/mid-December. I went out while wearing these pants for seven of those 14 days and didn't wash them until the season was over. Part of the reason was because I wanted to test how funky they got and the other reason was because I had a successful harvest on my second day wearing them, so superstitiously, I felt they were bringing me some good luck and didn't want to wash that away.
All told, I wore them pretty hard before washing them, with a generous combination of mud and blood on them before hitting the washing machine. Laundering instructions are to wash in cold water and tumble dry on low setting, which I did, and all gunk was removed just fine. 
Recap and Recommendation
In just three months, the De Havilland pants quickly became my go-to pants for most mild and cool weather pursuits, especially those when I got off trail (i.e. hunting, scouting, camping). I probably won't wear them in the hot summer months, although the lighter version may do the trick if they are built the same. With plenty of durability, coupled with the unparalleled sizing options and adjustable waist features, I'd recommend the Stone Glacier De Havilland pants for those who spend time in the backcountry, particularly off trail such as scrambling, bushwhacking, snowshoeing, and of course, hunting. If you like neutral colors and well-built clothes (and you're not looking for women's sizes) these are great options whether you hunt or not. 
I've reviewed more than 100 items on Trailspace over the last 7.5 years and less than 10 of those items reviewed received a 5-star rating. The De Havilland pants make the cut for earning all 5 stars.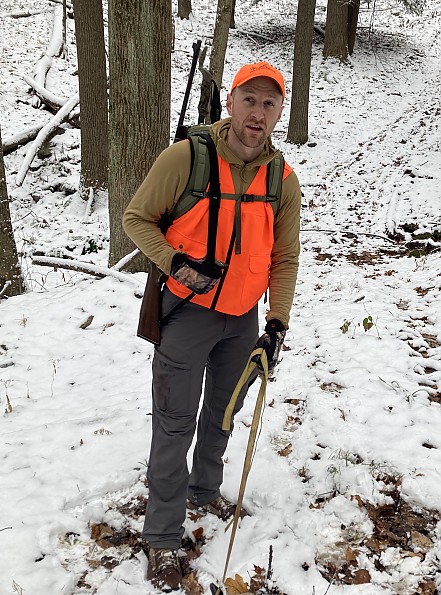 Experience
As a hiker and hunter, I generally like to kill two birds with one stone when it comes to gear by finding "cross-over" gear and apparel that can be highly effective no matter the activity. These pants fit the bill as good or better than any others I've worn.
Source: received for testing via the Trailspace Review Corps (Sample for testing and review provided by Stone Glacier)

Your Review
You May Like
Specs
| | |
| --- | --- |
| Price | MSRP: $189.00 |
| Weight | 1 lb 8 oz (large) |
| Materials | 50% Polyester, 43% Nylon, 7% Spandex Technical Fabric / DWR Treated Water and Wind Resistant Face |
Recently on Trailspace