Suntactics sCharger-5

#4 in Solar Panels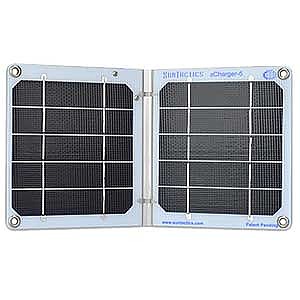 The Suntactics sCharger-5 Portable Solar Charger is elegantly designed to be minimalistic and yet also effective at charging a wide variety of electronic devices (any that can be charged with a USB cable). In full sun, it delivers sufficient power to charge a cell phone and is also lightweight enough to serve as a viable power source during backcountry trips.
Pros
Lightweight
Durable/waterproof
Made in USA/5 year warranty
Effective at charging a cell phone
Easy to use
Comes in two larger sizes
Cons
Cannot charge a laptop or other non-USB charging devices
Output: 1200mA, 5V, 6 Watts
Circuitry: 1-USB Port, Auto-Retry™ (Auto-Recovery)
Weight: ~7oz (200 Grams)
Waterproof: 40 Feet, Corrosion Resistant, IPX7 Rated
Dimensions: 6" x 5.6" x .25" (closed) / 6" x 11.5" x .125" (open)
Solar Cell Efficiency: ~20%, Mono-Crystalline
The outside of the charger provides a good flat surface for Trailspace.com stickers!

Background and Testing Conditions:
I was initially recommended this product by a section hiker that I met on the Appalachian Trail. It is always nice to benefit from the experience of others and to see gear in action before committing to buying it. Suntactics is a small US (Silicone Valley) company. They claim that all their products are designed and assembled in the U.S. (meaning some components are probably manufactured or sourced from overseas). I am very keen on supporting U.S. cottage manufacturers. Plus, with a 5-year warranty (provided you register your charger on their website, 2 years otherwise), I figured it was worth giving it a try.
I brought this charger on a thru-hike of New Zealand's Te Araroa, a 3000 km route. For the first few weeks, I only charged when taking lunch breaks and at the end of the day, when setting up camp. I then discovered that I could easily strap the charger to the top of my Hyperlite 2400 Southwest backpack and effectively charge while I was walking.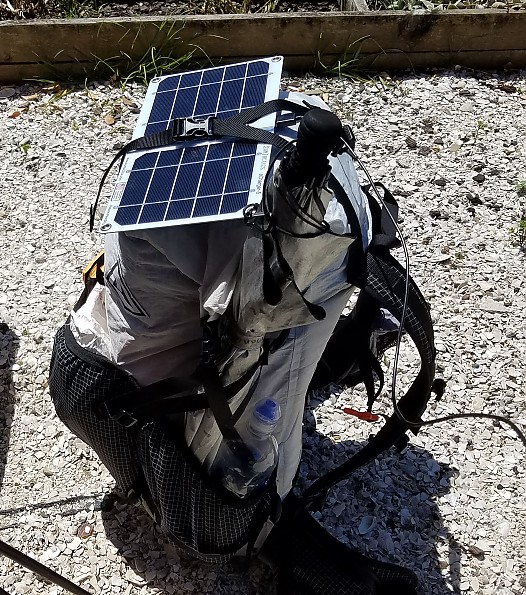 This made it possible to keep my phone fully charged most days, even when it when it was cloudy. This strategy works well when walking in open areas such as on roads, in the desert, or in alpine environments. It does not work well when walking under a constant canopy of trees, say for example, the Appalachian Trail. So the usefulness of a solar charger greatly depends on the type of trail one will be hiking. It may also depend on how often one plans to take breaks and to hang out in camp. As you can see from my photos, I was frequently out in the open New Zealand sun (which, by the way, is very intense!).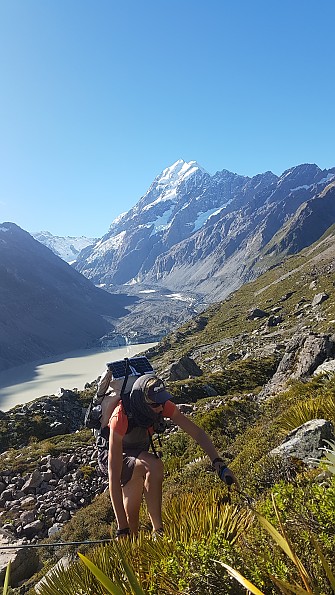 Charging near Mt Cook/Aoraki, tallest mountain in NZ is in the background.
The sCharger-5 is the best, albeit only, solar charger that I have used. I had no prior experience with solar chargers because up until encountering this product, others seemed too heavy, cumbersome, fragile, and/or ineffective. I had also read a lot of opinions stating that it is better to carry a high capacity battery bank than to bother with a solar charger.
With the improvements in solar technology and based on my own experiences with this charger, I think solar chargers will become more of a viable option as time goes by. I wish that I could be one of those that can get by without any electronics at all…negating the need for a solar charger, but I'm not. I am too dependent on my phone, since it replaces so many other items (a handheld GPS, a camera, books, etc).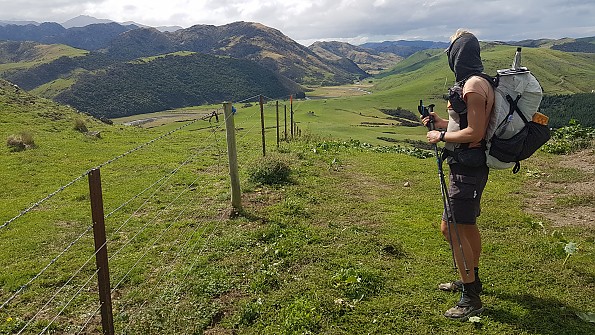 Charging in a paddock...one walks through many of these on the Te Araroa.
Performance:
I have posted the basic specs on this charger but cannot go into detail on the technical capabilities. I did not do any quantitative testing and I don't have any graphs or tables to compare performance with other products. Additional information, such as charging rates, can be found on the manufacturer's website.
What I can say is that I used this charger a lot over the course of four months and it met my needs, mostly in keeping my Galaxy S7 Active topped-up. I use my phone as a camera, GPS, and to update daily blogs, so I go through quite a bit of juice (normally around 30-40% of a 4000 mAh phone battery per day).
The charger was generally sufficient in recharging this daily amount, usually over the course of a few hours. Since I was able to strap the charger to the top of my pack and charge while I was walking, I did not pay too close attention to charging speeds.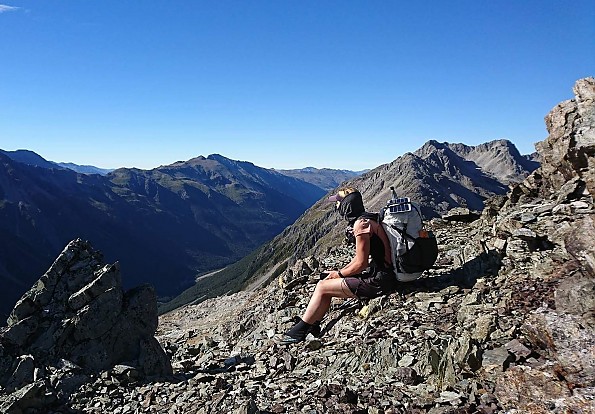 Taking a break on Waiau Pass...no shortage of sun on this day!
A note here on charging a cell phone with a solar charger…it can be tricky and unproductive. As soon as the power output drops below a certain level, say because a cloud or tree branch passes overhead, the phone stops charging. When it regains power, the screen turns on and the phone makes a noise…just as it does when you plug your phone into a wall outlet. Because of these frequently drop-outs and screen turn-ons, trying to charge a phone when there is insufficient sunlight or constant disturbances can actually drain power from the phone. In such conditions, it is better to charge a power bank, as they are not affected as much from frequent drop-outs of current.
My phone certainly experienced a lot of drop-outs when charging, even in direct sunlight. This is probably not good for the battery, over the long run. It also resulted in many unintentional screen-swipes and pocket-dials when I would inadvertently turn the phone on in my pocket. Again, it is far better to use the solar charger to charge a power bank and then charge the phone from the power bank.
I tried this strategy on a few occasions, too. The charger does charge my power bank directly, as well as my MP3 player. But generally I preferred to keep my power bank in reserve for emergency backup power and just charge the phone directly from the solar charger. Always save some reserve power for that proverbially 'rainy day'. In four months, I only had to resort to my power bank for emergency use one time, and that was more as a result of my neglect in paying closer attention to my phone's power level.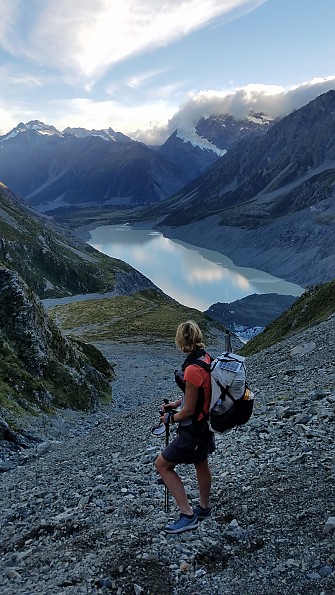 Charging in the midst of grandeur!
From a minimalist and lightweight perspective, I think having a combination of one 5000-10,000 mAh power bank and one solar charger is a good strategy. This combination provides excellent flexibility in meeting electronic charging needs and almost eliminates the need to ever make a town-stop. A thru-hiker could theoretically never need to come off the trail, were food not such a limiting factor. I do appreciate this freedom that a solar charger affords.
I also think that 7 ounces is an acceptable weight for a piece of equipment that provides so much functionality. Most 10,000 mAh power banks weigh in the range of 7 oz and a 20,000 mAh is effectively double that, close to a pound. So for the same weight as one 20,000 mAh power bank, a hiker could carry this solar charger and one 5000-10,000 mAh power bank, having all their bases covered.
Ease of Use:
The charger simply unfolds like a book and automatically begins working, provided there is enough sunlight. There is a small green LED light that comes on when it is charging or ready to charge. I noticed that even on a cloudy day, the light will come on. For storage and protection of the panels, it folds closed. Any USB charging cord can be used in conjunction. Just plug it in!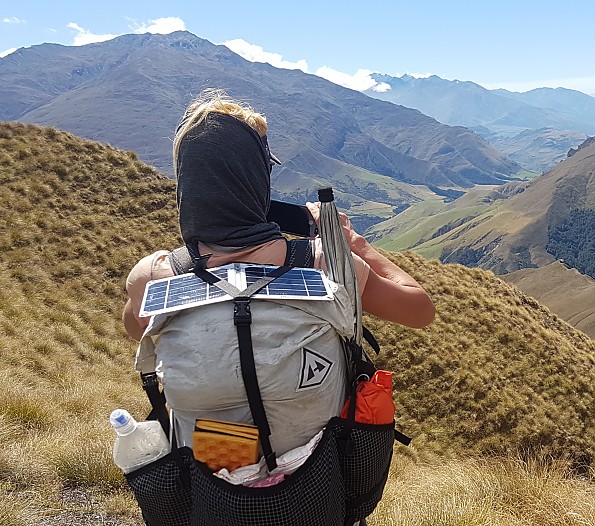 Durability:
I give high marks in this category. The charger survived four months inside and on top of my backpack. It was exposed to a lot of sun and some rain and moisture. It also stood up to the occasional caress by a low-hanging tree branch. After a lot of bumps and fumbles, there is not even one scratch on the panel face.
The only sign of wear is in the plastic 'hinge', where the protective plastic layering appears to be delaminating slightly. I don't see this becoming a worsening problem, however.
While I haven't tested the waterproof claim by submerging the charger, it was exposed to light rain on numerous occasions. I simply wiped it dry and it was fine. Almost all of a thru-hiker's equipment must be waterproof, in my opinion, and that is a big factor in why I chose this solar charger.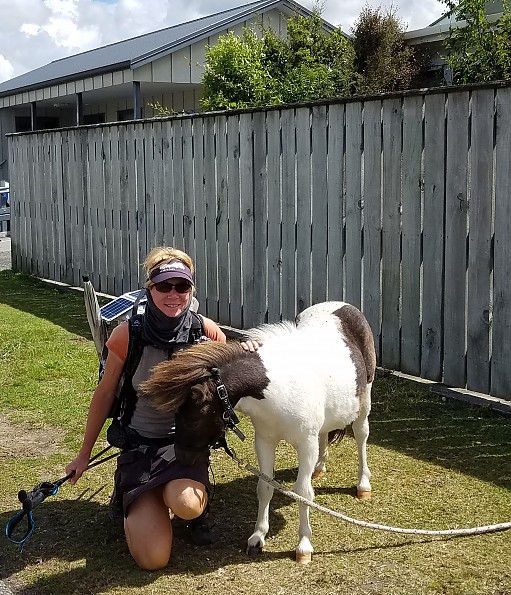 The charger is not pony-proof, so exercise caution in their vicinity. They mostly go for the legs.
Lastly, the solar charger comes with a lightweight nylon bag. I stored the charger, along with my other electronics, in the bag during my thru-hike and it was pretty much destroyed at the end of the hike. It developed holes, the seams came apart, etc. I ended up throwing it away. Fortunately, I have about a million other ditty-bags that I can re-purpose.
The corners of the charger are a little sharp, so I would recommend storing it in some sort of bag to protect the rest of the contents of your backpack. The charger itself doesn't need too much protecting but you know, it's best to be kind to your gear and it will be kind back!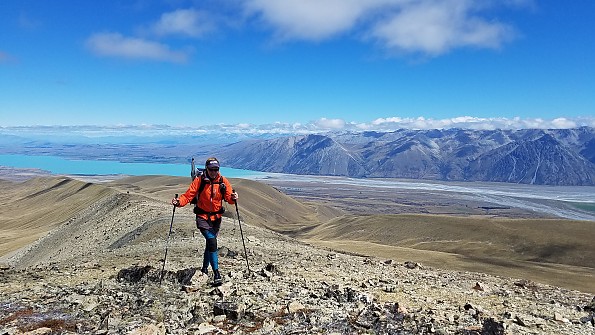 My thanks to Suntactics for reliably keeping me in-the-juice for the past four months! And also thanks to the sun...the sun is awesome.
Source: bought it new
Price Paid: $100

Your Review
You May Like
Specs
| | |
| --- | --- |
| Price | Reviewers Paid: $100.00 |
| Weight | ~7 oz / 200 g |
| Output | 1200mA, 5V, 6 Watts |
| Circuitry | 1-USB Port, Auto-Retry (Auto-Recovery) |
| Waterproof | 40 Feet, Corrosion Resistant, IPX7 Rated |
| Dimensions | 6" x 5.6" x .25" (closed) / 6" x 11.5" x .125" (open) |
| Solar Cell Efficiency | ~20%, Mono-Crystalline |
Recently on Trailspace