Superior Glove Calfskin Leather Extreme Cold Weather Gloves Mitt

#4 in unisex Insulated Gloves and Mittens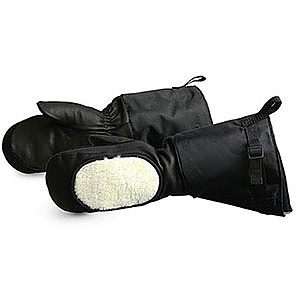 The company guarantees these mitts to be the warmest you've ever owned. For me, they are.
Pros
-40°F rating
Warm!
Low Price
Cons
Big
Gauntlet cuff too tight
For several years now I've been using the Outdoor Research Alti Mitt. I've had success with these in temps down to around -20°F. They are advertised as expedition mitts and I must say that I've been thoroughly impressed with them for the most part. (note: my Alti mitts are an older model. The current model may have better insulation)
Lately, I've been subjecting myself to colder outings (-20 to -30°F) with wind chills down to -50°F.
The first time I noticed that my Alti Mitts were not stopping the cold was when the temperature was -27°F with a windchill of -35°F. Since then, I started to research some other cold weather options. There are many mitts out there that are advertised as cold weather mitts but many reviewers swore that the Alti was the best cold weather mitt on the market. The military even contracted with OR to make a variant of them called the "Firebrand" (still waiting to try these).
Online, I came across a Canadian company called Superior. They have an entire catalog of extreme weather handwear—superiorworkgloves.com (look at it sometime; it's fascinating).
The SnowForce Deluxe Calfskin Extreme Cold Weather Mitt was one of their options. It was advertised as the warmest mitten you've ever owned guaranteed. Oil field workers, Canadian snowmobilers, and hunters all conclude that these mitts get the job done no matter what. This really piqued my curiosity.
Then I saw the price: $35.83! I thought, what the heck!? Immediately, I tried to order some. No dice! You have to have a business account and be able to buy bulk commodity. They are not open to the public for single purchases. Not to be deterred, I scoured the internet to try to find a way to get these somehow. I succeeded…. Well, kind of.
Amazon has a version that is almost the same as the one in the Superior catalog—Superior Calfskin Leather Extreme Cold Weather Gloves Mitt.
                                      View of the underside of the mitt
Same company, but the design is slightly different along with the name of the mitt.
At first, I ordered a pair, thinking that they were the same model. They weren't, but they were close. After looking at all of the reviews of the mitts I ordered, I think that they were the previous model before updates were made to the current version. For instance, most reviewers said that the gauntlet cuff was too tight for a sleeve to fit into. This was due to an elastic zig-zag strip that was sewn into the cuff. The current model eliminated the elastic strip.

The liner is made from 400g thinsulate/m2. Considering most conventional mitts use 100g and cold-weather mitts tout 200g, 400g is pretty serious.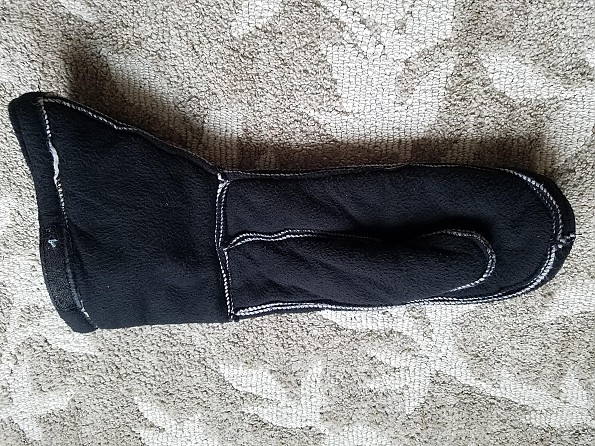 Underside of liner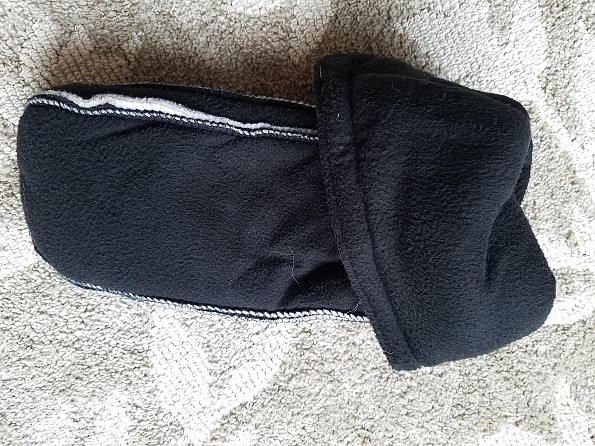 Topside of liner with view of the inside
When they came in the mail, my immediate impressions were that the quality of workman/womanship was pretty average. The sewing wasn't perfect. The straps were of average quality materials, etc. The leather was on the thin side; which does help with dexterity. (As a note, the mitts themselves are made in China).

I ordered the large and they fit me perfectly. I think that my hands are more like a med/large so I infer these mitts run a bit on the small side.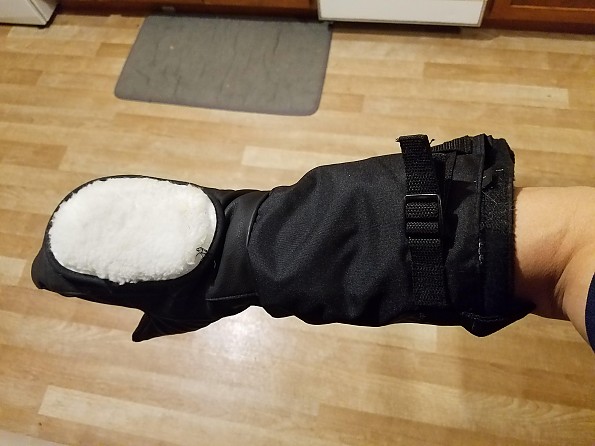 17.5 inch length
The liners were easily removed. There are two small strips of velcro that hold them in place.
For me, removable liners in my handwear and footwear are a must. I need to be able to dry them quickly and store them in the footbox of my sleeping bag at night.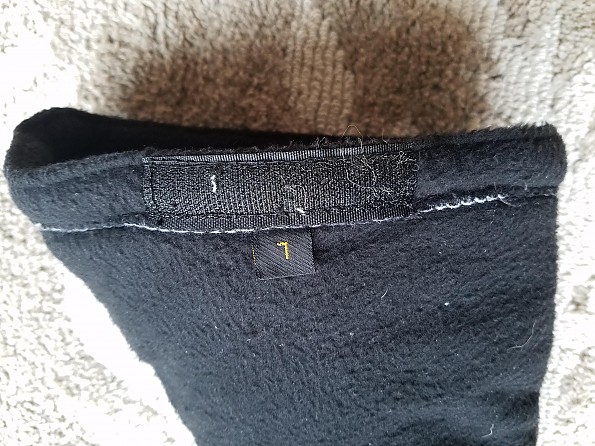 View of velcro strap on the liner that adheres to the shell
I didn't see any type of waterproof membrane incorporated into the shell (the treated leather is somewhat water resistant). I'm not yet sure how the mitts will handle prolonged use in slush and wet snow.
The liners are soft and comfortable. I didn't think that they seemed like they were made out of anything special; they appeared rather plain to me. Regardless of their lackluster appearance, they perform exceptionally well. The website explains why: "The two layers in the middle are cut from a Thinsulate fabric that is 400 grams of Thinsulate per square meter. These are then sandwiched by a foam-to-fleece laminate..."
After trying the mitts on for the first time, I understood what the reviewers meant when they remarked that the mitts are difficult to pull on over your jacket sleeves.  My sleeves bunched up a bit as I put them on. I found myself having to try to pinch down on my sleeves with my fingers, slip the mitt on, and then shimmy my digits into place within the mitt afterwards.  
For my first outing, I wore them on an evening walk in 5°F (-15°C) weather and my hands were so warm they began to sweat. I took the mitts off halfway through my walk. The tight gauntlet cuff seemed to lock in not only heat but moisture. Even though you can feel the moisture in the mitt, the synthetic materials do a good job at wicking. I would compare it to wet fleece.
To address the complaints of reviewers about the gauntlet cuff being too tight, I flipped the mitts inside out, and used a stitch puller to remove the elastic strip that tightens the wrist area.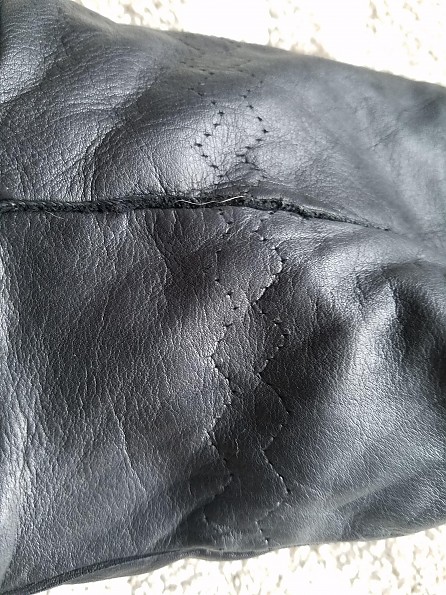 Remnant of where the removed elastic band used to be before I removed it. 
This made a significant difference. It made for easier on/off and it allowed my sleeve to slip more deeper into the mitt cuff without bunching. It also allowed more of the moisture build up to escape. I wondered if removing the elastic strip would cause the mitt to slip off of my hand. It didn't. 
It looks as though the newer version of these mitts has removed the elastic as well. My OR Alti mitts don't have the elastic either. Maybe current research and user feedback induced the change?
There were reviewer complaints about the large faux wool pad on the topside. I personally don't mind it at all. I wipe my shnoz on it all the time. In very cold weather (-20°F), my nose always leaks so I count it as a blessing that there's something supple to slide against it.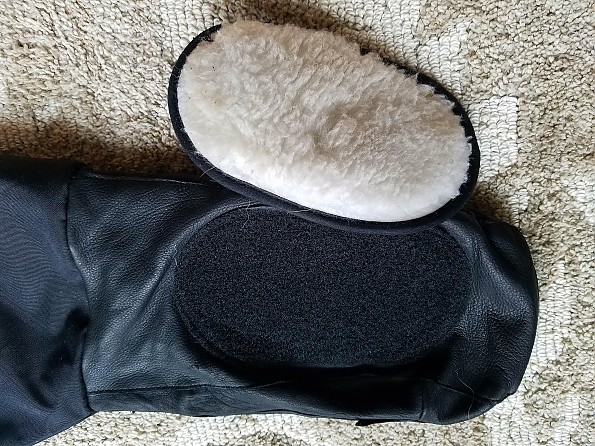 Removeable faux wool wipe pad/cheek warmer
On my second outing with the mitts,  I brought them on a Northern MN outing to test them in colder weather. I was in the backcountry, 3 miles west of Lake Superior. I was very pleased at their performance. In the picture, my hands were perfectly warm at -17°F (-29°C)  with a -29°F (-34°C) wind chill. 
The night before,  it was about 10 degrees colder than that reading. It was so cold and windy that  I could only keep my hands out of the mitts for about 30 seconds at a time before the stinging pain set in. The instant I put my hands back into the mitts, I was warm. Not once did the mitts remit to the cold. 
After blazing through near knee deep snow for 2.3 miles on the trail, my hands became sweaty. The liners became a bit moist with perspiration, but it did not affect the ability for the mitt to keep my hands warm.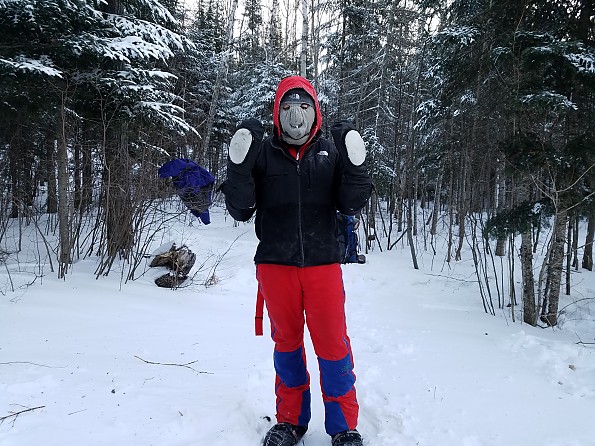 Mitts in action atop knee deep crust
At my campsite, I had to dig out a pit of snow to make an area for the fire. I cinched the straps on the 17" sleeves and went to work.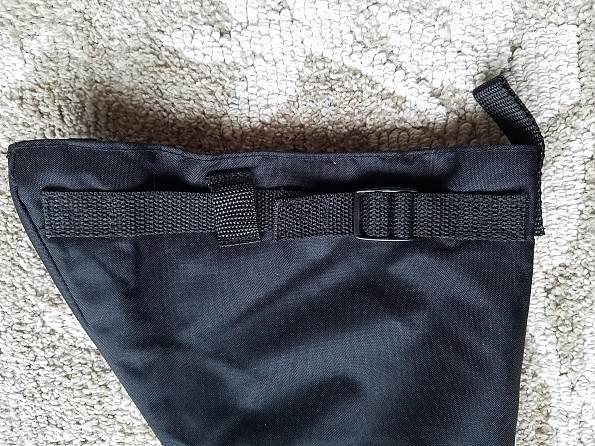 Gritty cinch straps are not that easy to pull tight
It was great digging down to the elbows to push snow and not have any snow get in. I will say that the strap is a bit gritty in texture so it's not as easy to pull the cinch strap as I would have hoped. The mitts also doubled as oven mitts to take my metal pot out of the fire during dinner time.
At night, I pulled out the liners and kept them in the foot box of my sleeping bag. The next morning the dampness was gone and they were toasty warm.
There is not much dexterity in these mitts. Even with the supple and thin calfskin shell, the liners are so thick that they just perform a basic grab (good for a walking stick, ski poles, snowmobile grips, etc.) Ask me if I care when my fingers feel fantastic in -30°F weather. Now I just bring an extra pair of thin gloves to wear while cooking or setting up my tent.
After collecting and breaking firewood, the mitts suffered some scuffs and abrasions but it didn't puncture the leather.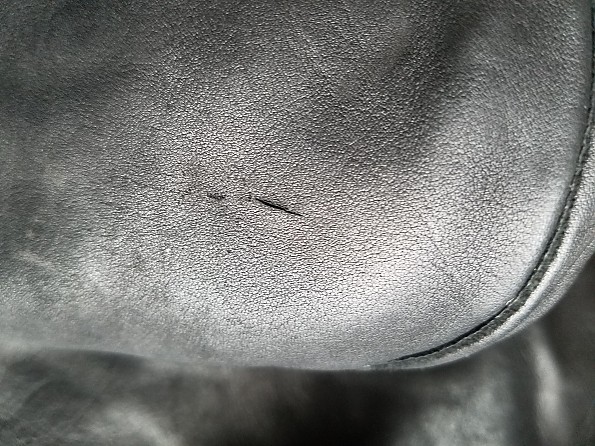 Scuffs on the thin calfskin
I think snowmobilers, ice anglers, and really cold weather enthusiasts will appreciate these mitts. If you've been trying to find a mitt that will end all of your worries in extreme cold weather, for the price, these mitts are the best I've found to date. Considering the closest alternative that I've found, Outdoor Research Alti Mitts-at a cost north of $200, the $35 price tag on a mitt that outperforms them seems like a no-brainer.  I don't see myself needing to look elsewhere any longer.
I can only try to explain how nice it is knowing that your hands are accounted for on a cold weather trip. It takes a huge burden off of a winter outing in sub -20°F weather. Bravo to Superior Work Gloves. I hope they bring their other designs to the public soon so I can try more of them out.
Source: bought it new
Price Paid: $35.83

Your Review
Where to Buy
Help support this site by making your next gear purchase through one of the links above. Click a link, buy what you need, and the seller will contribute a portion of the purchase price to support Trailspace's independent gear reviews.
You May Like
Specs
| | |
| --- | --- |
| Price | Reviewers Paid: $35.41 |
Recently on Trailspace