Swing Trek Liteflex Umbrella
Rating:


Source: bought it new
Price Paid: $45

Summary
A hiking umbrella may not be for everyone but it has certainly earned its place in my pack over the course of several long thru-hikes. The Swing Trek Liteflex is a multi-use piece of gear and has contributed greatly to my enjoyment of the outdoors. I recommend this particular umbrella for anyone seeking a durable, lightweight, and easily-deployed shelter from the sun, rain, hail, and wind. You'll likely find that it has many other uses, too.
Pros
Protection from sun/cancer-causing UV rays
Lowers ambient air temp
Protection from rain, hail, and snow
Core stays dry, reduces risk of hypothermia
Attaches to backpack for hands-free use
Lightweight-8.3 oz
Sturdy, durable, and multi-use
Reduces need for rain gear/saves weight
Cons
Price
Limits field of vision
Silver coating wears off
People might make fun of you…but only because they are jealous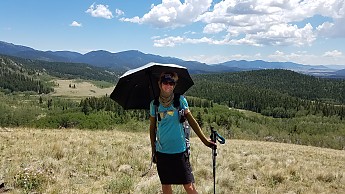 Conditions: The excellent review by JRinGeorgia pretty much covers everything there is to say about the Swing Trek Liteflex umbrella, but I will try to add a few more insights, given my extensive use of it. The Liteflex has now been with me on the Florida Trail, Colorado Trail, Appalachian Trail (first 270 miles), New Zealand's Te Araroa, and will again be my companion on a thru hike of the Pacific Crest Trail summer, 2018. It has seen a lot of use and a lot of different conditions. Perhaps more remarkable that I haven't lost it by now, it is still fully functional.
Overview/Specs:
The Euroschirm Swing Trek Liteflex is one iteration of a line of essentially identical products sold (and sometimes rebranded) by Zpacks, Gossamer Gear, and Six Moon Designs. The original design gained traction and a loyal following as the Golite Chrome Dome (which is no longer in production). I took advantage of my Prime membership and ordered it from Amazon.
At around $50, this is an expensive umbrella. But when you consider the lifespan and functionally, it's worth it. As a Floridian and therefore frequent user of cheap umbrellas, I've known them to break on their first use…you get what you pay for. With the Liteflex, you get something that is very lightweight, made of quality materials that will never rust, and will last through thousands of trail miles. It can actually save you money by not having to buy a really expensive rain jacket, pack cover, etc. The only thing that greatly decreases its economy is losing it prematurely…so I wrote my name on mine, first thing.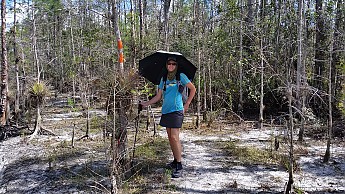 It comes with a case, which is now yet another useless thing in my closet. It would help to protect the umbrella when not in use but for me, it is not worth the weight and fuss of carrying it.
My umbrella weighs 8.3 oz, and that includes the modification I made to the wrist strap. I cut and wrestled apart the original strap (it's glued into the handle) and replaced it with a 10" long piece of shock cord, with a small cord lock at one end and micro carabiner at the other end. More about this later.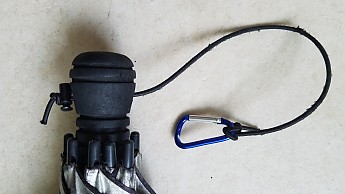 The shaft and ribs are made of fiberglass and it has an EVA foam handle. The canopy is made of polyester fabric with a reflective silver, Teflon coating. The underside is black, which is important in making it appeasing on the eyes when it is above your head all day.
Extended size: 25.2 in (length) x 39.4 in (width)
Closed size: 25.5 in (length) x 1.75 in (width)
Telescoping or not?  There are a few other trekking umbrellas (Montbell and Snow Peak) on the market that weigh a few ounces less and also telescope to fold more compactly. The major downside of these umbrellas is that you have to fold and unfold each individual rib manually (they have little hinges).
When I reflect on how many times I've opened and closed my umbrella, this seems extremely tedious to me. I would rather have an umbrella that takes just one simple action to set up and break down than to save a few ounces…and believe me, with a baseweight of around 12lbs, I am pretty weight conscious.
Also, the more complicated something is, the more points there are that can fail. Lastly, these compact umbrellas offer less surface area than the Liteflex, therefore, less protection.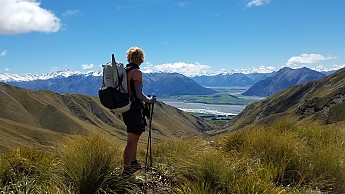 The length of the Liteflex has not been much of a problem for me. I have been able to take it in conjunction with my carry-on items on airplanes and it fits reasonably well in the side pocket of my pack. Since I have such a low-volume pack, it does stick up as the highest point. There were a few days in New Zealand where the trails were so overgrown that I had affix it using just the side compression straps, pushing it below the plane of the top of my pack. I have even carried it wedged between my hips and hip belt, like a sword. But unless you spend all your time bushwhacking, conditions this bad are rare.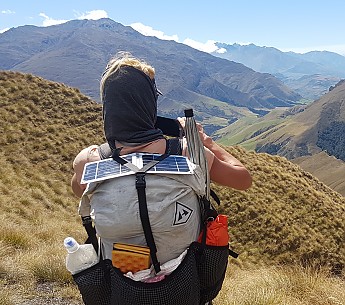 I actually like that the umbrella sticks up above my pack because it makes it easy to reach back and grab without taking my pack off. It also gives me a visual cue that it's still there, even though it has never accidentally fallen out. The length also comes in handy as a side-wall prop for my tent.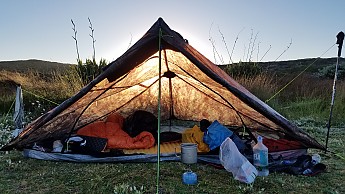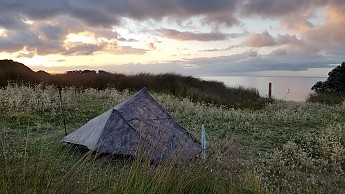 Rain protection: The ability of an umbrella to keep the rain off is pretty obvious, but there is actually a lot to consider here. Perhaps most importantly, an umbrella keeps my core (head and torso) dry and that is what results in me being able to hike comfortably all day in the rain. I emphasize my core, because even an umbrella can't keep you totally dry. In a heavy enough rain, my arms and lower half will get pretty wet. My Zpacks DCF rain skirt helps but I've experienced one occasion where the rain running off the bottom of my pack even soaked through the zipper in the back!
The truth is, most rain jackets, pants, and skirts eventually wet-out. Even if they don't, just having cold water sitting on the outside of the material (or sweat from the inside) is enough to cool me down. I have been in some very bad conditions where hypothermia might have been an issue, were it not for my core staying dry. So if it is an option, I will always use my umbrella as opposed to a rain jacket.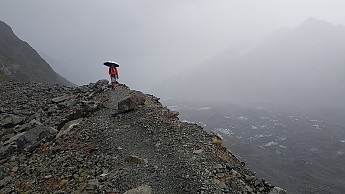 Walking down from Ball Pass, Mt Cook National park, in the rain. That's a glacier to the right.
An umbrella opens up (pun intended) more adjustability and options. In bullet form, here are some additional points to consider:
An umbrella is good in all temperatures in the rain. If it's hot or I'm going uphill, I can leave my rain jacket off entirely. If it's cold enough to warrant a jacket, I can at least leave the hood off and the zipper open.


An umbrella also keeps my pack dry, to an extent. The rain rolls off onto the bottom back of my pack…not a problem since it's water-resistant DCF. Because of this, I don't use a pack cover.
Using my customized attachment system, my umbrella is much faster to deploy and take down than having to take my pack off, remove rain gear, put it on, only to have to go through all those steps again in reverse when the rain stops 5 minutes later.
Likewise, an umbrella is a much quicker and easier way of staying dry when you have to go for a short mid-night potty-break in the rain. Think how cumbersome it is to have to don and take-off rain gear in the dark, bringing all that wetness back into the tent.
An umbrella can actually shave weight from your pack by enabling you to leave the rain gear at home. When hiking in warm Florida, I no longer take a rain jacket.
An umbrella creates a rain-free bubble to consult a map, play with a cell phone, take a picture, remove or replace stuff in my pack, and eat a snack. I'm sure there are many more activities I'm forgetting.
Protection from the Sun:  As much as I like my umbrella in the rain, I have actually used it a lot more for sun protection and temperature control. For starters, I have very fair skin and am at risk of skin cancer…a factor very much at odds with my love of being outdoors. In New Zealand (where there is an ozone hole) and at elevation, it's especially important to avoid the more intense UV rays. I hate wearing sunscreen and sometimes it's too hot to cover up, so an umbrella is a great way to keep the sun off the sensitive areas of my head and face. The umbrella is rated SPF 50+.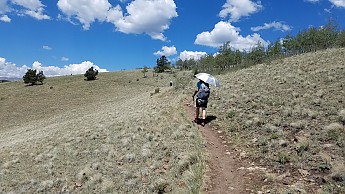 The Liteflex umbrella also lowers the temperature underneath it a good 5-10 F°, making an otherwise insufferably hot day, bearable. Presumably, the silver canopy makes a difference here, but I haven't tried non-reflective umbrellas to be able to prove a difference. Still, I think it helps. I've walked with my umbrella deployed for hundreds of miles on beaches and roads in New Zealand, pretty sure at some points that I might have died without it.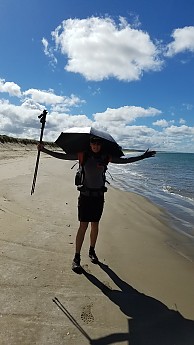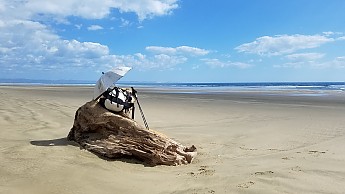 In fact, the first 100 kms of Te Araroa are all beach, with almost no shade that entire length. And imagine a hot summer day walking on asphalt for miles. There were times when the bitumen (tar-seal) was melting and getting stuck to the bottoms of my shoes. But because I didn't have to worry about sunburn, I could take off my hat and buff and just let the breeze blow through my hair, further improving my comfort.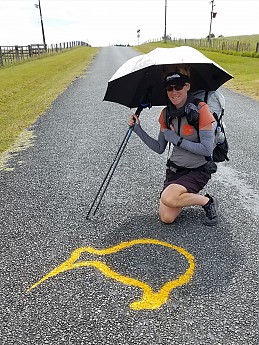 Why did the kiwi cross the road?


Construction and Durability: I always considered an umbrella to be rather a throw-away kind of item. Use it a few times, a puff of wind turns it inside out, rendering it useless, go buy another one for $5. Based on such experiences, I was dubious of the Liteflex's ability to withstand the rigors of the trail but it has proved to be amazingly strong and durable. After riding thousands of miles on the back of my pack, either deployed or folded, it is still 100% functional. It has suffered only 1 small puncture (fixed with tape and silicone) and a lot scuffing to the silver coating.
It has been through gusty thunderstorms and hail. It has blown inside-out a few times times, always popping back into place. It has scraped against the nastiest, thorniest plants the trail could throw at it. It has been bashed into tree branches. It has gotten snagged while I tried to crawl under and over countless downfall. It has been in damaging UV light for months on end. Still going strong.
Now that I know how bomb-proof it is, I love when others (who have never even hiked a mile with a trail umbrella) try to convince me otherwise. Kiwis especially scoffed at the notion of using an umbrella in New Zealand. I was told repeatedly that the trails were too overgrown and the winds too strong. Yet, in walking the length of the country, I only encountered one occasion where I couldn't use it. This was while walking along a road during tropical cyclone Fehi…the sideways rain rendered even my rain jacket useless.
Excluding named storms, in all the other situations where I needed it, the Liteflex worked just fine. Even on the incredibly overgrown trails (which make the Appalachian Trail seem like a wide-open cathedral), I was able to make it work. I've often had to collapse the umbrella to slide by an obstruction (for instance, the swing bridge in the picture below). The one-piece shaft makes this quick and easy, without having to remove it from my pack clips. Slide it down, pop it back up, easy!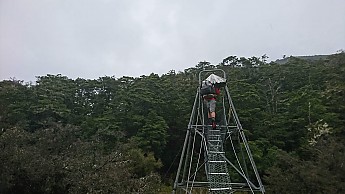 Hands-free attachment: One doesn't have to give up their trekking poles or ability to play with a smartphone to use an umbrella. As numerous blogs and videos attest, there are a variety of methods for attaching the Liteflex to a pack, but I believe I've invented one of the best. At the risk of giving away my trade secrets and perhaps even a marketable design, here's my solution:
I have attached two clips to my pack's shoulder strap using small zip ties. These were once tent pole clips, which I removed from a cheap, abandoned tent. I saved them for no apparent reason, only to discover years later that they fit the diameter of the umbrella shaft perfectly. These allow me to easily clip and un-clip the umbrella from my pack. I can also take my pack off and put it back on while leaving the umbrella still attached.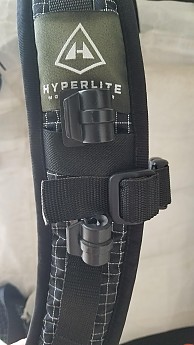 The second part of the method involves a piece of shock cord, a carabiner, and cord lock attached to the handle. The carabiner can be hooked to various points (most commonly my chest strap), depending on how I want to manipulate the umbrella's angle and height. If it's gusty, I'll sometimes wrap the cord around the shaft and my shoulder strap several times for better stability, before hooking it to my chest strap.
The cord lock can further be used to adjust the tension. Conditions on the trail change constantly (up/down/level, open and protected, wind blowing all points of 360 degrees, all within 1 minute), and this little bit of shock cord provides a lot of adjustability.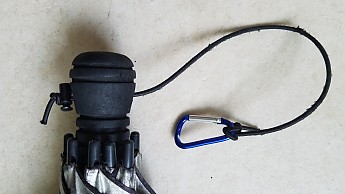 Mounting the umbrella on a pack doesn't always work with the given conditions. When the sun is angled low and the trail is constantly changing directions (switchbacks), I find that I need to hold it in hand to get any effect. Also, if the wind is too squirrely, it is best to maintain better control of it in your hand.
Lastly, because it can reduce your field of vision, it may be better to hold it. This isn't usually a problem on flat or downhill tread, but can be really noticeable going uphill. One time I smacked my head into a tree limb that was hanging halfway out over the trail because I just didn't see it (this could happen from wearing a rain jacket hood low over your head, too).
More than any other piece of gear, people are absolutely intrigued by my umbrella being attached to my pack. Or maybe it's just the umbrella. Some will poke fun and others will just stare longingly while standing drenched in the rain. Regardless, I enjoy extolling the benefits of a hiking umbrella and am unashamed of my gear choices.
Other umbrella uses I have employed or read about:
A windbreak for cooking
A privacy screen for potty breaks or changing clothes…really great for women!
Sun protection for your face when taking a nap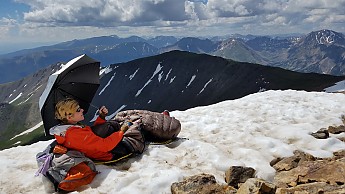 An attention-getting canvas for writing messages… "Thru-hiker needs ride to town"
A tent pole…I use mine to prop-up the side wall of my Zpacks Solplex
A splint for an injury (putting my Wilderness First Aid training into action!)
A weapon to ward off aggressive life forms…when open, it certainly scares the heck out of most horses, cattle, and sheep!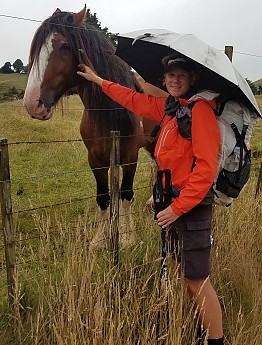 This is the only horse that has not been deathly terrified of my umbrella...he still doesn't look happy about it.

A way to start up a conversation with strangers
To supplement a gap in a shelter
As a sail while kayaking down a river…yes, I tried it and it worked!
As a way for your friends to spot you from a distance
As a signaling device or a way to attract attention from Search & Rescue
As a fashionable accessory for a hiker trash runway model...we used the shelter as our runway...
Summary:  I have been exceedingly happy with my Liteflex umbrella. It has turned so many potentially bad days of walking in the rain into days that I still enjoyed being on the trail. Likewise, it has made insufferably hot and sunny days bearable. I have constantly mused that if I didn't have it, I don't know if I could have kept going. It has earned a place forever in my pack.
Where to Buy
sponsored links
Help support this site by making your next gear purchase through one of the links above. Click a link, buy what you need, and the seller will contribute a portion of the purchase price to support Trailspace's independent gear reviews.