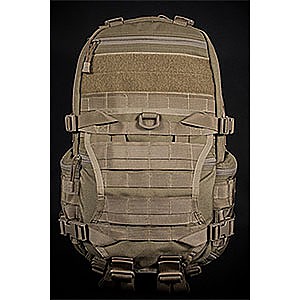 Specs
Price
MSRP: $325.00
Reviewers Paid: $325.00-$399.00

Reviews
2

reviews

5-star:

0

4-star:

2

3-star:

0

2-star:

0

1-star:

0
Best backpack I've ever bought.
Cons
Weight
Restocking time
Price
I thought that maybe I gave into the hype when I bought this bag. This company, Triple Aught Design, has a big following in the circles I move in. They are renowned for their bag design and overall quality and functionality in their products.  Once I received the bag though, I realized that the hype is true.  It's just simple well made and very well designed. 
This is not a bag you buy if you're going ultralight backpacking. This is a bag you buy if you want something you can throw off a cliff and not worry about it tearing apart. Weighing in at about 5lbs empty, it is, by definition, overbuilt. 1000D Cordura, high quality zippers and buckles, and the superior design that brings them all together.
I think the best part of the design is the beavertail. I store my rain shell or more often my softshell there on days that it's either too warm or to have just in case the temperature drops and I'm still on the trail.  It has pockets for everything I have and then some and still has the ability to add more with the PALS webbing system.
It has great ventilation on the back panel and the mesh they used over the foam is industrial grade so don't be afraid to flip the bag over onto that side on a rough surface, it's not going to rip. The bag's other claim to fame is the shoulder straps. They look weird at first with their strange S curved shape, but you realize they did it for a reason when you have the bag on your back.
My few complaints are based more so on the company. The price they charge for these things is pretty crazy and their stock situation is even worse. It's my belief that this is all part of their marketing scheme. The keep low stock on these items to keep the demand up and when they do come back in stock, they sell out in an hour. The only thing that justifies the cost, maybe, is the fact that they're made in the USA. 
I don't regret my purchase, but I do wish they'd be more friendly to their customers in the way they stock their shelves.
Source: bought it new
Price Paid: $325

I have wanted a Fast Pack for a long time, but was hoping that TAD would add some camouflage to the color options. I really wanted it in ATACS, but they came out with one in MultiCam which was my second camo choice, so I bought it. 
I debated about whether to get the EDC or the Litespeed and ended up choosing the EDC for those times during the winter when I will need a larger pack (1800 cu in vs. 1300 cu in) to keep those bulky extra layers on hand. 
The pack is a little heavy, but I am okay with that, knowing the typical quality of TAD gear. I did notice that the webbing is also camo. I have a MultiCam CamelBak that has brown straps/MOLLE instead of MultiCam. This isn't a selling point for me, but may be for some. I just look at it as attention to detail on TAD's part.
I like the idea behind the bottom pocket on the right side of the pack (while you're wearing it), but would have preferred this on the left side or both sides. The idea behind the pocket is for quick and easy access to essentials like a flashlight. I need to keep my strong hand (my right) free while wearing this pack and would like to use my weak hand to quickly access my essentials.
Another downside to quick access to essentials is the bottom middle pocket. This is a great place to store items for quick access while the 'tail' is off, but if you want to leave the tail on, you will need to dig around a bit more to get to this pocket. I do like having the tail and will use it during the colder months to clamp down cold weather gear. I hope that in future editions the tail is moved higher on the pack so you can access the lower pocket quickly while using the tail. 
I do like that the hydration pouch zipper closes down instead of up, which will help to prevent this compartment from opening with a full load of water and gear. I always like things that allow the user to make adjustments for themselves. This pack lets you adjust the tail area, crisscross the straps usually used for the tail to cinch something down, cinch on the bottom with straps, adjust the shoulder straps, and the belt can be removed. Also, the belt has a couple of MOLLE rows.
Overall, this pack has the typical TAD made in the USA quality. The things that I think could use improvement might be perfect for others. I am looking forward to thrashing this thing.
Price Paid: $399

You May Like
Recently on Trailspace