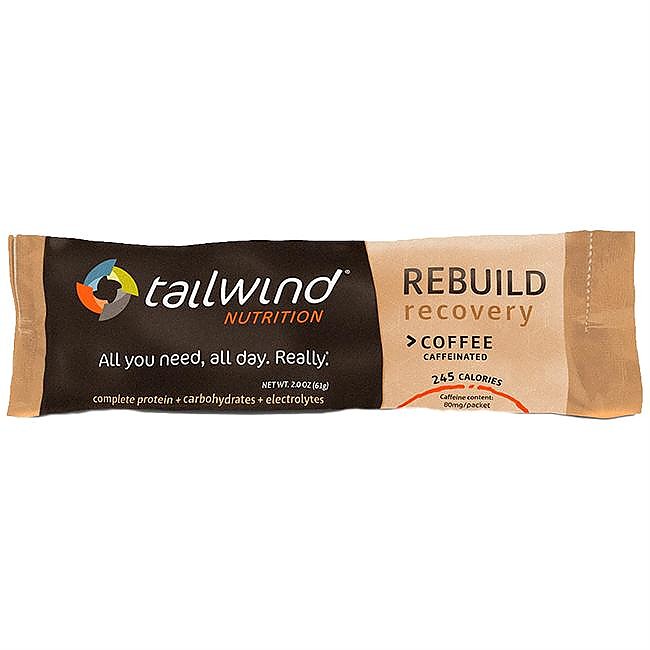 Specs
Price
MSRP: $3.00
Current Retail: $3.00

Reviews
1

review

5-star:

0

4-star:

1

3-star:

0

2-star:

0

1-star:

0
Tailwind Rebuild drink powder is easy to mix, tastes good, is digestible and provided an ideal balance of carbohydrate, protein and electrolytes to replenish the body immediately after exercise.
Pros
Tastes good
Clean, light flavor
Balanced carbs and protein with electrolytes
I'm a big fan of recovery snacks and Tailwind Nutrition has developed an easy solution for replenishing needed nutrients efficiently with the new Rebuild drink powder. The recovery period is often overlooked for long-distance backpackers but the concept has been around sports nutrition for a long time.
The Recovery Period
Nutrient timing is a hot topic in sports nutrition and one important window of opportunity is the initial recovery period following physical exertion. During the 60-120 minute period following exercise, or in the case of hikers, after you finish hiking for the day, the body is especially primed to take in nutrients to refuel and rebuild.
Carbohydrates are broken down into glucose, our primary fuel for energy during exercise. Some glucose circulates in the bloodstream (known as blood glucose when you get your labs drawn for a physical), and some is stored in muscle (and liver) as glycogen. In the two hours after exercise, all the physiologic processes (digestion, absorption, insulin and enzymes) are primed to rapidly break down glucose and store it as glycogen in the muscles. The process doesn't stop, but it slows after two hours. Glycogen replacement can take up to 24 hours.
The problem for long distance backpackers is that you won't be at rest for 24 hours. You're likely to be back at it within 12-16 hours, which can lead to an ever-increasing deficit of glycogen. That makes the efficiency of the two-hour window very important.
The recovery period is the ideal time to do the following:
Refuel (with carbohydrates)
Rebuild (with protein)
Rehydrate (with fluid)
Most backpackers already have a carbohydrate-heavy diet due to the ready availability of trail-tested grains (wheat, rice, oats, cornmeal, barley) in the form of pasta, oatmeal, cereal, crackers, bread and grits, as well as beans, dried fruit, vegetables, trail mixes, bars and sweets. Aim for 3.5-4.5 grams of carbohydrate per pound of body weight in a day. Include 0.4-0.6 grams of carbohydrate per pound of body weight during the recovery period (that's about 60 grams for me at 130 lbs). Choose easily digestible carbohydrates and save the whole grains for dinner a little later.
Protein is a bit more challenging but good sources include seeds, nuts, cheese, legumes and meats. Some protein bars provide 10-20 grams of protein. The goal is to get roughly 60-150 grams per day total (or calculate 0.45-9 grams per pound of body weight) during periods of significant exertion, spread throughout the day. The ideal amount for recovery is not known at this time, but some experts recommend 0.05-0.2 grams of protein per pound of body weight in your recovery snack (about 18 grams for me at 130 lbs).
Hydration is quite variable depending on individual and environmental factors. I find that after a strenuous day of hiking or backpacking, I can easily down 0.5-1 liter of fluid in the hour or so after I finish.
The New Science of Recovery Nutrition summarizes this complex topic in a straightforward manner. If you want to dig deeper, Nutrient Timing for Peak Performance is a book that goes into more detail.
Tailwind Nutrition Rebuild Recovery Drink Powder
Tailwind Rebuild is designed to replenish glycogen stores, rebuild muscles with complete protein, restore electrolytes and rehydrate. It comes in two flavors, vanilla and chocolate. Rebuild provides a good balance of protein, carbohydrate and electrolytes. The protein source is from rice so this is a vegan product—no dairy or animal products.
This is the ingredient list, which has 14% carbohydrate (43 grams), 20% protein (10 grams), 2% fat and 240 calories in a 59-gram packet: Non-GMO Dextrose, Non-GMO Sucrose, Coconut Milk Powder, Essential Amino Acids (L-Leucine, L-Lysine, L-Valine, L-lsoleucine, L-Phenylalanine, L-Threonine, L-Methionine, L-Histidine, L-Tryptophan), Non-GMO Organic Rice Protein Powder, Sea Salt, Potassium Chloride, Calcium Carbonate, Magnesium Citrate. Organic vanilla or organic cocoa is added for flavoring.
One stick packet is mixed with 16 ounces (half a liter) of water, which provides hydration. It's ideal to consume within 15 minutes after ending your hike for the day. If needed, a second serving may be consumed within the next two hours.
The only downside is the cost. One stick pack costs $3 while a 15-serving bag costs $38. Hopefully, the cost will come down over time.
Field Test
Knowing how important the recovery period is, I try to plan for it. The problem I have is that we're usually focused on taking a moment to rest, then setting up camp. The last thing I want to do is dig the bear can out of my pack and try to figure out what to eat. I'm usually tired of the snacks and bars I've been eating throughout the day. Having a formulated powder mix takes the guesswork out of balancing the carbohydrates and protein for recovery. Now I keep a Rebuild packet handy in an outside pocket, mix it with water as soon as I get to camp and I'm good to go.
I assumed that the powdered mix would be similar to protein powders I've experimented with, many of which taste chalky and thick. I was so surprised to take my first sip and taste a thin liquid. It was so different from what I expected that I wasn't sure I liked it. I kept sipping and found that the light vanilla flavor and thin mixture went down easily and didn't make me feel as full as a protein drink does.
As I got used to it, I found that I looked forward to drinking it at the end of the day. It cut my post-hike hunger and made me feel good without feeling like it was a gut bomb. It provides needed hydration, carbohydrate and protein in one easy step. I was surprised at how fast it dissolves with a little shaking. I was dreading the cleanup, again expecting a chalky mess that would stick to the sides of my water bottle like a protein drink, but the bottle rinsed out easily.
Tailwind Nutrition
I've previously reviewed Tailwind Nutrition's Endurance Fuel, my favorite electrolyte mix, so I was excited to see what they came up with for a recovery drink. Endurance Fuel is designed to provide energy and electrolytes during exercise while Rebuild is for afterexercise. Endurance Fuel was created for the Leadville 100, an incredibly arduous 100-mile race in Leadville, CO. It's called a Race Across the Sky because of the lofty altitudes ranging from 9,200 to 12,600 feet.
A common complaint from ultra-marathoners about many energy products is that their gut can't handle the sticky sweetness and ingredients that can be hard to digest. Some products are full of artificial ingredients, colors and preservatives. Tailwind products are designed to be digestible and easy on the stomach. Protein can be an issue during intense exercise so it's not in Endurance Fuel but it has a place in the Recovery drink. Both types of drink powders are designed to be clean and light tasting as well as easily digestible.  
Tailwind Rebuild drink powder is easy to mix, tastes good, is digestible and provided an ideal balance of carbohydrate, protein and electrolytes to replenish the body immediately after exercise. It can be a valuable addition to a trail menu.
Source: tested or reviewed it for the manufacturer

Disclosure: The author of this review received a sample of the product from the brand or its representative in exchange for a review.
You May Like
Recently on Trailspace