Specs
Weight
40 oz

Floor
86 x 52 in

Height
50 in

Sleeps
2-3

Reviews
You can spend more, but you'll get less. I've also…
Rating:


Source: bought it new
Price Paid: $325

Summary
You can spend more, but you'll get less. I've also started using trekking poles as a replacement for the tent poles, and I have to say the tent sets up so much better (as if that could even happen!).
Pros
Very low weight-per-person
Full enclosure with bug netting
Henry Shires (owner/designer) answers the phone
Cons
You really should use trekking poles to set it up. If you don't use them, that's an issue.
Pay attention to seam sealing requirements or you'll get wet
In an effort to put together a more alpine-friendly (lightweight) backpacking setup, I did a ridiculous amount of research in late 2012 / early 2013. Naturally the big-three (backpack, tent and sleeping bag) were right at the top of my list for replacement.  
Now that the 2013 season is over for me, the only one of the big-three that I'll be keeping is my StratoSpire2 TarpTent by Henry Shires (the new sleeping bag and backpack are being handed down to my sons).
I bought the StratoSpire2 so that I'd have a 2+ person tent with all the bells and whistles including two doors, two gear-friendly vestibules, fully enclosed bug netting, quick set-up time and a bath-tub floor. Further, I was specifically looking at the weight of the shelter in relation to the number of people using it.
I was open to spending some money on it, but I didn't want to spend more than I needed to. I was set on buying the TarpTent Rainbow 2, but when Henry himself answered the phone I went to town with questions. He talked me into the StratoSpire2 and I've been thrilled with it.
Here are some specifics:
Weight per user: 1.5 lbs each.
Cost: $325 — comparable solutions seem to be much more expensive and seemingly 95% of them weigh more. There is one competitor that does an amazing job with weight reduction: ZPacks. They have a two-man tent made from Cuben Fiber (the Hexamid Duplex) that's less than 20 oz. It's another "wow" product like TarpTent in my book. The problem is it is almost twice the price at $595.  If you have the coin, you might give them a look too.
Setup: The first time I set it up it took me 6 minutes. Now it takes 2-3 minutes.
Stability: Yes. It holds up to stout wind.
Weather Resistance: The other review put this well... it's totally weather resistant. The condensation issue that some people have is really a matter of user-error in my opinion too. Like all waterproof tents, you have to set it up with optimal venting in mind. That changes from location to location. Use your head and you'll be fine. I'm using mine in a very wet environment and I have yet to get morning condensation.
Ventilation: it has two "chimney" vents built in. Use them and you'll be fine.
Room & Storage: I'm not a small man and I fit in this thing just fine. As for gear, there are two vestibules for two people's gear.  That should be plenty.
Packability: This fits equally fine in the bottom of my 34L bag as well as my 80L bag. It's small enough.
Ease of Use: I recommend watching the setup videos you'll find at the TarpTent website. If you watch it twice, you should be in good shape to set up the tent with no issues.
Features: The tent is designed with outstanding flexibility and comfort in mind for two hikers. Each hiker has their own door in the bug netting, their own door in the tent, and their own vestibule to stow gear out of the elements. Everything works as advertised as far as I can see, and I have not experienced any "dumb design" issues that you'll sometimes find in some major manufacturers.
There is one design warning I should expand on: the tent really is designed to use two trekking poles for support (Henry makes this very clear, and in fact he didn't particularly like that I don't use them since he felt I'd have a better experience with his tent with trekking poles).
The tent poles that Henry sold me have worked, but they bow under the pressure of the tent (especially with wind). As I thought would happen, I have started using trekking poles instead of the tent poles and everything works 100%.
Construction & Durability: I did a couple hundred miles of hiking and a few peak ascents this last summer and it held up fine.
Conditions: I've been using it primarily in the Washington Cascade mountain range close to the Mount Rainier National Park (up to about 6,000'). That means I've been in an alpine environment that is fairly humid/rainy/wet at most times. Further, winds can gust to 40 mph so the tent has been wind tested and it holds up.  The coldest it's been for me has been in the mid-20's. Again, no issues.
Weight: Not including poles (5 oz for set of 2), but including everything else including the tent's stow-bag and aluminum stakes, this thing weighs in just under three lbs.
100% waterproof, two doors, two large vestibules.
Rating:


Source: bought it new
Price Paid: $325

Summary
100% waterproof, two doors, two large vestibules. Trekking poles required. BOMB PROOF. Removable netting, bathtub floor. Puts up and takes down in maximum 2-3 minutes. Made is U.S.A.

Pros
Bomb proof
Stable in high winds
Lightweight
Setup is easy
Cons
Seam seal not standard
Tent stakes povided are not the best, nor enough
I purchased this tent my senior year of college in preparation for '12 thru of the AT.  Even though my thru plans fell through I came out of the deal with some great gear.  My Henry Shires Stratospire 2 Tarptent is one of those items.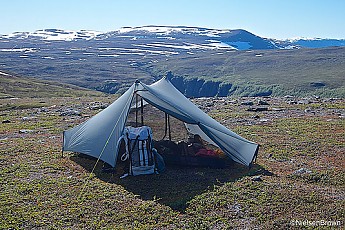 I would like to speak on only a few points for this tent because 99% of this item can be summed up as follows: It's an awesome product.
Material: Henry makes his tents out of a silicon impregnated nylon material. Lightweight, quiet, and quite strong.
Some say that if rain hits this material hard enough that the rain will actually go through the material: Not true. When condensation builds on the inside of the tent due to poor venting, and rain then hits the tent very hard it knocks the condensation from the inside wall of the tent and you get sprayed. 
Only downfall to this tent that I see is, and with all Tarptents is that they do not come seam sealed as a standard.  This can be looked at as good or bad.  I can see how some people would prefer to do this themselves(I did) although others would rather pay Henry Shires company to do it for them.  I know that if I do it myself, only I can be to blame for a wet tent.  So bottom line, if you choose to not select the option for Tarptent to seal your tent, make sure you do it yourself or you WILL get wet. 
Durability:  Although the sil-nylon feels weak I have had zero maintenance issues in the time I have used it.  Only damage I have experienced is the stuff sack that the tent goes in has a couple holes from outer pack wear.  (expected)
Weather Resistance: I have slept through several monsoons in this tent on the AT and I have stayed dry every time.  We are talkin VERY long and hard rain storms and I stayed dry when all others did not. 
Not only has it proven itself from rain above but water below.  The 4 inch bathtub floor has shed water when it was rushing by my tent.
There was one trip in particular that afterwards, I was certainly confident in my tents ability to survive the storm.  I set my tent up on Big Hump Mountain, N.C.  The wind was some of the strongest I have ever felt and for a good bit of the night I was quite worried about my freestanding tarptent on the 5587FT summit.  When morning came and the tent had stood all night I was quite impressed.  The next night, thunderstorms…This tent is Bomb Proof.
Timely Setup:  In the pouring down rain it takes me 3 minutes to set this tent up. If you fold it correctly beforehand you can set it up without getting the inside wet.  The tent comes with flimsy poles and I would say Trekking poles are almost required for any kind of stability at all.
Takedown folding should be done in a rolling manner by folding in half using the two kick legs and then wrapping the rolled tent with the tension cords.
Space:  For a lightweight tent this thing has ample room. I can fit myself, a friend, both our gear and two full size dogs, and still am very comfortable. 
Lastly is customer support.  When you call Tarptent Henry Shires himself answers the phone.  And I appreciate that.
Very roomy for two people and could actually fit three…
Rating:


Source: bought it used
Price Paid: $250?

Summary
Very roomy for two people and could actually fit three if you had to. Good headroom, gear room inside tent, and two good sized vestibules.
Pros
Spacious compared to other 2-man tents.
Very lightweight
Plenty of storage space
Cons
Screens can get caught in zipper if not careful
I use this as a backpack hunting tent and you can actually fit two people and gear comfortably.
Compared to other two-man tents I've used. I'm about 6 foot tall and found the headroom to be great. With the vestibules and interior space I found it to be perfect for two people.  
I did add my own Tyvex floor protector to minimize the risk of a rip from small rocks.
It's the perfect tent for my needs and not as pricey as many other lightweight  tents.
Lightweight and amazingly strong if guyed out properly…
Rating:


Source: bought it new
Price Paid: retail

Summary
Lightweight and amazingly strong if guyed out properly with extra line, stakes, and trekking poles.
Pros
All of it.
Awesome all-round tent, no major flaws.
Cons
Dust sticks like crazy to the silicon-nylon tent floor.
Stingy amount of guy lines and stakes provided.
Fits me, wife, dog, and all of our gear comfortably. Very light with generous features. Lots of zippers, doors, and vestibule space.
The guy line and stakes that the tent ship with are a bit wimpy for challenging conditions, but add a little extra trip-tease line, a few more stakes and even two more trekking poles (2+2 = total of 4) if you have them and this tent could withstand a tornado.  
My first night out in this tent was during a crazy Patagonian gale in Los Glaciers, Argentina. Winds must have been gusting over 70mph, but the Stratospire didn't even budge.
Later in the same trip we were in a very wide open exposed camp ground in Torres Del Paine, Chile, when a strong gale blew in overnight. Several of the very sturdy name-brand tents near by had their poles snapped and were completely flattened.  Once again nestled in our very secure Stratospire we slept like babies, obvious to the carnage outside.  
Pitched and guyed properly the Stratospire is an absolute bomb shelter. Great tent for the price, amazing tent for the weight. 
Where to Buy
sponsored links
Help support this site by making your next gear purchase through one of the links above. Click a link, buy what you need, and the seller will contribute a portion of the purchase price to support Trailspace's independent gear reviews.
MSRP:
$325.00

The Tarptent StratoSpire 2 is not available from the stores we monitor.
Recently on Trailspace