Tentsile Connect 2-Person Tree Tent

Top 25 in Hammocks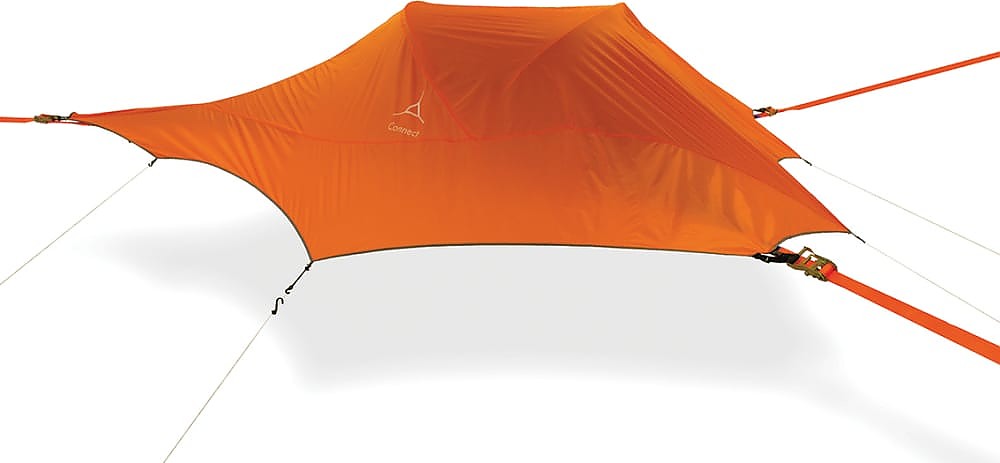 Suspended tree tent that support 1-2 people. Heavy durable bottom and heavy duty straps and ratchets. It has an adjustable strap that can make it a two-person or a one-person undisturbed sleep. Easy to install rain fly that's designed to hug under the tent to keep rain spray out.
Pros
Wonderfully constructed
Heavy duty to last
Cons
So far I can't really pick out a con other than it would've been nice to be able to replace bug netting if it gets damaged.
I really love camping but ground sleeping left me sore and very tired the next day, so I upgraded to a hammock, which was fantastic. I woke up refreshed and comfortable. Only drawback is my life partner couldn't sleep in it with me and when it rained hard water would spray up under my rain trap and mist me. So I set out to get the best sleep possible in the outback that catered to two and kept me dry—voila Tentsile Connect gave it to me.
So our first experience was a success. We had it up and useable in 20 minutes. Probably wouldn't have taken so long but we had at least a 10-minute discussion on which trees looked best and did it look level. Well it must have been because I slept in one position the whole night and snored peacefully until the coyote yelled at 4 a.m. We started out in -2° temperature and woke up to -15°. There was frost on the floor and on the inside of the fly, so a sleeping pad is a must at low temperatures.
Overall I am super happy with my product. It will be my only tent packed even if I have to rent a donkey to haul it. 
Experience
I was a first time user, but hammocks were my go-to.
Source: received it as a personal gift

Next level of tent camping! Roomy and comfortable once you get the hang of setting it up. On the ground or treetop and wherever in between.
Pros
No tree roots or rocks in your back
4 zipper openings, so no crawling on hands and knees.
Roomy and the "floor" is dividable
Cons
Tree alignment not always optimal
The leveler the better
Midnight restroom runs from 10 feet (or more) up
Not for backpacking, unless the mule is carrying it
I received a Tentsile gift certificate as a reviewer on another website. I added some of my own cash and purchased the Tentsile Connect for its larger size (two-person or one adult and three dogs in my case ). I have used it over the last summer in several different campsites.
The first thing I noticed is the quality of the product. The bottom is heavy duty material, the straps are heavy weight, and the screen is very durable ( my Pomeranian tested that out while trying to go after a squirrel from inside the tent).
Once you get the hang of it (watching the YouTube video is a definite HUGE help) the Connect goes up almost as fast as a comparable size tent. Because of my dogs I did not place mine any higher than about four feet above ground, but if you have mature trees you can go as high up as is advised. 
Drawbacks (and this is more me then the tent ): during one of my setups I just could not get the tent level and stretched correctly. It was too swayed, too bouncy, and I kept slowly sliding down the floor. (I've had this problem and worse in my truck and ground tenting.)
I found the Tentsile to be much more comfortable with an air mattress, but I think that has more to do with my back. Younger campers and hammockers would not mind the sway. 
Overall the best sleep I've had in a tent!
Source: tested or reviewed it for the manufacturer (I kept the product after testing.)

The author of this review received the product from the brand or its representatives in exchange for a review.
Your Review
You May Like
Specs
Price
MSRP: $499.00
Historic Range: $270.00-$750.00

Capacity
880 lbs / 440 kg

Seasons
3

Weight
20.8 lbs / 9.5 kg

Packed Size
56 x 33 x 25cm / 22 x 13 x 9.85 in

Peak Height
3 ft / 1 m

Floor Area
52 sq ft / 5 sq m

Floor Dimensions
13 x 13 x 8.4 ft / 4 x 4 x 2.56 m

Vestibule Area
65 sq ft / 6 sq m

Recently on Trailspace