Tentsile UNA 1-Person Hammock Tent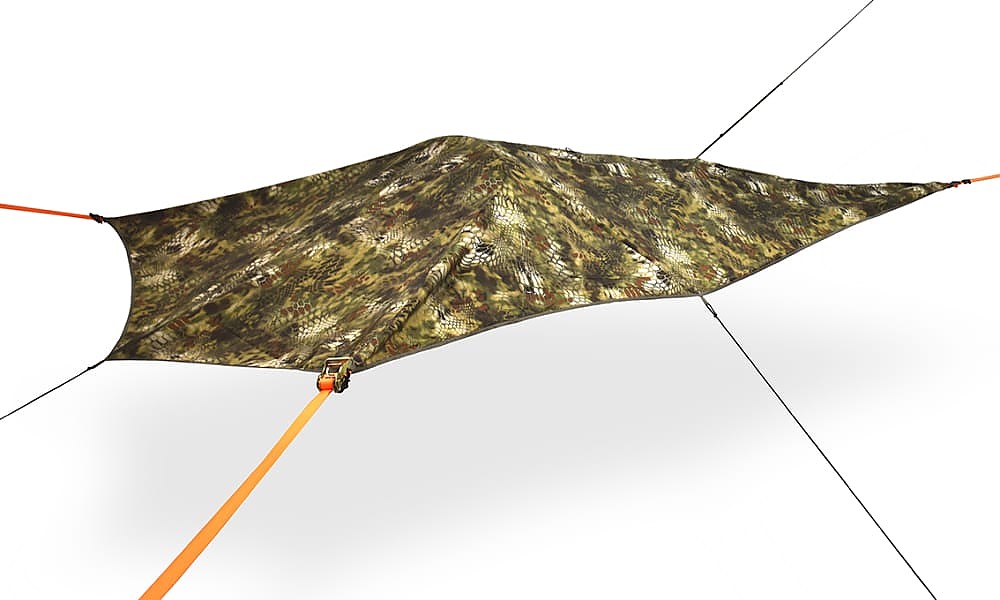 I had great hopes for this unique tent. When Tentsile first started making tents I was always intrigued. It looks like a great concept and solves some of the problems of a traditional hammock for people who can't sleep well in a hammock position. In practice, however, the Tentsile UNA is very limited in its use, it is too heavy for backpacking, and cumbersome to set up. It is relatively comfortable, but as a 6'5" man, it was somewhat cramped.
Pros
Comfortable
Good construction/materials
Looks good
Stands out
Cons
Difficult to set up
Hard/impossible to find the right configuration of trees
Heavy for backpacking
Not very spacious for tall people
Setup
The setup requires three trees of roughly equal angles and distances. You'd think this would be easy to find, but honestly it wasn't. I tend to camp at Wisconsin State Parks for car camping, and was only able to find one spot that worked for this tent, and it wasn't on my campsite. If you are backpacking in the woods, you will probably have better luck, but the risk that it won't work would prevent me from bringing it backpacking.
Once you find those trees, you have to adjust the three straps (one ratchet strap, one "web-lock", and one cow hitch knot) to align the alignment tags. It took me 45 minutes or more on my second time setting it up and the process was tedious, even with the full color photo setup guide.
One could argue if the setup requires such a detailed photo-heavy guide, it might be too complicated…
Comfort
It was comfortable. I wasn't able to sleep a full night in it, so I can't comment on that, but it was fine. I wish it had more space, but for an average or small sized person, it would be fine.I like to move around a bit in my sleep and sleep in different positions, but this would limit your position to primarily back-only sleeping.
Pack size/weight
As one of the smallest Tentsile  tents, it is still 7 pounds. My solo backpacking tent packs up smaller than this and weighs less than 3 pounds.
Quality
The UNA looks and feels well made. I don't question the quality or workmanship.
Cost
Currently priced at $200, it's more than I would spend on something like this, that only works with a specific configuration of trees.
Final thoughts…
I don't recommend this or any Tentsile tent. They are too cumbersome to set up and only work in very specific settings. They are a unique concept, but are not that practical. Stick with a standard tent.
Experience
I've used it three times, but tried to use it more. It's really difficult to find trees in the correct configuration to get the alignment just right.
Source: tested or reviewed it for the manufacturer (keep it)

Disclosure: The author of this review received a sample of the product from the brand or its representative in exchange for a review.
A comfortable sleeping experience that allows you a unique way to connect with where you are camping. However, you need to be sure you have the right orientation of trees in order to make it tight and flat.
Pros
High quality material
Comfortable
Cons
A little heavy
Must have right anchor configuration
I tried out the Una for two nights while camping in Northern California in July.  I chose three redwood trees for the base. Although not perfectly lined up to the tabs on the side (for visual reference), they were wide enough to make minor adjustments.  
Having never set up the tent before, it took be a while to get used to the knots used to secure two of the sides and the ratchet strap used to secure the last side and tighten the assembly. After I climbed in I noticed where the adjustments needed to be made and it was easy to loosen and retighten the straps. So for the first time it took me 30 mins, but I can see how it could take only 10 in the future. 
What I appreciated most about the tent was the ability to connect with where I was camping.  I'm used to feeling separated when I climb in my tent because you can no longer see what is going on around you. But with the Una, the see-thru mesh and the feel of the breeze makes you feel present—my favorite pasttime was just to lay back and watch the tree tops sway above me.  
As for comfort, I didn't use a pad and slept directly on the tent floor—perfectly comfortable on both my back and side. It's wasn't perfectly flat, curving a little under my weight, and that was perfectly fine. Its a little awkward climbing into the tent but easy to slide out. I didn't bother with the rainfly because I knew it wouldn't rain and enjoyed the view instead. I practiced putting it on though, and it was a straight forward process. The quality of all the materials was excellent.
I car camped this time and want to take it backpacking, though I am a little concerned about the weight (the tent is light but the straps are heavy). I am also concerned about finding the right trees. It is important to make sure they are oriented as close as possible to the tabs in order to keep it from slanting or sagging.
Overall though, I think it is a unique and awesome way to camp and would recommend!
Experience
I have owned recreational, light fabric hammocks from different companies. This is my first time reviewing and using a tree tent.
Source: tested or reviewed it for the manufacturer (Keep it)

Disclosure: The author of this review received a sample of the product from the brand or its representative in exchange for a review.
Your Review
You May Like
Specs
Price
MSRP: $299.00
Historic Range: $129.93-$299.00

Weight
4.38 lbs / 1.99 kg

Capacity
264 lbs / 120 kg

Head Height
1.7 ft / 0.5 m

Floor Area
24 sq ft /2.2 sq m

Floor Dimensions
5.2 x 9.5 x x 9.5 ft / 1.6 x 2.9 x 2.9 m

Recently on Trailspace