Terramar Helix Crew Tee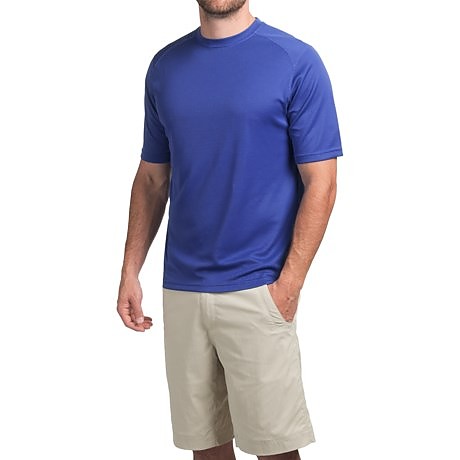 A lightweight, inexpensive shirt, the Helix works well for many outdoor activities as it has a comfortable fit and breathes extremely well. On the other side, the durability is sub-par and the odor-fighting claims fall a bit short. The low cost negates these factors and makes for a great backup or low impact/low durable-activity shirt.

I'd recommend this for activities such as bike riding, going to the gym, trail running, or everyday wear.
Pros
Inexpensive
Breathes very well
Quick drying
Fits well (true to size)
Cons
Doesn't live up to odor fighting claims
Can easily snag on brush or gear edges
Terramar states that this shirt is an "athlete's dream" and has moisture-wicking and breathable fabric that is treated to repel odor and bacteria. I would focus on these claims as well as comparing it to other quick drying shirts with similar claims and composition.  
My testing addressed these two claims directly as well as the durability, fit, and other aspects that I thought were worth noting. I tested this shirt against other shirts I own with similar claims. I've tested this for four months in North Carolina in temps which have ranged from the 70s to the high 90s (index in the low 100s and humid) while trail running, strength training, playing disc golf, and wearing as everyday wear.
Comps
Below are my comps used during my testing.
Vargo Slag: 95% polyester, 5% nylon per my tag (I tested and reviewed this at the link)
Terramar Helix: 100% polyester, also claimed to "repel odor and bacteria," UPF 25+
Nike (general): 85% polyester, 15% cotton, quick-dri model shirt
Fit

I am 5'9", 150lbs, and have an athletic frame. I wear a medium and it fits perfectly, true to size. No areas are excessively tight, nor is it too loose that it would bunch when wearing a pack. I haven't noticed any issue with my mobility and the hem is long enough that it doesn't ride too high when arms are extended upward.
Terramar offers sizes from small to 2XL.
Some sweat can be seen in the back picture below, though not as much as I normally sweat at Raven Rock with other shirts. See Breathability section.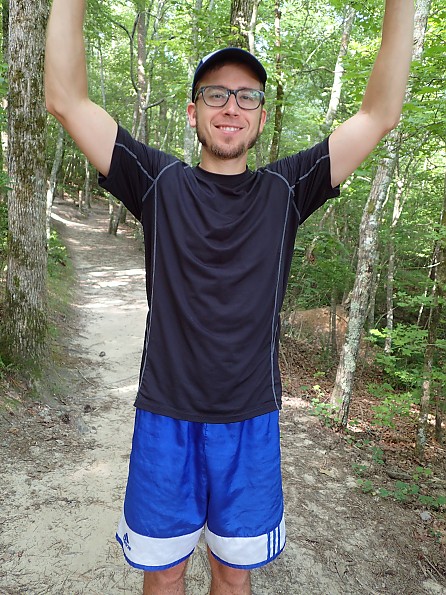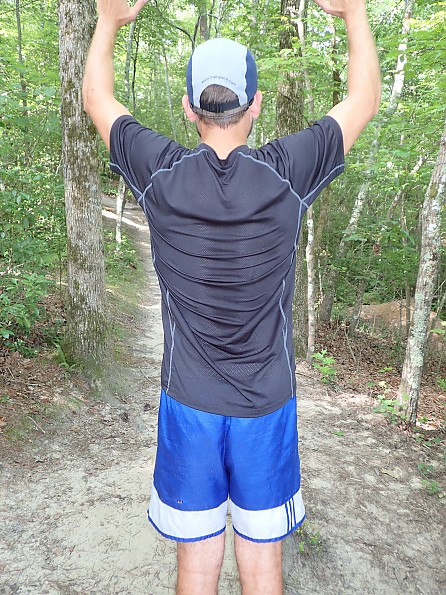 The Helix is a summertime shirt due to the thin fabric, but also layers well. When layered with my ¼ zips, it doesn't add any insulation, though does help if you want to wear any kind of layer without becoming overly hot. When I took trips to the lake, it was easy to throw on and take off.
Durability
The fabric is relatively thin and I've had the mesh holes snag while on the trail and even on pack edges. I've used this for about four months now, but will I still have it one year from now? I don't know. The theme behind this review is that I recommend this shirt in activities which doesn't require high durability. If you are trail running or riding a bike, then this should last long enough to make up the inexpensive cost.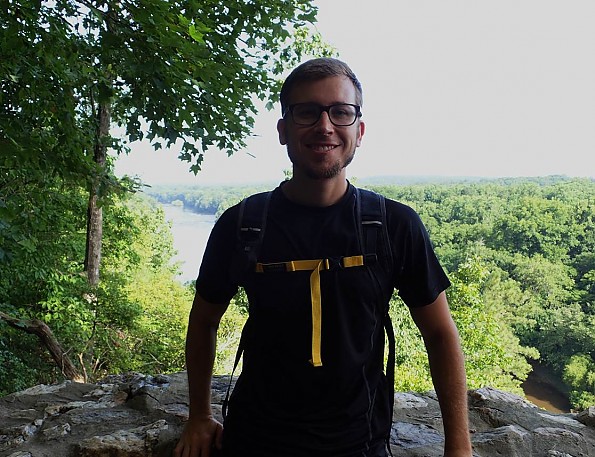 Breathability
The best thing about the Helix's performance is its breathability. While the other two comps (below) dried quicker, the breathability of the Helix is better. If it's more breathable, then I'm likely to not sweat as much so then dry time doesn't become as much of an issue. Similar to the Nike shirt, it's meshed. I have the black color and my thought is that the white (there are ten different color options available from STP where I purchased) and other lighter colors may appear slightly see through. The thinner, lighter fabric accounts a great deal for this breathability.
Dry Time
Apart from an on-trail test, I wanted to test my comps against the Helix to see how it performs against other specific quick dry shirts. I also tested a 100% cotton shirt to evaluate the performance against a "normal" shirt. Keep in mind my results below aren't exactly real world situations, but did give me an apples-to-apples comparison due to the same testing conditions.
I fully saturated each shirt and hung them over a deck fence. I felt each shirt to see when it was dry, feeling the mid-chest area, both on the front and back of the material. It was a blistering 97° according to the clock/thermometer on the fence under the shirts.
The Slag and Nike were dry at the 30-minute mark and the Terramar at 32 minutes. The cotton shirt was dry at 52 minutes. When wet, the Terramar lives up to the quick dry claims and combine that with its breathability (the preventative feature to keep it from even becoming sweat soaked) and that makes it a nice shirt for the price.

Odor Fighting
I purchased this shirt to test concurrently with the Vargo Slag, a shirt which has a titanium-infused fabric which is said to dry quickly and repel odor through natural and artificial light. The Slag excelled and lived up to the hype. The Helix, which is also claimed to repel odor and bacteria, fell short. Reusing the shirt after sweating, I felt it only had a "tolerable" smell for a max of two days. Combined with the durability, the failure of its odor fighting is where I reduced my rating of the Helix.  
Price Point
The price can't be ignored. I purchased from Sierra Trading Post with 30% off of its original price of $12.95. While its durability and odor-fighting are not comparable to other shirts (i.e. the Vargo Slag at $60), some of that is to be expected from a shirt that can be purchased for less than $10. Something to consider is that six of the Helix can be purchased while only one Slag can be bought. Is that sub-par durability and odor-fighting worth being able to get so much for so little money? Depending on your purposes, absolutely! 
Terramar states that this shirt is an athlete's dream and I total agree, but if you're playing a sport, it may not last from one season to the next. Personally, it's really easy to line your closet with the Helix. Playing ultimate, you may dive once or twice during a game, but otherwise the lightweight, breathable fabric, and great fit make it a no brainer.
At less than $10 on sale, that makes it even sweeter. I reduced my rating for the lower than average durability (due to thinner, lighter, mesh fabric) and failure to live up to the claims of repelling odor. Nevertheless, I would still recommend this shirt, just remember its limitations. I give the Helix a 3-star rating, but a strong 3 stars.
Source: bought it new
Price Paid: $9 at Sierra Trading Post (with 30% coupon)

I was looking for a wicking, synthetic, lightweight, warm-/hot-weather t-shirt that I could wear on the trail as well as on the town. Found it, to a tee. Sorry...
Pros
Lightweight
Wicks effectively
Soft & Comfortable
Good fit
Nice colors
Excellent value
Well-constructed
Gossamer thin, yet UPF 25
I already had a few synthetic tees, but they were the athletic/basketball kind. Loose, kind of thick. They served their purpose.
But as the mercury rises in the city, I wanted something I could wear around the 'hood and not look like I was going to the gym. I'm a huge fan of Sierra Trading Post, so I started perusing their site and found the Terramar Men's Helix Crew Tee.
Good-looking shirt. Buncha great colors. And unlike a lot of great deals on STP, they had plenty of colors in my size (sm.) I also noticed that it had received an average rating of 4.5 stars after 852 reviews. That was enough for me. Ooh, did I mention? $8.25.
I ordered four of them in different colors. After an initial inspection of all of them, I found them to be of uniform construction and material. The material, EC2® Qwik-Dri®, has a kind of 'rip-stop' pattern to it, and the inside actually feels like a microfleece. It's so thin, though. Almost freakishly, especially for how soft it feels. The seam that holds the front and back together is offset to avoid chafing on the shoulders, especially with a pack. The colors are quite vivid. One will likely be a running/hiking shirt, as it's quite fluorescent green. Like, crossing guard vest green. The other three; a deep red, a moss green, and a cornflower blue; are striking but not garish.
I tried one on. I'm thin, (5'8", 140 lbs,) and the shirt fit close, but not hugging. The sleeves are a tad bit longer than I'm used to in such a fit, coming to just above my elbow. It's plenty long enough to tuck in, get your activity on, and be assure it remains tucked.
When the chance came, and quickly it did, I went on a field test: Upper 80's, slight breeze, partly cloudy, high humidity -- perfect. There are a bunch of markets about half a mile from me. Heck, I like beer. I don't have any. So, I grab my pack and head for the place. Onto the street. Yeah; hot, muggy. I humped it to get a sweat on. After about a quarter mile walking in full sun, I got a sheen. I crossed the street and the most pleasant thing happened. I walked under a construction awning, and there was a bit of a breeze. I actually felt the shirt cooling. I was very impressed.
I got to the market and headed for the refrigerated shelves to get my bev. I almost froze to death. It was freaky. I liked it.
Not that it's much of a load, but beer ain't light. Add a half gallon of cranberry cocktail, and that's an average day pack, right? As I walked with the pack, the shirt remained comfortable. I didn't feel any bunching or excessive rubbing. I could even feel the ventilation of the pack on the shirt. Nice.
My fiance was home when I got back. She was wearing the blue one. Looked great on her. Now, we have four of these great tees.
One downside that I can see, though. It can snag and get little runs. Trim your fingernails, stay away from tree bark. I know, I know. But it's why I gave it only four stars. She and I have been wearing them (almost exclusively, they're that comfy,) for the past week, washed them once, tossed them around the room, and they seem to be no worse for the wear. Again, sorry. 
I highly recommend buy a bunch of these great t-shirts while you can. I did.
Source: bought it new
Price Paid: $8.25

Straightforward performance shirt.
This shirt is inexpensive but pretty good quality. It will give you the wicking you so desperately desire and also is pretty good in the odor department.
I was surprised with the comfort as well. While not cotton/wool, it is really one of the more comfortable synthetics I own.
Source: bought it new

Nice!
Comfy and flexible. Not terribly breathable, but I can deal. So far so good. Works as expected. Nothing noteworthy.
Source: bought it new

Your Review
Where to Buy
Help support this site by making your next gear purchase through one of the links above. Click a link, buy what you need, and the seller will contribute a portion of the purchase price to support Trailspace's independent gear reviews.
You May Like
Specs
Men's
Price
Historic Range: $5.00-$19.95
Reviewers Paid: $8.25-$9.00

Women's
Price
Historic Range: $4.95-$19.95