Vargo Slag Short-Sleeve Shirt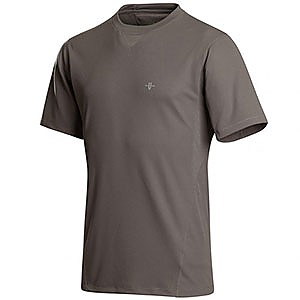 The Vargo Slag is a lightweight, short-sleeve tee which works well as an all-purpose shirt, though it does have a trim fit design. The biggest claim for this shirt is its TiFusion (fabric infused with Titanium) technology which allows the fabric to dry quickly and reduce that classic "trail stench."

I've found that the Slag meets my expectations of being quick drying and also smelling fresher longer than my other (both similar and different fabric types) shirts. If you're active and prefer slim fit shirts, it's hard to go wrong with the Vargo Slag.
Pros
Durable (trail runs, with a pack/hip belt, or at the gym)
Slim fit/active design, but does have longer hem (both a pro and a con)
Breathable and quick drying
Doesn't get as stinky as quickly as other shirts
Cons
Price higher than other activewear ($50 at time of release)
Sizing (general – trim fit, may need to size up)
Sizing (specific – upper back tighter, may impede arm movement)
Mesh side vents no more breathable than remaining fabric
Vargo's Slag short-sleeve shirt has piqued my interest in Vargo. The Slag is a lightweight shirt (though Vargo describes it as midweight) which I have been able to use for numerous activities from disc golf to trail running.
The slim fit design makes it best for any type of  physical activity with high mobility, though the tighter fit may not suit all body types. The quick dry time and odor fighting fabric also makes it easy to choose the Slag when you need only one shirt for multiple days while at the same time being very durable.
Testing
Vargo claims that their TiFusion technology (found in both the Slag and 1/4 zip long-sleeve Bedrock) uses "light as a catalyst" to create a garment that is "self-cleaning and quick drying while reducing odors and increasing UV protection." In addition, the shirt promises to keep you "cleaner, smelling fresher, and dry 25% faster than standard shirts."
My testing addressed these two claims directly as well as the breathability, durability, fit, and other aspects that I thought were worth noting. I tested this shirt against other shirts I own with similar claims.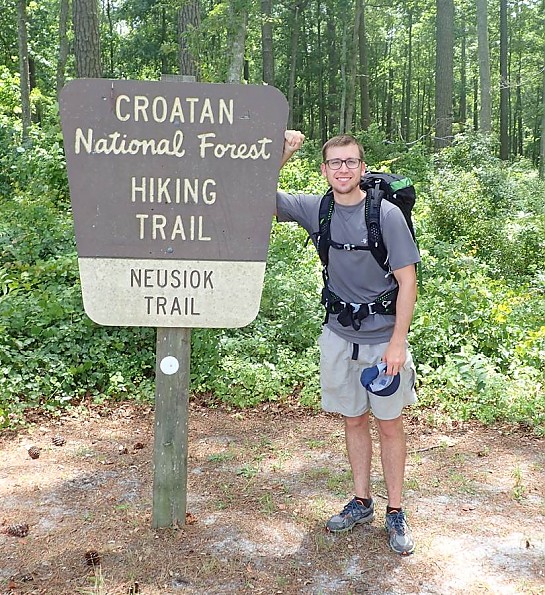 Over the past three months I've tested the Slag both on the trail and off the trail. I'm entering as an officer in the Air Force at the end of July, so there was no shortage of opportunities to work out and sweat! I backpacked on the Neusiok Trail twice as well as 20+ trail runs at Wagstaff Park and Raven Rock State Park. I've also mowed the lawn, gone to the gym, and moved furniture from my old house in this shirt. It's seen it fair share of use.
Comps
Below are my comps used during my testing.
Vargo Slag: 95% polyester, 5% nylon per my tag (online specs 100% polyester…hmm)
Terramar Helix: 100% polyester, also claimed to "repel odor and bacteria," UPF 25+
Nike (general): 85% polyester, 15% cotton, quick-dri model shirt
Fit
I've addressed fit as my first point because the Slag will either fit your body type or it won't. It has a sleek design, noted as being a trim fit (I'd say slim fit is a better description), but at the same time has an elongated hem. So it's a little tighter and a little longer than your average shirt. I am 5'9", 150 lbs and have an athletic/slender frame. I tested a size medium.
Even with my arms raised in the picture below, I still have extra fabric by my waistline. I like this aspect because there is nothing worse than having a shirt ride up too far when I wear my pack and having skin directly against my hip belt. The trim fit also makes it difficult for the shirt to fall upward (as in, when doing a downward dog in yoga). The fabric is not as loose as a standard, boxier shirt, especially around the waistline.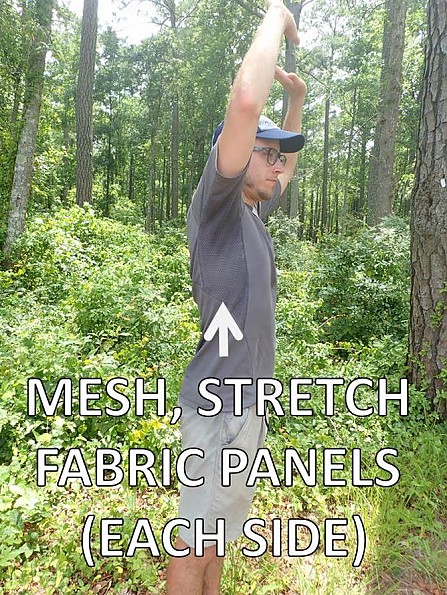 The mesh panels are stretchy, but I didn't find them (especially the vents on the sides) to be more breathable than any of the other fabric. Stretchier? Yes. More breathable? No.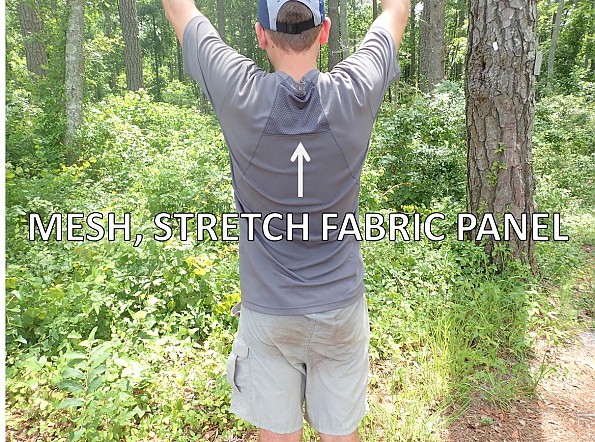 The thing I noticed immediately upon trying on the Slag was that it was tighter across my upper back. I'd love to say that it is because of my massively muscular frame, but alas, I cannot. It hasn't necessarily impeded my motion and prevented me from my activities, but the upper back would get tighter than usual when I would bend over.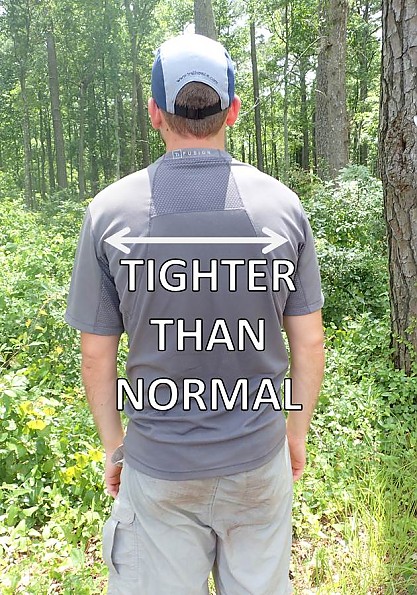 Vargo also says that the four-way, stretch, mesh panels (pic below), which provides increased range of motion. While the shirt does have a bit of stretch, the trim fit kind of turns that logic on its head to some extent. For my frame, the fit was exactly what I want in a shirt, but may not be for everyone. If you have the opportunity to try this on in stores, I'd absolutely recommend doing that.
Sizing chart is at the bottom of this page. 
Durability
With washing (top loader) and drying this shirt 20+ times over the course of three to four months, I have not noticed any signs of wear. Also, I thought I may see some wear near the waistline over time, especially as my Mountainsmith day pack only has a nylon strap for its hip belt.
On a few of my other shirts that have textured fabric similar to the Slag, the fabric gets worn and rubbed from that nylon strap directly against the shirt. At this point, no durability issues have arisen with either the fabric or the stitching. One season is a bit early to truly test this, but thus far, I'm satisfied.
Breathability
The Slag performed just as well as my other quick dry shirts with its breathability, although combined with its dry time and the TiFusion traits, it performed a lot better. While the Slag isn't meshed fabric, it breathed fine, but that could also be due to how it dispersed my sweat evenly and then would dry quickly; the trim fit also didn't seem to negatively affect anything.
The Vargo Slag is unlike my other comps which are meshed fabric, yet still breathes and dries well (click pic to view larger image).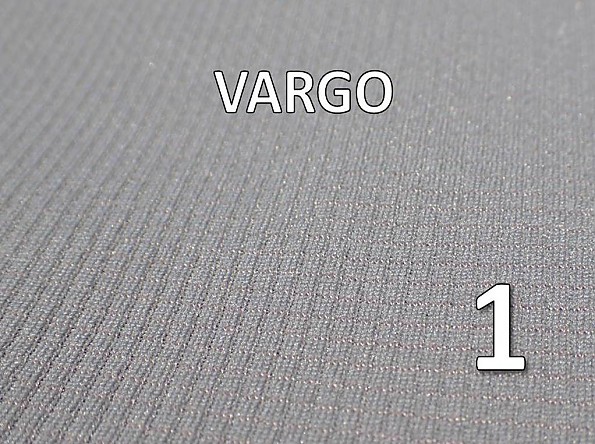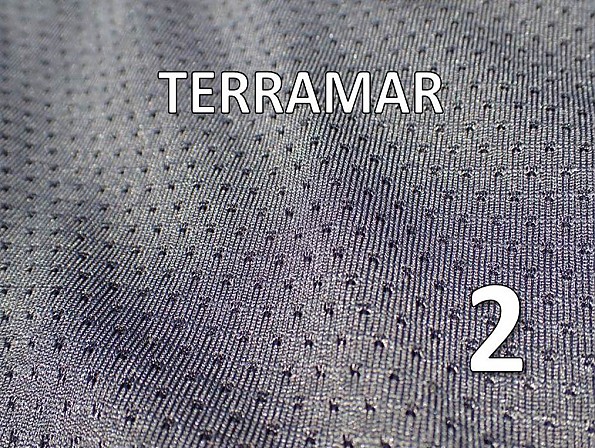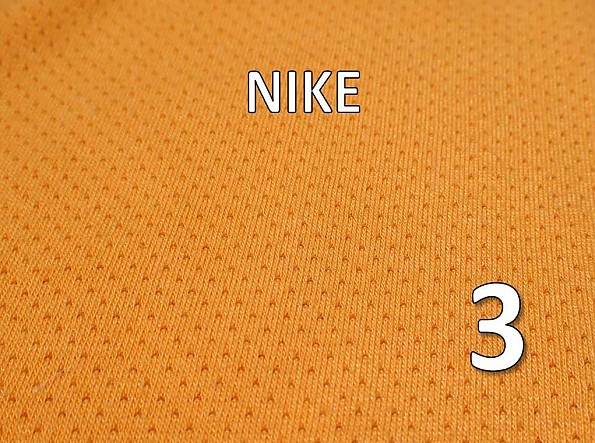 Dry Time
Apart from an on-trail test, I wanted to test my comps against the Slag to see how it performs against other specific quick dry shirts. I also tested a 100% cotton shirt as Vargo states that the Slag will "dry 25% faster than standard shirts," which I assume is a plain, 100% cotton tee. Keep in mind my results below aren't exactly real world situations, but did give me an apples-to-apples comparison due to the same testing conditions
I fully saturated each shirt and hung them over a deck fence. I felt each shirt to see when it was dry, feeling the mid-chest area, both on the front and back of the material. It was a blistering 97° according to the clock/thermometer on the fence under the shirts.
The Slag and Nike were dry at the 30-minute mark and the Terramar at 32 minutes. The cotton shirt was dry at 52 minutes. The Slag was right there with the other quick dry shirts and was dry nearly twice as fast as the cotton shirt.
On the trail, my shirt was much drier than the other shirts, especially the Nike which absorbed, but didn't dry out. While similar to my deck fence test, I felt that while on the trail it wicked sweat away from my body and dried more effectively than my other two shirts.
The TiFusion fabric, according to Vargo, does not allow water to bead but rather spreads it flat over the surface to increase heat transfer and dry faster. Sweat can be seen easier in my Nike shirt, beading in certain areas (below). When I looked at the Slag after I got off the Neusiok the first time, it had sweat pretty evenly distributed (when flipping the shirt inside out). Sweat can't be seen on the outside though. Unlike wet cotton shirts, I didn't feel like this was a sauna suit when it was covered in sweat or when I was doing my evening runs in the rain.
Outside and inside of sweat covered shirt.
Along with the Slag performing well with its dry time, it also does spread sweat flat over the fabric's surface as claimed.
TiFusion Technology – "clean, fresh, and safe"
The science behind Vargo's TiFusion can be found here but this is the best synopsis directly from Vargo's Q&A:
TiFusion works in any amount of visible light (natural or artificial) regardless of conditions like altitude, light angle, filtration, etc. Though places like under arms don't receive a lot of direct light, they'll receive enough light during the day to activate TiFusion's odor reducing properties on the apparel. TiFusion will deal with retroactively accumulated odor, dirt, and sweat though it would be much quicker to rinse the shirt, wring it out, and let it dry in the sun or other light.
I don't pretend to know the science, but I thought, well let me wear this for days on end and then give it the old sniff test every day to see how the stench progressed. Every other weekday from April to mid-June, I wore it both at the gym in the morning (artificial light) and then in the evening for a road run with my wife (natural light). I washed it once a week (about 5-6 uses), and for my morning workouts wouldn't have anti-perspirant /deodorant.
Putting a sweaty shirt into my gym bag, then keeping it in my trunk until I got home from work would make for a smelly shirt. The Slag was…tolerable. I put the shirt on our west-facing kitchen chair for an hour after I got home (to test Vargo's claim to "deal with retroactively accumulated odor, dirt, and sweat"). When I'd go on my evening run, it would be much more manageable than my other shirts. Is this the TiFusion or the fact that I let the shirt air out? Maybe both?
A great comparison is the Terramar shirt which also is supposed to have odor fighting capabilities. Even though it is mesh and nearly see through, it would only take two uses before it would smell enough that I wouldn't want to wear it. Compared to Terramar's odor fighting shirt, the Slag is a winner. I'd be able to wear the Slag about twice as long as the Terramar and especially the cotton mix Nike. The smell, which I know isn't our detergent, would also be a fresh or neutral linen smell, even after two or three uses, so it made it easy to throw on the following morning.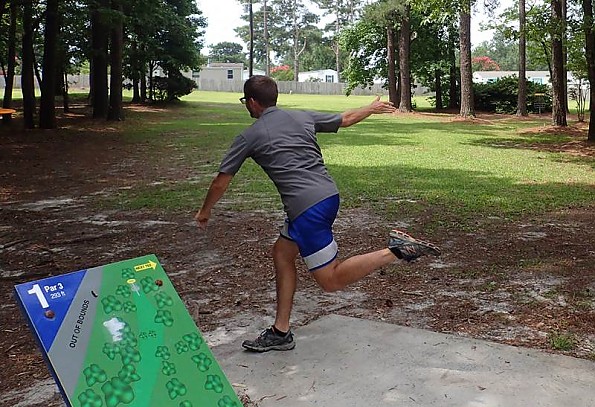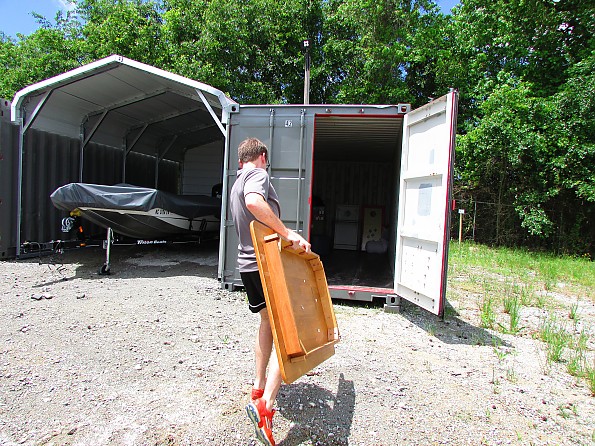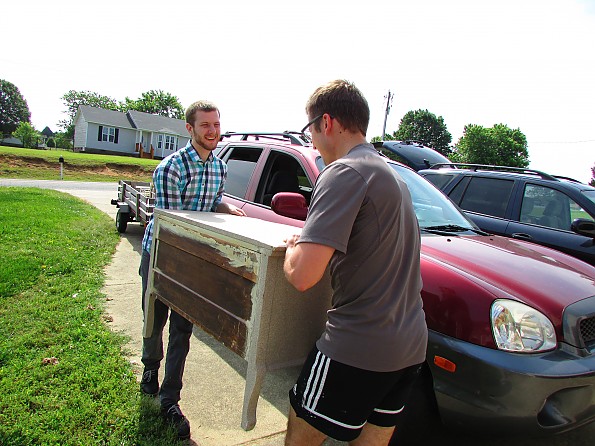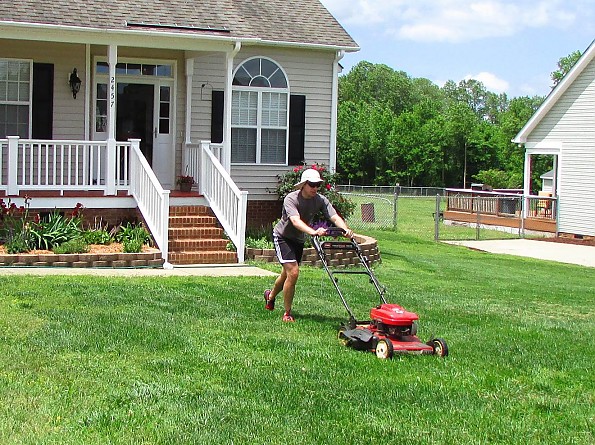 I don't assume to know the science of Vargo's TiFusion, but the Slag was fresher than my other comps. I did not see any cleaning of dirt from my shirt, but odor and sweat dissipated well.
Other Considerations
Stitching/Fabric
The stitching is a flatlock type of stitch which is to prevent chafing. With the tightness of the fabric across my upper back and location of the stitched fabrics (unlike your typical shirt only along the sides), I was concerned about irritation. I haven't encountered any, though I did notice the stitching against my skin the first few times I wore it, just because it was a bit different. Now I don't feel it at all.
Unlike the other two test shirts which typical mesh shirts, the Slag has a boxed texture on the outside and is smooth on the inside (pic below). It's not made of two fabrics sandwiched together, so how it was designed is pretty interesting. I'm sure the smooth inside vs. textured outside has to do with its sweat dispersing and TiFusion tech, but it feels great against my skin and is very comfortable to wear, both with and without a pack.
The fabric is also stated to have 97% UPF protection.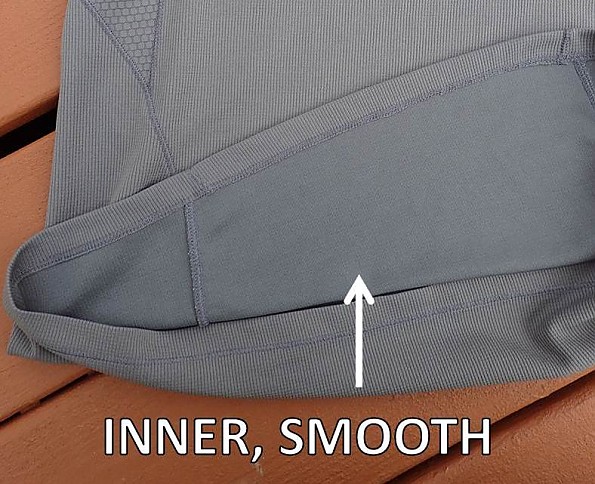 Merino Wool
Inevitably when discussing odor fighting materials, merino wool needs to be considered. I only own merino socks and headgear, but no shirts. My socks do stay fresher, longer than other socks, once they get wet (I wear lightweight, non-waterproof trail runners...so it happens a lot), it can be a long time before the socks dry. I assume that a merino wool shirt will compare well to the Slag for odor fighting, but fall short on dry time.
Price Point
A newer shirt on the market (summer 2015), the price at this time is $50. That's up there for sure, especially when considering the Nike and Terramar shirts were only in the teens. The shirts performed adequately, but not up to snuff with the Slag. Is that where the additional cost comes in to play? Food for thought.
If this shirt dips into the $30-$35 range though, it would be well worth it in my opinion just for its durability and quick drying alone; add the TiFusion and that's icing on the cake. If a piece of gear will stand the test of time, I'm willing to pay a bit more.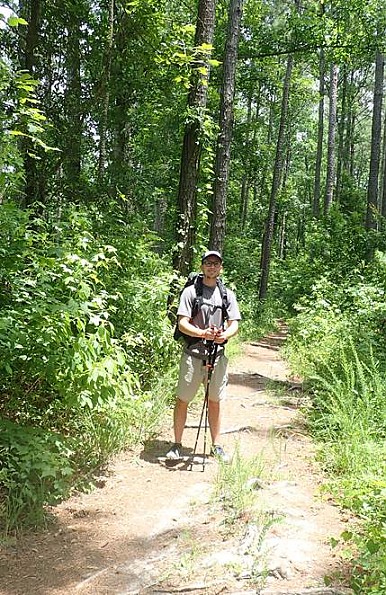 Conclusion
I enjoyed testing the Vargo Slag short-sleeve shirt. I'm not necessarily brand loyal, but I follow the old adage "if it ain't broke, don't fix it" and that rings true here. If the price comes down, a few other color options are available, and sizing is tweaked, I'd line my closet with these.
The Slag proved to be a great all-purpose shirt and while it is expensive, I can see this lasting longer than my other shirts. I recommend the trim fit Slag.
A similar design, the Gem Short-Sleeve, is offered in women's sizes.
A long-sleeve, 1/4-zip version is also offered in men's, Bedrock 1/4 Zip, and women's, Ingot 1/4 Zip. 
Thank you to Trailspace and Vargo Outdoors for providing me with this sample and the opportunity to test it out.
Source: received for testing via the Trailspace Review Corps (Sample provided by Vargo for testing and review)

Your Review
Where to Buy
Help support this site by making your next gear purchase through one of the links above. Click a link, buy what you need, and the seller will contribute a portion of the purchase price to support Trailspace's independent gear reviews.
You May Like
Specs
| | |
| --- | --- |
| Price | MSRP: $50.00 |
| Weight | 5.8 oz / 164 g (large) |
| Material | 100% Polyester |