Vargo Bedrock 1/4 Zip

A midweight, quarter zip long-sleeve shirt, the Bedrock is a durable option for any cooler time of the year. It's a tight fit for slimmer bodies, but is fleece lined and breathes well due to side stretch panels and ability to unzip collar. The fleece holds sweat, but the TiFusion (titanium infused) fabric wicks and fights odor really well.

I'd recommend for any non-summer (at least non-humid) season for any activity where durability and constant use is a factor.
Pros
Comfortable, fleece inner layer
Breathable and stretchy side panels
Option for use of thumb loops
Slim fit/active design (both pro/con), but does have longer hem and layers well in cooler temps
Cons
Price higher than other midweight fleece/activewear ($80 at time of release)
Quite tight (sold as "trim fit"), either size up or wait for relaxed fit version
Claimed as 3-season, but is too warm above high 70s
There are a lot of similarities between Vargo's short-sleeve, lightweight Slag Short-Sleeve (review here) and this quarter zip long-sleeve Bedrock. Like the Slag, the Bedrock is durable on the outside, comfortable on the inside and breathes well from its mesh side panels.
The Bedrock is best suited for fall, winter, or spring seasons, though it shouldn't be worn as the sole insulating layer in winter. Vargo claims this to be a three-season shirt, but I found it too hot to wear for a time other than morning or at night during the summer.
I'd recommend this for any type of activity that'd need a durable, warm(er), yet breathable layer and for more of a slim/athletic body type.
Testing
Vargo claims that their TiFusion technology (both the Slag shirt and quarter zip long-sleeve Bedrock) uses "light as a catalyst" to create a garment that is "self-cleaning and quick drying while reducing odors and increasing UV protection." In addition, the shirt promises to keep you "cleaner, smelling fresher, and dry 25% faster than standard shirts." My testing addressed these two claims directly as well as the breathability, durability, fit, and other considerations such as layering and special shirt features.
I have tested the Bedrock for over three months, with more consistent use occurring from April through mid-June. The heat of the summer started to get the best of me which I'll mention more below.
From the trail to the beach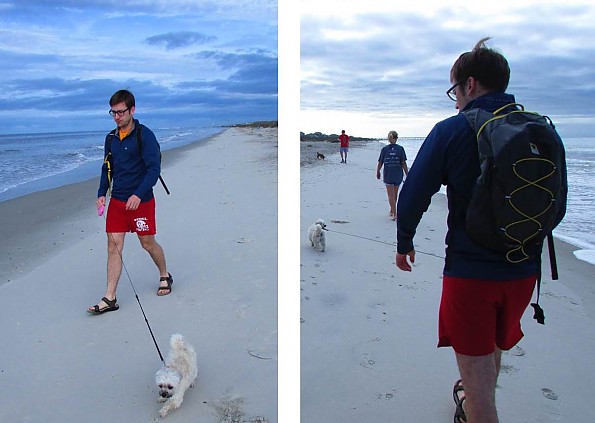 Comps
Below are my comps used during my testing (click picture to enlarge).
Vargo Bedrock: 100% polyester per tag (93% polyester, 7% spandex per online specs which seems more accurate as the side vents appear to be perhaps a spandex-polyester blend)

Starter: 100% polyester
Terramar Climasense 1.0: 100% micropolyester ("odor control" properties)
Black Diamond Deployment Hoody: 60% Merino Wool, 40% Nylon
Comps #2 and #3 are more lightweight quarter zips and#4 is a midweight hoody. I used #4 to compare more for its dry time than #2 and #3, and also to compare other characteristics of merino wool to the TiFusion fabric.
Fit
I've addressed fit as my first point because the Bedrock will either fit your body type or it won't. It has a sleek design, noted as being a trim fit (I'd say slim fit is a better description), but at the same time has an elongated hem. So it's a little tighter and a little longer than your average shirt. I am 5'9", 150 lbs and have an athletic/slender frame. I tested the size medium.
This can be a tight fit and this is coming from someone who is on the thin side. Its companion lightweight, short-sleeve Slag is slightly tight, but the midweight Bedrock is even tighter. While it does have a little stretch, especially at the side spandex-polyester blend panels, areas like the cuffs, waistline, and upper chest can make for a tight fit; these areas have little to no spandex to create any give to the material.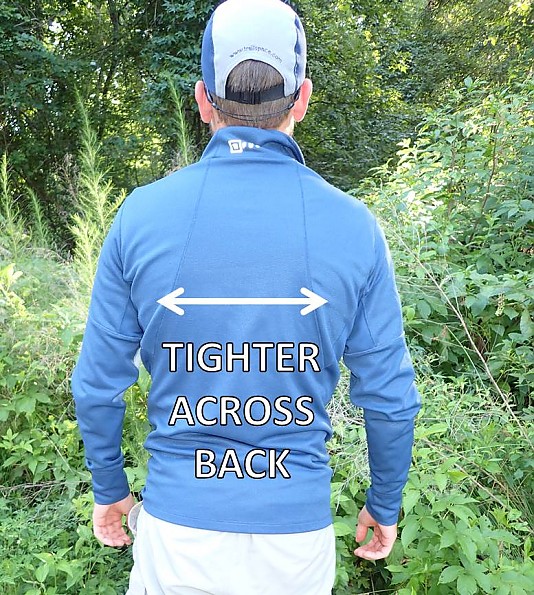 The upper back is the most noticeably tighter area, even after 3+ months of use. Every time I put it on, I forget it is tight. I use this with my pack and on morning/evening runs. I prefer more form-fitting gear as my prior experience with relaxed-fit or loose gear is skin irritation, especially when worn with my daypack. Again, it's one of those things that it'll fit you or it won't. I'd suspect that even if you size up, other proportions would get off such as sleeve or waist length.    
The elongated hem is a nice feature. I hate when my shirts rise above my waistbelt and chafe my hips. The cuffs can be tight if wearing a watch and are even a bit tight to get your hand through at times (more on that under "Other Considerations"), but those folks with larger mitts may have to force them through a bit.
You can notice how long the hem is, even here with my hands up and thumb loops on.
The first few times wearing this shirt, I didn't know what to make of its design. It has grown on me and the fabric has loosened up slightly in the wash. It's sleek and athletic which works for me, but if I plan on getting any bigger (either from working out or eating too many donuts!), I would definitely need to size up. If you have the opportunity to try this on in the store, I'd absolutely recommend doing so.
The sizing chart is at the bottom of this page. 
Durability
The outer layer of the Bedrock is primarily polyester made in a grid pattern. Like the short-sleeve Slag, I think this patterning has led to a more durable design.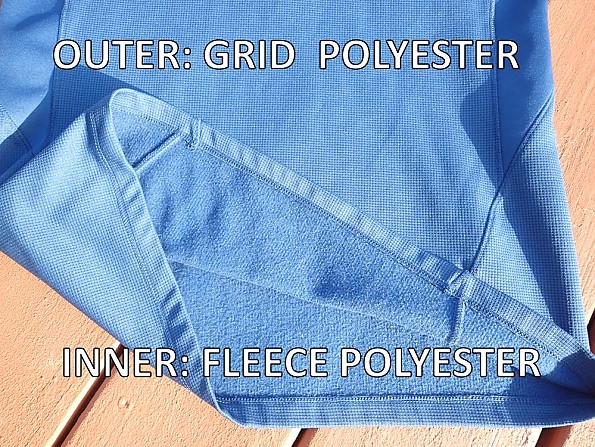 Along each side of the shirt from the tricep to near hip runs spandex material which is quite breathable and, so far, hasn't shown any signs of stress. With my Osprey backpack and Mountainsmith daypack I haven't noticed any scuffs on the fabric on the shoulders or under the armpits (which is spandex).

The stitching also seems to be very high quality. I haven't noticed any signs of weakness between the stitched materials or unraveling. I always look at a garment's stitching, I think it can tell a lot about the craftsmanship; Vargo doesn't disappoint in its quality with my test gear.
I've washed this 20+ times in a top loading washer and also dried it in our dryer. Typically I let any dry fit gear just hang dry, but wanted to see any effects. It's only seen 3+ months of use, but has fared well this far. For durability, longevity is the name of the game and I'll continue to update on the status of its durability.
While the Bedrock has a skinny zipper pull, I haven't had any issue with it potentially breaking. It hasn't snagged on any of my layers either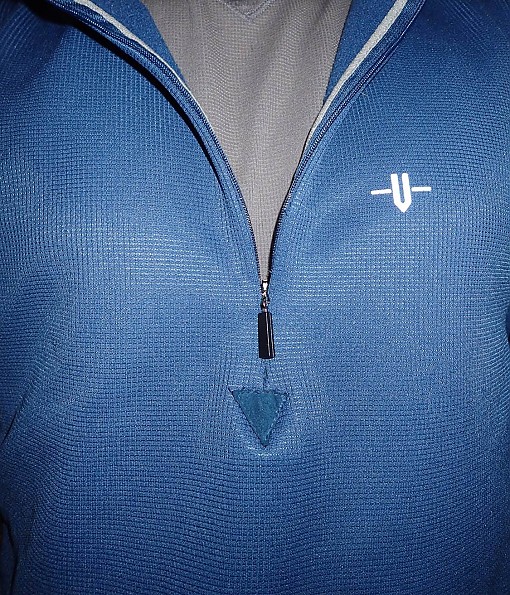 Breathability
Two areas help the breathability of the Bedrock: the collar zip and the stretch side panels. The collar has a generous length, almost like a half zip. When I was pushing my morning runs in June when it was heating up, I found that I unzipped only a few minutes into the run; again, enforcing to me that the Bedrock as a 3-season active layer may be a stretch. Three season? Yes, but the seasons are fall through spring.
Unlike the Slag, a noticeable difference can be noticed through side stretch panels (pic below). These side panels breathe very well. They are well placed too because they go on either side above and below the armpit.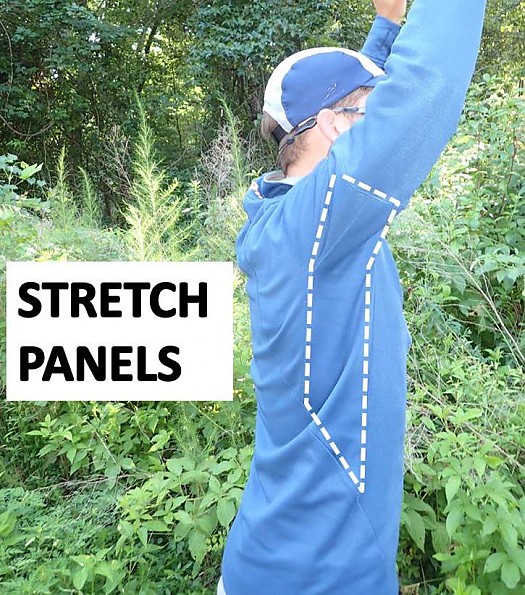 One thing to think about is: what about using it as the only layer during summer? For me, even still, the fleece against my skin made it too warm above the mid-70s. My comps #2 and #3 are lightweight and I wear those in the 80s because sometimes I don't want to put on sunscreen or want protection from plants on a tighter trail without becoming too hot. The Bedrock, though, would not be part of my gear in temps above the high 70s. Perhaps someone in a less humid area (I'm in NC) would think otherwise.
Dry Time
When comparing dry times to other comps, I used the midweight merino hoody only. Keep in mind my results below aren't exactly real world situations, but did give me an apples-to-apples comparison due to the same testing conditions
I fully saturated each shirt and hung them over a deck fence. I felt each shirt to see when it was dry, feeling the mid-chest area. It was 87° on my clock/thermometer.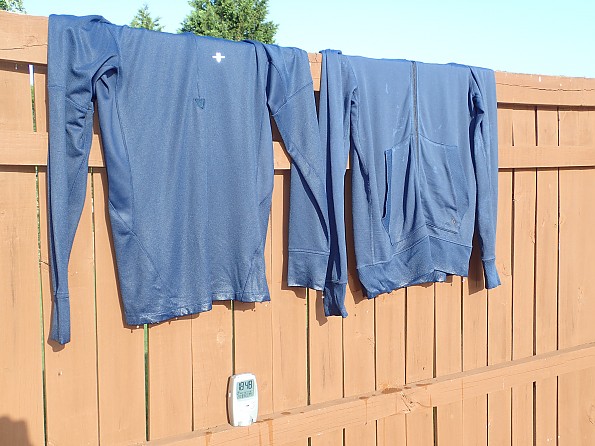 Unlike when I'm wearing the Bedrock, the fleece inner dried quicker than expected. The Bedrock was dry around 1hr 5min. The Black Diamond was almost dry at 1hr 20min, but still has that moist feel to it. It may feel cool on the body, but was still saturated. It didn't feel completely dry until nearly 2hrs. Considering the hoody when worn, the Bedrock would definitely outclass the BD hoody.
As for the Bedrocks insulating capabilities when wet, that'll have to wait until cooler weather. At that point, I'll update. 
TiFusion Technology – "clean, fresh, and safe"
The science behind Vargo's TiFusion can be found here, but this is the best synopsis directly from the Q&A:
TiFusion works in any amount of visible light (natural or artificial) regardless of conditions like altitude, light angle, filtration, etc. Though places like under arms don't receive a lot of direct light, they'll receive enough light during the day to activate TiFusion's odor reducing properties on the apparel. TiFusion will deal with retroactively accumulated odor, dirt, and sweat though it would be much quicker to rinse the shirt, wring it out, and let it dry in the sun or other light.
As with the Slag, I am satisfied with the results from Vargo's TiFusion fabric. Although unlike the Slag, there is one difference. The Bedrock is a midweight shirt and the Slag is lightweight (though Vargo considers it midweight). The polyester fleece inner along with the weight of the fabric keeps a lot of sweat and can take a while for the inner to dry when worn against the body (as opposed to hanging up at day's end).
Light is also needed for the TiFusion to do its work and areas like the inside or even the outer fabric under the armpits make that difficult. I'd recommend flipping the shirt inside-out when you stop at camp or take a break. It'll let it air out, get some light, and smell better. I didn't wet it and wring it out, but would let it simply sit in the sun to see how well the fabric would perform.
At Wagstaff Environmental Park, my go-to trail running park. Here the Bedrock is coupled with the short-sleeve Slag.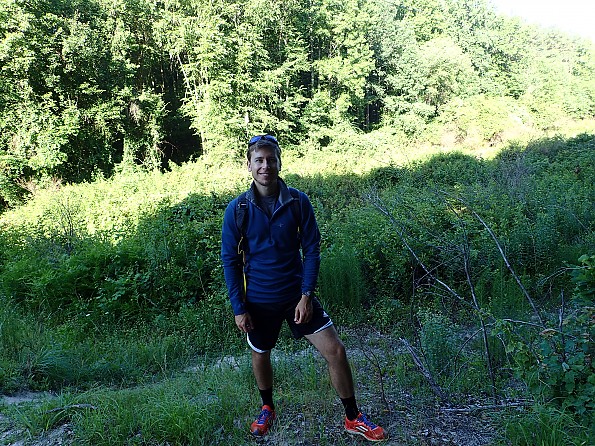 There seems to be something behind the TiFusion. My Terramar lightweight comp would last around three trail runs with the Starter being two times max. My BD merino wool hoody was very comparable in its odor fighting. I've had that for over a year now and I think I've only washed it a handful of times. Like the BD hoody, I feel taking the time to flip the Bedrock inside-out for an hour or two at the end of the day that I can wear it for several active days at a time easily.
Vargo's TiFusion, specifically testing with the midweight Bedrock, seems to be a competitor to merino wool in its ability to stay fresh. Only time will tell how well the TiFusion polyester will perform against the natural wool in its durability and odor fighting.
Layering: Slag & Bedrock
Vargo states that the short-sleeve Slag and Long-Sleeve Bedrock are the perfect layering system. The picture above actually shows both worn together. With both having TiFusion fabric, I'd recommend it. If you do have both pieces for several days, I'd alternate throughout the day or every other day wearing both layers. If you can get some light on one layer by hanging it on your pack or hanging it up at camp, that'll give you more freshness out of both.
Other Considerations
Cuffs/Thumb Loops
The cuffs do stretch, but only minimally so. When I wear my watch, the cuff is difficult to maneuver over my wrist and is even harder when I need to take it off back over the watch (unless I want to take the watch off, then shirt, then watch back on...what a pain). Like I say in the Fit section, the Bedrock screams "tight."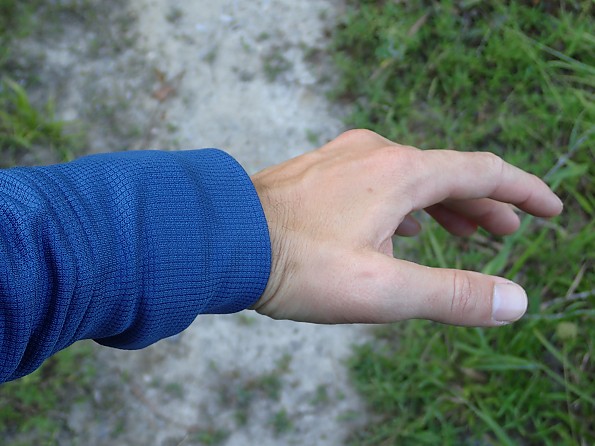 The sleeves are long and don't become too tight when the thumb loops are used. Some long sleeves and jackets that I've used with the thumb loop are hit and miss. The Bedrock does well with its placement of the thumb loops as well as the length of its sleeves. I can use the loop and still rotate my wrist freely without twisting up the sleeve fabric too much. A helpful feature in my opinion and if you don't use it, no big deal.
Conclusion
The Vargo quarter zip long-sleeve Bedrock works well as an all-purpose, midweight, layer for use in 3 seasons…fall, winter, and spring. I love layering and if this ¼ zip design were made in a lightweight option (imagine the Vargo Slag, but long sleeve and thumb loops), then I'd be walking on cloud nine.
Until that time, the Bedrock is very durable option to add to your gear list, though at $80 it's too much for me to pay personally if I didn't test it for the Review Corps. Come down to the $50 range and make the body and sleeve circumference a smidge wider and I'll be first in line. I give the Bedrock a strong 4 stars.
A similar design, the Ingot 1/4 Zip is offered in women's sizes.
A short-sleeve TiFusion version is also offered in men's, Slag, and women's, Gem.
Thank you to Trailspace and Vargo Outdoors for providing me with this sample and the opportunity to test it out.
Source: received for testing via the Trailspace Review Corps (Sample provided by Vargo for testing and review)

Your Review
Where to Buy
Help support this site by making your next gear purchase through one of the links above. Click a link, buy what you need, and the seller will contribute a portion of the purchase price to support Trailspace's independent gear reviews.
You May Like
Specs
Price
MSRP: $80.00
Current Retail: $40.00

Weight
12.8 oz / 365 g (large)

Material
93% Polyester, 7% Spandex

Recently on Trailspace