Mountainsmith Spirit

The Spirit has been discontinued. If you're looking for something new, check out the best daypacks for 2023.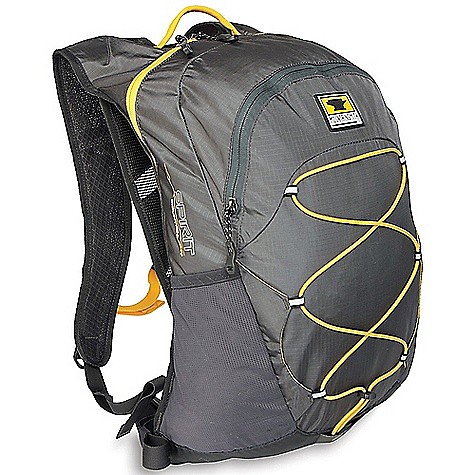 Great 12L day pack with unique breezeway through a trampoline back. Reduces sweat and increases air circulation. Actually has type of shell back panel behind trampoline suspension which creates a rigid pack. Option for bladder. Sturdy and durable. I'd recommend for hiking, especially any type of biking activity due to the pack's natural curvature.
Pros
Trampoline suspension back
Durable (no issues with snagging limbs/thorns or tearing)
Option for bladder insert
Fits well against ones back (also due to trampoline suspension)
Cons
Smaller capacity (12L)
Inverted design makes packing unique (small at bottom, larger on top)
Bottom of pack can hurt lower back due to only having chest buckle (bottom bounces, hard corners of pack)
Smaller bottle pockets (too snug for Nalgene)
Great pack for bike riders or day hikers. It has an option to include a bladder. If you don't use it, its a great place for documents, wallet, etc. I received it as a gift and haven't looked back.
Comfort
What makes this unique is also a reason that it can be seen as being a con.  It  has a trampoline back that will rest directly against you while wearing. Between the trampoline suspension (i.e. your back) and the pack is a hard shell to give it its shape and keep a breezeway (as they call it) to allow air circulation.  Check out my picture below. From the profile you can see this gap. Even when fully loaded there will still be this gap because of the shell. Unfortunately, the con is that this shell reduces the space available in the pack.  The shell is curved, and of course not directly against your back, thus reducing how much you can pack.
Ride & Fit of the Pack
My one issue that I've had over time is the bottom of the pack, particularly the bottom edges where the rigid shell meet the trampoline suspension, rubbing against my lower back. This only happens when I am going at a quicker pace like trail running or even just jogging. With the pack being designed for cyclists and mountain bikers specifically, this would be a moot point, but is something to consider depending on your intended use and pace.
Water Resistance/Durability
It is highly water resistant, but not waterproof.  The straps and buckles (at the chest and waist) are well constructed too.  I mainly use the chest buckle. I can see this being used for kids, women, or men.  I have had it for over a year (as of Nov 2014 update) and it has taken a beating being thrown in the trunk and against brush while on the trail. It has not had any noticeable signs of wear. 
Side view to see trampoline suspension.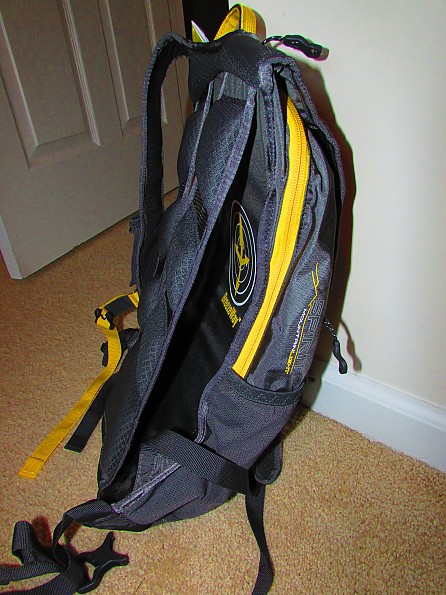 Wearing the MS while on the trail (in red).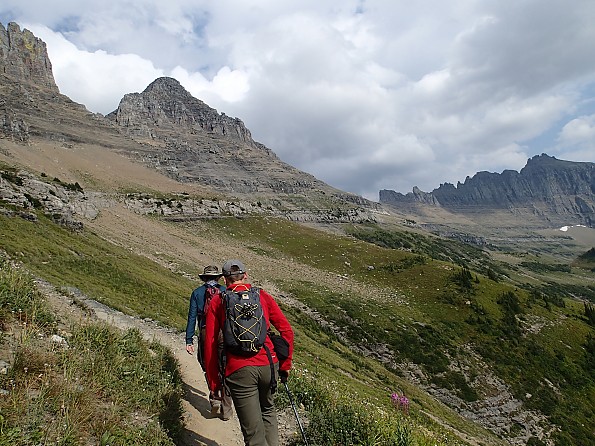 Capacity
I generally keep a Nalgene inside the actual pack and a bladder or two on the outside.  The side pockets are not large enough to  support a Nalgene (either on one side or both).  Since I first received this pack, I have changed to using a Sawyer Squeeze for my filtration needs.  A Smart water bottle fits on either side fine, as does any type of water bottle or isotonic drink bottle like Gatorade.
As for accessibility and organization, the pack is smaller at the bottom and wider at the top, similar to an upside down pyramid of sorts.  This is mainly due to the construction/hard shell back panel. It takes some thought into how to organize your gear to get it all to fit.
Same trip as above picture. Friend borrowed for quick hike up to Swiftcurrent Pass. We discussed his thoughts and we agreed on the features of the pack.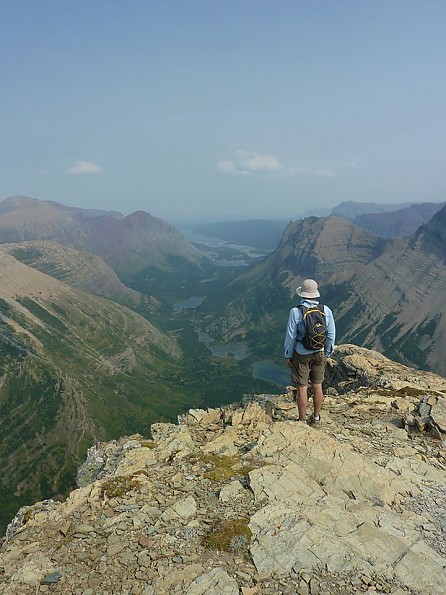 Overall
Well priced and durable.  I'd definitely recommend to others.  Great for kids taking on a light retreat or family vacation too. Another good aspect of the pack is that it has the option to include a bladder.
Source: received it as a sample, freebie, or prize (Mountainsmith directly)

I have the older model, which is kind of a hybrid waist/daypack. I love it! It is amazingly comfortable, has hydration slots, clips and a pocket, and works perfectly for my mountain biking needs.
Pros
Great design
Comfort
Ease of use
I have the older model, which is kind of a hybrid waist/daypack. I love it! It is amazingly comfortable, has hydration slots, clips and a pocket, and works perfectly for my mountain biking needs. 
Source: bought it used

Your Review
You May Like
Specs
| | |
| --- | --- |
| Price | Historic Range: $41.97-$69.95 |
Recently on Trailspace