Teva Hurricane XLT

The Hurricane XLT has been discontinued. It was replaced by the Teva Hurricane XLT2.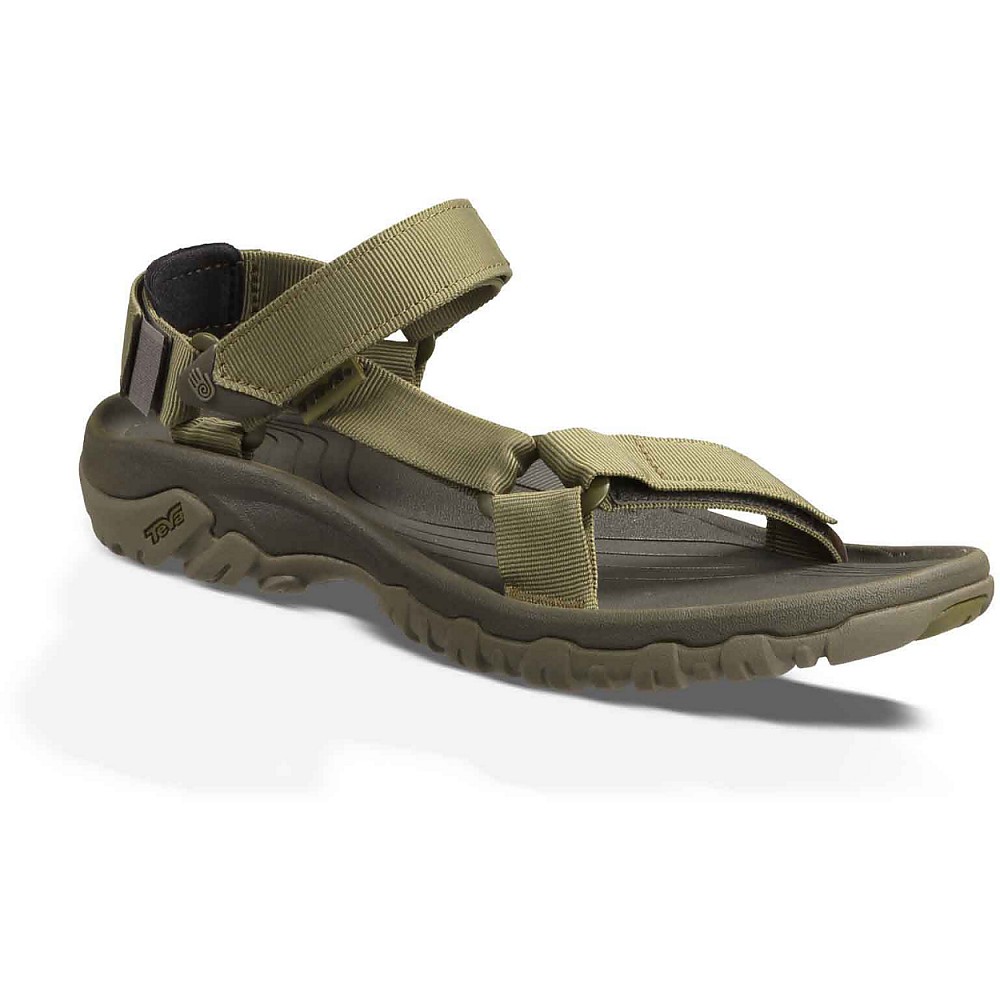 Take a design classic...and make it a bit gnarlier.
Pros
Simple effective design
Tough materials
Plenty of adjustment
Durable
Improved sole grip
Comfortable, for long periods
Versatile
Quick drying
Easy to maintain
Cons
No toe protection
Not as much cushioning, as some alternatives
Some may prefer softer straps
I left my first pair of Tevas on a beach, in northern Scotland. It was an unusually warm day: normally neoprene booties would be more appropriate;-)  I immediately replaced my original, smooth soled sandals, with the uprated XLTs, with a trip to hotter climes in prospect, back in 2005. Tevas are an all-day essential in Northern California in September.
You'd have to work hard, to trash a pair of these XLTs. The webbing straps are tough, the d rings (triangle rings?) are scratchable nylon, not snappable or crackable nylon. The Velcro won't last forever....but remember, I live in a cold climate; Tevas are a specialist item around here.
What do I use these sandals for? I've spent a number of days wandering round cities in them, sat around in ballparks, and played frisbee in leisure parks in them. They stop my feet from burning on non-Scottish beaches and are great, for sea and river sports. 
I've carried them on a couple of long, through hikes. They're a comfy camp shoe and are pretty good for river crossings and light duty hikes. Excellent, for shortish portages and swimming from the kind of rocky beaches, which otherwise leave your feet nicked up and bloody. Soles are grippy enough for wet rock or mud, and the fastenings can be tightened, to make most shapes of foot feel secured.
I need more support for hikes, than a running shoe can provide—so I wouldn't choose a Teva, for that kind of duty. I'm also the kind of person who will find sharp objects, in a mountain stream and ankle-snagging debris, in the smoothest-looking ford. Something with a toe cap would be an upgrade, in other words.
Tevas are a Jack-of-All-Trades shoe. They aren't the perfect solution, for any outdoor life problems—but they're reliable and versatile enough, to find their way onto most weekend, or long distance kit lists. Those of you who are strangers to snow and socks, may be looking for different strengths, from an everyday shoe.
My Tevas lead a cloistered life...until they're needed. The compromises are forgivable—they've never let me down.
Experience
I've had this pair for fifteen years. They get wet, a lot more often than they get dusty.
Source: bought it new
Price Paid: £50?

An excellent all around, multi-tasking and able to get the job done product. Great in a cinch, or a clinch.
Pros
Durable construction
Lots of tread underfoot
Back-country multi-tasker
Cons
"Oh my gosh, they weigh so much" (unless you consider they're three shoes in one)
Plant this image in your head—it's day one (or maybe day #13) and after all your planning and spending and weighing and fretting and traveling you're on the trail, but the trail is starting to get the better of you and even though you did your weekend hikes and strapped on your pack as much as you could, your body is giving out and it's sending all of its frustrations right down into your hot sweaty boots that suddenly just don't fit right and you can feel the burning sensation of all those hot spots just dying to puss up and take you out of action...(okay, I have less than an hour to write this, so...)
Teva Hurricanes. Been hauling them around for several years now and seen and felt the benefits—never mind that they weigh a little more than so many weight conscious wimps would like them to—they do the job of three pairs of shoes, in my experience. 
Everyone wants a "water shoe" something they can use to get across all the many stream crossings they might encounter, but most if not all "water shoes" are nothing more than a flimsy neoprene slipper designed for wandering on the beach or piloting your jet ski. 
Everyone wants a camp shoe, something they can slip into at the end of the day and just relax in, but these "slippers' are again, not good for much else. 
No one wants or even thinks they need a third pair of footwear suitable for stream crossings, lounging by the fire, or, should something either happen to your main pair of hiking shoes or your feet get injured in some way that you can no longer wear your boots—something that will get you out of the woods, off the trail, to safety. And maybe you really don't need this "third pair" of shoes, but my experiences have proven otherwise. 
I've seen people whose boots got destroyed, fell apart, and all duct-taped up, repeatedly just to help them finish the trail. I've seen people burn their boots in the fire, trying to dry them and ending up with open-toed shoes. I've seen others, as well as myself, who've twisted ankles, making boots too restrictive...and of course, I've seen many with so many blisters and so much pain, but all they have is the one pair of burly boots that inflicted all the damage and what can they do but hobble off the trail, with ugly foot pictures all they have to show (and post on FB!) for all their effort and expense. 
So there you are again, sweaty, full of doubt, and three more blister-inducing miles before you get to your first night's camp and a chance to extricate your soon to be blisters...but if you had a pair of sandals, a pair of Tevas you could slip them on, dunk your tired feet in the next cool stream, and suddenly, your feet would scream out, in pleasure, in relief, to the rest of your body, "we got this, let's keep on going." 
...Look, up there, on the trail, it's a water shoe, no, it's a camp shoe...no, it's a great shoe for backpacking in. It's the Teva Hurricane!!!!!
Source: bought it new
Price Paid: $60-$85

Comfortable and easy put-on-and-go sandals that are great for anything from a casual work environment to randomly hitting a trail for a day hike.
Pros
Durable
Good soles
Easy to adjust
Easy to clean
Comfortable
Cons
Dirt and grit collects where the foot meets the sandal in little lines
I'm not a hipster. I tend to steer clear of slacklines, fixies and strapping on sandals when I want to be served at a restaurant. There are times (like almost 100 degree weather in the summer) when my feet want something that breathes a bit better than even my lightweight trail runners can give them; so I decided to give Teva (pronounced tay-vuh) a try.
Pros
They fit true to size. If you want to adjust them for wider feet, there are three points to cinch or loosen the velcro straps as needed. After a few games of ultimate frisbee (ok, maybe I'm a little hipster) and running around in general, I can say that they are durable. The soles grip well on rocks and dirt trails just as well as pavement. Some sandals make funny squeaking sounds on pavements, but that doesn't seem to be the case with these.
They support my ankle well, although those with bad ankles already might want something with a bit stiffer support. There was barely any breaking in time that I could tell. The moment I put them on my feet I went to a local trail and did a short afternoon hike. 
As far as the fit of the sandals go, the Hurricane XLT has 3 adjustment points to fit any size feet from narrow to wide.
Cons
The only annoying thing I've found so far is the little grooves where you feet touch the sole get dirty fairly fast. Easy enough to clean, but I wish they had found something different to do there.
All in all a great piece of footwear. I would recommend the Hurricane XLT for anything from daily wanderings to throwing into your pack for basecamp.
Source: bought it new
Price Paid: $58

A lightweight durable sandal that can be used around the campsite and during water crossings with excellent grip. The materials are compatible with water and the sandals are comfortable for walking around your campsite while your feet breathe and your footwear dries.
Pros
Very durable
Comfortable
Water compatible
Cons
Heavier than some sandals
MY feet get tired of being in the same hiking footwear day after day. I like having something to change into at the campsite and to wear while doing a water crossing.
They are heavier than some simpler lighter sandals, but far more durable. If I am hiking in the backcountry, I do not want to be hauling out a broken sandal. I want a durable, comfortable, water-compatible sandal with good tread for grip so I can use these sandals whenever I am not wearing my normal hiking footwear (including in public showers).
Source: bought it new
Price Paid: $55

These are hardcore.
Pros
Affordable
Durable
Comfortable
Long lasting
I absolutely love these. They have just the right amount of firmness and cushioning for me. The soles are grippy on all outdoor terrain as well as manmade surfaces like concrete and tile. The straps provide for excellent fit, you can loosen them for casual walking and tighten them up for more strenuous activities. They are also great if you wear ankle supports regularly like I do.
I have a pair that I bought in 2013, I've taken them to Malaysia, Cambodia, Vietnam (twice), Myanmar (twice), Thailand (four times), and various places within those countries as my main and sometimes only form of footwear. I still use them regularly for walks, light hikes, and the occasional day of walking around the city.
They are only now starting to fade the bottom of the soles, but it's still comfortable and I imagine I can get another year and a half of the same type of usage before I consider replacing them, which has far surpassed my expectations for these sandals.
The midsole is still very comfortable, in fact I've recently bought a pair of Keen Uneeks and Columbia trail shoes that are both fine but don't provide me with as good support or cushioning for all day wear as these five-year-old Hurricanes. 
I highly recommend these. 
Source: bought it new
Price Paid: 60-70usd

I got these for camp sandals and for water. So far, very impressed and would recommend.
Pros
Easy to strap on
Very comfortable
I've not had sandals before, always been a shoe guy. Plus, I never liked flip flops. I got these for camp use, very rainy hikes, and for water ( boating, crossing streams, etc. ).
I've worn them around town to break them in and have no complaints. 
Source: bought it new
Price Paid: $50

Your Review
You May Like
Specs
Men's
Price
MSRP: $50.00
Historic Range: $11.97-$60.00
Reviewers Paid: $50.00-$58.00

Women's
Price
MSRP: $50.00
Historic Range: $19.98-$69.95

Recently on Trailspace