The North Face Arcus 23

The Arcus 23 has been discontinued. If you're looking for something new, check out the best three-season tents for 2021.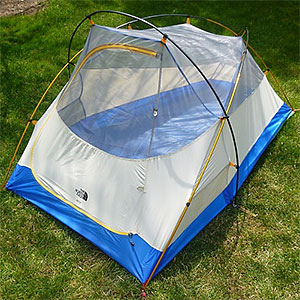 Specs
| | |
| --- | --- |
| Price | Reviewers Paid: $219.99 |
Reviews
1

review

5-star:

0

4-star:

0

3-star:

1

2-star:

0

1-star:

0
While it may look like the Tadpole, this isn't the same [2-person] tent. The illegitimate child of TNF's "Tadpole" and "Kings Canyon" tent lines, with Mommy's pole structure, Daddy's color scheme, and a vestibule rhinoplasty that belongs to neither. Prepare to hurdle over your gear when entering the front [and only] door/vestibule, only to find yourself in a space one person wide, not quite a person long, and with only one end to fully sit up in. A poor space-to-weight ratio (1 person against 4.5 pounds) makes this difficult to justify as a backpacking tent.
Pros
Smarter use of lighter, thinner, and smaller materials to reduce weight
Innovative combination of clip and hook pole attachments
Quick and simple assembly
Cheery, light, off-white color reflects sun while letting light in
Ample space for a 6', broad-shouldered male
Cons
Not a true 2-person tent (solo at best for users under 6' or shorter)
Short and small vestibule that sits too high
Gear stored in vestibule obstructs entryway
Insufficient ratio of included stake to total number of stake-out points
Only one way to sit up inside
No view from interior when sitting up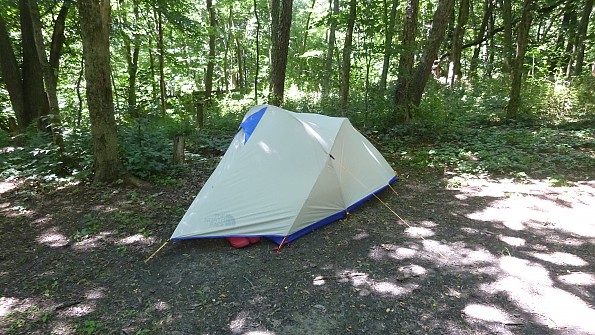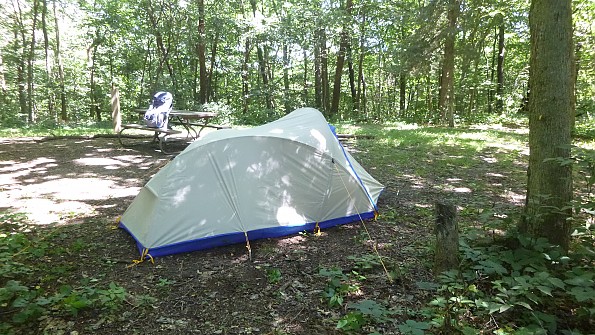 UPDATED MAY 8, 2014
NOTE: This was my very first solo backpacking tent. I purchased - and thus reviewed - it as an amateur, who more often than not fit himself to his gear than finding gear to fit him. With time and thought, my opinions have changed and I wanted to express them more accurately and honestly than I first did.
It is my hope and goal to find myself a place in the outdoor industry, and perhaps afraid of making enemies (or offending potential employers), I inadvertently censored thoughts omitted from my initial review.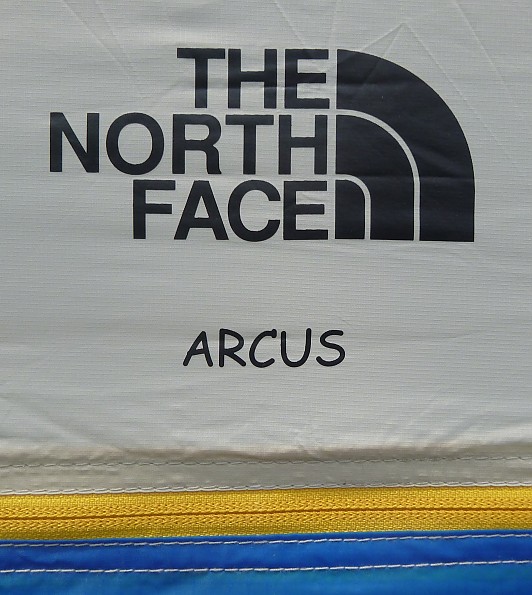 "Arcus."
The name caught my eye before anything else, and what began as a glimpse at an eBay thumbnail image eventually became a PayPal purchase.
After studying the entire line of The North Face (hereafter referred to as "TNF") tents, I knew this was a special one - I'd never before seen it, much less heard of it. Even good 'ol "Google" didn't have much to say on the matter. 
The name didn't scare me - the Comic Sans font, however, screamed "counterfeit." You won't see nary a birth certificate, anniversary card, or business contract written in Comic Sans. Much less a tent.
After some research and fact-checking, I found this was purchased directly from the TNF Outlet store in Freeport Maine.
It wasn't a model put into mass-production, but they did make enough of them to have some leftover. This is one of the few, and to my knowledge, I've only heard of one other person (from the comments section of their review) coming in contact with this tent.
Again, "Arcus."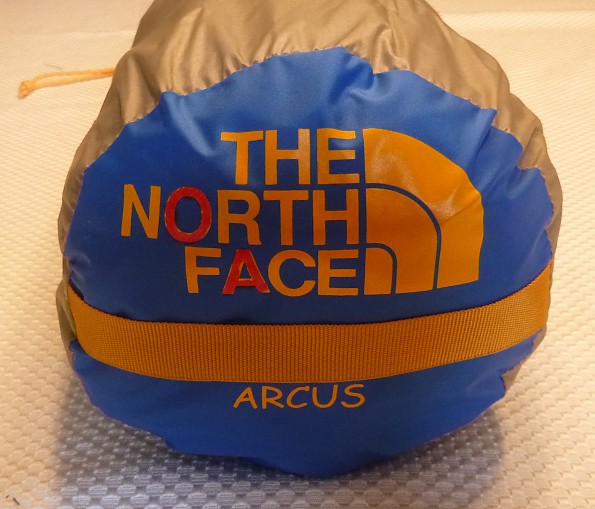 Well, Arcus what?!?
If you're familiar with TNF tents, you'll remember every name is followed by a number.
The name? Purely arbitrary, and based on whatever thematics come with a new year and a new line.
The number? The first digit represents the number of people it holds (capacity), and the second, number of poles.
Since this tent came without a birth certificate, a little genealogy work will lead you to what looks to be its closest possible ancestor: the TNF Tadpole 23. 
The Tadpole 23 is - using the naming process above - a two person, three pole design.
Well, the Arcus has 3 poles, alright, but does it hold two people?
Only one way to find out!
COMPONENTS INCLUDED
1.) Canopy
2.) Rainfly
3.) DAC Featherlite Aluminum Poles (X3)
4.) Aluminum Stakes (X9)
5.) Stuff Sacks: 1 Tent, 1 Pole, 1 Stake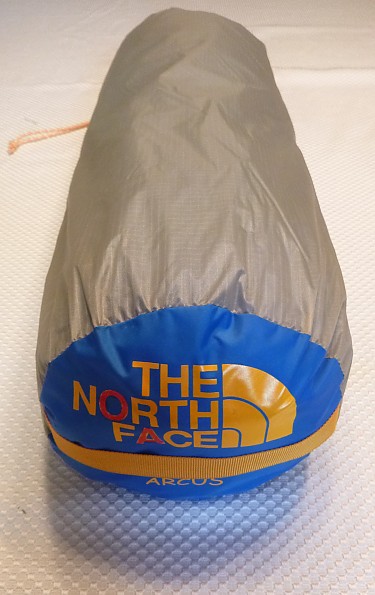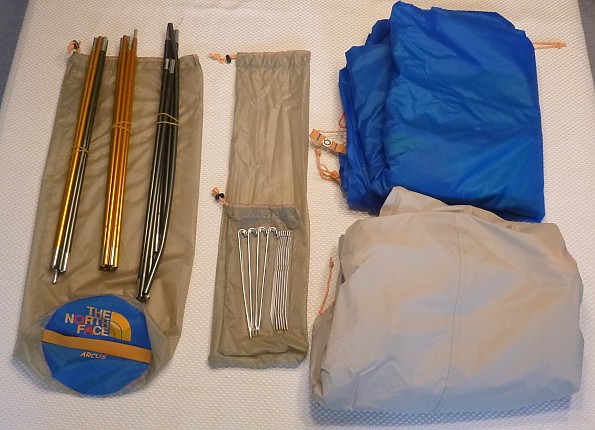 INITIAL OBSERVATIONS
The stuff sacks are all made from siliconized nylon. Thinner and lighter than your typical TNF stuff sacks. Also folds/stuffs flatter because of the slimmer gauge, making it more packable than older TNF tent models. 
These are quality stuff sacks: they are cinched (instead of tied), and - in keeping with the slimmer material - come with smaller cord locks than typically included.
While the weight savings are commendable, one thing missing from this tent is a compression bag. Even if it meant breaking even on the aforementioned weight lost, I wish they'd have made this along the lines of similar models, and gave it the 3 perpendicularly-compressing straps other sacks have. 
At four-and-a-half pounds, it is a heavy for a "2" person tent, and without the compression straps, it adds a considerable amount of weight and bulk to one's pack. 
Rather than buying straps a la carte, pack the poles separately from the canopy and fly, and you'll find the tent a lot more packable than when it's in the stuff sack provided by the manufacturer.
SPECIFICATIONS 
All weights and measurements were taken personally, as this tent has no printed specs.
Packed Size: 22" L X 6" DIA
Packed Total Weight: 4 lbs 8 oz
Canopy Length: 86" @ Longest Point
Canopy Width: 48" @ Widest Point
Canopy Height: 38" @ Highest Interior Point, Measured Floor-to-Ceiling
Vestibule Size: Extends 28" from Front of Tent, 43" Wide
Doors: 1
Vestibules: 1
Point of Entry: Front
Poles: DAC Aluminum Featherlite, Press-Fit (X3)
Stakes Included: 9
Total Stake-Out Points: 12 
Footprint Included: No
Footprint Available: Yes - Fits Tadpole 23 Footprint
Interior Gear Loops: 3 Total, 2 Head End, 1 Foot End
Interior Pockets: 2 Total @ Floor Level, 1 Head End Right Side, 1 Head End Left Side
ASSEMBLY
Another thing to note about prototype tents: not only do they not publish specs, but they don't make a manual telling you how to assemble the darn thing. Well, male stubbornness - er, intuition? - to the rescue!
POLES
You've two long gold/black poles, and one shorter grey pole.
The two long poles cross another to form the main dome, and shorter pole straddles both to form the arch of the front entryway and vestibule, with a tip-and-grommet connection.
The poles are DAC Press-Fit poles, but these seem lighter than most TNF poles and I would venture to say they are the same, Featherlite DSL material as was used for the "Sputnik" and "Phoenix" tents. This would be in-keeping with the obvious effort they've made to reduce the weight on this tent. The grey pole propping up the front of the tent is (again, much like the "Sputnik") a pre-bent pole that may even be a "Combi-Pole," whose diameter widens and narrows to accommodate the tighter bend required of it.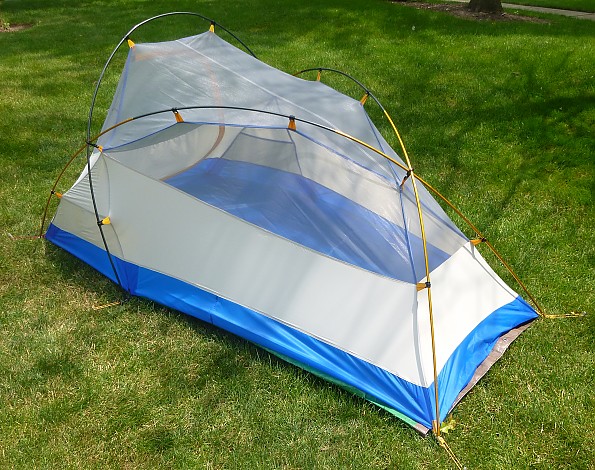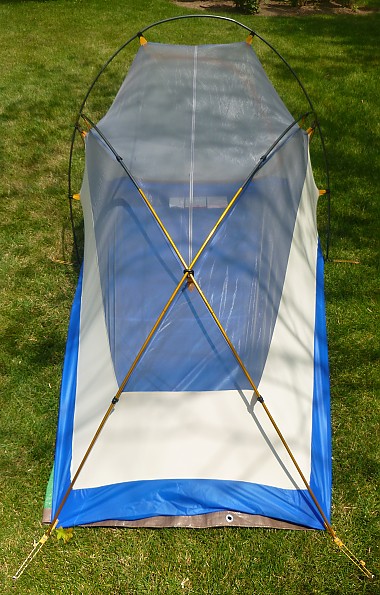 CLIPS
TNF has ditched the "Twist Clips" for a smaller, more compact design.
It is a combination of small clips and wiregate hooks. The hooks are located where the poles intersect: at the foot end, and on both the right and left side. It not only keeps them consolidated, but takes a "two birds, one stone" approach by connection multiples poles to a single point on the canopy. It's quicker. And, by replacing multiple clips with a singular clip, it's lighter.
While these aren't as small and lightweight as the "Cam-Action" clips as used on the "Sputnik" and "Phoenix," they are [much] easier to attach and remove. These connect over the top of the poles with a light click.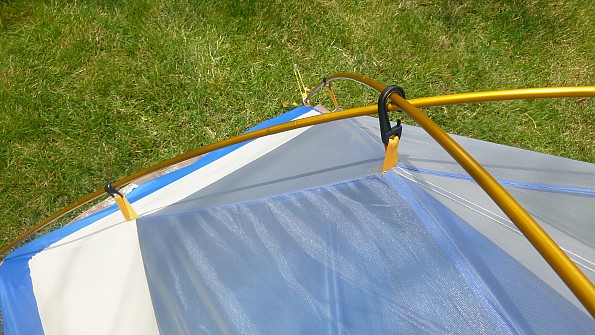 CANOPY
What makes this the canopy interesting?
TNF has actually regressed back from their mesh-forward design, and given us a half-fabric and half-mesh canopy.
Another TNF model I owned was the Manta Ray 33, with a canopy that was entirely mesh above the bathtub floor.
By reintroducing a solid fabric wall above the [blue] bathtub-style floor, you've increased protection from wind gusts and rain splash back. While it isn't as lightweight, and doesn't offer the ventilation and breathability an entirely-mesh canopy will, there are supplemental vents built into this design to compensate.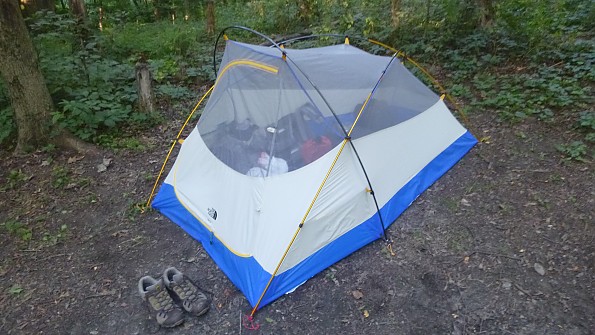 STAKES
Do they match? Nope.
Does the manufacturer include enough? Heck no.
The tent requires 12. They include 9. Whoops! 
Since this is a prototype model, it came with a smorgasbord, sampler platter combination of aluminum stakes, in both the "J-Stake" and "Tri-Peg" styles. The former serves as the gold standard for TNF, while the latter sucks entirely and bends if you so much as look at them the wrong way. 
For a smaller tent, it does require a high number of stakes in a small amount of space. If the entire tent doesn't sit on firm ground, you're going to want longer stakes than the manufacturer provides - the side vents and front vestibule rely entirely on their stake-out points. 
VESTIBULE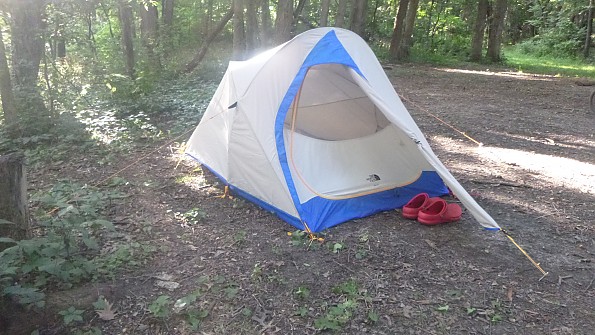 The best way I can describe this tent - all kidding aside - is by calling it the "Snub Nose" version of the Tadpole 23.
Or what the Tadpole would look like, if it had a nose job. 
I understand why they shortened the vestibule from the Tadpole 23 design: it extends further from the tent, but comes so low to the ground that A.) it's too short to be usable, and B.) comes too close to the outside perimeter to provide any weatherproofing or dry space.
Here, the vestibule comes to a point (with only 1 point to stake out) instead of a flat face (which requires 2 stake out points). While this does simplify and expedite the assembly, it limits the number of entry points into the tent and the options associated with multiple doors.
The Tadpole 23's vestibule had two doors. Much the same, that had two benefits: enabling the user(s) to open the vestibule up completely on both sides, increasing views and ventilation, and additionally, allowing flexibility in how the tent could be pitched in relation to the wind. Even if the direction of the wind changed, one vestibule could be zipped up while the opposite side was opened. With the Arcus, that option simply doesn't exist: no matter what, the vestibule only opens on one side, and from the left.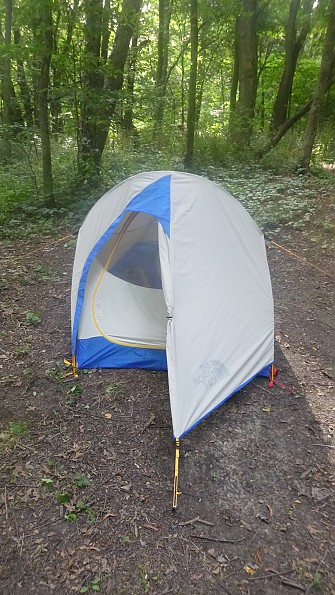 What you save in weight, you lose in ventilation. 
Below is a picture of my size 12 CROCS that - let's face it - look like what Ronald McDonald sets aside for his Casual Fridays. Alright, glad you got the laugh out of your systems, folks.
They're some big shoes. However, the vestibule still hovers over them, and doesn't come as close to the ground as it should.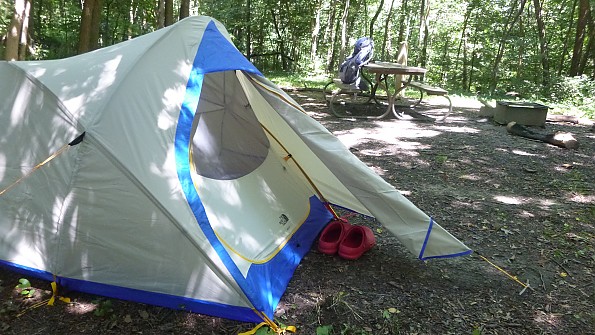 This means that if you want to keep your gear away from the rain, you'll have to move it away from the vestibule perimeter and as close to the canopy as possible. 
And now you've got two more problems: this brings your gear against the front door, and because the door is centered, means the best [and only] place to put your pack is in front of the one and only door on the tent.
Since the design is longer than it is wide, placing the door on the shorter width doesn't allow one to place his gear to one side or the other - it has to sit centered. Sure, you could cram the pack in the corner, but you're still having to negotiate around things to get into and out of the tent. And you'll risk getting it wet.
I wish the entryway was on the longer of the two, along the length, not only allowing the user to place his gear beside the door, but opening the storage capacity up to two people. As it stands, this vestibule can only house a single-person's-worth of gear. Any more than that, and you may as well be recreating the barricade those revolutionaries piled-up in "Les Miserables."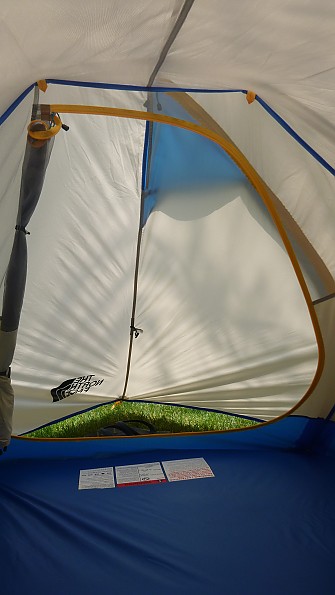 Alright. Hope you stretched out, folks, because - like it or not - we're headin' inside: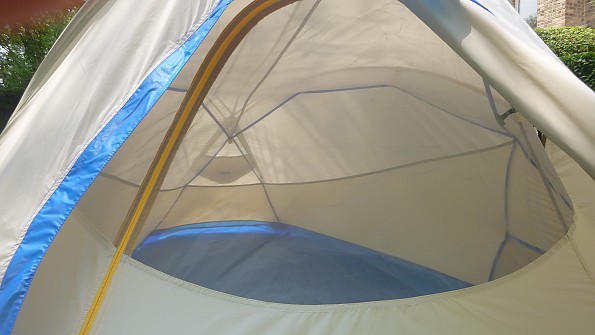 FLOOR AND FOOTPRINT
The interior is probably the part most similar to its predecessor.
The floor plan is an elongated hexagon, and - without any better a way of putting it - shaped like a coffin: widest in the middle, narrower at the head, and at its most narrow on the foot end. 
It is a bathtub-style floor, and you can see the extent to which the blue materials comes up the sides walls in the picture below.
TNF does not include footprints with its tents. Although this is a prototype, it does fit the Tadpole 23 footprint if you'd like to use it in a "fast-and-quick" or "bare bones" pitch, sans canopy.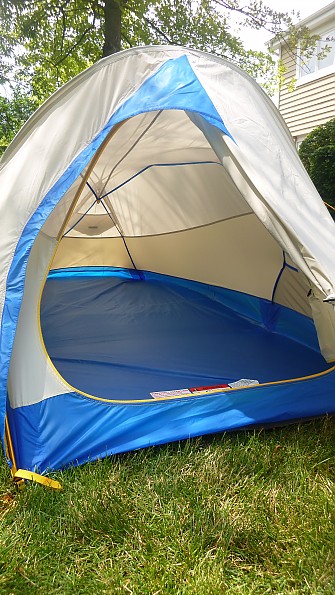 CAPACITY, COMFORT AND LIVABILITY
Are you half a pair of conjoined twins?
Training with some friends for the contortionist championships?
Is your hiking partner comfortable spooning at night?
Or any time it rains?
If you answered "no" to any of these questions, and you plan on sharing this tent with another person, you're gonna have a bad time.
It most certainly will not fit two 20" NeoAir Trekker pads, side-by-side, because of the tapered footprint. Even if you've mummy-shaped pads, and even if you dovetail them into another (placing another's feet by another's heads) you still won't fit two people inside.
Since the tent is only named the "Arcus," and not the "Arcus 23," TNF gets away with this one on a technicality. However, since this so closely resembles the Tadpole 23 (which is billed as a two-person tent), I'm considering the capacity the same.
Truly, it's a solo tent. With some elbow room.
But it's not a shelter made to house any more than one person.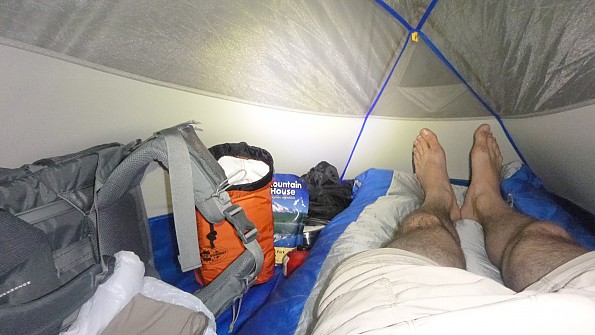 I'm a tall, slim guy (6' tall and 150 pounds) and, at least in terms of height, I'm the tallest person you can fit comfortably in this tent. Mind you, I'm a stomach-sleeper, so my feet tent to stretch further toward the foot ends walls at night than folks sleeping on their backs. Six feet or shorter, you'll fit just fine, and you can sleep however you'd like (notice there's ample space beside my pad for folks who would be side-sleepers).
Now, that's layin' down.
Sitting up? Say, you're trying to hunker down during a rainstorm on a zero day?
You can sit up without touching mesh. But you can only sit one way, facing the foot end of the tent.
Which also means you're staring straight into a short, solid wall. No view.
Not saying TNF should fall into trends and insert a "polyport" PU window, but if this is the only way one can comfortably sit up in this tent, you'd at least hope you could look outside while doing so. Nope! While your head won't touch mesh (again, being six feet tall or shorter), your eyes won't see sky. 
STORAGE
TNF is smart enough to provide a set of mesh pockets against the head end side walls, at the floor level - these are as easily reached sleeping as they are sitting up (definite bonus for a guy who wear eyeglasses). Kinda like having a set of bedside nightstands out on the trail.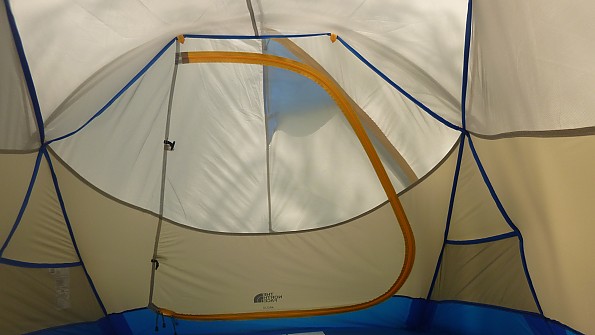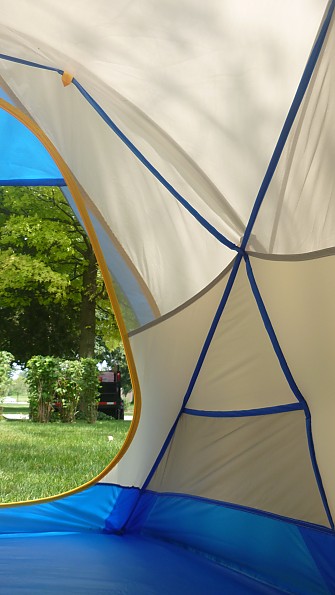 While these make complete sense, the gear loops take a little more imagination to prove useful.
Two sit at the highest points of the front entryway - too short to hang a clothesline from, and too close to the walls to hang a lantern from - 50% of the light just shines into the walls.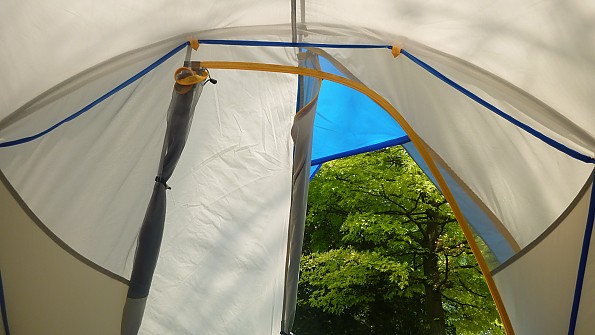 If you're clever enough to have figured out how you're using the front gear loops?
TNF creates an additional challenge at the foot end.
Here the third gear loop sits. 
Ironically, the tent was better lit when hanging a Mini Hozuki lantern from this point - the light all shone forward toward the head end and lit the entirely of the tent. Sitting up, not only was it out of my eye line, but I was blocking the lantern like I would, had it been hung from the head end loops.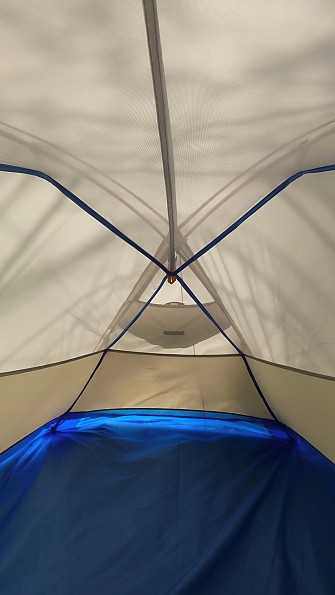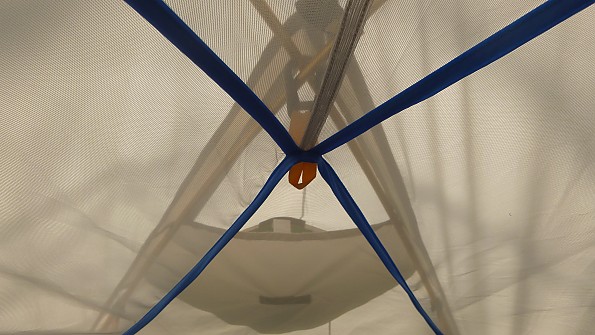 RAINFLY
The fly is connected to the poles in the same tip-and-grommet fashion as the canopy is.
However, the velcro tab reinforcements on the underside of the fly require some elbow grease to attach, and if you're overtired in the morning and forget about them, you'll try removing a fly that doesn't want to lift up. While I appreciate these, I wish tent makers came up with a better means of attachment for them. 
VENTILATION 
There are 3 unique venting locations:
1.) FRONT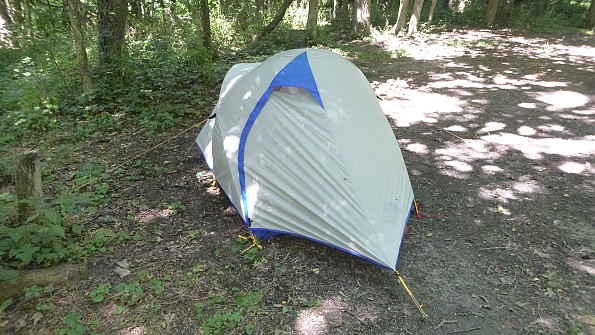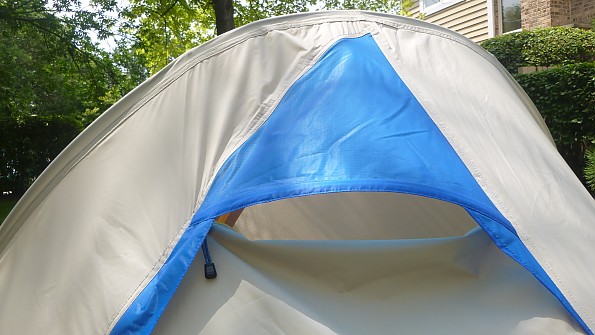 A semicircular stiffener sewn into the topmost corner of the vestibule doors becomes the front side vent.
Unzipping the mesh front door, you can adjust this vent from inside the tent, allowing the excess door material to fall backward while still protected by the small hoop "awning."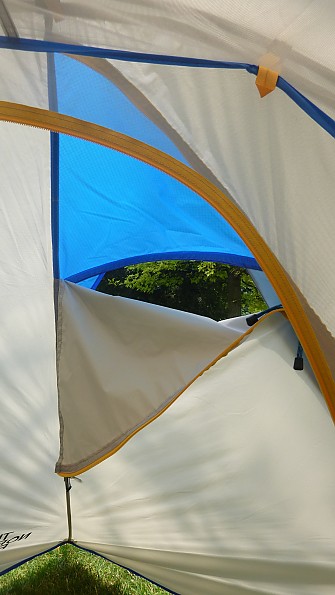 View of vent from inside tent, in open position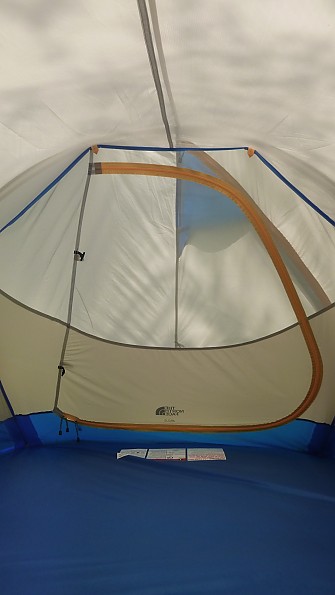 Vent shown in closed position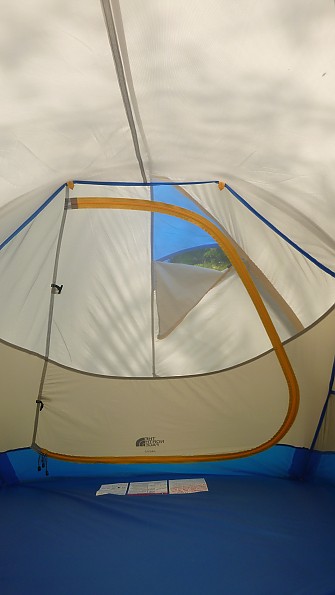 Vent shown in open position
2.) REAR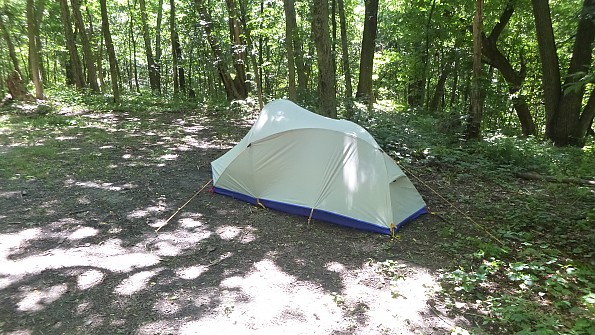 At the foot end, a vent can be kept in the closed position and velcro'ed down, or can be opened and propped-up with the help of a small strut support, also held in place with velcro. It's downward-facing, so it will shed water and not see any splash back inside the tent. 
The trouble with this vent?
There is no interior access to this vent and it can only be adjusted from the outside. If those tootsies are gettin' chilly in the middle of the night? Hope you brought your camp shoes, because you're going to take a short stroll around the block to the back of this tent.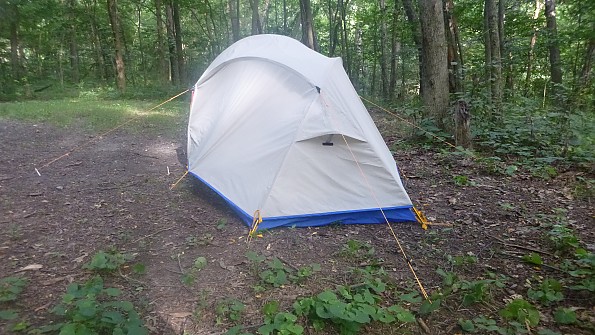 This establishes a cross-ventilation through the full length of the tent. 
3.) SIDES
On the bottom of the rain fly are two loops, seemingly useless, unable to be attached to the poles.
Stake these out some distance from the side walls, and it allows air to enter from below. Again, because of the bathtub-style floor and solid fabric side walls, air can enter from below and travel upward without allowing rain inside. Since the cordage provided is short, as are the stakes with which to secure them - do yourself a favor and use your longer stakes for these points. 
NIGHT VISIBILITY
Man, so much as a pass of your headlamp makes this tent light up like an airport runway at night.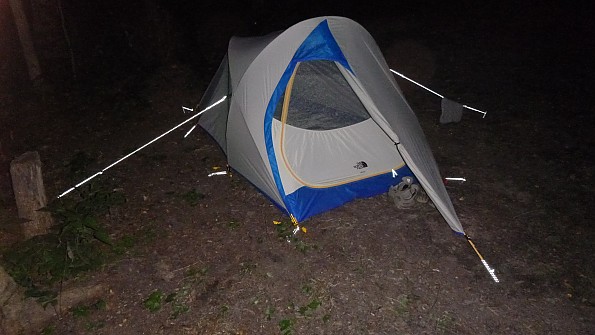 Gotta love reflective cordage, folks!
One thing TNF doesn't seem to skimp on, oddly enough.
The reflective guy lines, zipper pulls, and stake loops all glow.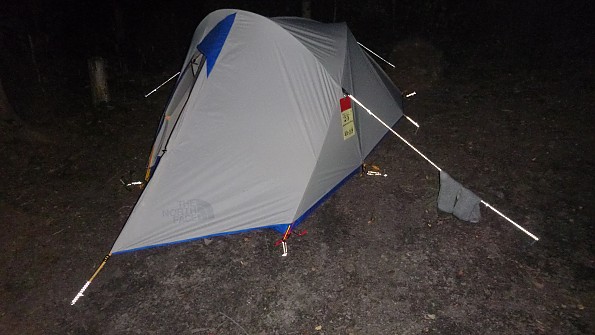 It's nice to find your way home easily. Or not trip over a guy line and make an ass of yourself.
Either way, it's doing you a favor.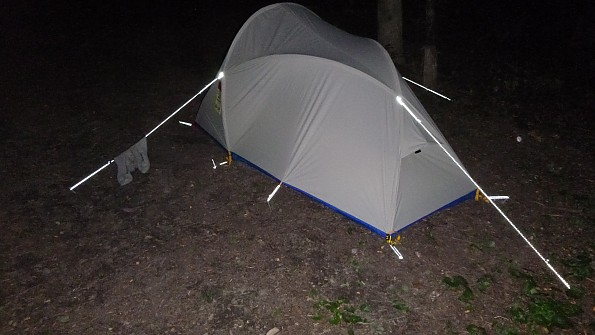 USE AND TRIP INFORMATION
This tent came along with me to the Mississippi Palisades, where I spent an overnight at Primitive Site A on the North Trail System in August of 2013. 
The weather reached into the low 80s, and sank down to the upper 50s.
A hot day with a chilly night.
The skies were clear with a bright sun. The light color of the fly definitely was appreciated in the afternoon hours, reflecting than sun than absorbing it. However, come morning, it's the lightest possible fabric color and allows the greatest amount of light in.
If you like sleeping in, don't buy a white tent.
If you're too lazy to set an alarm (and like sleeping in), you probably should buy the white tent.
Also helped that I left the vestibule door tied-back during the day and propped the foot end vent open, allowing a cross-flow to ventilate the tent while the sun was at its hottest. 
My only mistake?
It got chilly that night, and - while I kept the foot end vent open overnight - I sealed up the front vestibule completely and zippered the front "hoop" vent closed.
Woke up in the morning to find condensation covering the underside of the vestibule. Not enough to collect and drip on anything, or for a puddle to form, but enough to necessitate a pack towel. Wiped it down and it was ready for the stuff sack.
SUGGESTIONS
1.) I wish TNF would pursue more side-entry tent designs that, even without a second door/vestibule, would provide the dry space needed to house gear AND allow for easy entry and exit into the tent. Or at least expand the dimensions of this design to create usable space on each side of the front entry.
2.) Give the footprint an even, rectangular shape that would expand the square footage at the head and foot ends, allowing this to truly become a two-person shelter.
3.) A view that can be enjoyed from the inside, whether this means a larger vent at the foot end, placed higher, or a "polyport" style, PU window for the user to look out during times of inclement weather, etc. 
4.) While the existing interior mesh pockets are well placed and a good size, I would appreciate more internal storage. Since hanging a gear loft would compromise the ceiling height (and ability to sit up inside), the logical placement for storage options would be against the walls.
5.) Gear loops hung further away from the walls (to efficiently light the tent with a lantern) while placed far enough away that a small clothesline could be formed to hang additional gear and/or clothing.  
Source: bought it new
Price Paid: $219.99

You May Like
Recently on Trailspace