The North Face Arnuva 100 TR GTX

The Arnuva 100 TR GTX has been discontinued. If you're looking for something new, check out the best trail running shoes for 2021.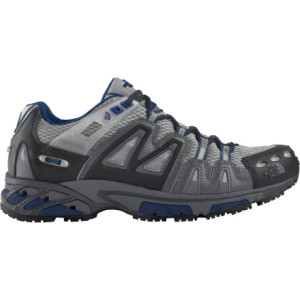 Specs
Men's
Price
Historic Range: $67.72-$130.00
Reviewers Paid: $129.00-$130.00

Women's
Price
Historic Range: $64.98-$130.00

Reviews
3

reviews

5-star:

1

4-star:

0

3-star:

0

2-star:

1

1-star:

1
When I got these shoes, I considered them the best shoes I have ever owned. I loved them. Within the first couple months though, they started to literally fall apart.
First the little rubber "North Face" logos fell off. No big deal. Then the soles of the shoes started to separate from the shoes. The material on the outside of the shoes is tearing as well.
The amazing thing is that I don't use them as a trail shoe, or even as a running shoe. I wear these to work about 3 times a week. I work inside an operating room at a hospital. Considering the price of these shoes, I am VERY disappointed.
Use: worn inside
Weight: 210 lbs
Price Paid: $130

At first these seemed like excellent shoes. Great traction on a range of surfaces, very comfortable, plenty of cushioning. Within weeks however I noticed significant wear on the soles and bought a different pair for runs that included a proportion of on road.
Then the toe material started to go. It is felt with a thin layer of plastic over it- not very tough at all. Most of the cushioning disappeared from the the soles after a couple of months. On the upside they do keep my feet dry even when running through long grass and the traction is still good, but they just aren't hard wearing enough, particularly given the price.
Materials: Gore-tex etc
Use: on/off road running. forests, fields, beaches, etc
Break-in Period: nil. very comfortable
Weight: don't know but pretty light.
Price Paid: £100 ish

Yes, I gave them 5 stars. Let me explain where I'm coming from. Then you can decide how accurate that is.
I've been an avid mountain biker for just over 20 years. New England riding. Last spring, I decided to mix it up a bit and start trail running. Therefore, consider me still a noob.
Having some friends who work at Nike. I got a pair of the Coyotes and also a pair of the Alvords. They seemed to work ok. But the more I got into running, the more they started to hurt. Mostly because of the kind of terrain I run on: steep, loose-rocky, New England single-track and Jeep trails. The golf ball and baseball sized rocks would literally poke through the sole and hurt.
I did try the Coyotes out west on smooth trails and they were great.
Anyway, I just got these Arnuvas. Tough to find, even both North Face stores in NYC were sold out. Had to order online.
Yesterday was their maiden voyage. Holy crap! This is what trail running should have been all along! It was like wearing tank treads, yet tank treads that weighed nothing. No more rock pokes. Better yet, I found myself bounding down the downhills, not just jogging/picking my way down. The spring in these shoes is amazing.
In conclusion, these were worth the ching, at least in my noob opinion.
Materials: Gore-Tex
Use: Rough trail running
Break-in Period: Brand new
Weight: 150lbs
Price Paid: $129

You May Like
Recently on Trailspace