The North Face Men's Chilkat

The Men's Chilkat has been discontinued. It was replaced by The North Face Chilkat V 400 Waterproof Boots.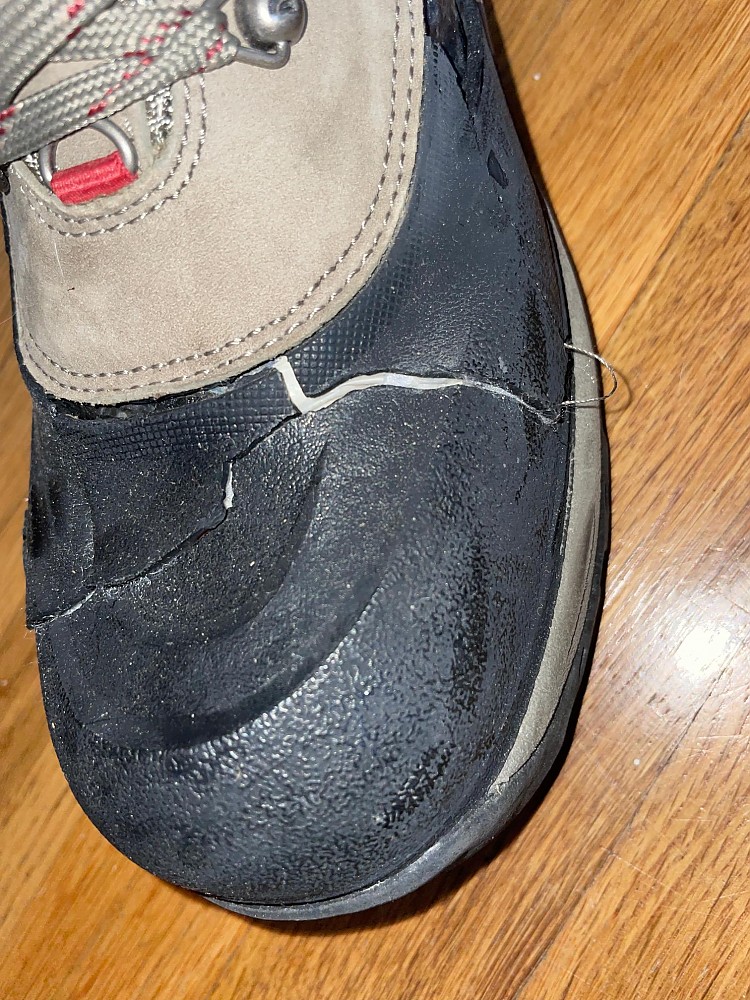 North Face Boot Review: Junk plastic on toe, disintegrating
Cons
Literally falling apart
Expensive—waste of money
Quality is rank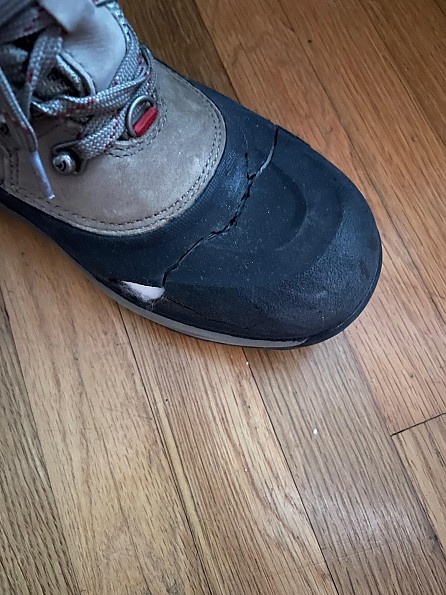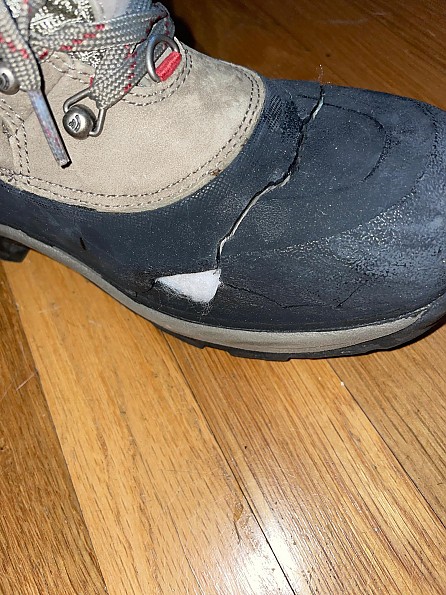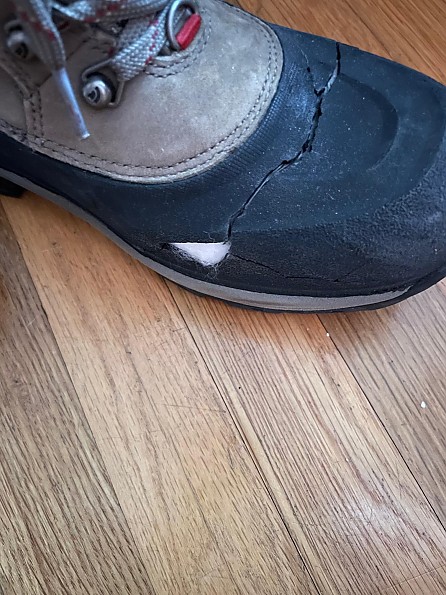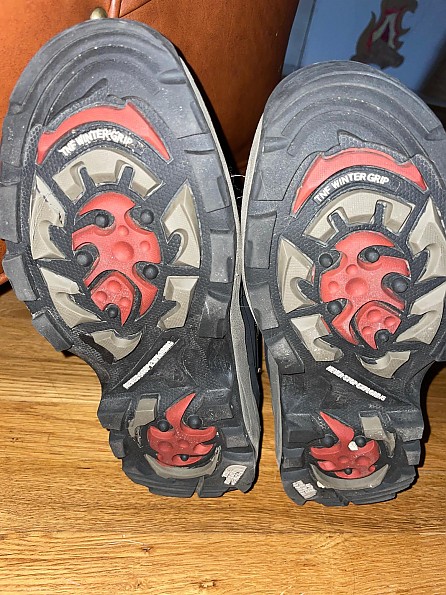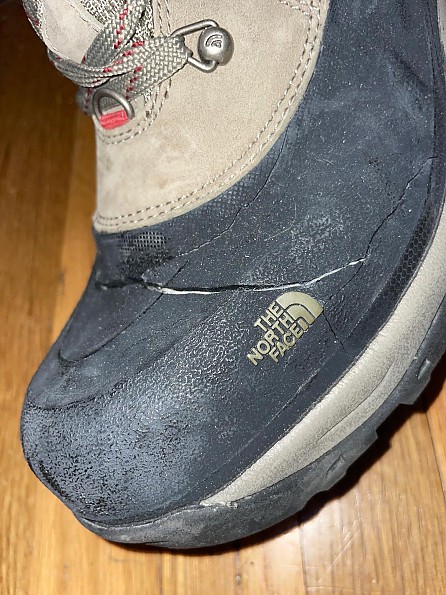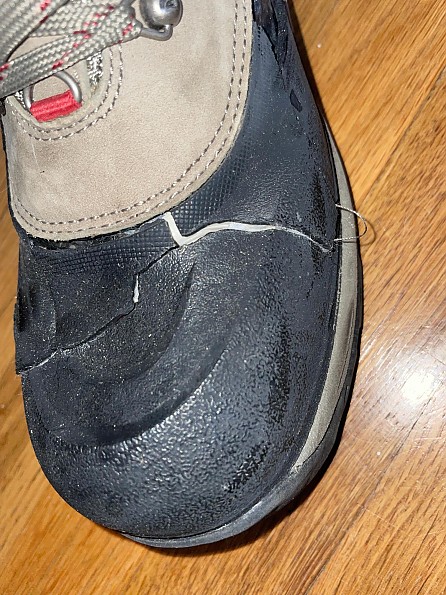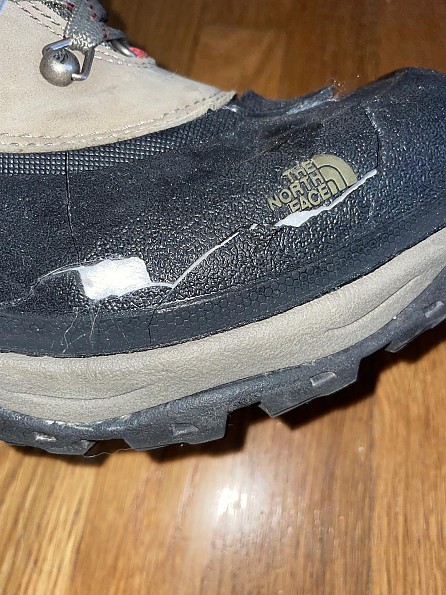 Same exact issue. Sorry for all others who had to deal with this, but CLEARLY it's a design flaw.
I bought these for a trip to the mountains and never wore them after. Seriously, I live in Los Angeles Angeles—winter boots aren't exact a must-have to live here. Anyway, they're barely used and well taken care of. Yet, we pulled them out of our shoe container to find them cracked and disintegrating. The interior is pristine as is the sole. The plastic is pathetic.
Such a bummer as I typically love TNF, but where is their quality control when this is clearly a widespread issue?
Experience
Here are a number of other people with the same issue:
https://www.trailspace.com/forums/gear-selection/topics/84266.html

Source: bought it new

North Face boots simply failed miserably! The failure is totally unacceptable. DO NOT BUY NORTH FACE PRODUCTS! They cannot be trusted.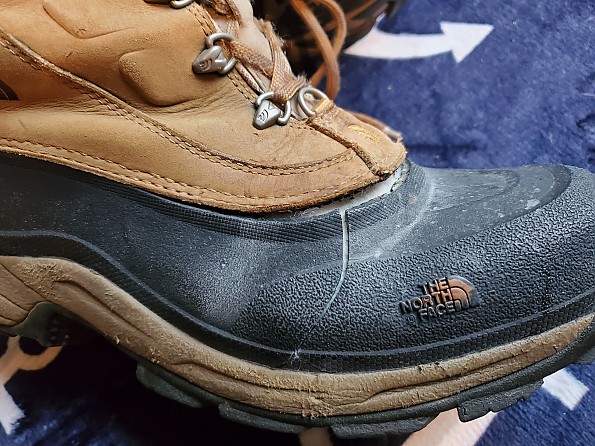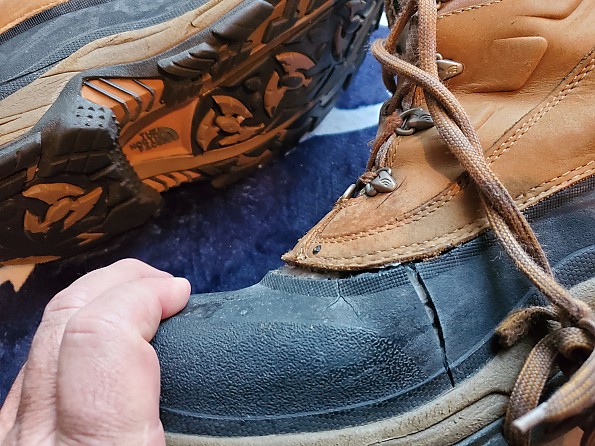 I can add to the simply horrible product that has the usually trusted name "North Face" on their boots. Mine failed catastrophically as others with cracks throughout the "rubber". At first I loved these boots as many others have stated. But the failure is totally unacceptable.
DO NOT BUY NORTH FACE PRODUCTS! They cannot be trusted.
Experience
I've never experienced this type of failure on any (!) boot I've ever purchased.
Source: bought it new

Like everyone else on here I kept my boots indoors in the dry, went to use them today and the rubberised part had completely split apart! Only ever wore these six times. Total crap to put such poor quality into what is otherwise a good boot.
Poor poor poor
Source: bought it new
Price Paid: £85

Amazing boot to be fair. Warm, waterproof, and grippy. And then they split like all the others.
Pros
Warm
Waterproof
Grippy
Rugged
Cons
Expensive
Failed catastrophically like so many other reviews
I thought these boots were great, pricey and really good for the few times a year I wear them.
But then the rubber catastrophically split and the boot deteriorates exceptionally rapidly. One small crack developed into widespread cracking all over the boot within an hour. The boots are rendered useless.

Experience
Have worn the boots each year for 2-10 days in the Hertfordshire snow for about 8 years. Probably had maximum 50-60 days wear before they failed.
Source: bought it new
Price Paid: £125

When I first purchased these North Face boots I loved them. Paid almost $200. After about the 15 uses they start falling apart and mind you I normally only used them to use my snowblower. I was not really putting them to heavy use and they just fell apart.
Pros
Only thing good about them is the padding on the inside and they look good
Cons
They don't last. If you're rich and would like to use them once and throw them away then they are great.
They are great for one use only.
Experience
I would never purchase another pair of North Face snow boots.
Source: bought it new

Look great. Wore three times over three years and the Made in China bottoms fell apart and separated from the leather. Junk!! Total ripoff and no warranty, but I am sure all of the same boots are defective.
Cons
Fall apart
Bottoms crumble
Wore three times in three years for snow. Put on recently and the leather separates from the bottom, which was crumbling and falling apart. Made in China. Junk.  
Source: bought it new
Price Paid: 95 dollars

Expensive boot, but only got to use them three times before complete failure.
Pros
When new these were great... but..
Cons
Not made to last more than two winters due to a mistake in material selection by the manufacturer..
Took them out of the cupboard on their second winter but the rubber rand had completely broken down into pieces. Like someone had cut the rubber up with a knife, when I pushed my finger into them it went right through.
These boots were not made correctly and the wrong materials were used.
Experience
From this manufacturer, very bad..
Source: bought it new

Be aware...North Face ignores design faults. My love of their products has gone.
Cons
Design fault with no customer service to back up. Never had a response from The North Face in years. It still bugs me.
These were bought purely as I had MS. They were excellent to keep my feet warm. I had the coat which was great. They split within 16 weeks. Our thick woollen lounge carpet is not exactly rough terrain! A design fault clearly ignored.
God knows what you would do if North Face boots had split on the mountain. Really, sadly, not worth the risk. I am one of many that have had this happen. They try to put the blame on the buyer. They never even got damp, wet etc. They were in the same room at the temperature 24/7. 
Experience
Shocking design fault ignored by The North Face.
Source: bought it new
Price Paid: £154

I live and work in Yosemite National Park. Our employee uniform shop routinely sells these Chillkat boots, and yes, from experience they do run 1-2 sizes smaller than normal! I wear a men's 7; I had to get a 9 to fit comfortably and snug on me.

They are comfortable, at first, but here is one HUGE problem—they leak! See more below...
Pros
Nice design
Fit pretty well
Good upper design
Laces are good quality and stay tied snug on you
Cons
They leak and your feet will freeze within a few minutes! Absolutely worthless when you are working and depending on your feet staying dry and warm.
My rubber uppers haven't broken apart yet, but we are in deep snow all the time working, and I couldn't figure out why my feet were so cold and then numb at the end of my shift. I took them off, and was sopped! I cannot determine where my boots are leaking, just seems generally on the lower seam above the foot tread somewhere. And BOTH feet are soaked. Very POOR, North Face!
North Face is not really North Face anymore anyway, like all the others now, they are just branding used for cheap, Chinese products now. Based on other reviews, I won't even both with a warranty claim (even though they are brand new, 1-month old)...just know I will never buy another North Face logo'ed product, EVER.
Source: bought it new
Price Paid: $50, through our Employee Uniform Shop

Not durable!
Pros
Relatively comfortable and warm
Cons
Not durable considering I didn't use them very often.
Pretty comfortable boots, but I wore them maybe twice a year for five years, and then last night the rubber portion broke away from the leather just like these other reviewers experienced. I'll order new boots from someone else next time.
Experience
I've owned several pairs of hiking boots through the years. Never had a pair break across the top like this.
Source: bought it new

I had the same problem others have written about. I had very, very little use on my boots and went hunting, and after walking a couple hundred yards the entire boot completely came apart. The rubber split and cracked away, and the glue holding the rest of the boot to the rubber portion tore away from the base of the boot.

I probably had walked less than five miles over time in these boots—and stored them in a completely dry and temperature controlled closet in my house.

In my opinion, these boots definitely had serious design flaws from the beginning. Wow, considering what North Face charges, you would think they would stand behind their products...but it appears from others posts, they don't care.
Cons
Horrible, horrible design
Crappy materials chosen for a high end boot. (I would expect this from a Chinese boot, but didn't expect it from North Face. Maybe they outsourced? Who knows.)
Construction and Materials: Worst I have ever seen in a boot. Junk!
Source: bought it new
Price Paid: $100 plus

My boots also cracked, although mine are more than 10 years old. My fave part to this boot was the click strap instead of laces. Does anyone else know a boot style like this?
These were exceptionally comfortable boots. I don't want to purchase another pair due to others' experiences and TNF responses. Evidently they used a grade of rubber that tends to age and degrade at room temperature. Should have used a better synthetic compound.
I think I will take mine to a shoe repair shop to see if there is any way to repair.
Source: bought it new

I never write reviews, but felt a duty to others to tell them to save their money. I couldn't believe that my boots, which I've worn only a dozen times, are falling apart. The rubber is cracked all the way across the top of my boot. I saw many other similar complaints.
Cons
Fell apart after a dozen wearings
I spent a lot of money on these boots to make it through Minnesota winters. I thought I was investing in a reliable product. I love North Face products, but these boots are a wreck.
I see the warranty is only for 1 year, so I'm just going to throw them in the trash. I saw other customers try to reason with customer service on this and left those reviews feeling hopeless. What a shame.
Source: bought it new

Made from improper materials.
My Chilkats are maybe three years old and I wear them solely for snowblowing during New England winters. I've worn them approximately fifteen times. When they're not on my feet, they're stored in the house.
About four weeks ago, I took them out of the closet and found the right boot had four or five major cracks in the rubber material, wide enough to expose the insulation inside. Then, a few weeks later, the same thing happened to the left boot!
This is clearly a failure of the rubber material and judging by the many similar reports here, this isn't simply a "bad batch" of rubber. Buyer beware.
Source: received it as a personal gift

I concur with everyone on these poor reviews as well as the lack of response from TNF.
Pros
Great fit
Very comfortable
Cons
Unacceptably low quality due to the rubber cracking.
Nothing to add, other than I have purchased my last The North Face product.
Source: bought it new
Price Paid: $135

Rubber area suddenly cracks and crumbles.
These were bought new about four years ago. Worn lightly to shovel snow and visit local stores, the tread shows little to no wear. While shoveling snow today, the rubber area covering the feet fell apart without any warning. By the time my husband came in, large chunks had fallen off. 
Source: bought it new

Rubber lower cracked.
Pros
Comfortable
Warm
Easy to put on and off
I had a pair of the original Chilkats. I really liked them, but after a short period of time the lower rubber portion cracked.
I took a chance again when they came out with the Chillkat ll. I really liked them and figured NF fixed the issue. NOT!! Same thing different boot.
Really, North Face! Really!
Source: bought it new
Price Paid: $65 ?

The Rubber part are Rubbish!
Cons
Poor materials
Doesn't last
I have had my North Face boots for about three years. Last week when I took them out of the closet to wear in the snow, the rubber lower and leather upper separated. The rubber completely deteriorated from indoor storage.
What crap these turned out to be for an expensive boot. All the rubber on the boot is falling apart. DON'T BUY. Shame on you, North Face. I'll get my next pair from LL Bean. They actually stand behind their product.
Source: bought it new

Rubber upper boot fell apart.
I just pulled out my North Face Chilkats boots. The rubber completely fell apart in my hands. I have never seen anything like this.
Very disappointed, and I paid a lot for these boots. I kept these boots in my closet in the house. The boots were rarely used.  
Source: bought it new
Price Paid: $100

Wore these boots 3-4 times a year for three years. Last snowstorm, while walking, the rubber cracked starting at the toe. Junk!!!!!!!!
Cons
Don't go on an expedition with these, you'll die!
Junk!
Source: bought it new
Price Paid: $90

Comfortable and warm, but lasted 20 minutes walking.
Bought these boots to wear when snowboarding, but decided to wear them out walking. They lasted 20 minutes before the right toe area completely split. Such a shame as lovely comfortable boot. North Face quality!!
Source: bought it new
Price Paid: $50

Do not buy them. Wore them once in the snow, seemed fine. Second time I wore them the whole upper section came off.
Cons
Fell apart after normal use!
Buy a Euro brand. NF, shame on you!
Source: bought it new
Price Paid: Over $200

Split apart at the rubber/leather seam. NF told me to go fly a kite. What a joke, because they are warm, waterproof*, and cozy. Up until they fall apart for no reason.

Bye bye, North Face. Never again.
Pros
Big time name on your boot
Comfy and warm, until you decide to not wear them. Then they fall apart. Thanks, North Face. I'll be shipping you none of my business for the rest of my life. 
Source: bought it new
Price Paid: ~$165

Same thing happened to me ... I had these and only wore a few times bc I have really cute coach boots and last year we didn't have much snow and this year we didn't have much snow.

I got them out of my closet for the second time this year and they cracked same place as all of the others. I am so disappointed bc I loved these for really cold days. Seems to me there is a defect!!!!
Same thing happened to mine!! Seems to be a defect if it happened to so many. They should give people their money back! VERY disappointed.
Source: bought it new
Price Paid: $100

My boots also fell apart in the same place.
Cons
They fell apart. Hardly worn, kept in closet next to my L.L. Bean boots.
I've had these boots for a few years. Hardly wear them. Have always worn L.L. Bean boots, but a few years ago I ran into these and thought I'd try them. Didn't have the need to use them a lot until this winter.
Got them out of my closet sitting next to my other boots. Second day wearing them they fell apart where the leather meets the rubber. Never had a pair of boots do this. I've read other complaints about this and North Face says it's a storage issue and won't do anything after a year. Bad business! My L.L. Bean boots I've had for 10 years and they are still perfect.
Nice job, North Face. You just gave L.L. Bean more of your customers!!!! You are misleading consumers with products that don't last. I know there are people who haven't had any issues with these boots, so you should be taking care of your customers that do.
Clearly there is a defect in the material or just bad quality. Just not the way to deal with defected products with consumers. PERIOD.
Source: bought it new
Price Paid: $62

Fell apart in my closet!!!!!!
They fell a part in my closet after a couple years of very light use!!!!
Source: bought it new
Price Paid: $300

Complete Rubbish, so disappointed with my North Face Chilkats. My boots were stored with the rest of my gear. Took them out for the first time and the boots split so badly two hours into the walk that I was not sure if they were going to stay on my feet. The rubber section just fall apart. Never seen anything like it. Ripped off.
Save your money and don't purchase any of the crap.
Source: bought it new
Price Paid: $180

Wore them twice and the side split from the sole.
I bought these to wear when hunting in Michigan.
They came out of the closet twice. Once to wear in the house and once to go to a friend's.
She noticed that the side had split open at the sole from toe to heel.
Source: bought it new
Price Paid: too much

I wear this boots during Oct thru spring time hiking and backpacking and really comfortable. I would recommend this model North Face Chilkats for hiking in the rugged terrain.
Price Paid: $99

My wife bought a pair for herself. She liked them so bought a pair for me. I liked them, so we bought a pair for her parents in Poland. I'm going to keep this short... quite simply the most comfortable, warm, and waterproof boots I have ever purchased!
Materials: leather or Gore-tex
Use: Day hikes, foul weather gear, snow boots
Break-in Period: 0 days 0 blisters
Weight: 4 pounds I believe
Price Paid: $45

Good looking boot, and felt great on the feet, but just like all the others, mine also fell apart after just sitting in my closest with very little use.
Pros
Great for keeping your feet airy as they fall apart
Cons
Wondering if you'll make it home on busted boots
Fit: Fine
Comfort: Started out great, but got even better when the boot split apart.
Water resistance: Very poor as the fell apart.
I'd post pictures, but you'd swear I just copied and pasted from those already shown. Mine also had very little use, and split like Chinese rubber. Good bye, North Face.
Source: bought it new
Price Paid: $140


All Chilkat versions
In addition to the 35 men's reviews above, there are 12 reviews for other versions of the Chilkat. Read all reviews »
Your Review
You May Like
Specs
Price
Historic Range: $15.06-$100.00
Reviewers Paid: $45.00-$300.00

Recently on Trailspace