The North Face Fuse Uno Jacket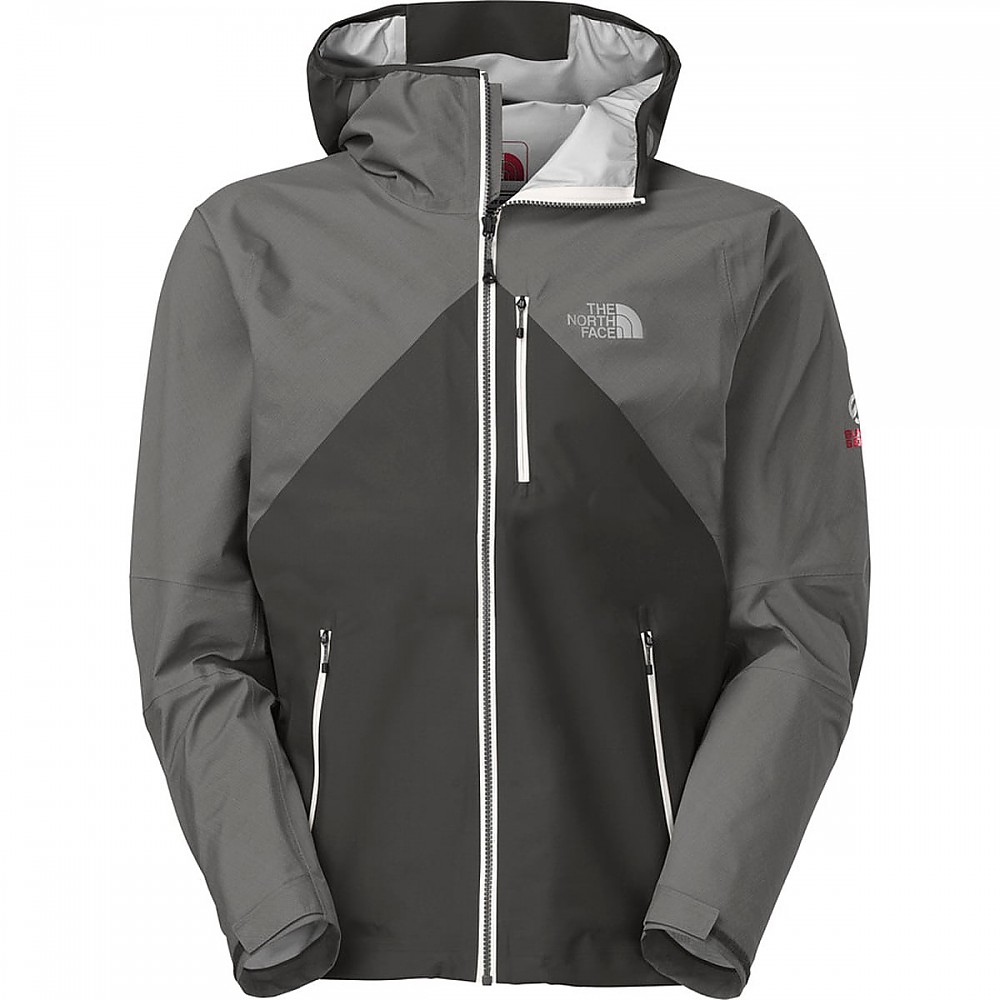 The North Face Fuseform Uno is a lightweight (12oz), 3-layer HyVent Alpha, alpine designed shell which boasts an industry changing innovation dubbed FuseForm. In brief, it allows for different weights of a material to be woven into a single fabric without the use of seams or stitching. This single piece is then folded, paper airplane style, into a jacket.

The fit, and strategic added durability, in the upper torso, hood and shoulders are all major pros, while there are some omissions such as pit zips, hood adjustments, and pack friendly pockets.

This jacket would be best for someone looking for a durable hard shell, with low weight, where breathability isn't a primary concern.

Pros
Fit
Durability
Weight
Technology
Water and wind resistance
Hem cinch
Cons
Breathability
Lack of pit zips
Pockets blocked by hip-belt
No hood adjustments
No zipper backing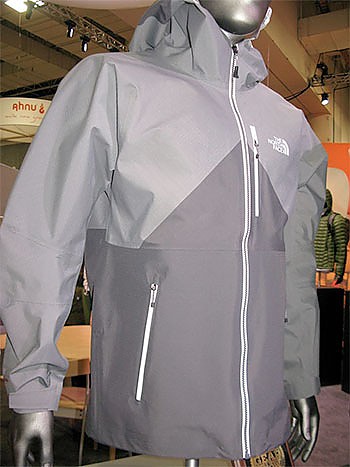 Photo cred goes to some wonderful website that is always on top of the newest gear releases called Trailspace.com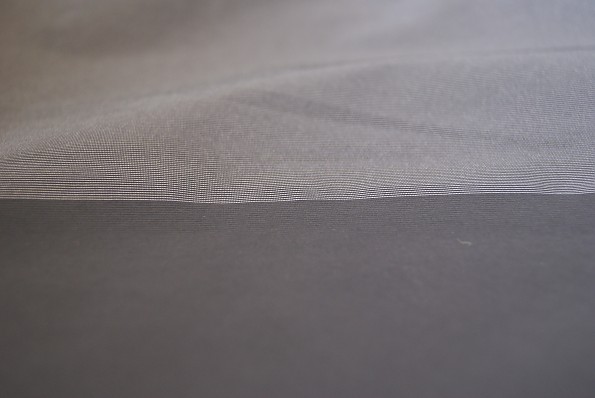 How is there no seam there? I'm not smart enough to understand how they've pulled this off.
Fit
The fit of the jacket becomes all the more impressive when you realize that it is cut, folded, and sewn from a single piece of fabric. The fit is trim, in keeping with its intended alpine use, with room for minimal layering. I've had no problem layering a Primaloft sweater, thin down jacket, or fleece underneath. The collar comes up high, just above my chin, and allows you to turtle into it when the winds pick up. I am 6 feet tall and 165 lbs and tested a size medium.
In my opinion 3-layer WPB's jackets are inherently more comfortable to wear next to skin, which makes this jacket a great choice for three-season uses as well, when wearing just a thin t-shirt during warmer temps. The hem falls slightly below my waist and seals off drafts without even cinching the cord, although I often tighten it just a little, for reference I have a 32-inch waist.
The North Face advertises that the pockets are accesible while wearing a pack....not any pack I tried! As you can see in the picture below, the waistbelt of my pack runs right across the pockets. Any pack with a simple webbing belt (I tried my Wild Things Guide Pack) makes it a little easier to access the pockets. Most lightweight alpine packs will have a more minimal belt, so I'm guessing this is what NF is refering to.
Breathability/Waterproof Resistance
The North Face uses their premium 3-layer HyVent Alpha in the Uno, which does an excellent job of keeping water out. Problem is, it keeps a little too much water in, as well. On one trip I was under what I'd consider some ideal conditions for a shell to shine: about -5°C, slight breeze, low humidity. I was carrying a 30-lb pack up an escarpment to test out the shell and ended up with soaked base layers after only 30 minutes.
Yes, normally I wouldn't be wearing a shell in those conditions, but it is also when it should be easy to vent as well. As there are no pit zips I had to totally unzip the jacket, not possible in a rain storm, let alone on top a mountaintop, to get some relief. Not all that suprising as I've always found HyVent to be low on the totem pole of breathability, worse though with the lack of pit zips. I have read that the pit zips weren't possible due to all the folding, I guess you gotta take the good with the bad.
The zipper is a YKK Vislon water resistant zip, IMO the most durable, long lasting water resistant zipper made. After about three hours of sideways rain though, water did begin to seep in and there is no backing to it, leaving me with a wet line down my chest. For some reason the chin guard doesn't come right to the top of the zipper, and anything longer then stubble can get caught easily.
Adjustability
The Uno has a wonderfully thick hook and loop closure on the wrist. No skimping on the weight here. Holds well, and should for years to come. I hate it when lightweight shells uses tiny strips to save weight, but they won't stay secure around your wrist, much less last a year.
The waist hem cinch is equally as robust. A strong cordlock keeps the hem down even when you are reaching above your head. There is minimal lift and the cut fits well under a harness, or hipbelt, which will be greatly appreciated by rock or ice climbers and mountaineers. The excess straps are held in the pockets which means they aren't dangling around and they are easy to tighten without exposing your hands.
The hood lacks any way of cinching to tighten, and is designed to fit with a helmet, so for any activity where a helmet is not neccessary the hood fits less than ideal. It can become a little frustrating when hiking into a headwind and your hood keeps getting blown off. Maybe if your head resembles the Great Kazoo from The Flinstones you'll be okay, but for the rest of us the hood will be a low point.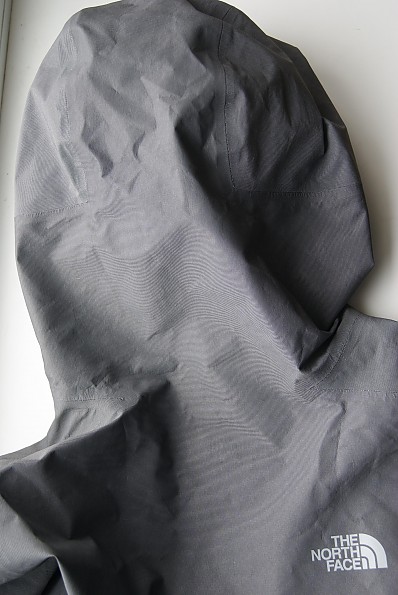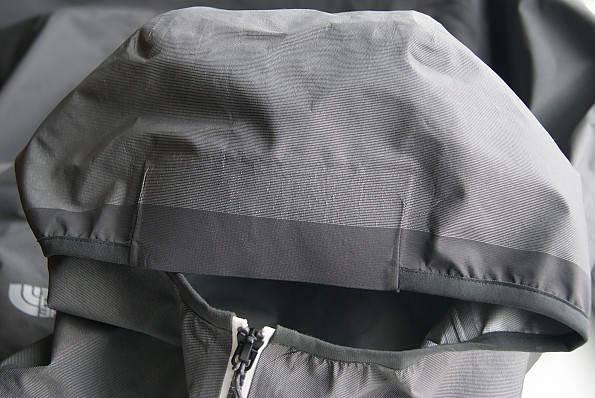 Big swing and a miss on the hood adjustments. You can see the elastic that runs around it, but that only minimizes the problem of it blowing off.
There are two small pockets, one interior and one exterior. They are about the size of an iPhone, not large by any definition of the word. Phone, smaller GPS, energy bar, keys or wallet will fit no problem, never at the same time though. The one advantage to the pockets being small is that there isn't enough room for whatever's in there to bounce around.
Construction/ Durability
As I've come to expect from North Face the seams are all straight, and the minimal seam tape there is, is done tidy. The feel of the jacket alone, in hand, inspires confidence. Knowing that there is 40% less seams adds to that confidence. The advantages to the end user are many. Less seams means less weak points, less weight, less tape and more packable. It falls somewhere in between my wind shell and 2.5 layer hard shell, in terms of packed size and weight. To compare apples to apples, it is probably half the size, and a third of the weight, of my other 3-layer hardshell. Pretty impressive.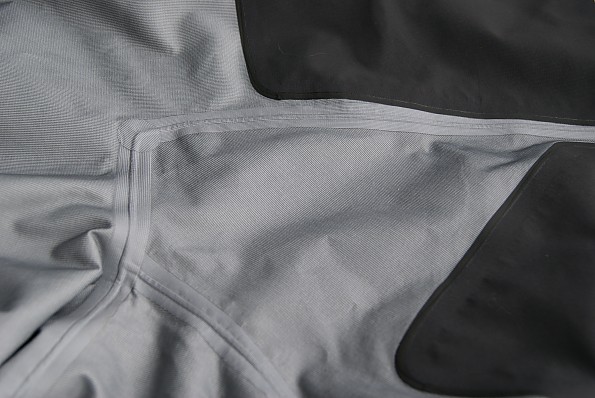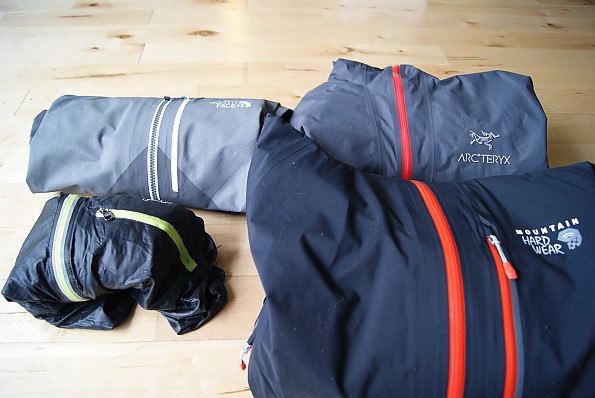 In order of packed size and weight (from lower left): windshell, 3-layer hardshell, 2.5 layer hardshell, 3 layer hardshell. Compare the Uno (top left) to another 3 layer hardshell (bottom right) in terms of packed size alone!
My test jacket shows little, if any, wear. The DWR is starting to wear out on the tops of the shoulders, where my pack straps would rest, and the underside of the wrist. Not surprising, as those are high abrasion area (shoulder) and high dirt area (wrists), and where I've found the DWR to weaken most often. I will run it through the wash and report back on that one. Other than that you wouldn't be able to tell it from brand new.
Features
It is worth reiterating the noteworthy technology that North Face has come up with here, as its possibilities are endless.
First, the Fuseform. This is nothing short of game changing. Having the ability to fuse two different weights of fabrics together, both with different positive attributes, is incredible. Think tents, sleeping bags, and backpacks, where this technology can be applied to. Where North Face intends to apply this next remains to be seen.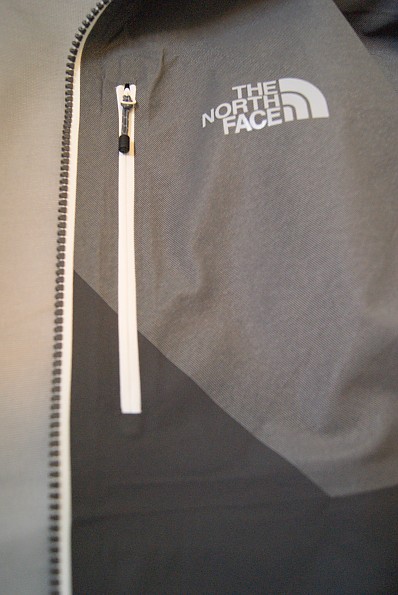 You can see the seam running across the jacket horizontally, but look at the diagonal, even with a zipper running through, there is so seam. Enlarge the image if you don't believe me!
Second, the masterful origami style folding of the one piece of fabric. If they (North Face) were to truly make an ultralight jacket — lighter weight zipper, cuffs, fabric — and apply this folding style, with less seams, they could bring down the already low weight of jackets even lower.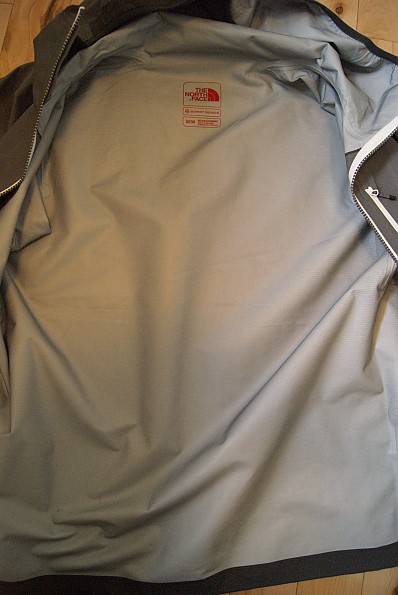 Folded with no seams all the way down the back.
Conclusion
It's hard to summarize this jacket. On one hand there's the incomparable Fuseform technology, impressive fit, weight and durability, and on the other the disappointing lack of pit-zips, hood adjustments and use of Hyvent. It's not the perfect shell layer that we're all searching for, but it's getting pretty darn close!
Testing/Tester
I am 6 foot, 165 lbs (give or take 5 lbs dependent on my chocolate intake). All testing has taken place in Ontario, Canada, with temperatures ranging from 10°C to -30°C.
Source: received for testing via the Trailspace Review Corps (Sample provided by The North Face for testing and review)

Your Review
You May Like
Specs
Price
MSRP: $399.00
Historic Range: $119.70-$399.00

Weight
351 g / 12 oz

Length from center back
29 in

Fabric
30D 122 g/m² engineered HyVent Alpha 3L—100% nylon ripstop

Recently on Trailspace