The North Face McMurdo Parka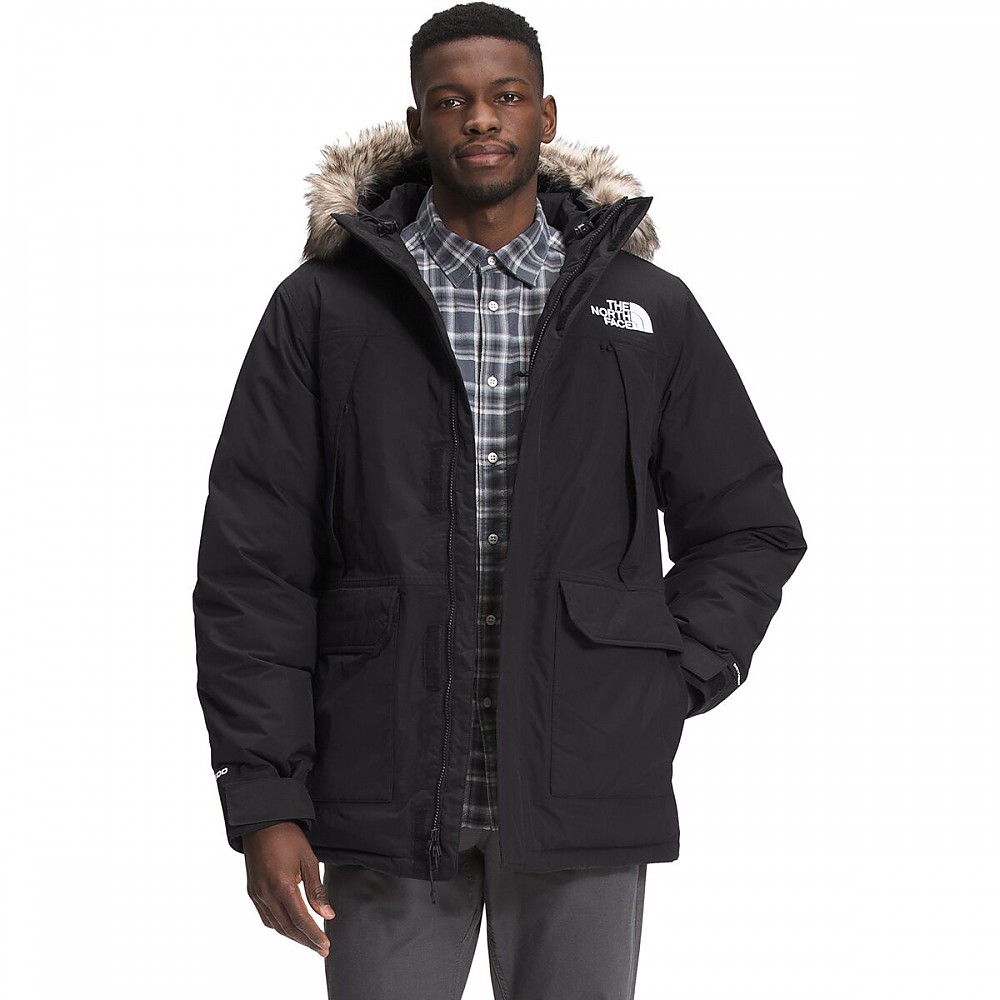 I bought this parka in December 2011 because I didn't at the time know about Canada Goose and I was happy with it. I wore it in mid winter in about -6° to -7°c and it was great then. I wore it over a suit and I roasted in it.

I wore it when the wind was blowing at about 15 to 20 mph and then it showed its weaknesses. The hood became uncontrollable, so I pulled on the drawcords and although it stayed on my head the wind tried to lift it off. And then because of how the fur attaches to the hood there were gaps for the wind to rush in—4 of them in total—and that made my eyes ache. So I got the Mrs. to add 4 more press studs / poppers to hold the gaps closed and it is 90% better, but it is still in need of a wire brace to hold the fur open and maybe an adjustment strap.

Now about the fit, IF you are going to wear normal cloths under it then buy the correct size because if you wear a T-shirt and a plaid shirt plus a fleece, the normal size according to their chart is correct, but if you only wear a T shirt then go smaller. If you are going to layer up then go up one size, Yes, I can add more cloths but it start to feel restrictive in the arms and arm pits
Pros
Finish first rate
Eveness of the down
Drawcords hidden in the chest pockets
Loft of the down
Nice color (fig green)
The loft of this parka is really good. If you open the coat up and lay it flat and come back later there is that much down in it that the coat swells up in thickness. There is a little less loft in the sleeves, but that is because your arms have to be able to move freely. One thing you will notice is that the loft is less around the cuffs but that is because you need to either fit your gloves inside them or over them, which makes sense really,
The zipper is a fraction light for me, but it is still good. This is a beautiful made parka and the only thing that stops it being used at McMurdo station in Antarctica is the hood. The hood has a lot of down in it just like the rest of the parka but for McMurdo Station you don't want a removable hood and the problems with it need fixing.
COME ON, TNF. You have been making this parka for years and all you do is change the inside pockets, and you've had thousands of reviews telling you this. PLEASE fix the hood and you will have a true McMurdo Parka. It is such a great parka, but it could be a fantastic parka. The hood needs to close up by making the fur/hood zip right up and not leave the fur flapping in the breeze,
Right now don't be put off by my rant. It's still a great and very warm well made parka, but they have just put the price up this year. I paid £220 but it should have been £275, but this year they have put it up to £320 = $512 and this is just wrong, that's £45 =$72 price rise and it still has a 10-year-old problem. AND IF people are going to pay $512 for a parka then you know what brand they are going to buy and not have to put up with these issues. It's a shame because that hood is like going up to the Mona Lisa and spray painting it.
Source: bought it new
Price Paid: £220 / $352

I don't normally write reviews of stuff unless it's exceptionally good stuff or woefully bad, but in this case The North Face McMurdo Parka firmly falls into the latter category in a spectacular fashion (no pun intended!), hence my short review.
When I came across this website it made my blood pressure rise again, as I have now seen that others have had the same problems as me.  It also shows the North Face shop where I bought the jacket (Covent Garden in London) in a very, VERY poor light (more of that later), which also reflects very badly upon the company itself.
Anyway, on to the jacket. It is an absolutely terrible garment and an amazing waste of money.  I bought one last year from TNF shop mentioned above (from memory it cost £225, which is a lot), but it seemed like a good idea at the time as winter was approaching and I wanted something which would keep me warm when the frost and snow arrived.
After the first wearing of the jacket (about half an hour) I took it off and my jumper was covered in feathers! I contacted the shop and they told me that the lining was "leaking" and that it was normal and would be fine after a few wears. However this has continued to be the case ever since - I've had it about 16-17 months, have worn it no more than maybe 25 or 30 times max. and it's still "leaking" — it's also ready for the bin too.
The fabric at the cuffs on both sleeves has frayed, looking like a furry edge now. The fabric, where it has creased naturally has worn through along the creases leaving long-shaped holes. This has also happened around the waist where the draw-cord causes the fabric to bunch-up. 
I reported this to the North Face shop where I bought it and asked for a refund or replacement, but they refused and told me it was because of heavy wear. Heavy wear?  I wore it going to and from work on the Tube in London, and over a  two week period in Northern Ireland last Christmas.  Heavy wear? I don't think so!
The "fur" for the hood is held on by "poppers" and when wearing the jacket with the hood up this tends to fall down over your face if there is a gust of wind — no amount of folding it back into place will stop it happening again — which could be very dangerous indeed, depending on what you are doing; I've had it happen a few times when crossing busy roads on foot in the dark!
The jacket also lets the wind in. As it's impossible to get a good fit around the wrists using the velcro strips at the cuffs (the sleeves just fold over on themselves and bunch up here) the wind howls up the arms — it also does the same at the bottom of the zip and around where the hood joins onto the top of the jacket.
I can't believe how utterly useless and unfit for purpose this jacket is, and what a disappointment too. I bought it as I thought The North Face was a good brand which could cope with severe conditions encountered in hostile environments, but a winter in London and a couple of weeks in snow-covered Northern Ireland last year proved that this is not the case — this jacket just can't handle it and isn't up to the job!  If it can't perform in a UK winter what's it good for?!
This is the first North Face jacket I have ever bought, and it is also the last. If I hadn't bought it personally from a North Face shop I'd have thought it was a counterfeit/fake/poor quality copy, but no, it's a genuine North Face jacket, which is even more worrying.
If you are thinking of buying this jacket, DON'T!  Keep your money and spend it on something which DOES work, like a Berghaus.
Price Paid: £225

I purchased my McMurdo parka at the end of the 2004 winter season so I only wore it a few times before it was time to put it away. As well during this time our extreme weather (-25F) had passed.
The following winter when our temperatures dropped I noticed my arms and shoulders were cold when I was outside. I couldn't figure this out at first but when I took a close look at the parka I noticed in spots there was little to no down in some of the baffles around the upper arms of the sleeves.
I contacted North Face Canada and sent it back for warranty. Their service was excellent. They replaced the parka and sent me out the new version. 
Some of the features have changed on the parka some for the good and some for the bad. As another person mentioned there is a lot of velcro on the parka which really isn't required. In fact just about every North Face jacket I have contains velcro. The seat belt in my truck is trashed because of it. (Correction: This parka does not have velcro other than on the sleeves. It has snaps along the zipper flap.)
The older version had a wind skirt at the waist, the new one doesn't. The hood on the older version had an adjustment so I could tighten it so the top of the hood doesn't hang down over my face. The way it is now, I can't see to walk if I have the hood up. However, the most disappointing thing is my arms and shoulders are still cold in the replacement parka.
I think this parka is probably good for temperatures of down to 10F but nothing colder than that. There is no way this parka is worn in Antarctica because I live 2 hours north of the North Dakota, Montana border and it isn't warm enough for here.
My best friend worked up at Tuktoyaktuk on the northern tip of Canada for 2 winters and they wear nothing but Canada Goose. If you live where the temperature is colder than 10F I don't recommend this parka and would recommend spending the money on a Canada Goose parka. If you live where the weather isn't extreme this parka will probably work for you.
I own several North Face products and they are excellent, but I am extremely disappointed with this product. They do make products for extreme weather as I own North Face mitts and boots that work good but I am a bit skeptical about their parkas for extreme weather.
Price Paid: $375

I went to the store to purchase the McMurdo after doing my research online. I ended up trying everything on in the store comparable and walked out with a Canada Goose Expedition. It wasn't even close. In terms of materials, fit, quality there wasn't anything even close.
First of all the McMurdo doesn't have a true tunnel hood. It is too short and the fur is fake and comes off. It's only for decoration. True tunnel hoods drop about 40 degrees off the outside temp around your face. The CG jacket hood extends 6 inches out from your face with real coyote fur and a wire support to shape the hood and keep wind and snow out.
The McMurdo has open arms with no cuffs or elastic to keep snow and wind out and no tensioners around the waist to do the same. It has elastic on the bottom but that would tighten around your thighs however. It felt too open like wind and snow could just blow up from the bottom and through the sleeves. CG jacket of course had an elastic tensioner around the waist plus an elastic snow skirt inside. It also had elastic cuffs on the arms.
The density of nylon on the exterior appeared twice as heavy for the CG jacket. CG struck me as a tool and the NF jacket looked more like a toy. If you are serious about keeping warm and want to make a 20 year investment in a functional coat there is only one choice in this category. If you ditch your coats when they go out of style or the label matters and function is secondary save the money and go NF.
It struck me as ironic that the CG coat is standard issue at the actual McMurdo station in Antartica. I doubt the NF McMurdo has ever seen real action down there. It's made more for cold commuters in the Midwest who would rather save a couple hundred bucks on something cheaper.
Price Paid: $230

I am compelled to write. Normally i do not comment but feel warmth in Nunavut and NWT is important. So please listen up.
I bought this coat. the body seems warm enough but there are several flaws . Others have mentioned the cuffs and no liner here to hold wind out. Second, the little fur (ok fake fur) around the hood is held on by little snaps. Put one on and pull the hood up. The snaps come undone and you end up with fake fur for lunch. The fake fur with the snaps has velcro loops only. no corresponding hooks to catch on. (how cheap is that. When you pull the drawstring it bunches up and wind penatrates.)
The zipper holding the hood on leaves 3 inch gaps to each end. This allows more wind to penatrate. Even the cheap HH bomber I bought from Winners has a full length zipper to hold the hood on and keeps the wind out. 
Finally, I suspect he 550 fil is only in the lab. In reality, i bet it is less depending on the manufacturing batch.
 It is not the cold that gets you, it is the wind and TNF misses the mark. In order to fix it, I will have to take it to a seamstress who can fix the hood, fake fur and cuffs.
Unfortunately, my writing the North Face did not penetrate past a CSR name Stafane who politely wrote me that in over 10 years there have been no complaints about this jacket. I find that odd considering the others who have posted here. My complaint was the flaw. not the jacket itself.
Honorable mention goes to the staff at clothing retailers in the south. I found Marks real good. Outdoor outfitters knowledgeable and MEC useless. I bought the coat from Atmosphere in WEM.
Sorry folks, sad but true
Anyhow, do as my co-workers have suggested, buy Canada Goose and save the hassle.
Price Paid: $400

The North Face products are an absolute bargain if you live in the U.S. but an absolute scam if you happen to be situated north of the border in Canada.
The price of this jacket in the U.S. is around $300. In Canada, get this, it is $450 (keep in mind the Canadian Dollar is worth a few cents more than the U.S. Dollar). North Face blocks companies from shipping to customers in Canada, leaving us 'Canuckleheads' to have to pay an unacceptable premium.
It sounds like 'price fixing' to me...shame on you, North Face...gouging customers and intimidating your U.S. retailers into losing their contracts if they ship to Canada.
I spend a lot of time outside in Edmonton and further north in Alberta and this jacket is perfectly adequate. I don't think it is worth full price, not as it is designed anyway.
I have had a local shop sew velcro on the hood (same as on the collar) for the fur trim and add a brim stiffener to support the hood. It could use a draft tube, but I haven't had a huge need for it yet. Doesn't come up very high around the mouth which suits me since I wear a neck gaiter or balaclava when it is below -20C and I prefer not to have the collar over my mouth.
All in all it is good value for less than $200 (including modifications) but it isn't worth much more than that. Lots of insulation in the body and arms, haven't had problems with down settling yet but I have only had it for one season. Nice tough exterior fabric that resist stains very well.  
While I am happy with it, to justify its full retail price in Canada TNF need to make some serious improvements. A made in China coat with limited features and so-so build quality does not command a $400 price tag regardless of the label.
In my experience, North Face is not really a top quality brand so I don't expect too much and I won't pay much for it. They do have pretty good warranty service though as anyone who has ever owned one of their tents (and had to return it, again and again) can attest. 
Price Paid: $150

I bought this jacket for the first time in October 2006 and found it excellent, so well designed and warm and good quality that in fact it was usually too hot to wear in most UK weather.
However unfortunately I was the victim of a house break in over Christmas 2008, so went out to buy a new one today.
First of all it was difficult to find one in stock, then when I found one in Blacks, I was disappointed to find that it is now a completely different jacket!!
It seems lighter in the fill of down, the collar is not insulated as it used to be and leaves a big gap for cold to get in, the hood is very hard to wear and see out of and the collar cannot be tightened, as another reviewer has said, there are not any inner cuffs on the sleeves any more, and I just did not get the impression that this is half as warm a jacket as the 2006 version, despite the man in Blacks somewhat disingenuous protestations to the contrary.
I think it is a case of North Face getting complacent and offering us a poor quality replacement under the guise of "new model"!!!! This is NOT the way to keep their reputation as a quality outdoor gear manufacturer.
Very disappointed and annoyed.
Price Paid: £250

The jacket is good for daily use, though they could do some more work to it.
Pros
It has a nice wind protection
Warm
Big pockets on the outside of the jacket
Cons
Could do some more work on their hood
Not enough pockets inside the jacket
This is a nice jacket, no doubt about it, but, for the price I want top quality in all aspects of the jacket both inside and outside, and it is not. Inside the jacket there is a pocket for a botle and your handy or other devices and then there is a pocket for your wallet, not enough.
The hood is irritating. It cannot close closely around your head and it is not warm enough, it is like the air run through the openings from behind, this is irritating.
Is the jacket warm? Indeed, here in Denmark the winter is a lot windy and therefore a nice jacket to keep the wind away is important, and it does the job, except for the incredible irritating hood.
Therefore only an average rating from me. The hood is important, get it fixed.
Source: bought it new
Price Paid: 543,13 USD

This is a very warm jacket in -10° with just a tee shirt on, the pockets are deep and the style overall is nice. I think the jacket is suited for around town wearing.
Pros
Warm
Deep pockets
Stylish
Snug if you get the right size
Cons
Hood is a bad design fake fur gets blown into face
Brought the jacket in late 2013. I've been happy with it. I stay in London and the coldest it really gets in the city is -10° on the odd occasion, so the jacket is a gem in windy, wet or cold weather.
I also own a NF Nuptse Vest and even that is warm with the 700 fill. I think TNF put lots into their products and it shows how many people trust them just walk around any cold places, cities and you lose count of how many people are wearing their products.
Source: bought it new
Price Paid: £319

I also bought in Covent Garden after getting caught in rain and freezing. They didn't have my size so got next size up to layer underneath. I am from Queensland and am cold if it's 20 degrees Celsius. I only wore a t-shirt underneath after having toured UK with three thermals and cardigan.
Pros
Warmth
Waist draw cord
Length
Cons
Bulky
Sleeves Velcro
Hood not able to be tightened
Scarf required
Yes, the hood's spacious, but length was great. Just wish I'd got a size down as I look like the Michelin Man! Did the job for two weeks in January in London.
Source: bought it new
Price Paid: £290

I have never been cold in this jacket...but I have had a wet arse! The seam on the bottom of the jacket (inside) is too short so the filler tends to wick up from your waterproof trousers. The seam needs to be much wider! The hood seems to have been designed for the Elephant Man!


Pros
Good breathability
Warm at -25 with only a T-shirt underneath
Good zips-plenty of stowage-strong material
I've had this jacket 4 years it's washed regularly and I've not seen a feather!
Cons
Bad hood
Bad hood
Bad hood
Very good for colder drier climates! Not so good for cold and wet weather, ie Scotland!
Source: bought it new
Price Paid: £245

Had to add velcro around the neck for the hood since the zipper is just in the middle, which leaves two holes where you get cold. Also had to put a wire in the hood to hold it up. The hood is made to fit a helmet underneath, but without helmet the hood gets into your eyes. There could be a mesh pocket inside for a water bottle!
Cons
Zipper for the hood doesn't go all the way around the neck
Hood needs a wire if used without helmet
Missing inside meash pocket for water bottle
Source: bought it new
Price Paid: $215

Not nearly as warm as it looks. All "Cons" mentioned here are spot on.
Pros
Tough exterior nylon material
Nice interior pockets
Cons
Cold arms and back
Not nearly as warm as it looks
Subpar hood design
Heavy and bulky
I bought this at Macy's in the winter of 2009 in NYC. I believe I paid about $300 for it. It's not worth $200.
I agree with all of the "Cons" I've read about it here: cold arms and upper back, poorly conceived and shaped hood. Useless removable ruff faux fur on the hood. Bizarre placement of adjustment cords (inside hidden pockets).
If you have the extra $200 get the Canada Goose. Really heavy-bulky for what it does.
Source: bought it new

I got one of these for Christmas and I have to say its a big pile of garbage.
The hood snorkel is too short. There is no support for the hood so you can't see out. There are gaps between the fake fur and the hood so wind can blow in. The velcro is missing on the fake fur so why make it removable?
The cuffs are to short and don't bellow out of the sleeves. There is no inner draft flap.
I could go on but I won't. I took it back and bought a Canada Goose Resolute.
This coat may be ok if you want to wear it shopping or whatever. It should not be sold in Saskatchewan where I live because it gets cold here.
It does not belong outside in cold temps for extended periods. I work outside in -35-45 for extended periods and I would not wear this thing.
Save your money folks.
Price Paid: $390

Not waterproof. Takes hours to dry as fabric absorbs water.
Heavy.
Cons
Very expensive
Not waterproof
Hours to dry
Heavy to wear
Dreadful coat. After half an hour in mild drizzle the rain comes through all the seams. It is not waterproof, not even shower proof.
Coat is warm but is excessively heavy. As the "nylon" outer lets the rain into the fabric it takes hours to dry, especially when the inside is as wet as the outside. Biggest purchase mistake I ever made.
DO NOT BUY if you intend to wear it out of doors.
Background
Experienced hill walker and long distance hiker
Source: bought it new
Price Paid: £245

2010 model was awesome.
Pros
Tough shell
Thick shell material
I tried this parka on in the store many times. It had a very tough/ heavy duty shell material. Unfortunately I heard the 2014/2015 McMurdo Parka, the North Face lightened up the outside shell material.
There are extremely few parkas I have found that have this tough of a shell material and are well insulated. Carhartt comes to mind, but Carhartt does not have insulated parkas at 34 inches long (except for the discontinued Kalkaska Parka).
Anyway, it is very depressing because I cannot find a heavy duty tough shelled warm parka, that will stand up to hard work.
Source: tried it in the store

I live in the Wyoming Rockies at 9000 ft elevation. The Jet Stream drops low here, and I needed a parka that would keep me warm in the below zero winters. This parka does not do the job.
At zero degrees to minus ten degrees there are cold spots in the back of the shoulders running down both arms. These are extreme. There is a serious lack of down insulation in these areas.
The drawstrings are hidden inside pockets. They are far too difficult to use.
It seems to me North Face has gone the way of "Pop Clothing". Once their popularity hit among high school and college students, their quality dropped and was replaced by fancy logo.
I do not recommend.
Fill: Down
Price Paid: $379

What a jacket! I climbed Snowdon in Wales, and the temperature was around -15/20, and I was only wearing a t-shirt underneath but still didn't feel the cold. The only gripe with jacket is that it's really not breathable and probably not too good for hiking as you sweat loads. The other problem from this is that it starts to smell sweaty after a while. But apart from that, it is reassuring I will always feel snug and warm without loads of annoying clothes underneath my jacket no matter what the English winter throws at me. Oh yeh, make sure you re-apply proofing after each season as mine started to seap snow slightly and it got a bit damp.
Fabric: Hyvent-DT
Fill: Down (550 tog)
Price Paid: £220 (England is expensive!)

Por los comentarios encontrados, considero que hay varias versiones de este modelo de North Face, ya que en los comentarios hablan de la mala hechura, el contenido de pluma en poca cantidad, y mi duda seria que tal hubiera versiones piratas hechas en China?
Sin permisos, por que las que he visto en ventas de internet se ven diferentes unas de otras. O tal vez la hechura de Nort Face cada año cambia y queda con el mismo nombre. Y la gente que ya tenia una anterior piensa que las caracteristicas son las mismas y ahi es cuando no que satisfecho. Considero que este modeloes realmente muy bueno.
Saludos. E.A.G.

Fabric: excelente en original
Fill: excelente si la parka es original

I have owned the jacket for two stormy Seattle days so far, and I absolutely love it. This jacket is like a home away from home. I also like the fact that the jacket can nearly double as a bag with all the large pockets. I am going camping soon and plan to hookup my Ipod/portable speakers in one of the large front pockets, the setup fits perfect. I like the fur trim as well, allthough I must say the hood is VERY deep, but I would rather have it deep than shallow. Worth your $100 (got mine on ebay brand new).
Fabric: Waterproof
Fill: Duck down
Price Paid: $100

A very warm jacket, blocks wind very well and will keep you warm into the teens wearing only a T-shirt underneath.
Three gripes, it would be nice if North Face would put a draft tube along the zipper, better cuffs, and every time I pull my arms out of the sleeves they are covered in down. North Face informed me that is normal, "part of the down settling" my 3-year-old can come up with better, so their customer service is horrible.
But all in all this jacket has kept me warm. It is the only North Face product I own.
Price Paid: $300

Went to Iceland in February 2015. This parka was absolutely fantastic, could not feel cold at all with just a tee shirt on underneath. Temperature in Rekyav was -8° and snowing, no chill felt.
Went out of town to Gullfoss waterfalls, temperature was -15° and still warm in this jacket. We went on snowmobile for about an hour and temperature was measured at -22°. This jacket coupled with North Face Montana Gloves was faultless. I actually sweated.
Well done, North Face. Would recommend this parka 100%.
L.bines
Great down parka with hood and faux fur trim. Too much wool shredding velcro: each cuff, even though there is an internal cuff, three external pockets, three internal pockets and five in the hood!It took me two hours to remove it all. North Face, what is wrong with snaps? You used them on the front zipper wind flap and on one internal pocket. Velcro and wool (and some fleece) do not get along well. And the parka works just as well without all that velcro.
Fabric: nylon and a proprietary waterproof layer
Fill: down (european goose)
Price Paid: $150

This is the fourth day with my McMurdo Parka. I am new to the Boston area and I was horrified by the -12 Celsius 1 week ago. So, I went to North Face to buy it. I detest cold and since I got it I understood for the first time how much cold are my feet, and nose-all the other parts of my body are just perfect without even close to cold. It's worth its bucks for sure!
Fabric: HyVent
Fill: Goose feathers
Price Paid: 300$

I have had my parka for 3 winters. I detest cold!!!
I have yet to feel the wind or cold while wearing the
parka. With this parka and insulated bibs, I can stay out 15-16 hours and remain warm. The parka still looks great and functions like a new one. But bet your bippy, when I wear this one out, I will buy a new one. No higher compliment can be made.
Fill: down
Price Paid: $300+

The neck is stiff. Doesn't lock out cold. Down in shoulders shifts leaving flat cold spots. I can't believe there is no way to tighten the collar.
Add a drawstring to the collar, do an 800 power fill to the shoulders or quilt the shoulders with the seams closer together maybe two inch strips, and it's 5 stars. But those two things are detrimental to the overall performance.
Fabric: hyvent
Fill: down
Price Paid: $299.99

I honestly don't know what I would do without this coat! It is superwarm and waterproof making it quite simply the most ideal down winter parka. I have had mine for two years and have washed it in the washing machine with no problems at all. As long as you remember to keep fluffing the down as it dries it will be as good as new.
Fabric: Hyvent
Fill: Down
Price Paid: $200

Warm even in the coldest winter day Chicago can throw at it. The size runs a little large but I guess it looks like I went to the gym w/o really going. ;-) Fleece lining in pockets is adequate but a little thicker fleece would've been nice. Needs a tighter fitting hood. Great parka and all you really need is a t-shirt underneath.
Price Paid: $189

I am on film sets every single day in temperatures around -22. I have yet once to feel a draft. On a film shoot expect to be outdoors sometimes for 16 hours, you need a rugged, warm and not to mention comfy coat to bare the frigid temperatures. Double think your next jacket purchase. You cannot go wrong with this parka.
Fill: 550
Price Paid: $450 CDN

Drawstring ends were sewn inside hidden pockets within the jacket itself. Who does this? I had to have a professional seamstress unstitch the jacket, install two grommets and have the chest-height draw strings exposed. I am not kidding. Kind of a joke for a supposed "high-end company".
I'm still waiting on "North Face" for their explanation why this occurred.
Fill: Down
Price Paid: $289 US

i recently purchased one of these from the convert garden store in London. I AM READY FOR WINTER NOW.
i am pretty pleased that i purchased this product. I am just wainting for the weather to get a little more colder so i can wear it continually.
Price Paid: £269

What a jacket! It is fantastic from moderate cold to freezing conditions. It kept me warm and dry through the welsh valleys last winter and is in great condition for its second season now. Don't even think about it - just buy it. You won't be disappointed.
Price Paid: £220

I bought McMurdo Parka a month ago. I detest cold and it is a right parka to go with as it protects against wind and cold although neck is unprotected and wind penetrates in.
Just buy a scarf and you are absolutely warm.
Price Paid: 400 CAD

A lovely and safe winter jacket! Good quality. It won't let you down even if it's really cold outside!
Your Review
Where to Buy
Help support this site by making your next gear purchase through one of the links above. Click a link, buy what you need, and the seller will contribute a portion of the purchase price to support Trailspace's independent gear reviews.
You May Like
Specs
Men's
Price
Current Retail: $399.95-$412.99
Historic Range: $59.79-$498.95
Reviewers Paid: $100.00-$400.00

Women's
Price
Historic Range: $89.70-$299.00
Reviewers Paid: $200.00

Recently on Trailspace